Tribe call up OF Naquin, reliever Armstrong
CHICAGO -- The red-hot Indians added some reinforcements to the rotation, bullpen and outfield Tuesday by activating starter Danny Salazar from the 10-day disabled list and recalling outfielder Tyler Naquin and right-hander Shawn Armstrong from Triple-A Columbus.
Salazar started Tuesday's game against the White Sox after missing time due to right elbow inflammation, joining a starting rotation that was 11-0 with a 1.51 ERA in its past 12 games. Salazar struggled in his return, allowing four runs in just two-thirds of an inning, but the Indians came back and won, 9-4, to extend their win streak to 13 games.
Naquin appeared in 116 games for the Indians in 2016, manning the outfield as the club reached the World Series. He has been limited to nine games with the big league club in 2017 across three stints and is making his first appearance with Cleveland since July 16. Naquin, who has gone 5-for-25 (.200) in the Majors this season, has hit .298 with 10 homers and an .833 OPS with Triple-A Columbus this season.
Moves today:

+ Activate Danny Salazar from the DL
+ Recall Tyler Naquin and Shawn Armstrong from Columbus pic.twitter.com/juBr6yVEZL

— WWWWWWWWWWWWWindians (@Indians) September 5, 2017
Manager Terry Francona said Naquin will primarily be spending his time working with bench coach Brad Mills, improving footwork and skills to become a more well-rounded outfielder. The addition of Naquin now gives the Indians eight total outfielders, six of whom, including Naquin, can bat from the left side.
"We told him before he got called up that it was primarily to work with Mills in the outfield and things like that," Francona said. "Right now, we have so many left-handed-hitting outfielders. He understands that, and I think he's good with it. I think the three weeks with Millsy will really be good for him."
Naquin said he's glad for the new opportunity with Cleveland, and acknowledged that any playing time he does see could spark his potential return to the playoff roster after he collected four hits in last year's postseason.
"I think any time you do something once, you're more ready for it the next time," Naquin said. "Any time you get an opportunity, you want to take it and run with it like last year."
This will mark Armstrong's ninth different stint with the Indians this year; he has posted a 4.76 ERA in 19 outings with Cleveland while earning 10 saves with a 3.07 ERA in 28 appearances with Triple-A Columbus.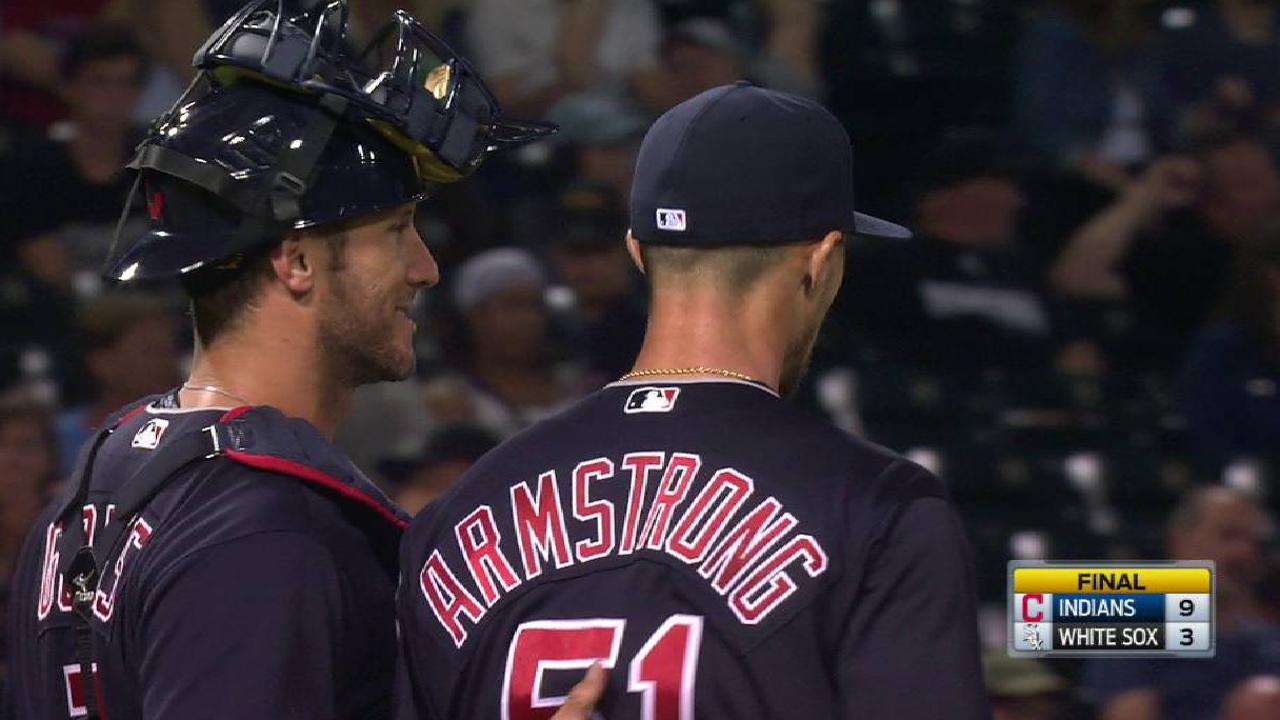 Francona noted that the constant change can be difficult on any player, but said he admired how Armstrong has dealt with it.
"He has handled it," Francona said. "As guys mature, you kind of see it right in front of your eyes. I remember his first spring, he had a meltdown after a Spring Training game. We made it clear that's not how we do things. Now, he's a kid three years later who has gone up and down multiple times and has done a good job of handling it."
Armstrong pitched a scoreless ninth Tuesday to preserve the win.
The Indians' active roster currently sits at 36, with every man on the 40-man roster currently in the Majors with the exception of Adam Plutko -- optioned to Class A Lynchburg on Monday -- and the club's three players on the 10-day DL in Andrew Miller, Jason Kipnis and Michael Brantley.
Fabian Ardaya is a reporter for MLB.com based in Chicago and covered the Indians on Tuesday. This story was not subject to the approval of Major League Baseball or its clubs.