Atkins: Gibbons likely away until Friday
General manager gives updates on Travis, Stroman, Sanchez, Martin
BOSTON -- Blue Jays manager John Gibbons is expected to be away from his team until at least Friday because of personal business.
Gibbons has been away since Saturday morning and it's not immediately clear exactly when he will return, but it's not expected to be on the current road trip. Bench coach DeMarlo Hale will continue to serve as the acting manager until Gibbons is able to return.
The Blue Jays have remained vague when asked about what has kept Gibbons away from his team, citing personal reasons.
"I think the most likely scenario is that we'll see him, not until the homestand," Blue Jays general manager Ross Atkins said. "That could change, he could be here tomorrow, but I think the most likely scenario is that we'll see him Friday with an off-day on Thursday. Beyond that, we're just in support. Something he needs to [attend to in] his personal life, we know it's something serious and we're here to support him."
Travis to the OF? Not so fast
There has been plenty of speculation in recent weeks that the Blue Jays would consider moving second baseman Devon Travis to the outfield. Gibbons said in early August that using Travis in the outfield had been discussed, but based on the way Atkins spoke Tuesday afternoon at Fenway Park, it's not under serious consideration.
The recent talk stemmed from discussions on whether Travis would have a better chance at staying healthy in left field, as opposed to second base. Travis has yet to play in more than 101 games in his three-year big league career because of injuries, and it's possible he won't return in 2017 because of another knee issue. Health has been a concern, but Atkins doesn't seem to believe a position change would have much of an impact one way or the other.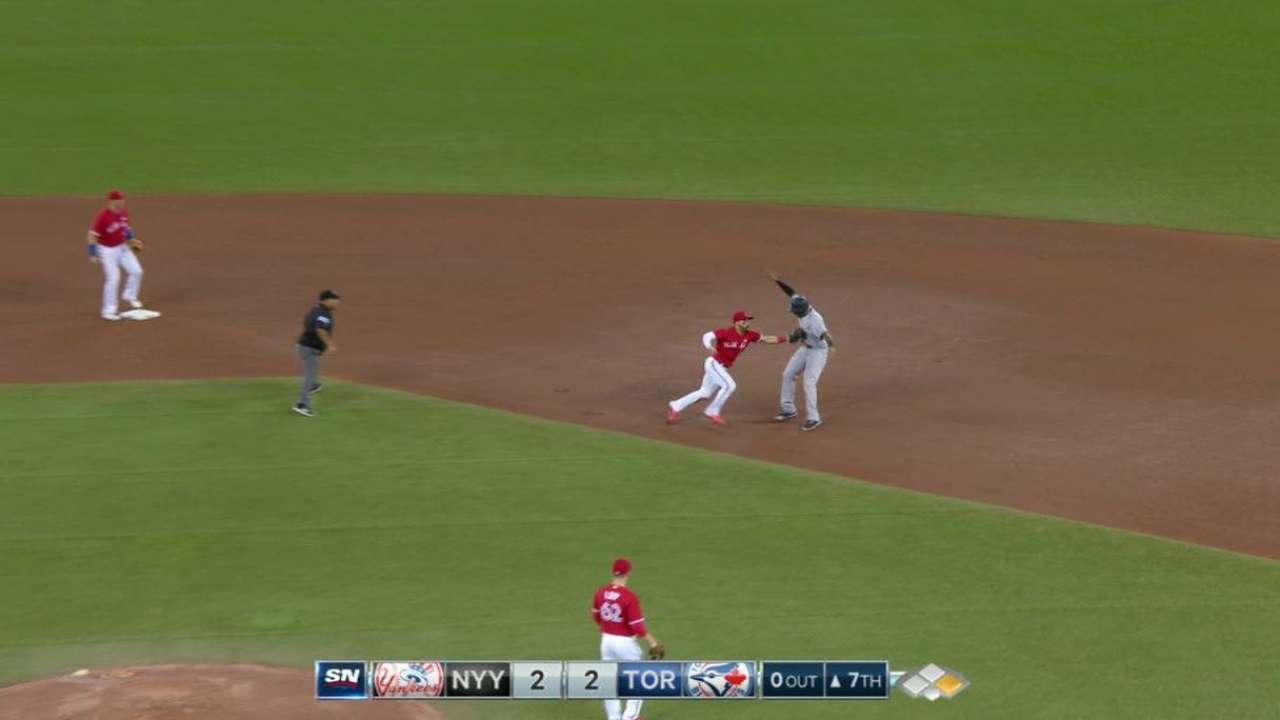 "There's a lot of opinions in and around that," Atkins said. "My personal opinion is one, if he can play second base, we're a better team. I think we'll exhaust that, and versatility is a great thing for a baseball team. I think it's more in the context of versatility and less in the context of does he stay more durable as an outfielder.
"I don't think there's any research behind that, that he would be more durable as an outfielder than a second baseman. There's obviously opinions and anedoctal discussions around that, but he makes us the best team if he can play second base everyday."
Stroman and Sanchez throw off flat ground
Right-handers Marcus Stroman and Aaron Sanchez each threw off flat ground on Tuesday afternoon at Fenway Park. Stroman is scheduled to throw a full side session on Wednesday, and following that, the club will determine whether he's ready to pitch Friday night against the Tigers. Toronto's top starter this season left his last outing after he was struck on the right elbow by a line drive off the bat of Baltimore's Mark Trumbo.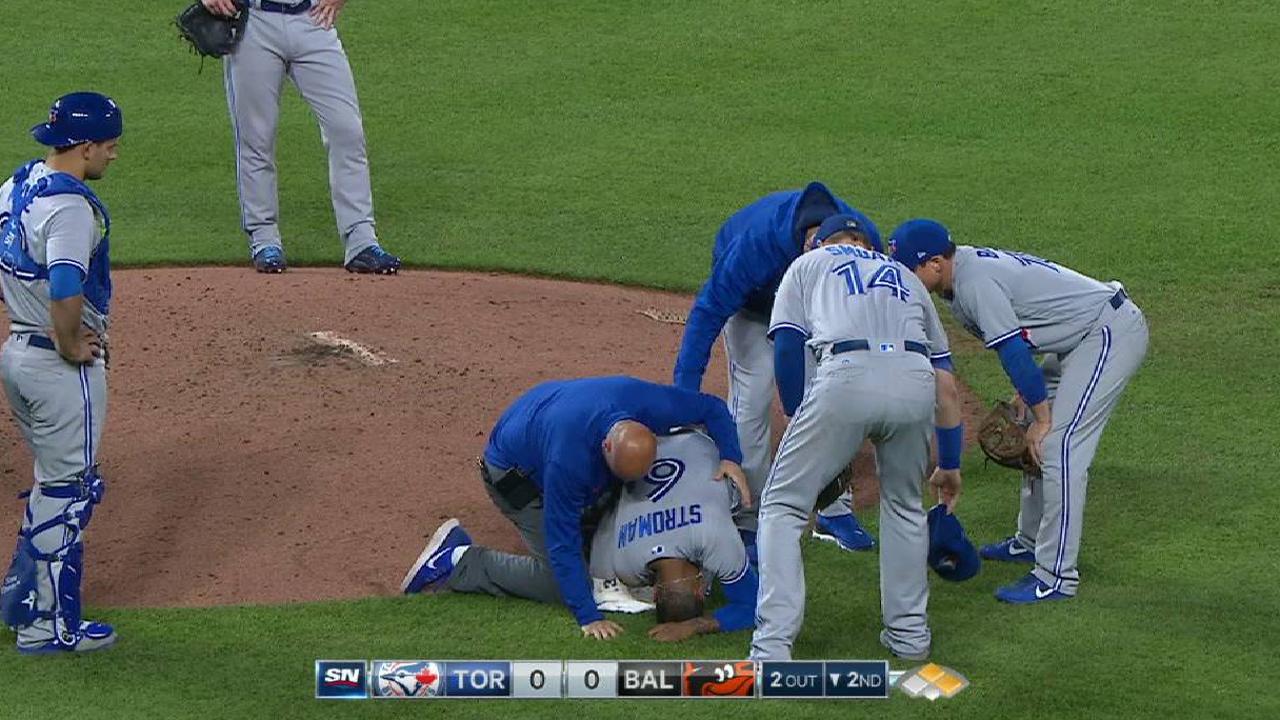 Sanchez is still trying to work his way back from a blister on his right middle finger. He has been limited to 36 innings this season because of the injury and has not pitched since July 19.
"It's similar, we just have to go day by day," Atkins said. "It has been such a frustrating year for him. Similar to Travis, there are days when everything is going to be perfect and there are days that are going to be less than ideal, ... But his recent trend has been positive enough to continue, and it's the type of thing where we just have to continue going day by day and be respectful of the process."
Martin still working his way back
Russell Martin continues to rehab an oblique injury at Toronto's Minor League complex in Dunedin. He has been ruled out until the middle of September, but the Blue Jays still hope to have him back before the end of the year.
"It's a day by day thing," Atkins said. "Similar to Devon, there could be a scenario where a week from now he's playing in a game or it could be a scenario where it's towards the end of the season. Those two players make us better and we'd love to have them back."
Gregor Chisholm has covered the Blue Jays for MLB.com since 2011. Follow him on Twitter @gregorMLB and Facebook, and listen to his podcast. This story was not subject to the approval of Major League Baseball or its clubs.