Strasburg sets Nats record in win over Marlins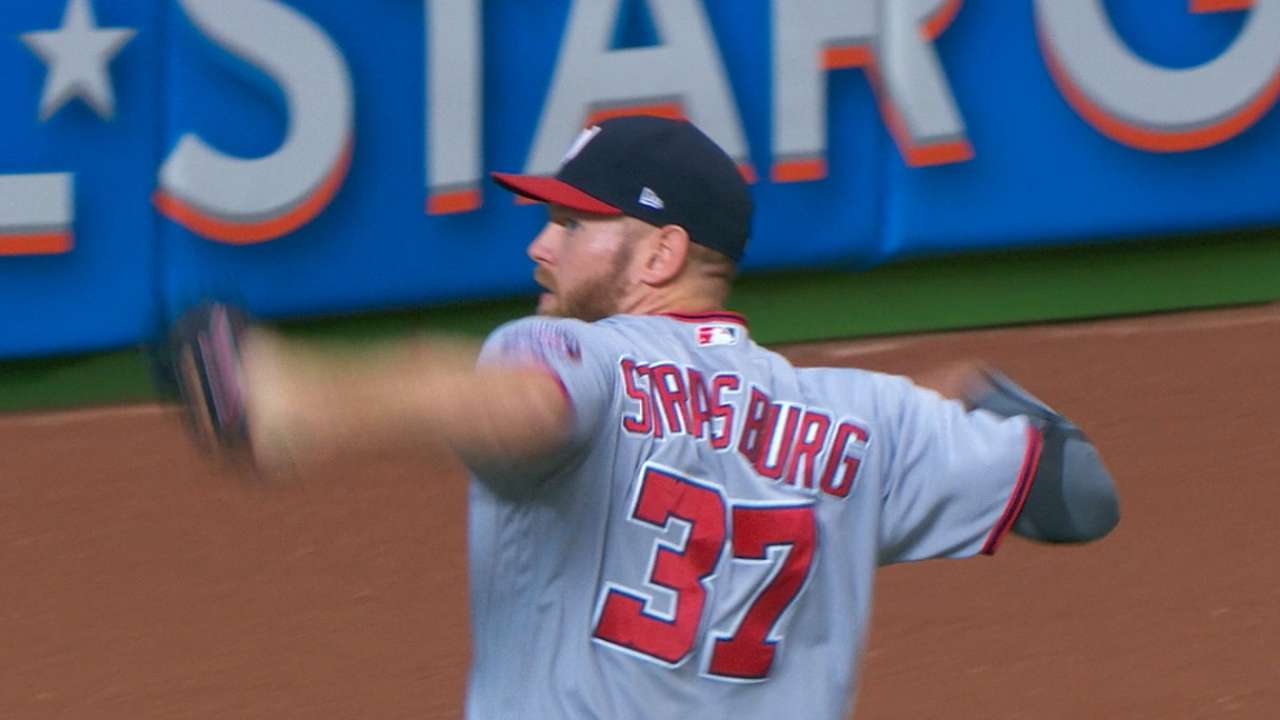 MIAMI -- It was more of the same the second time around from Stephen Strasburg, who set a record in the process. The hard-throwing right-hander threw six scoreless innings and struck out eight batters in the Nationals' 2-1 win over the Marlins on Tuesday night at Marlins Park.
Strasburg, who shut out the Marlins, 4-0, on Aug. 30 at Nationals Park, ran his scoreless innings streak to 26, the most since the franchise moved to Washington in 2005. Gio Gonzalez had a stretch of 25 frames without surrendering a run from April 12-29, 2012.
Strasburg's path to that record wasn't easy. He battled a cramp in his right calf for most of the night, an issue that popped up two starts ago in Houston.
• Cramps not slowing down dealing Strasburg
"I've been dealing with that for a little bit. It seems like I just lose a lot of fluids. It doesn't matter how much I drink, it just kind of goes right through me," Strasburg said. "So it's just a part of it. Just gotta find a way, and I went as long as I could."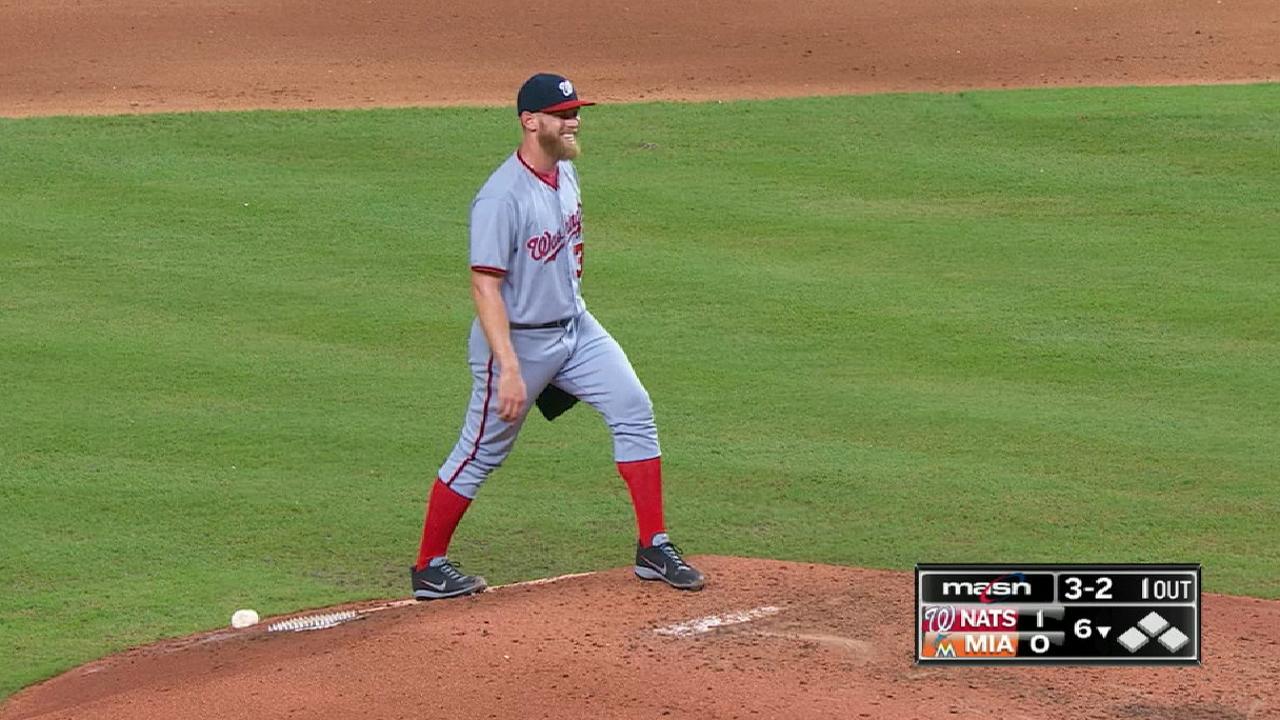 Daniel Murphy belted his 22nd home run in the eighth inning off Kyle Barraclough. In the third, Washington's second baseman nearly had another homer, but Giancarlo Stanton made a leaping grab at the wall in right.
With the victory, the Nationals moved 17 games ahead of the Marlins and trimmed their magic number to clinch the National League East to eight. Miami has lost eight of nine, further damaging its chances to make up ground in the NL Wild Card standings.
"It was a great victory for us," Nats manager Dusty Baker said. "We're back to 30 over, so we want to keep marching from here. Our magic number goes down every day."
"I thought we did a better job with him, for sure," Marlins manager Don Mattingly said of his club's approach against Strasburg, "just in terms of fighting with him, making him battle for his outs. The last game, I think he had 73 [pitches] through seven. Tonight, we were making him work. We're fouling balls off. Obviously, we didn't get to him, but we still had better at-bats tonight than we did the other day. Obviously, it's not enough to just say that, at this point. You've got to have production. We really weren't able to do that."
The Nationals grabbed the lead in the second on Pedro Severino's RBI single after Adam Lind led off the inning with a double. That was the only damage against Odrisamer Despaigne, who allowed one run in a season-high seven innings for Miami.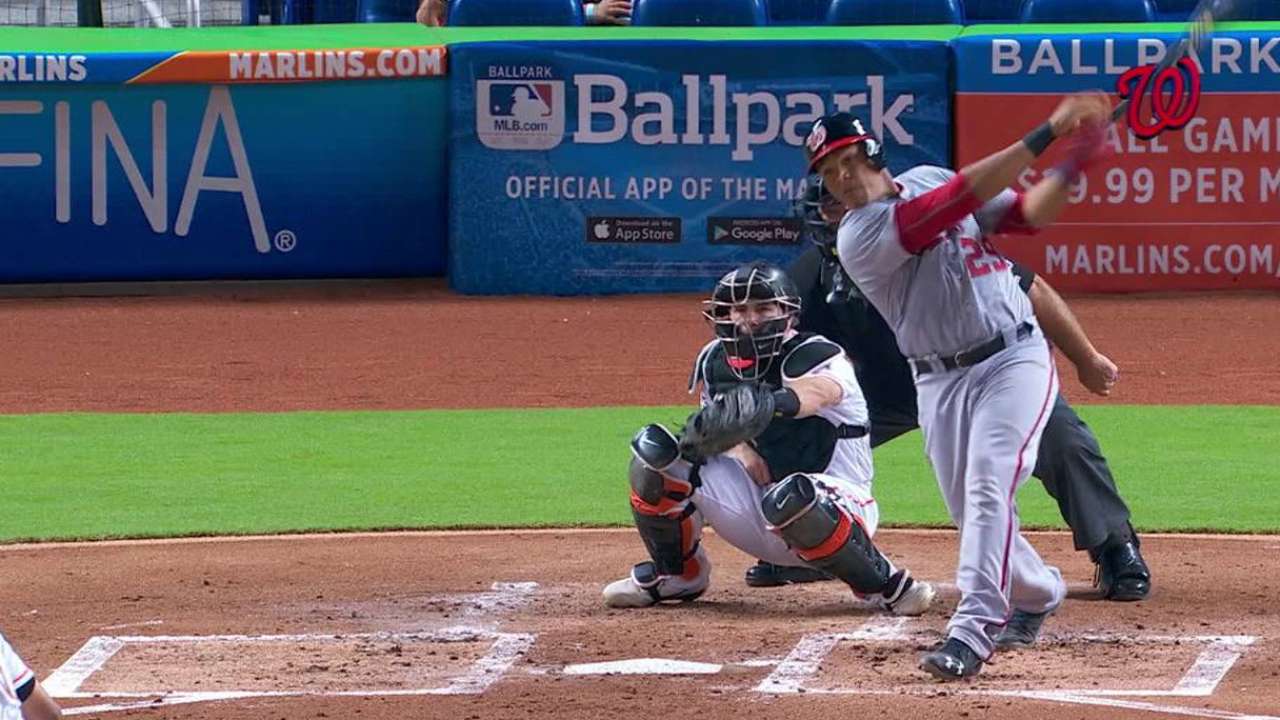 Tyler Moore produced a sacrifice fly in the ninth inning, scoring Marcell Ozuna, who collected three singles. Stanton went 0-for-4 with a strikeout.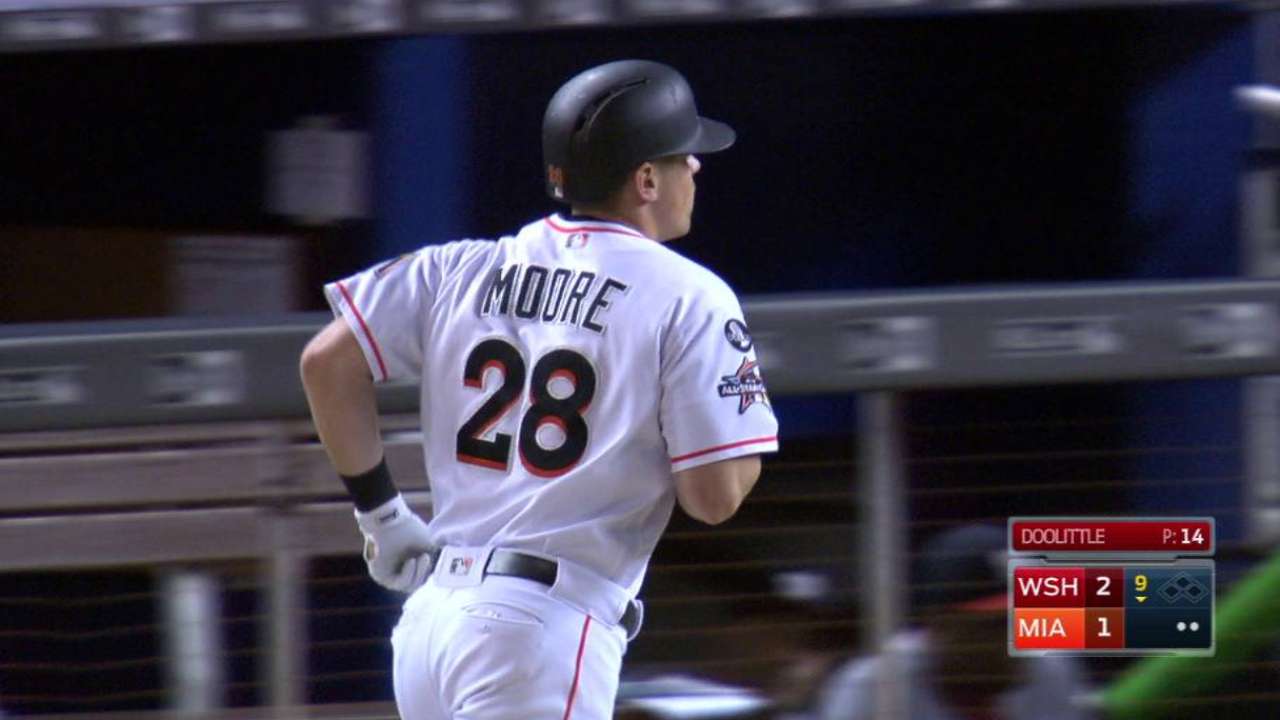 MOMENTS THAT MATTERED
Out by an elbow: Just when the Marlins thought they had the tying run at second base, a disputed batter's interference call on Derek Dietrich ended the fourth inning. After Marcell Ozuna singled with one out and J.T. Realmuto struck out, Ozuna took off for second with Dietrich at the plate. Severino threw to second, and his glove clipped Dietrich's elbow. Dietrich had a check swing and inadvertently made contact with Severino, garnering the interference call. So instead of having Ozuna on second with two outs, the inning ended. The ruling was Dietrich out with the assist to the catcher.
"It seemed to me like the catcher moved into my box and made an attempt to hit me, actually," Dietrich said. "From my perspective, I think I was doing the right thing. I've never been called for that before. It's unfortunate. I feel like that at-bat was taken from me. That's a big situation, a guy on base. If he's safe, [there's a] runner in scoring position. I was disappointed that that was called there. I think a lot of people were in our dugout."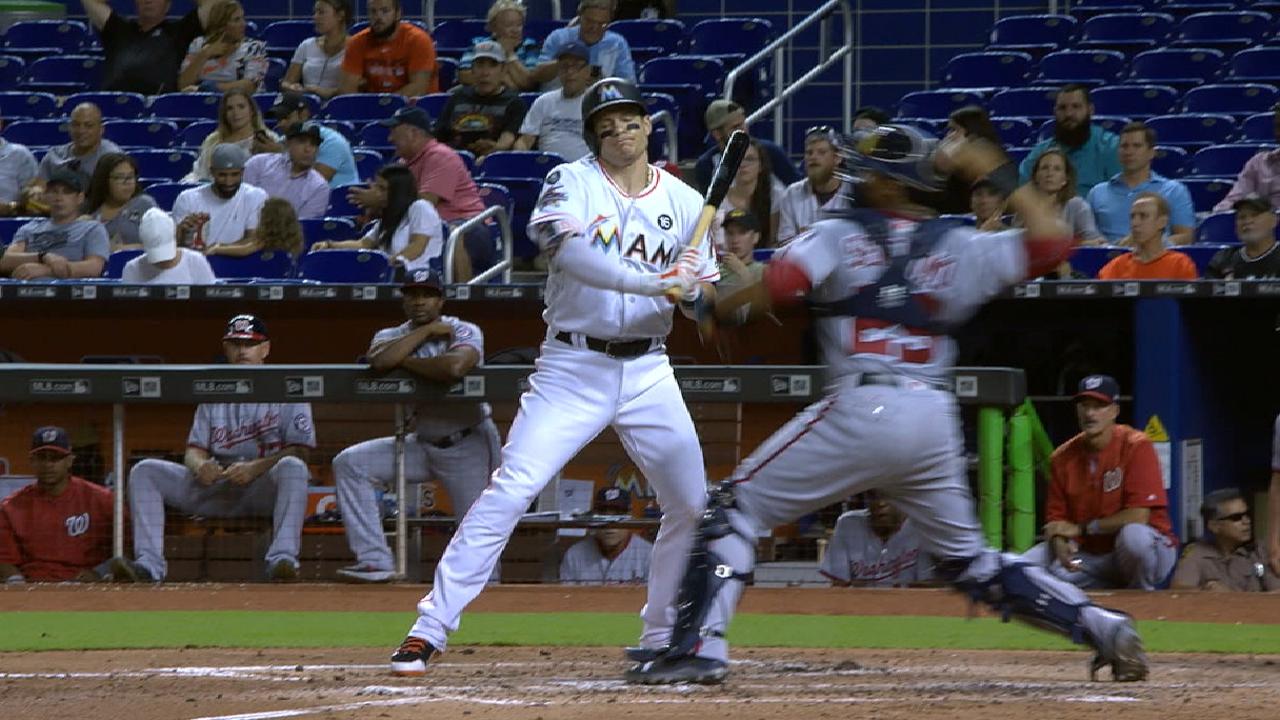 Mistake quickly erased: The Marlins caught a break with two outs in the seventh inning when Jayson Werth dropped a fly ball near the right-field line. Miguel Rojas advanced to second on the two-base error. Trailing by a run at the time, the Marlins weren't able to capitalize. Pinch-hitter Ichiro Suzuki tapped to second against left-hander Sammy Solis.
"It was kind of high to lose it in the lights. It looked like he just didn't center it in his glove," Baker said. "It hit off the side of his glove, so those things happen sometimes."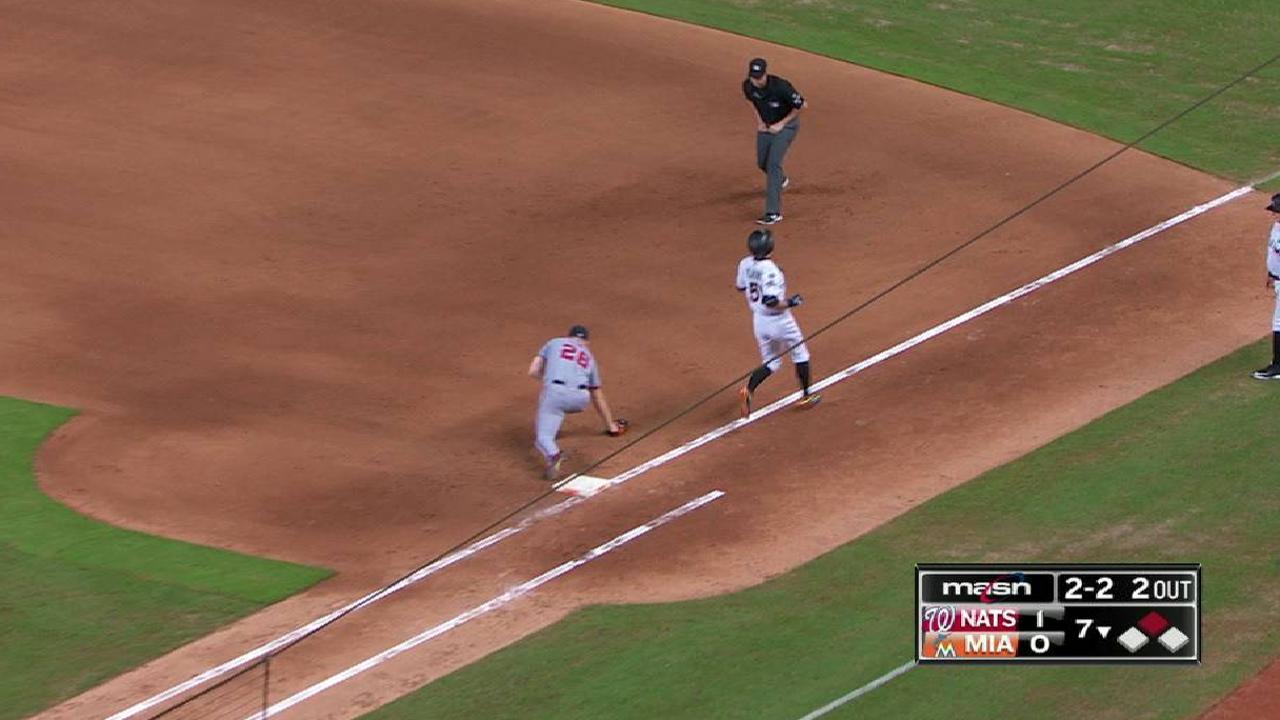 QUOTABLE
"He looks the same. Obviously, they're being careful with him, but he looks the same. I've said it before: He's a guy, I think people look at it, and say, 'If we make pitches, we get him out.' That's the danger, because guys make mistakes, and you're being more and more careful. You're running into guys like Strasburg and different guys, they can make mistakes and get away with it. In general, I think they're being more careful with him, and I think, in general, he's being more patient." -- Mattingly, on the way Stanton is being pitched to
"He has great command right now. He has great command of his fastball, and they're really not picking up his changeup or his slider. This is a tough team over here to shut out. We almost shut them out had it not been for the little blooper by [Ryan] Zimmerman and the passed ball. He's throwing the ball great, so we certainly have to keep him healthy down the stretch." -- Baker, on Strasburg's record scoreless inning streak
WHAT'S NEXT
Nationals: Gio Gonzalez (13-6, 2.58 ERA) takes the mound in his hometown as the Nats and Marlins wrap up the three-game series at 7:10 p.m. ET on Wednesday. The Hialeah native is 3-2 with a 3.29 ERA in six career starts at Marlins Park.
Marlins: Closing out the series and homestand on Wednesday will be left-hander Dillon Peters (0-0, 0.00 ERA). Peters makes his second big league start. In his debut, he threw seven shutout innings in a no-decision.
Watch every out-of-market regular-season game live on MLB.TV.
Joe Frisaro has covered the Marlins for MLB.com since 2002. Follow him on Twitter @JoeFrisaro and listen to his podcast.

Patrick Pinak is a reporter for MLB.com based in Miami and covered the Nationals on Tuesday.

This story was not subject to the approval of Major League Baseball or its clubs.