Archer hoping to return vs. Red Sox
Ace's forearm soreness not serious; Rays call up Smith, Alvarado, Roe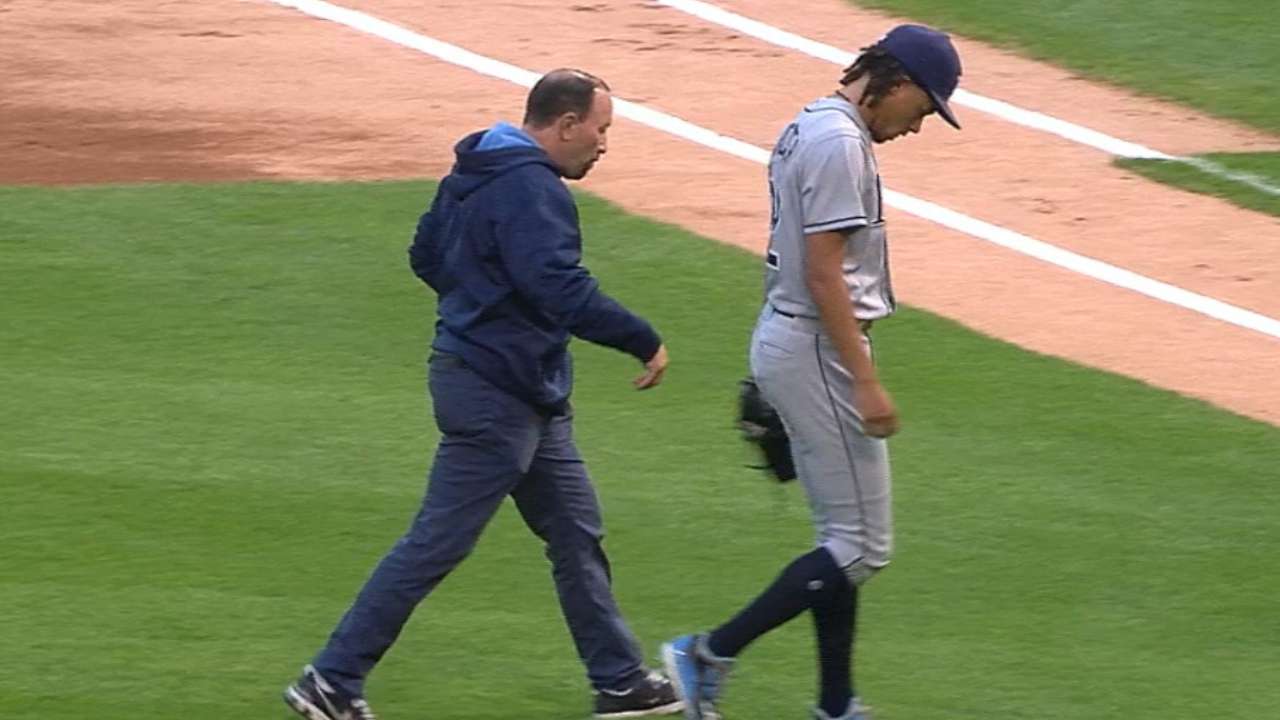 ST. PETERSBURG -- Chris Archer breathed a sigh of relief over the course of his session playing catch Tuesday, as his right arm behaved in a normal manner.
The tightness Archer felt in his start Saturday against the White Sox, officially diagnosed as right lateral forearm soreness, does not appear serious, and the Rays should have their top pitcher available in the near future.
Archer threw 25 to 30 pitches Tuesday -- including fastballs, changeups and sliders -- to a catcher, who both stood and squatted on the receiving end.
"My first couple throws, I felt like myself," Archer said.
Archer said he's very in tune with the way his body feels, and that's the reason he summoned trainers to pull him out early in Saturday's contest with Chicago. He'll continue to use that sense of self to monitor his body in the upcoming week as he tries to work his way back into the rotation.
"I don't take anti-inflammatories or anything like that, so just doing things that get rid of inflammation is going to be the key," Archer said. "And I'm usually the type who can just get myself loose and not be in the training room, but I might spend a little bit of extra time getting loose."
Austin Pruitt will make Friday's start against the Red Sox in place of Archer. The 28-year-old will play catch again Wednesday, with about 15 pitches coming from the mound, and then manager Kevin Cash will decide when to deploy Archer.
"There's no strict plan in place, but I would like to pitch in Boston," Archer said. "I don't think it would be too much, because I would have 48 extra hours of rest. I'd like to pitch in Boston at some point. That's what I'm gearing for. But if it doesn't happen, if I get an extra day or two, that's what it is."
September callups continue
The Rays made a flurry of moves Tuesday, recalling Mallex Smith and Jose Alvarado while also selecting pitcher Chaz Roe from Triple-A Durham. Smith ran out of places to play when Kevin Kiermaier came off the disabled list, and he will face the same outfield logjam, but Cash said he wants Smith to be able to take more at-bats.
"He's going to be in probably a little bit different role than what he was when he was up here last. Our outfield's fairly set," Cash said. "So we're going to use Mallex for late-game [defense], occasional pinch-hit. But he's going to pinch-run in big situations."
Alvarado will give the Rays another lefty option in the bullpen. Roe should also be used in a relief capacity, and Cash showed excitement about the righty.
"He's actually throwing the ball really, really well in Durham. He had one hiccup of an inning that skewed his stats," Cash said. "... I think his stuff has ticked up. He's a guy that we've probably talked about in the past quite a bit and liked, and for us to get him in the system and see what he's all about, the Triple-A staff was very complimentary of how he goes about his business and his results that he was getting there."
Roe struck out 35 in 21 innings for Durham, posting a 3.00 ERA and finishing 10 of the 17 games he pitched in.
Pitcher Taylor Guerrieri was recalled and placed on the 60-day disabled list to make room for Roe on the 40-man roster.
Connor Mount is a reporter for MLB.com based in St. Petersburg. This story was not subject to the approval of Major League Baseball or its clubs.