Dickey buckles after strong 13-start stretch
Braves starter unable to catch breaks in loss to Rangers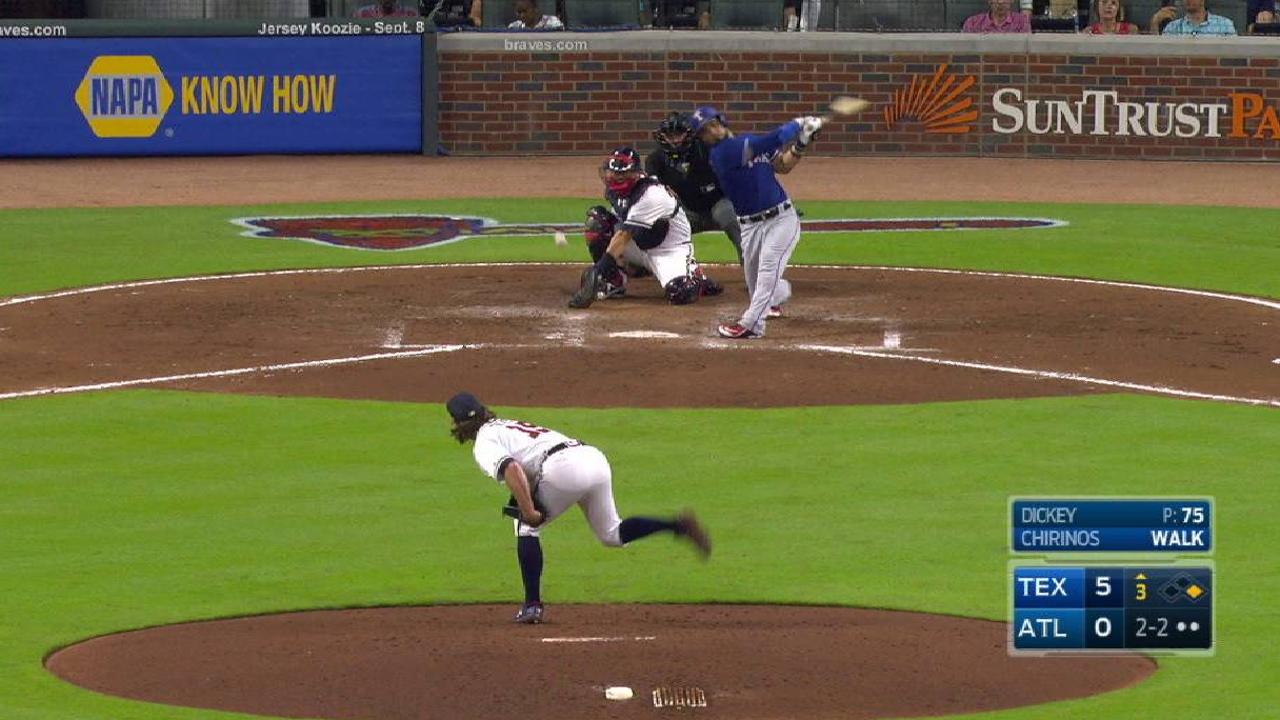 ATLANTA -- On Monday night in an 8-2 loss to the Rangers, Braves starter R.A. Dickey did something the team hasn't seen him do in months -- he struggled.
Dickey's season has been a tale of two halves. In his 13th start of the season, Dickey allowed eight earned runs over five innings against the Nationals, boosting his ERA to a season-high 5.35.
But in 13 starts since then, before Monday, Dickey posted a 2.58 ERA and pitched at least six innings in 12 of those games, including five outings of seven innings or longer.
On Monday, Dickey looked much more like the pitcher from former half of the season, going just 4 1/3 innings, allowing seven runs (six earned) on eight hits with three walks.
"What I'd seen before, the [fourth] inning that he finished up, looked like, 'OK, that was a pretty good one,'" Braves manager Brian Snitker said. "Then he went out and gave up the homer and the ball down the line.
"It just looked like maybe it wasn't going to happen tonight."
When it comes to Dickey's knuckleball, sometimes it's there and sometimes it's not. Monday night it wasn't there.
It wasn't necessarily that the ball wasn't moving, because it was. And it wasn't that Dickey wasn't able to locate it well and keep it down, because he did. He did both a little too well, and the excess movement made it tough to get the calls he needed.
"It was moving quite a bit, so it's tough to catch, and it was certainly hard for the umpire behind the plate to call strikes on it," Dickey said. "There were a number of pitches that were in the strike zone, in the box on the TV, that should've been strikes that weren't called. So I was behind the count quite a bit and having to elevate that knuckleball, and that's tough when you have to do that."
That left Dickey with two options: either throw the knuckleball low and risk issuing a walk, which he did three times, or elevate it and hope for the best. He did that quite a few times, too.
The Rangers had eight hits off Dickey, and both homers and Carlos Gomez's third-inning double came on pitches that were up.
"The thing that's unfortunate is when you feel like you've got to elevate that pitch," Dickey said. "The movement was good, it's just when I felt like I had to elevate it to get strikes called, it flattened out on me, and they hit some on the screws. With that pitch, you've just got to live and die with it and tonight we kind of died with it."
Cody Pace is a contributor to MLB.com based in Atlanta. This story was not subject to the approval of Major League Baseball or its clubs.