Olson continues torrid stretch with 2 HRs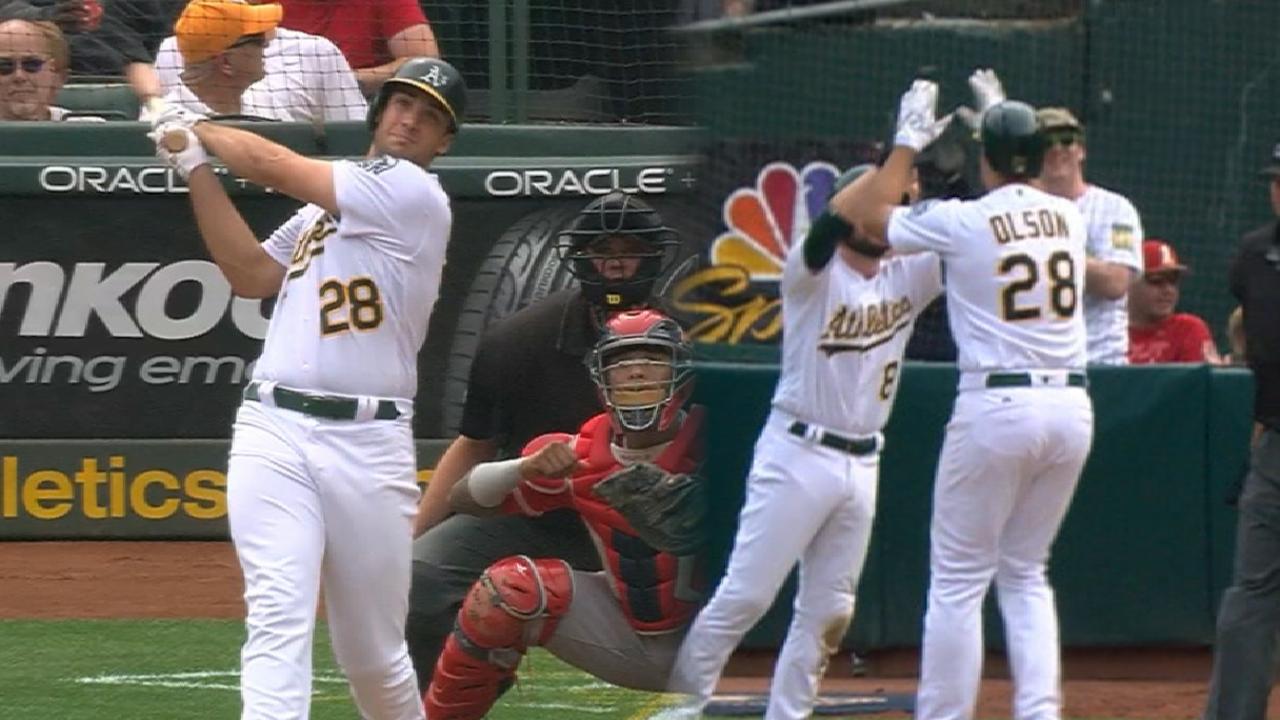 OAKLAND -- A's rookie Matt Olson just can't stop hitting homers.
Olson hit two more home runs Monday afternoon, including a game-tying shot with two outs in the ninth. Though the A's lost, 11-9, to the Angels in 11 innings, Olson's second multi-homer game of his career was the highlight for Oakland.
"You see the numbers. He's been fantastic," manager Bob Melvin said. "He's taking advantage of an opportunity. We knew he had it in him, but he's running with it right now. Doing a great job for us."
After hitting a solo homer in the third, Olson came up as the potential final out against Angels closer Blake Parker with a runner on and the A's down two. After taking two outside splitters from Parker, Olson got a third outside splitter and launched it to left-center for a two-run shot.
"Seeing the splitter the two pitches before helps you get the eyesight of it and see it up a little bit," Olson said. "It definitely helped."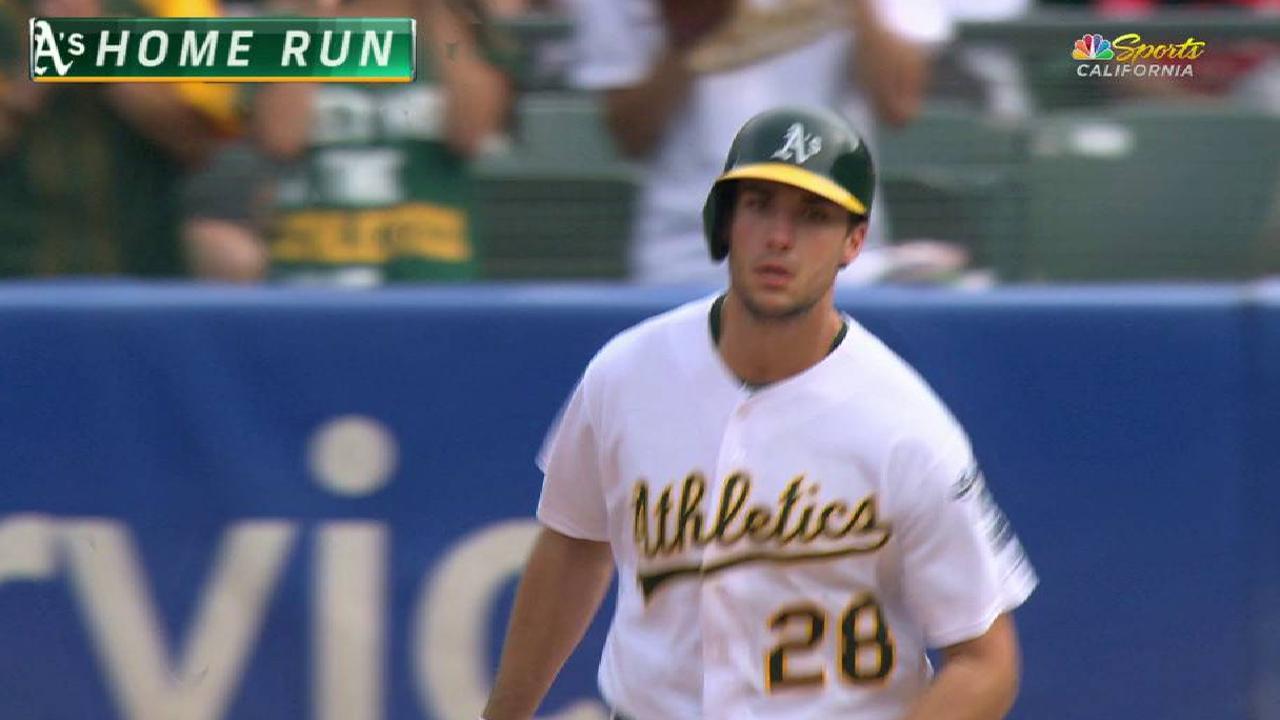 Olson has hit 10 homers in 23 games since the A's traded Yonder Alonso to the Mariners on Aug. 6 and called up Olson. He's played in all but two games since then, and is batting .307 in 75 at-bats. He's also hit six homers in his last eight games, something that doesn't shock him, but has caught him a little off-guard.
"I wouldn't say surprise myself. Did I necessarily see it happening this quickly in this way? No, not 100 percent," Olson said. "But I know that I had it in me, especially this year. I've been swinging it really good at the plate overall. Just kind of happening that way."
Olson also feels like he's developed at the plate, hitting his first homer on a high pitch around the letters on his jersey -- which he admitted is something he's struggled with in the past.
"I've hit a lot of pitches this year that I haven't necessarily gotten to in years past," Olson said. "That's just me advancing as a hitter and starting to know myself a little more."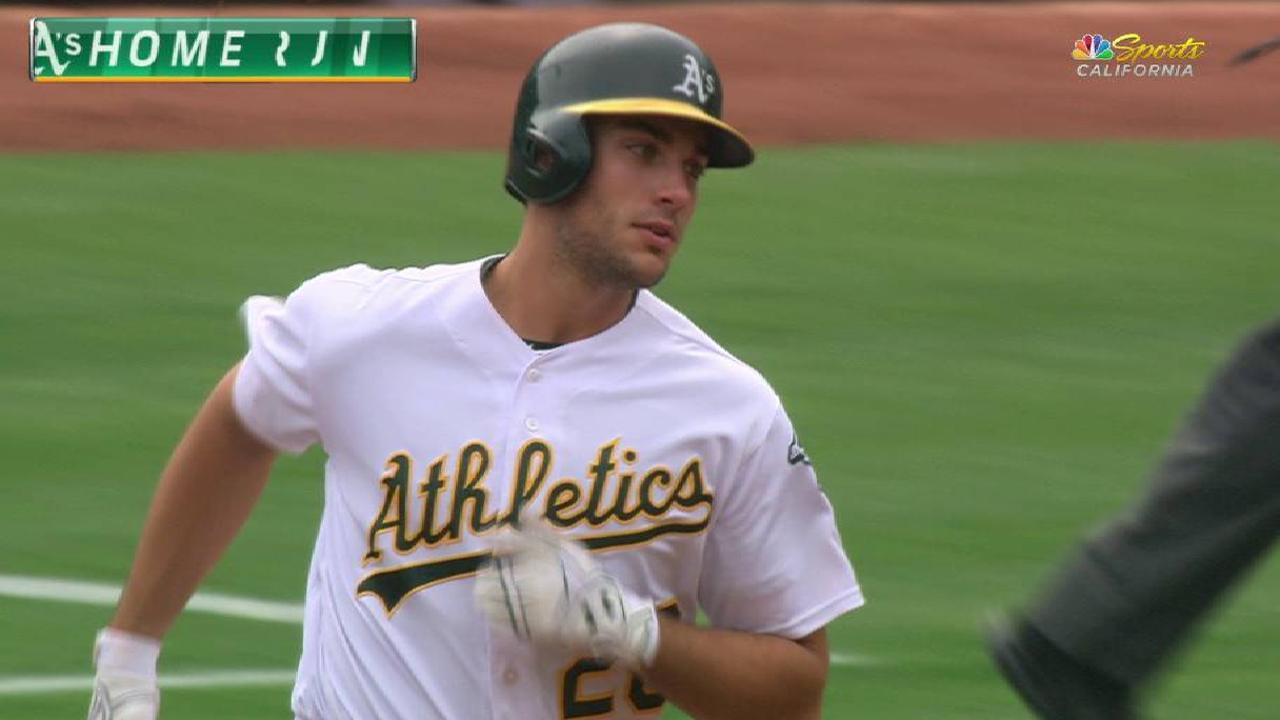 On the season, Olson's 14 homers in 126 at-bats places him right near the top in a variety of power-hitting stats. Olson's isolated slugging (slugging percentage minus batting average) is now .341, the fourth-best in all of baseball for hitters with at least 125 plate appearances. It also gives him a rate of a homer per every nine at-bats, the best for hitters with at least 125 plate appearances. It's that type of performance that has impressed teammates, like pitcher Chris Smith.
"He can hit lefties, he can hit righties, he can hit them to left, he can hit them to right," Smith said. "It's nice seeing him finally get comfortable and settled in and really show that he's special."
Alex Simon is a reporter for MLB.com based in the Bay Area. Follow him on Twitter at @alexsimon99. This story was not subject to the approval of Major League Baseball or its clubs.