Porcello shoulders responsibility for loss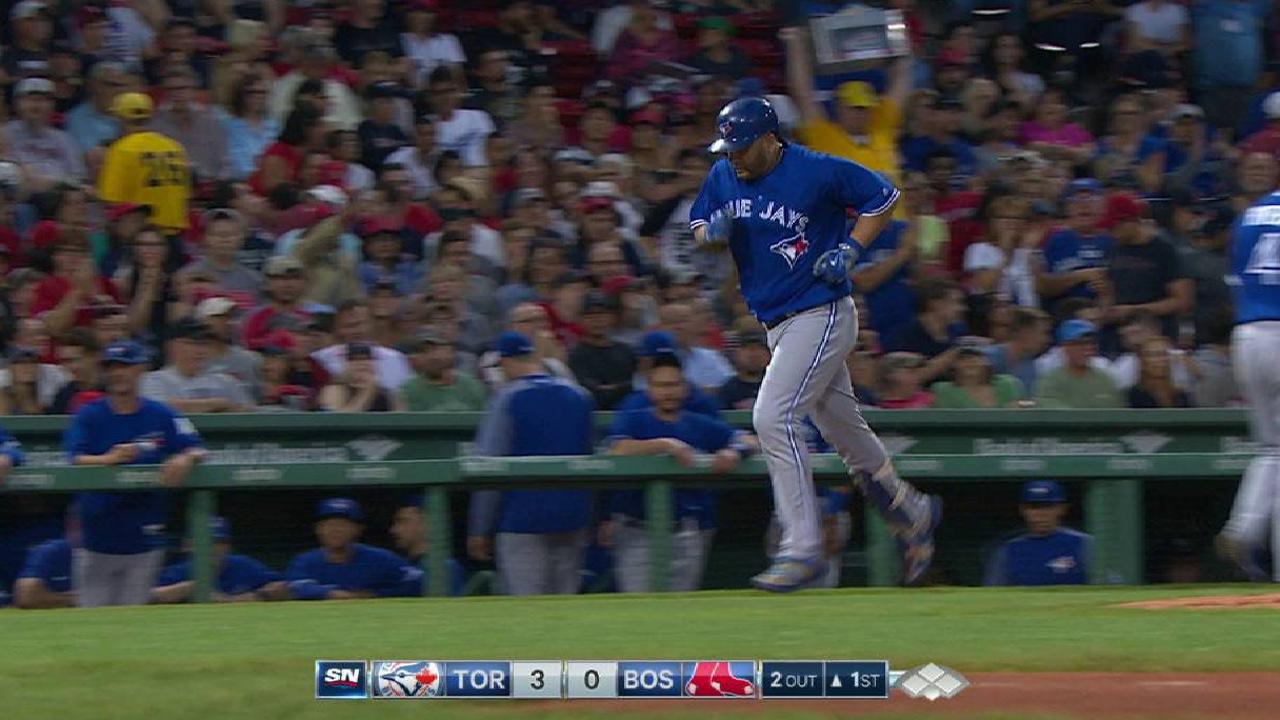 BOSTON -- Just one year removed from being voted the best pitcher in the American League, Rick Porcello is on the verge of the wrong side of history.
After serving up three home runs in Monday night's 10-4 loss to the Blue Jays, the reigning AL Cy Young Award winner has now yielded 35 on the season, just three shy of tying the Red Sox record, set by Tim Wakefield in 1996.
Footing full blame for the loss, Porcello explained his three gaffes: "Hanging breaking ball to [Kendrys] Morales, thought I had [Jose] Bautista set up for a high fastball, just didn't get it up high enough, then first-pitch fastball right down the middle to [Raffy] Lopez. Poorly executed. That's that."
"The curveball in the first inning, the fastball to Bautista a little bit later on and a first-pitch fastball to Lopez," manager John Farrell also concluded. "Six of the seven runs allowed are on three swings. It comes down to location. I thought he was settling in after the Bautista home run, we're in a two-run ballgame, we're chipping away -- but the bottom of the order did some damage against him, and things opened up after that in the [ninth, when the Jays scored three runs]."
This is the third time this season that Porcello has given up three or more home runs in a game, and his 10th multi-homer start, moving him into a tie with Seattle southpaw Ariel Miranda for the most long balls allowed this season.
It is also the 21st time in 29 starts that he's allowed at least one; only once this season has Porcello gone back-to-back starts without a homer against him.
"I'm disappointed in my performance and definitely take full responsibility for our loss today," Porcello said. "I think more importantly, with a late game last night and coming out here, I was probably the most fresh out of all of our guys. To come out here and do what I did is disappointing. I'll be ready five days from now. This one, you've just got to have a short memory with it."
The most home runs that Porcello had allowed in a season prior to 2017 was 25, yielded in 2015, his first year in Boston.
Adding fuel to the fire was the fact that he was tagged with his Major League-leading 16th loss of the season, another dubious high-water mark.
Despite the struggles of one of the main cogs in its rotation, Boston is 2 1/2 games up on New York in the East, though things have tightened up quite a bit in the last week; the Red Sox had held a 5 1/2-game advantage before losing four of their last five games.
"You're not going to go out and dominate everybody every game in every month," Porcello said. "We've definitely got to snap back into it and get back to throwing the ball the way we know how to and be effective again as quickly as possible."
Craig Forde is a contributor to MLB.com based in Boston. This story was not subject to the approval of Major League Baseball or its clubs.