20 runs, 20 pitchers: Halos outlast A's in extras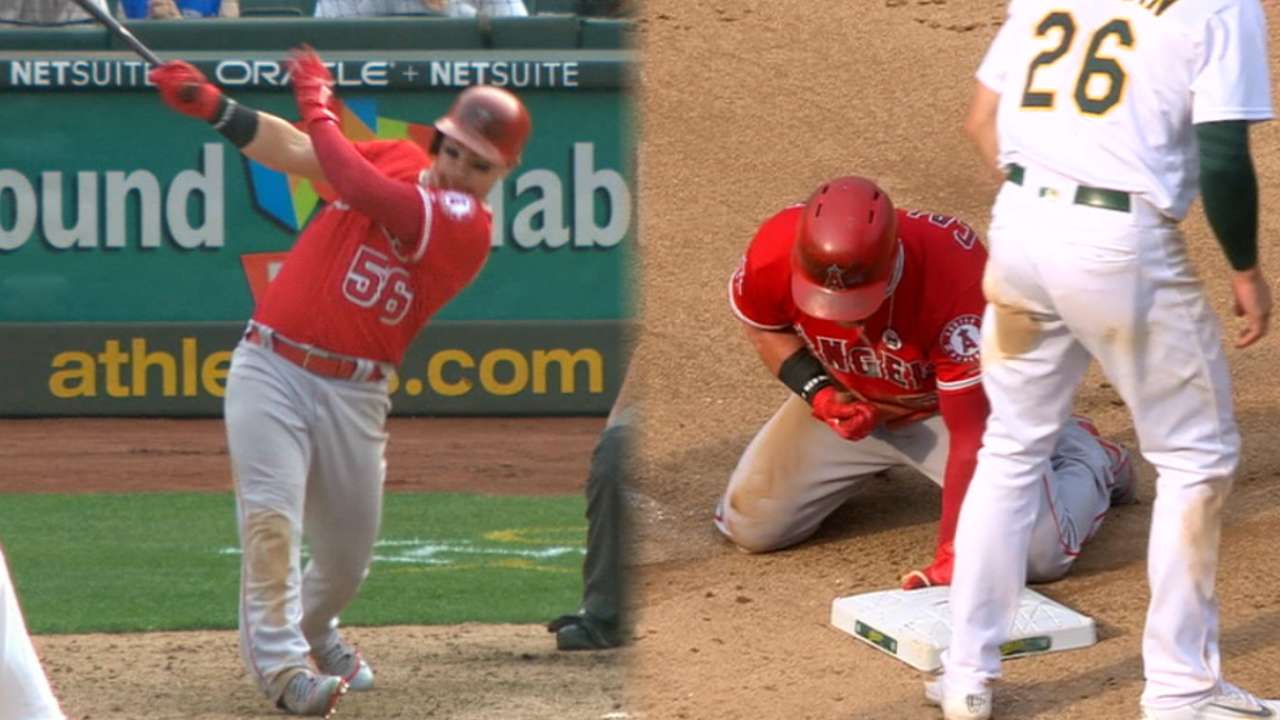 OAKLAND -- Kole Calhoun's two-run, go-ahead triple off Blake Treinen lifted the Angels to a wild 11-9 series-opening victory over the A's in 11 innings on Monday afternoon at the Coliseum.
With the game tied, 9-9, Treinen issued a one-out walk to Justin Upton and then hit Eric Young Jr. to bring up Calhoun, who lined a 1-0 sinker down the right-field line, just past a diving Matt Olson for his first triple of the season.
Keynan Middleton coaxed a game-ending double play from Khris Davis to end the 4-hour, 38-minute marathon. The Angels set an American League record by using 12 pitchers in the back-and-forth contest.
"We had the game on our terms a number of times like we won it, and those guys kept clawing back into it," Angels manager Mike Scioscia said. "We persevered. We kept going. We had a lot of opportunities, good offensive day, and it kept flip-flopping until we held it at the end."
The Angels took a 9-7 lead into the ninth, but Olson tied it with a two-out, two-run home run to left field off Blake Parker to force extra innings. It was Olson's second homer of the afternoon, as he also launched a solo shot that gave the A's a 5-4 lead in the third.
• Olson continues torrid stretch with 2 HRs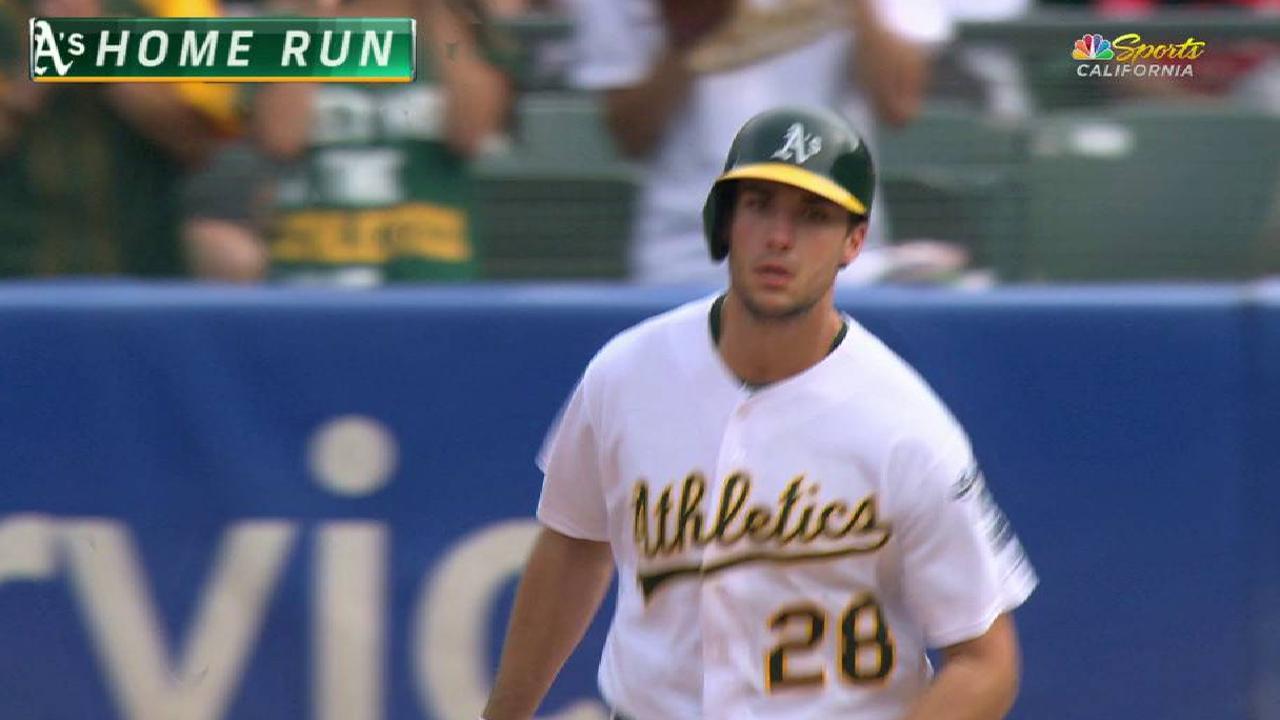 "We scored four in the first and lost the lead pretty quickly after that. We just couldn't hold them down in early innings," A's manager Bob Melvin said. "We continued to fight and, when you're going through a little bit of a losing streak like that, it shows some grit. Would've been nice to finish it off."
Martin Maldonado homered twice and drove in three runs for the Halos, who are now a half-game out of the second American League Wild Card spot, after the Twins lost to the Rays. Luis Valbuena added a three-run homer, while Calhoun collected three hits and two RBIs.
• Tireless Maldonado providing power, too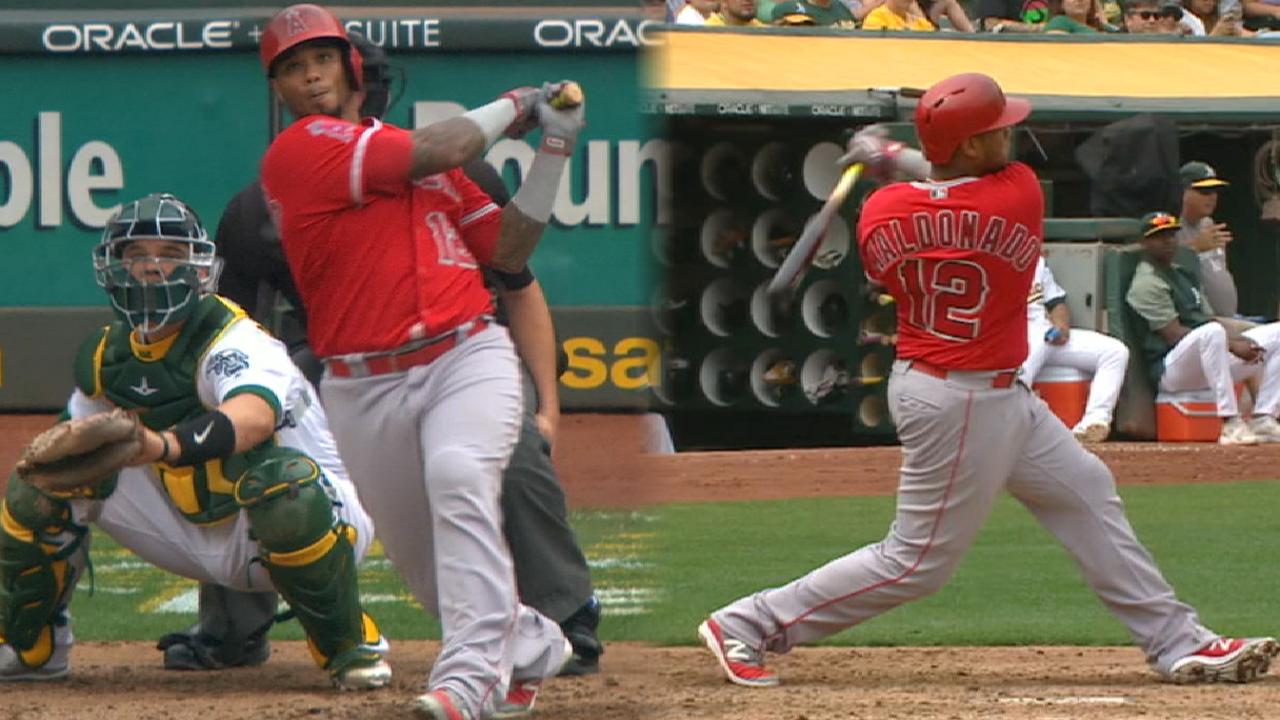 "It's big," Calhoun said of the Angels' victory. "All these games going forward now are going to be huge for us. Not that they're all must-win, but we've got to come out ready every day."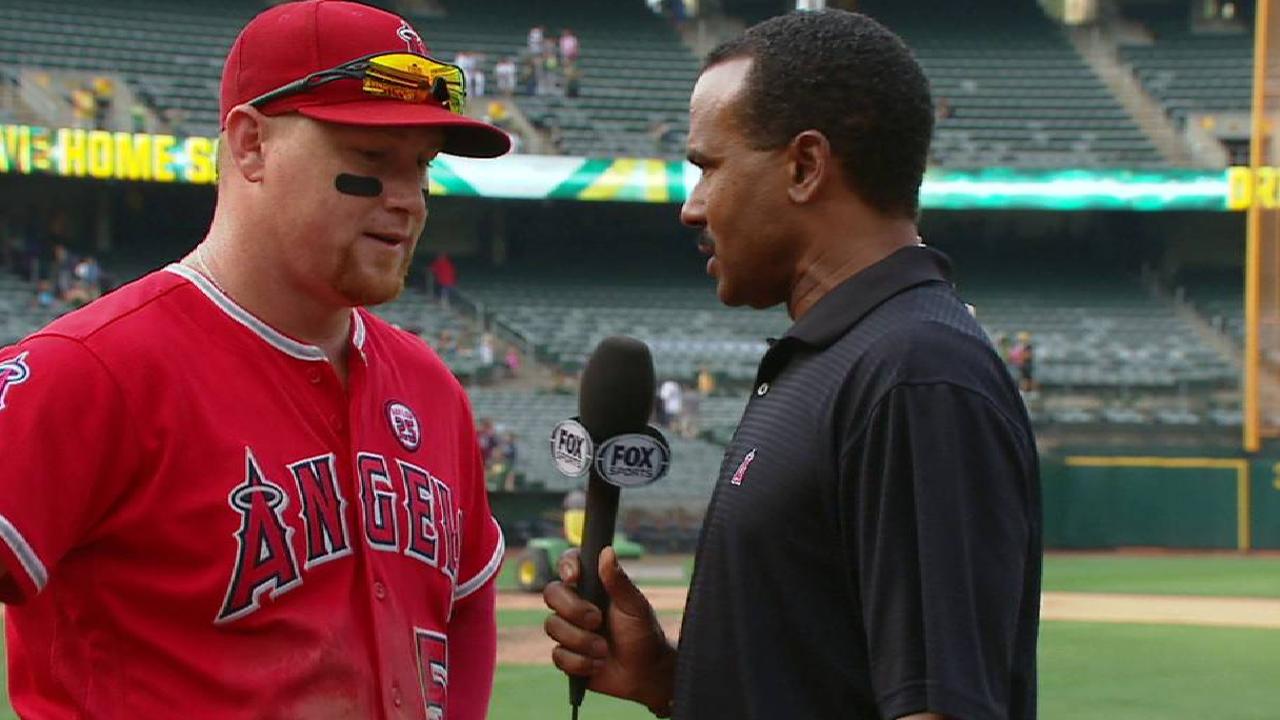 The Angels' prolific offense, which produced 14 hits, helped make up for the club's continued rotation woes. Rookie Parker Bridwell endured his second consecutive rocky outing, yielding six runs over three-plus innings. After logging a 2.89 ERA through his first 14 appearances for the Angels this season, Bridwell has now allowed 13 runs over six innings in his last two starts, both against Oakland, causing his ERA to spike to 4.00.
"It's nothing about the team, I don't think," Bridwell said. "It's just execution of pitches. My last two outings haven't been what I've wanted at all. I've got to be a lot better than that, and I will be."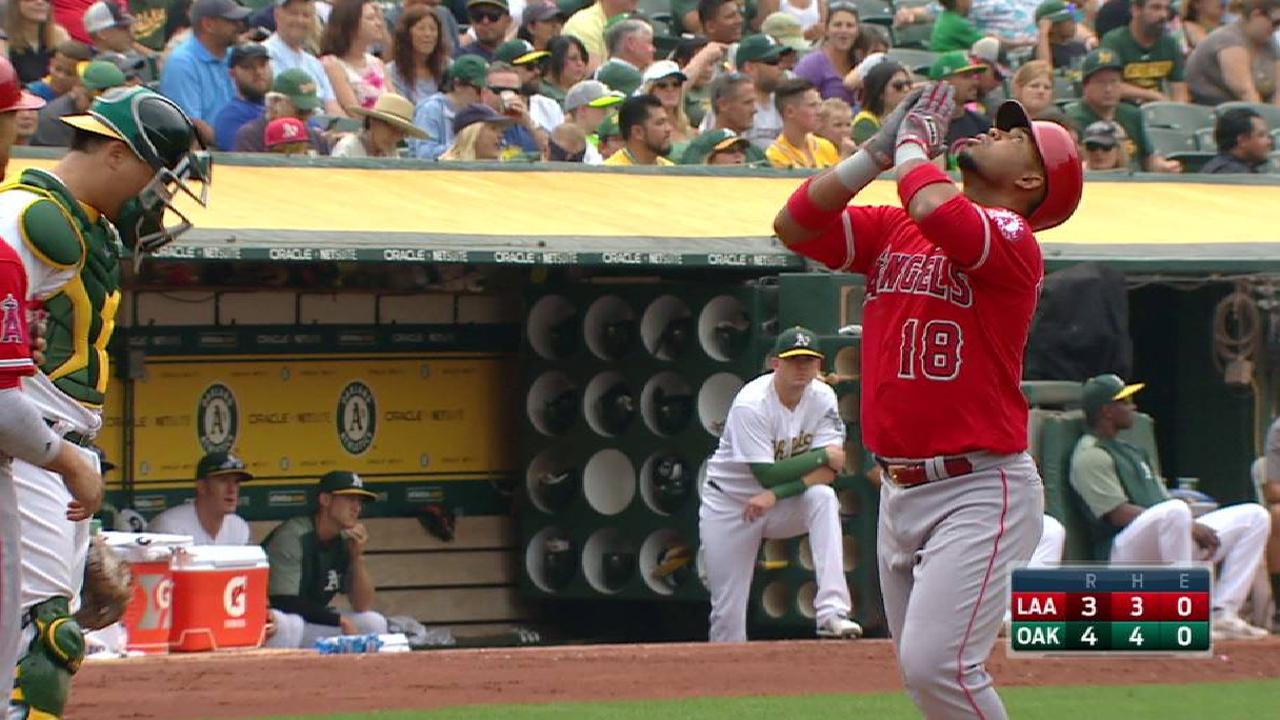 Chris Smith did not fare much better for the A's, surrendering seven runs over 3 1/3 innings and squandering the A's early four-run lead. He has recorded a 7.11 ERA in 11 outings for Oakland this year.
"We tried not to let their main guys beat me, and it got carried away and the lower part of the lineup beat me, Maldonado especially," Smith said. "Our offense was outstanding today. The offense gave me a chance to win the game. I just blew it."
MOMENTS THAT MATTERED
Olson ties it: Jed Lowrie set up Olson's clutch ninth-inning homer with a one-out single to left field. Davis then struck out for the second out of the inning, but Olson followed by crushing a 1-1 splitter from Parker to the left-field bleachers for his 14th home run.
A's threaten again: The A's put runners on first and second with one out in the 11th after Matt Joyce singled and Lowie walked, prompting Scioscia to bring in Middleton to face Davis. Middleton worked out of the jam by getting Davis to bounce into a 4-6-3 double play.
"We were trying to stay away from Keynan," Scioscia said. "He threw some pitches yesterday and we were trying to give him a day to catch his breath, but the circumstances called for us to at least give it a shot. He answered the bell."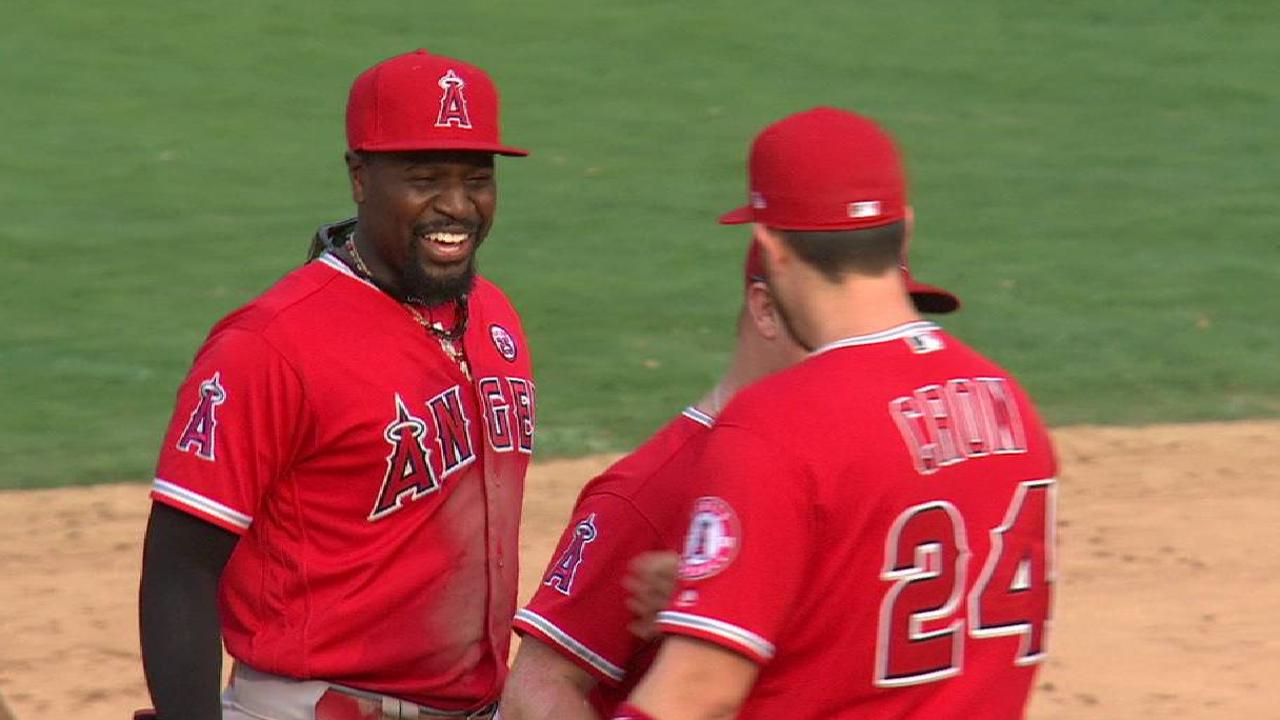 QUOTABLE
"Having a losing streak isn't fun by any means. Losing a game like that isn't fun by any means. But I think it says something, the way we stayed in that game the entire time and still fighting in the bottom of the 11th there. It's never nice to be on the losing side of a streak like that, but I think none of us are getting down in the dumps and we're keeping our heads up." -- Olson, on the A's losing their seventh-straight game
SOUND SMART WITH YOUR FRIENDS
Mike Trout has now walked in a career-high 12 consecutive games, leaving him one shy of the Angels record, which was set by Albie Pearson in 1961.
The Angels are the first Major League team ever to play four consecutive games lasting longer than 3 hours and 49 minutes.
BUSH TOSSED
A's hitting coach Darren Bush was ejected by home-plate umpire Jordan Baker in the fifth for arguing balls and strikes. Bush was upset after Baker rung up Matt Chapman on a third strike from Noe Ramirez to end the inning.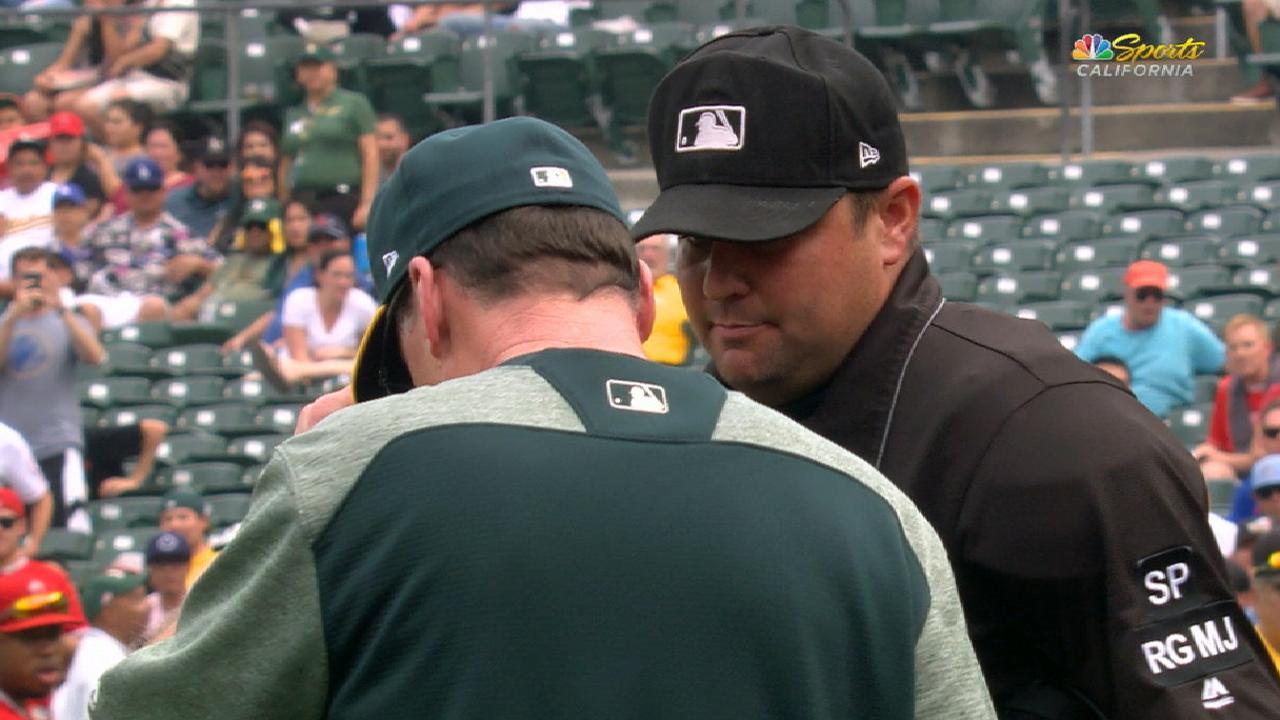 UPON FURTHER REVIEW
In the ninth, Young Jr. was called out after being picked off first base by Chris Hatcher, but the Angels successfully challenged the call.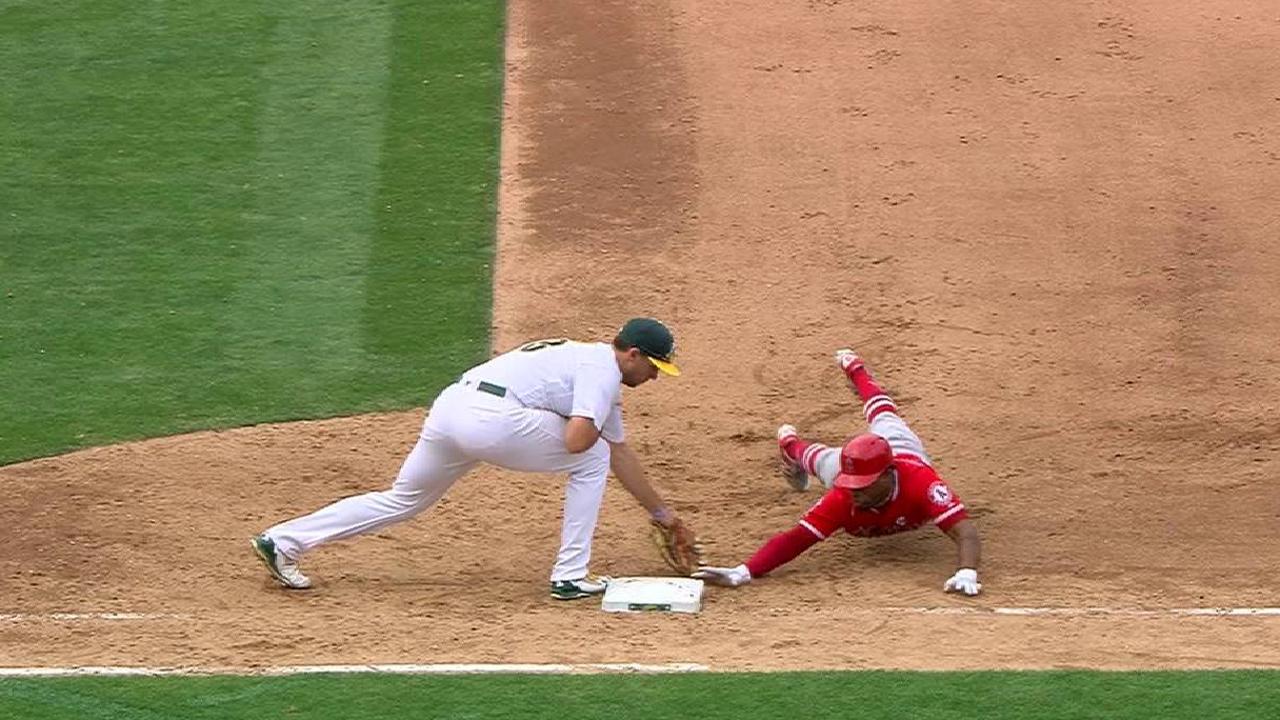 WHAT'S NEXT
Angels: Right-hander Garrett Richards will make his first Major League start since April 5 on Tuesday when he takes the mound for the Angels in the second of three games against the A's at 7:05 p.m. PT at the Coliseum. Richards, who has missed five months with an irritated nerve in his right biceps, is expected to be limited to 50 pitches.
A's: Right-hander Kendall Graveman (4-4, 4.54 ERA) will take the mound for Tuesday's 7:05 p.m. PT start, making his fifth start against the Angels this season. Graveman was bit by the long ball in Anaheim on Wednesday, allowing three of them -- including two to Albert Pujols.
Watch every out-of-market regular-season game live on MLB.TV.
Maria Guardado covers the Angels for MLB.com.

Alex Simon is a reporter for MLB.com based in the Bay Area. Follow him on Twitter at @alexsimon99.

This story was not subject to the approval of Major League Baseball or its clubs.