Top Tribe prospect Mejia revels in 1st hit, RBI
Serving as DH, lefty hitter garners praise from teammates, Francona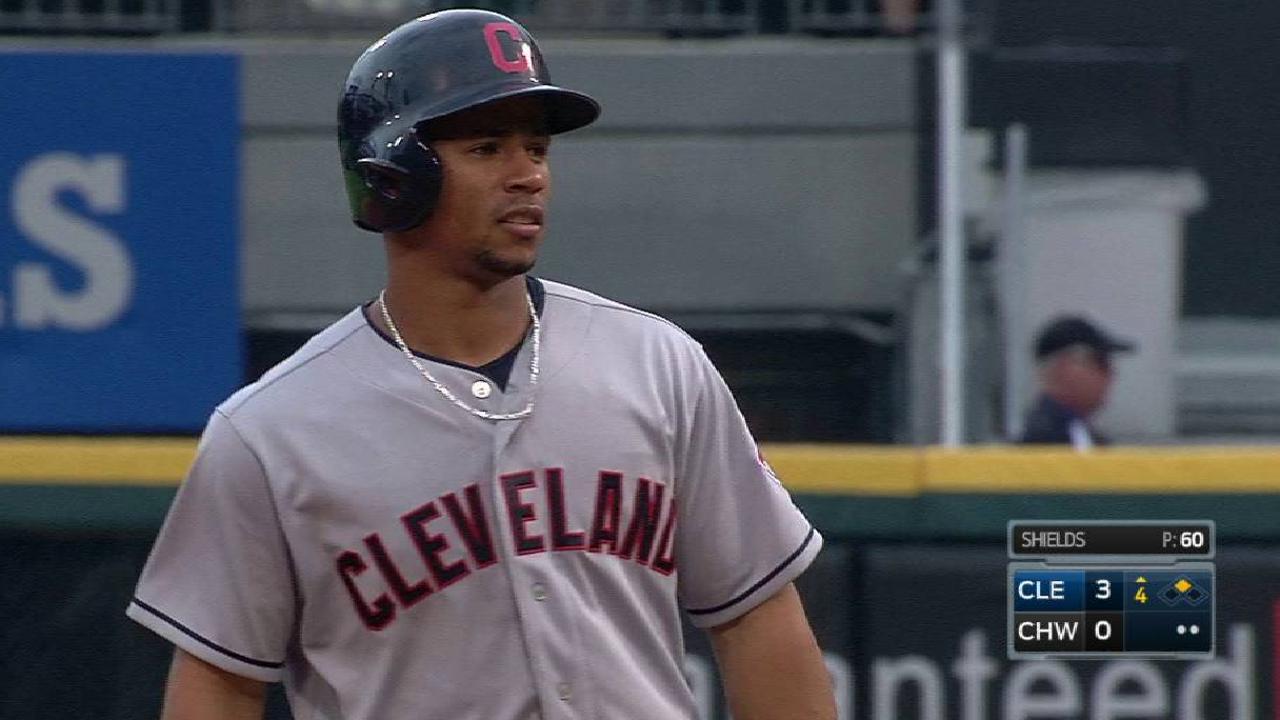 CHICAGO -- Top Indians prospect Francisco Mejia didn't realize he'd registered his first Major League hit and RBI until he was standing on second base. All he'd heard was his first-base coach, Sandy Alomar Jr., imploring him to head to second.
Then he heard the loud cheers from his teammates in the dugout in Monday's 5-3 Indians win over the White Sox at Guaranteed Rate Field.
Mejia's sharply-hit liner through the middle of the diamond sped past the gloves of pitcher James Shields and shortstop Tim Anderson at 102.1 mph, according to Statcast™, driving in the third run of the game in the fourth inning of Cleveland's win over the White Sox -- the club's 12th win in a row, the longest such streak in 2017.
"In the midst of, we're probably at Game 135 or something, and to see him standing on second and see the guys who are tired from playing all year reacting to that, that's pretty cool," Indians manager Terry Francona said of the dugout celebration.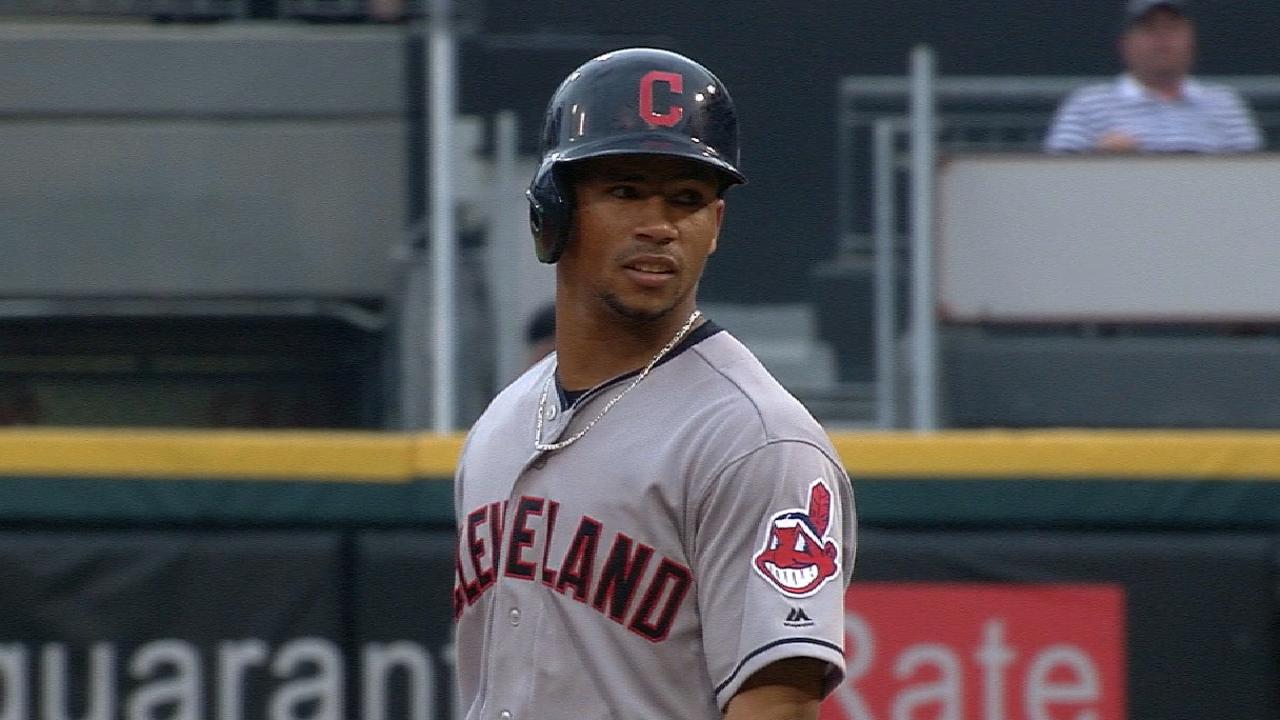 Along with being the Indians' No. 1 prospect per MLBPipeline.com, Mejia is the No. 15 prospect in baseball. He finished 1-for-4 with the lone RBI, but tagged each of the last three balls he put in play. After the single, his next two batted balls -- a 104.5-mph liner off Shields' knee that resulted in a groundout and a 101.1-mph groundout -- were classified as "hard-hit," or balls with exit velocities of 95 mph or greater according to Statcast™.
"[Mejia] is a good hitter," Francona said. "He's kind of got some moving parts, but his hand-eye coordination, his bat speed. He squared up three balls today. He's just a really good hitter."
The 21-year-old catching prospect, who batted eighth as the designated hitter with Edwin Encarnacion getting the day off, is 1-for-6 in his first three big league games after debuting Friday. Even with Mejia slated to be a part of the Indians' contingent at the Arizona Fall League next month, the young prospect said he's feeling comfortable at the Major League level.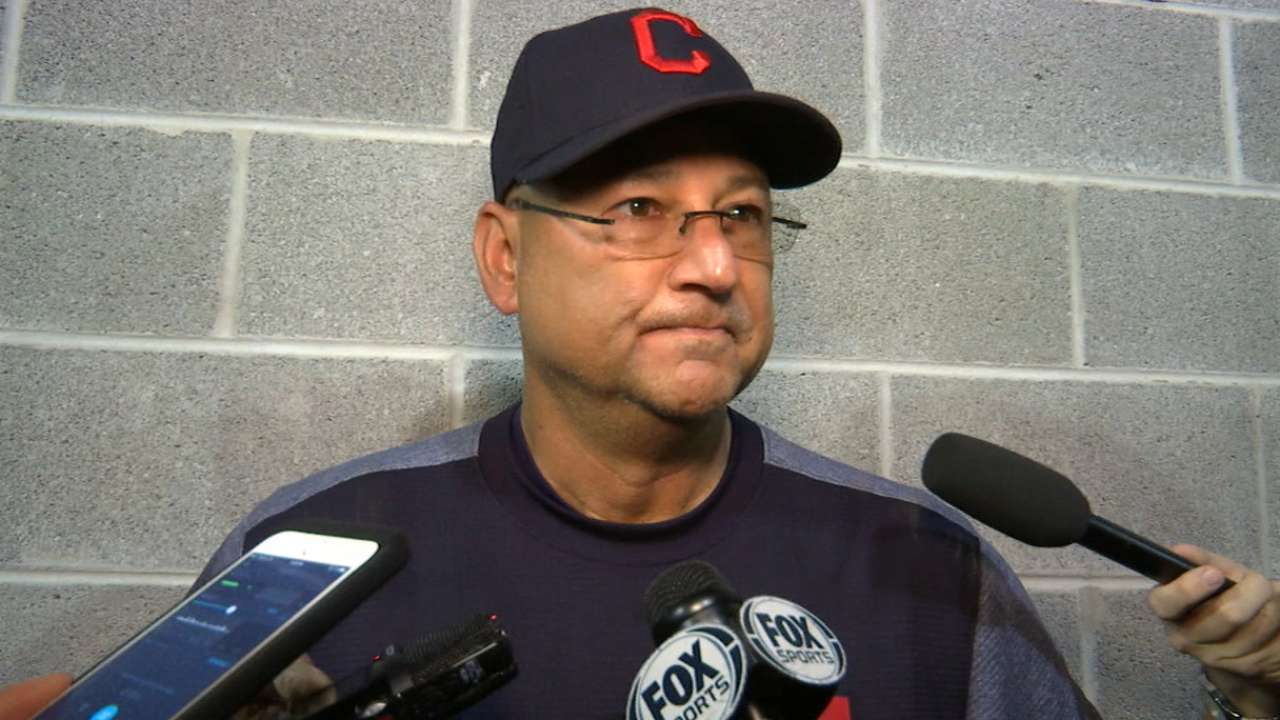 "I think I was a little nervous the first couple of at-bats," Mejia said through an interpreter. "The last few, I've seen better pitches, and my approach is different."
Mejia, who kept the ball from his first hit and will be give it to his mother, didn't allow himself to celebrate the accomplishment until the celebration was thrust upon him postgame. He received the works: a shower that included milk, peanut butter, "everything," according to Mejia.
It was a special celebration for second baseman Jose Ramirez as well. Ramirez, like Mejia a native of Bani in the Dominican Republic, has been tracking Mejia since before he signed with Cleveland. Now, the American League leader in extra-base hits, who added another homer to his tally Monday, got to celebrate the feat with his countryman.
"I feel super happy for him, first of all because he's so young, but second because he's from where I'm from," Ramirez said through an interpreter. "He's from my hometown. He's from Bani. He's a really good hitter, and I'm really happy for him."
Fabian Ardaya is a reporter for MLB.com based in Chicago and covered the Indians on Monday. This story was not subject to the approval of Major League Baseball or its clubs.