Hot start fizzles as command betrays Bundy
Orioles ace tosses three hitless innings before battling location and exiting in fifth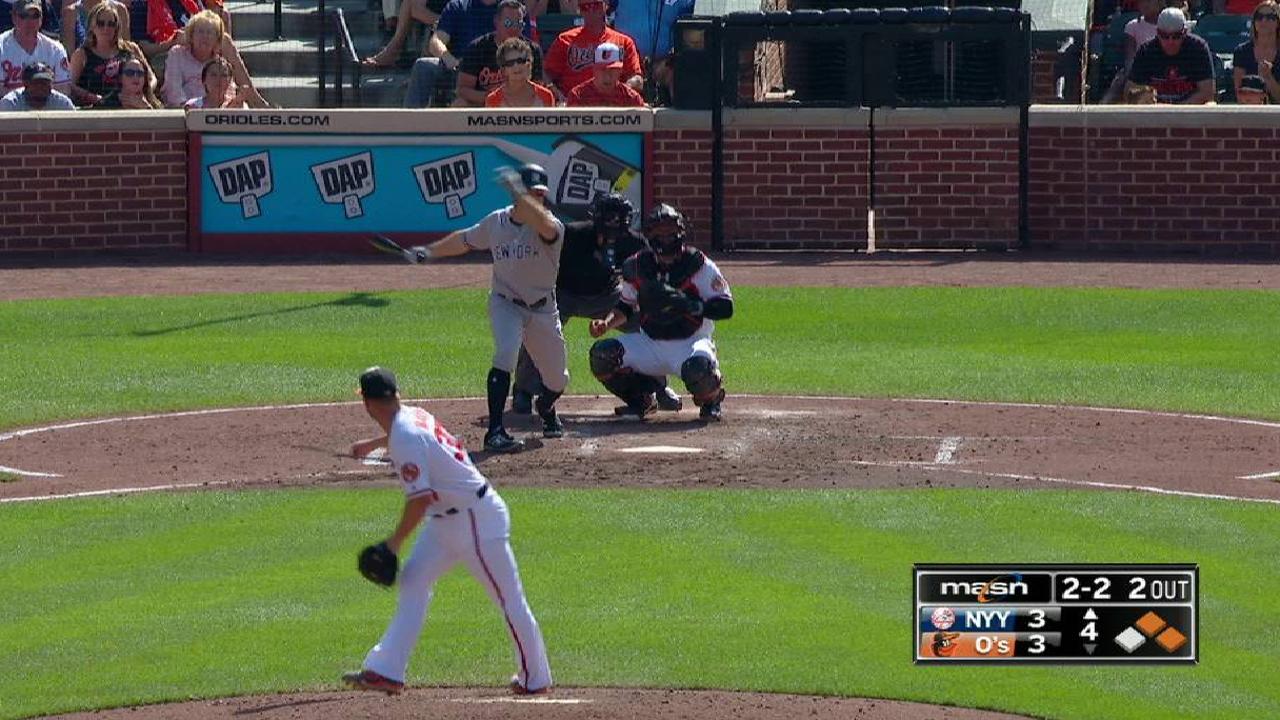 BALTIMORE -- This wasn't the way the Orioles wanted to start a pivotal series against a divisional foe, with whom they are competing for a spot in the postseason.
With ace Dylan Bundy pitching on five days' rest and fresh off a feel-good, walk-off win against Toronto, the O's watched an early three-run lead dissipate as Bundy turned in one of his worst outings of the season in Monday's 7-4 loss to the Yankees. A surprising twist after he started the game in dominant fashion.
"I didn't feel fatigued or anything. I felt like stuff-wise was good," said Bundy, who was coming off a one-hit shutout against Seattle in which he threw a career-high 116 pitches. "Ball was coming out all right, body felt great. Stuff-wise was fine -- it was just really command and location of my pitches today."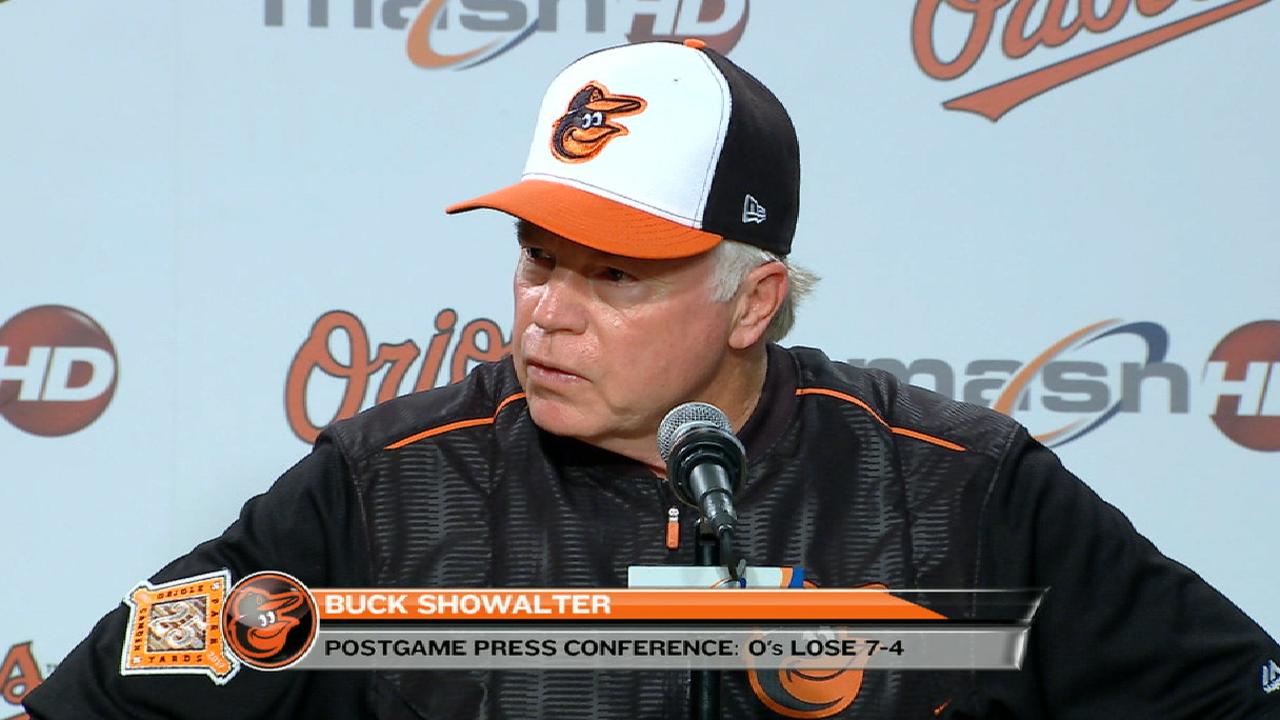 Bundy, who cruised through three scoreless and hitless frames while allowing a pair of walks, saw things start to fall apart in the fourth. With a 3-0 lead, he struggled to get ahead, allowing a leadoff single followed by a two-run homer from Didi Gregorius. Bundy then walked Aaron Judge and, one out later, Todd Frazier as he battled command issues. Jacoby Ellsbury made the free passes hurt, singling into right field to tie the game at 3.
Bundy's struggles persisted in the fifth following the 37-pitch fourth. He got ahead, 0-2, on Chase Headley to lead off the frame before Headley battled back for a single. Starlin Castro then lined the first pitch he saw into left field for a two-run blast that gave the Yankees a 5-3 lead. It would also spell the end of Bundy's afternoon, marking the first time he was unable to record an out in the fifth since July 1.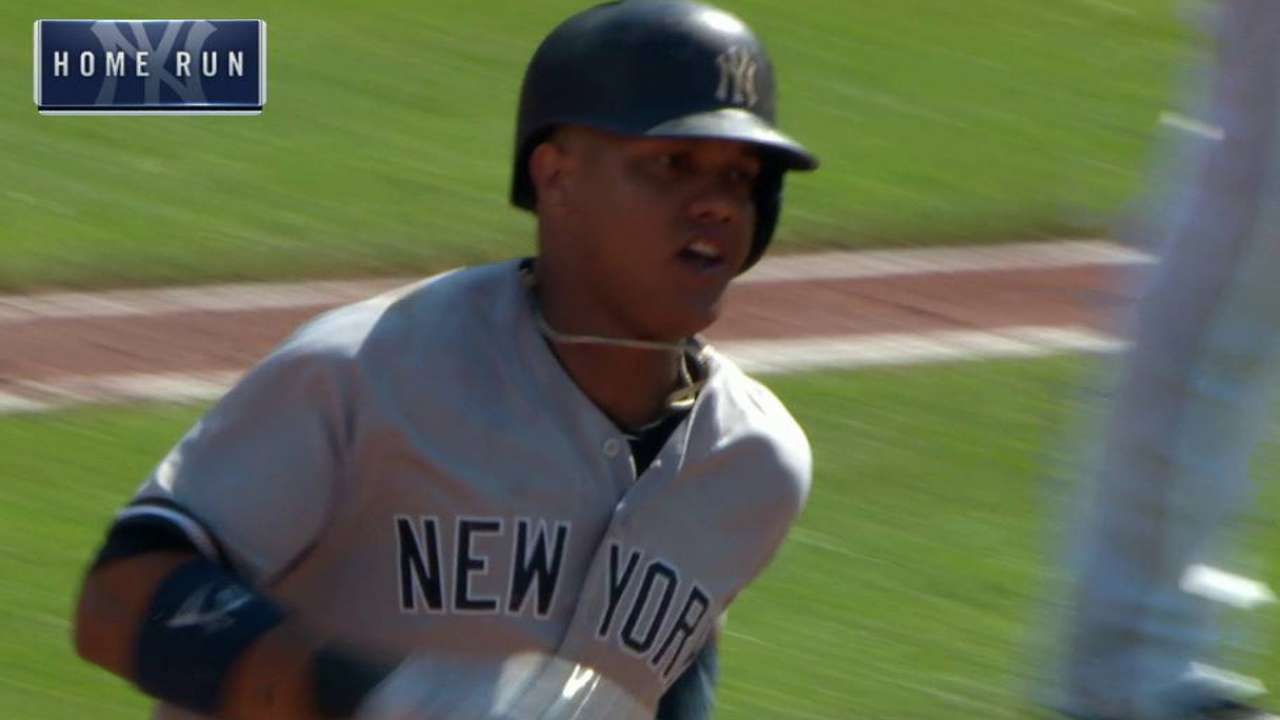 "Just command got away from him," Orioles manager Buck Showalter said of Bundy, who tied a career high with four walks. "First couple innings were OK, just couldn't find his command. I don't care who you're facing, they're a pretty patient team when they see that. Whether it's them or someone else, they see you're having a little trouble commanding the ball, then they get real patient."
The loss pushed the Orioles 4 1/2 games behind the Wild Card-leading Yankees, and the O's are now 1 1/2 games behind the Twins and one behind the Angels in the chase for the second AL Wild Card.
Bundy, the team leader in wins and innings pitched, was one of the main reasons the club has adopted a six-man rotation. Not only has the righty benefited from extra rest -- he pitched to a 2.00 ERA in five August outings and had tossed five consecutive quality starts -- but it helps keep his innings in check. The 24-year-old has thrown 159 1/3 innings in his first full season in the rotation, up from 109 2/3 last season.
Showalter agreed with Bundy that he didn't see a lot of fatigue on Monday, just struggle with location.
"His stuff was crisp. He had good stuff," Showalter said. "Obviously, [fatigue is] not a topic of conversation with him when he comes out of the game. But all along, with the communication, he feels really good. ... He's had some issues like all pitchers do, but he wasn't the only one today. We had trouble commanding the baseball, period."
Brittany Ghiroli has covered the Orioles for MLB.com since 2010. Follow her on Facebook and Twitter @britt_ghiroli, and listen to her podcast. This story was not subject to the approval of Major League Baseball or its clubs.