Chen reinstated, appears in relief for first time
Mattingly: Lefty will be 'tough to use' because he needs extra warmup time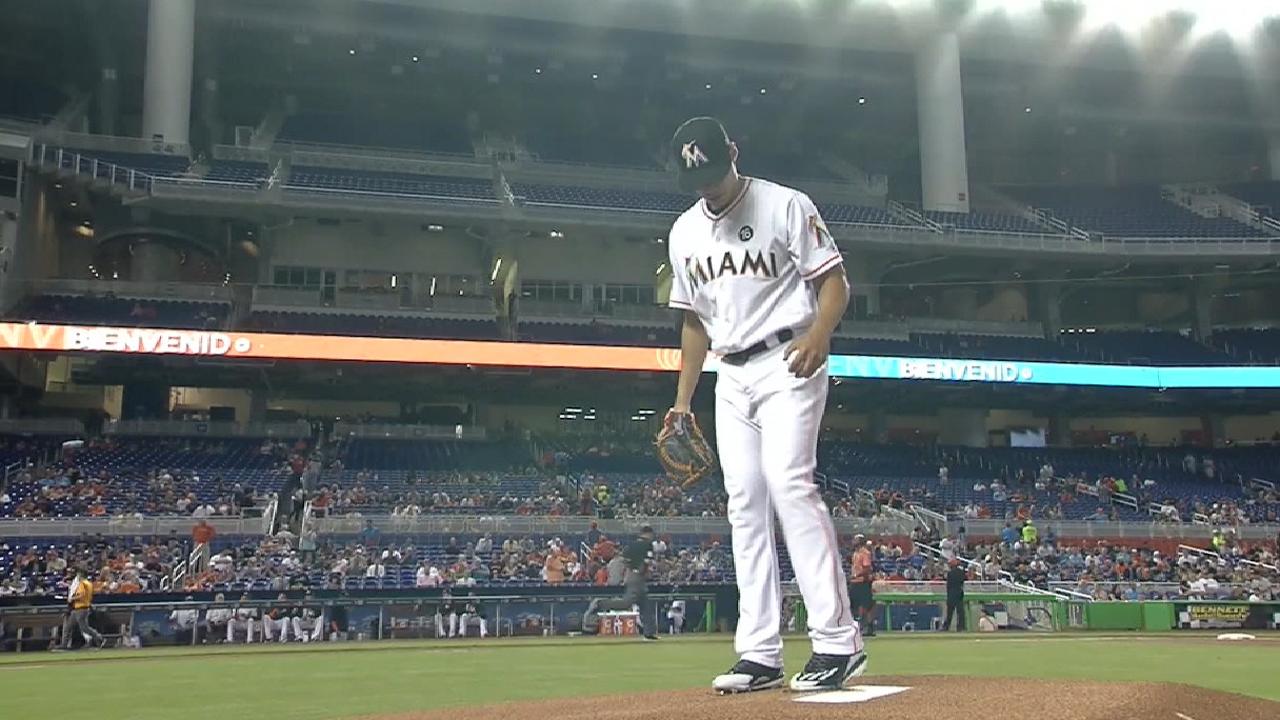 MIAMI -- The Marlins on Monday reinstated Wei-Yin Chen from the disabled list, and the left-hander threw a scoreless inning of relief in a 7-2 loss to the Nationals at Marlins Park.
Chen, who has a partial UCL tear in his left elbow, has been on the DL since May 5. Making his first relief appearance, he retired the side in order in the eighth inning on 11 pitches, with eight strikes.
"Obviously, the results were there," Marlins manager Don Mattingly said. "It was good to get him back out there."
The lefty entered the season as Miami's fourth starter, but made just five starts and posted a 2-1 record with a 4.33 ERA in 27 innings before experiencing fatigue in his arm.
Physically, Chen said he is now pain-free when throwing, but the club will continue to monitor how he is used.
"I don't think there's much of a problem here, because it's been a while," Chen said through his interpreter. "I've rested for a while. It's good now. I don't want to think about it too much. I just want to pitch. I think it's fine now."
The veteran has made 144 big league starts, and has logged 857 innings. This is the first time he's been used in relief.
With the Nationals ahead by five runs in the eighth inning, the Marlins saw that as an opportune time to get Chen some work.
Still, getting Chen into games could be challenging for manager Don Mattingly.
Mattingly noted, after talking with Chen, that the lefty will need more time to get ready than regular relievers. So, he is not expected to be a situational left-hander unless he's been given longer to be prepared for one or two batters.
"Chen is going to be tough to use, honestly," Mattingly said. "He's going to need like 10 minutes to get loose, he told us. There's not many scenarios that I get 10 minutes to get a guy ready. It will be tough to find place to use him."
One way to get Chen warmed up is to have him throwing off the mound the previous inning while Miami is in the field. Chen can then continue throwing while the Marlins are batting.
Even though his role is in the bullpen the rest of the year, Chen anticipates being a starter in 2018.
"We haven't talked about anything beyond this year," Chen said. "For now, I'm in the 'pen. Next year, if I feel good, I may start again. For now, I'm trying to do my job in the 'pen, for this year."
Joe Frisaro has covered the Marlins for MLB.com since 2002. Follow him on Twitter @JoeFrisaro and listen to his podcast. This story was not subject to the approval of Major League Baseball or its clubs.