Nimmo proving steady presence in Mets lineup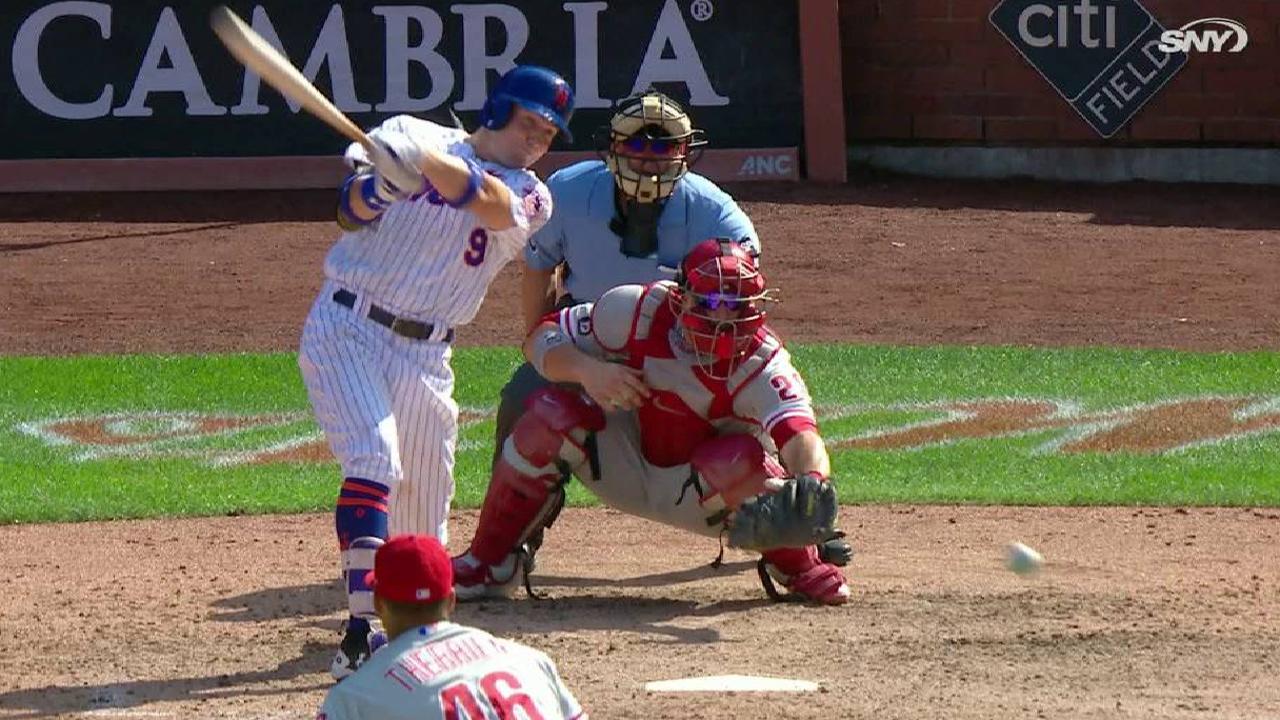 NEW YORK -- A consistent theme over the final month of the 2017 season for the Mets will be their younger players auditioning for roles -- perhaps even starting jobs -- for the future. It might be safe to say no one is enjoying it more -- and exceedingly thankful for the opportunity -- than Brandon Nimmo.
With the season-ending injuries to Michael Conforto and Yoenis Cespedes in the final week of August, Nimmo has suddenly become a fixture in manager Terry Collins' lineups -- usually in left field alongside Juan Lagares in center, like he was on Monday in the Mets' 11-7 win over the Phillies. Nimmo tied his career high with three hits and also had two RBIs and a run scored.
The chance to play every day has been a thrill for Nimmo.
"Oh gosh," Nimmo said. "I don't know if I could appreciate it more. Every day that I've been up here, I've been really, really thankful for it. But yes, there is a different sense when you get to play every day, when you see your name in the lineup most days."
Nimmo spent most of his time in the Majors this year in a pinch-hitting role, and he excelled in it, going 5-for-15 with four walks. Nimmo's eye at the dish and ability to draw walks has been key to his recent success. Dating back to Aug. 27, he's reached base safely in nine straight games, batting .313 (10-for-32) with six RBIs and five runs scored.
Collins said that Nimmo's eye will allow him to become a player who could potentially evolve into a starter, although his level swing goes against the trend of players focused on hitting fly balls. In 194 career plate appearances, Nimmo has only two home runs, but Collins won't ask him to change his approach.
"He's such a young guy, you want him to get established here before you start to try and change anything," Collins said. "When you ask players to be something different -- something they're not -- they're going to have to deal with some failure along the way. Right now, I'd just like him to continue what he feels comfortable doing."
Nimmo believes the results he's seeing is thanks to consistently seeing live pitching. It allows him to stay sharp in the box and develop a comfort level there, since adjusting to velocity isn't as stark as it was when he was pinch-hitting. In his 11 starts since Aug. 23, he's walked 12 times. Nimmo insists that he doesn't look for walks at the plate; rather they're a byproduct of his patient approach.
But unlike a fastball just off the outside corner, he won't let this opportunity go by.
"I'm having a lot of fun with it, because you don't know how long this lasts and you just want to take advantage of it every day," Nimmo said. "For me, I'm just trying to be really grateful about this time and enjoy the heck out of it, because not everyone gets to be a Major League player."
Chris Bumbaca is a reporter for MLB.com based in New York. This story was not subject to the approval of Major League Baseball or its clubs.