Arrieta reports just a cramp after early exit
Veteran appears to escape injury despite limping off the field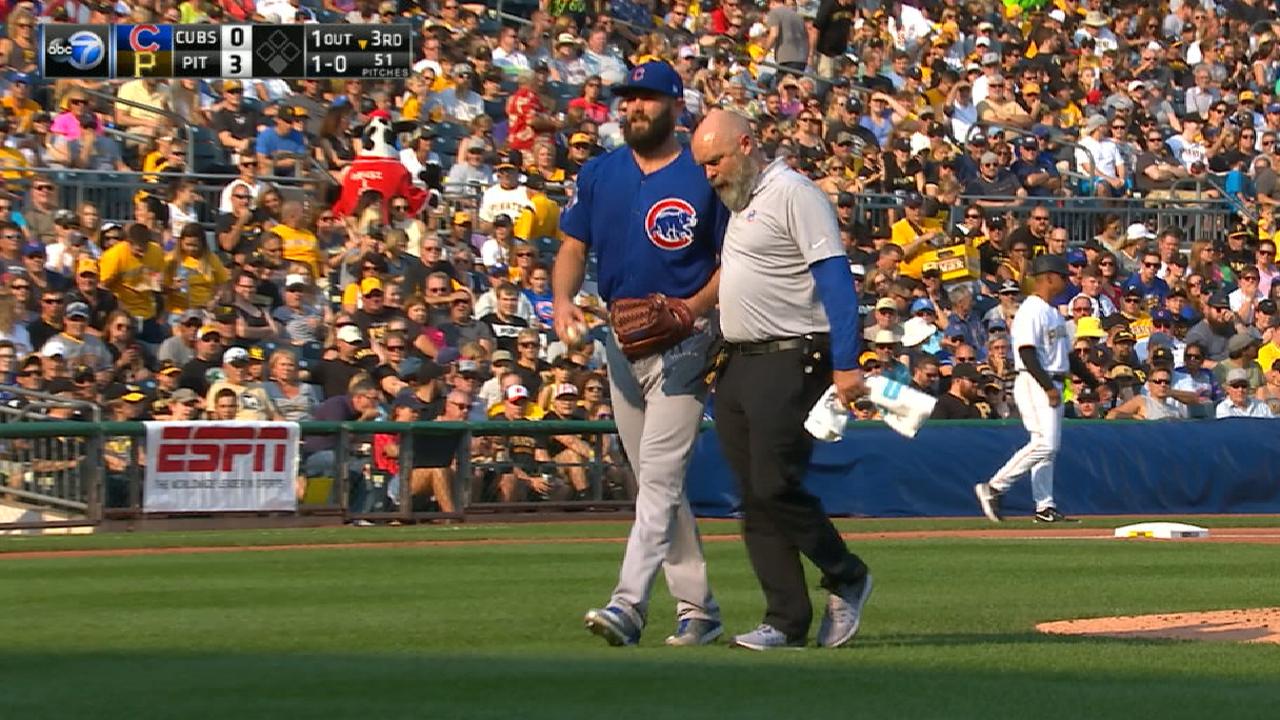 PITTSBURGH -- It was a messy game for the Cubs, like most games when an outfielder comes in to pitch. But as ugly as their 12-0 loss to the Pirates on Monday was, things could have been much, much worse.
The large contingent of Cubs fans at PNC Park fell into a hush when ace right-hander Jake Arrieta grabbed the back of his leg in the third inning after throwing a pitch to Josh Bell and started limping around the mound.
It looked even more dire when Arrieta tried to throw a warmup pitch and never released the ball because he knew something was wrong. Maybe really wrong. Then he limped off the field, leaving a trail of uncertainty, or angst, that remained until he uttered to reporters after the game, "Everything looks OK."
For the Cubs and their fans, phew.
The leg at first "tightened up pretty good," Arrieta said. An impeccably conditioned workout warrior, the veteran was able to stretch and do other exercises once inside, leading himself, the Cubs' medical team and manager Joe Maddon to the cramp diagnosis.
"He felt pretty good afterwards," Maddon said. "He started to loosen up. He was able to go through the delivery motion like he was unable to out on the field.
"Even when he was apparently hurting a little bit, he was still going through all the stuff, stuff I can't do. He's putting his nose on his knees, doing other things, and I thought, 'OK, it might be a cramp.'"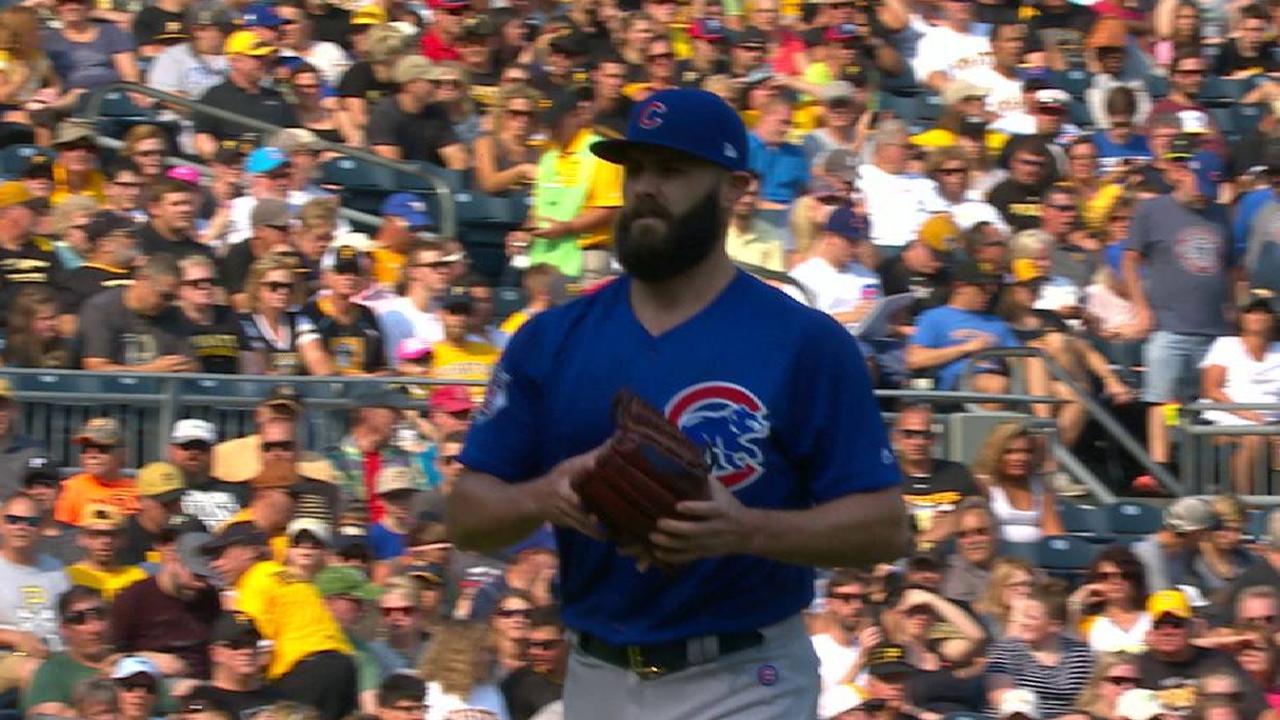 Arrieta said he did not expect to miss a start, adding that an MRI exam was "a probability" just to make sure, and the leg will be re-evaluated Tuesday.
"I'll do some things tonight, keep icing it 20 minutes every hour and see how I feel in the morning," he said. "But as of now I don't foresee it being much of an issue."
Otherwise, as Maddon put it, "We got beat up pretty good."
The Pirates scored early off Arrieta, getting a home run from Josh Bell, who hits them frequently, and Max Moroff, who does not. For Bell, it was his 24th, setting a National League record for most homers in a season by a switch-hitting rookie. For Moroff, a rookie utility player batting .160 entering the game, it was homer No. 3.
After things got out of hand in the Pirates' seven-run eighth inning, Maddon called on outfielder Leonys Martin, acquired from Seattle last week, to mop up on the mound. It was the first time Martin has pitched in organized baseball since he was 17 and faced one batter (and got him out) in his native Cuba.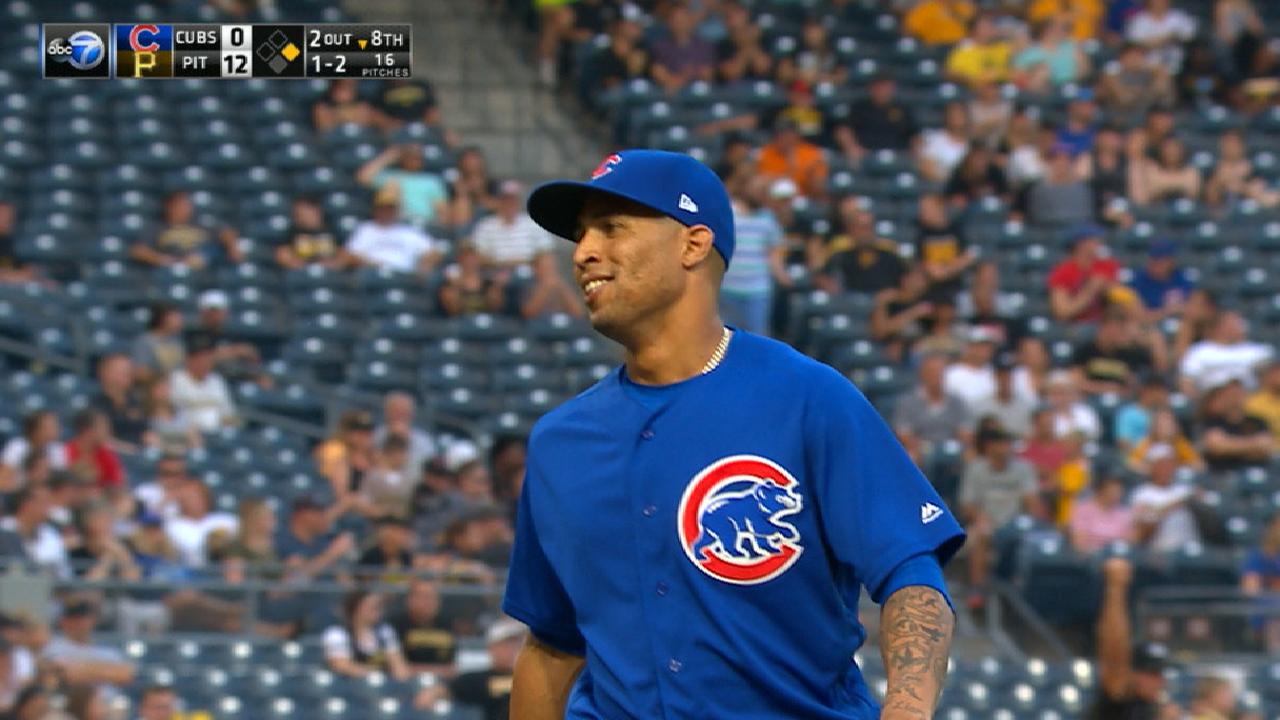 Throwing 91-mph fastballs, Martin yielded the Pirates' final two runs, but he also retired Bell and Sean Rodriguez. Clearly, it was a big moment for the 29-year-old.
"I will never forget this day," Martin said.
Bob Cohn is a contributor to MLB.com based in Pittsburgh. This story was not subject to the approval of Major League Baseball or its clubs.