Ramirez continues strong stretch in Seattle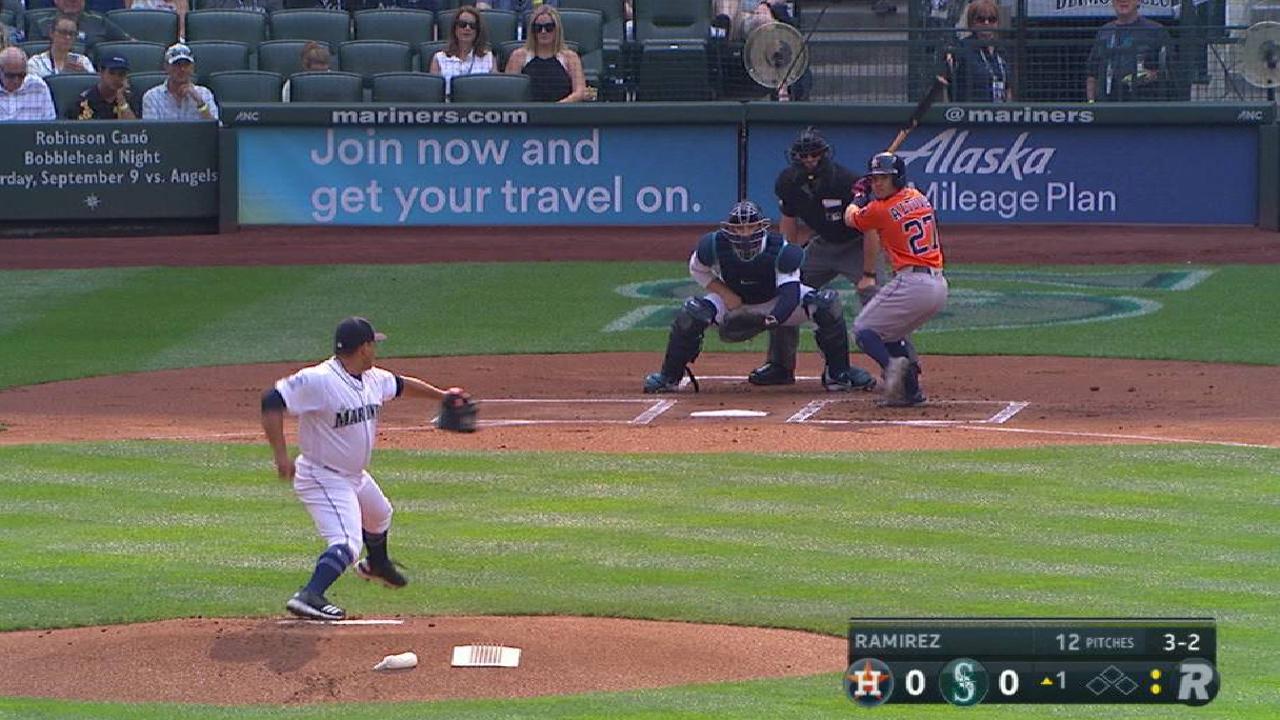 SEATTLE -- Erasmo Ramirez, who was acquired from the Rays in exchange for right-hander Steve Cishek at the non-waiver Trade Deadline, collected his fifth consecutive quality start on Monday, allowing two runs on four hits in six innings of the Mariners' 6-2 loss to the Astros.
Ramirez worked primarily out of the Tampa Bay bullpen, but he's been a welcomed addition to Seattle's injury-riddled rotation.
"Erasmo's been really good, once we kind of got him stretched out after the first couple of starts," Mariners manager Scott Servais said. "I thought his stuff was really good today. … Really positive signs going forward with him. You feel really comfortable when he's out there. He can do some things with the ball. He attacks. He's got a pretty good idea of what the other team's capabilities are. We're really excited having him moving forward, because it's been really good so far."
This isn't Ramirez's first go-around with the organization. He appeared in 47 games (35 starts) for the Mariners between 2012-14, posting a 4.62 ERA. He was 1-6 with a 5.26 ERA in his final season with the Mariners before being traded to Tampa Bay.
The Mariners are starting to see some of the improvements Ramirez made while he was with the Rays. He's 1-1 with a 2.40 ERA in his five starts since Aug. 12, and he has a 3.40 ERA since rejoining the Mariners July 31.
"He's been able to use all four pitches and throw them for strikes; that's the biggest thing," said Mariners catcher Mike Zunino, who also caught Ramirez in 2013 and '14. "When you can attack the zone with so many pitches and keep guys guessing, you have a good chance for success."
What's made Ramirez more effective is a cutter he developed late last season to complement his sinker and changeup.
It's worked wonders this season. Ramirez has thrown his cutter 404 times, according to Statcast™, and opposing hitters are batting only .198 against it.
"He's always had the two-seam [fastball] and the changeup and the slider, but now it's something firm going the other way that guys have to commit on, thinking it's a sinker," Zunino said. "He can work it to the glove side and really keep guys honest with it.
"That cutter has been a big difference for him."
Ramirez's catcher isn't the only one who's noticed the effectiveness of his pitch combinations.
"I faced him several times, and he does a really good job with his cutter and slider and doesn't really leave too much over the middle of the plate," Astros outfielder Josh Reddick said.
As the season has progressed, Ramirez has become even more comfortable with his pitch mix. And it's allowed him to attack the strike zone and work his way in favorable counts.
"I've been more consistent about executing what the catcher's calling," Ramirez said. "Maybe that's what's been the difference lately -- staying away from mistakes. And still even when I make mistakes, go as hard as you can, attack as hard as you can."
Josh Horton is a reporter for MLB.com based in Seattle. This story was not subject to the approval of Major League Baseball or its clubs.