Simmons eager to remain in bullpen picture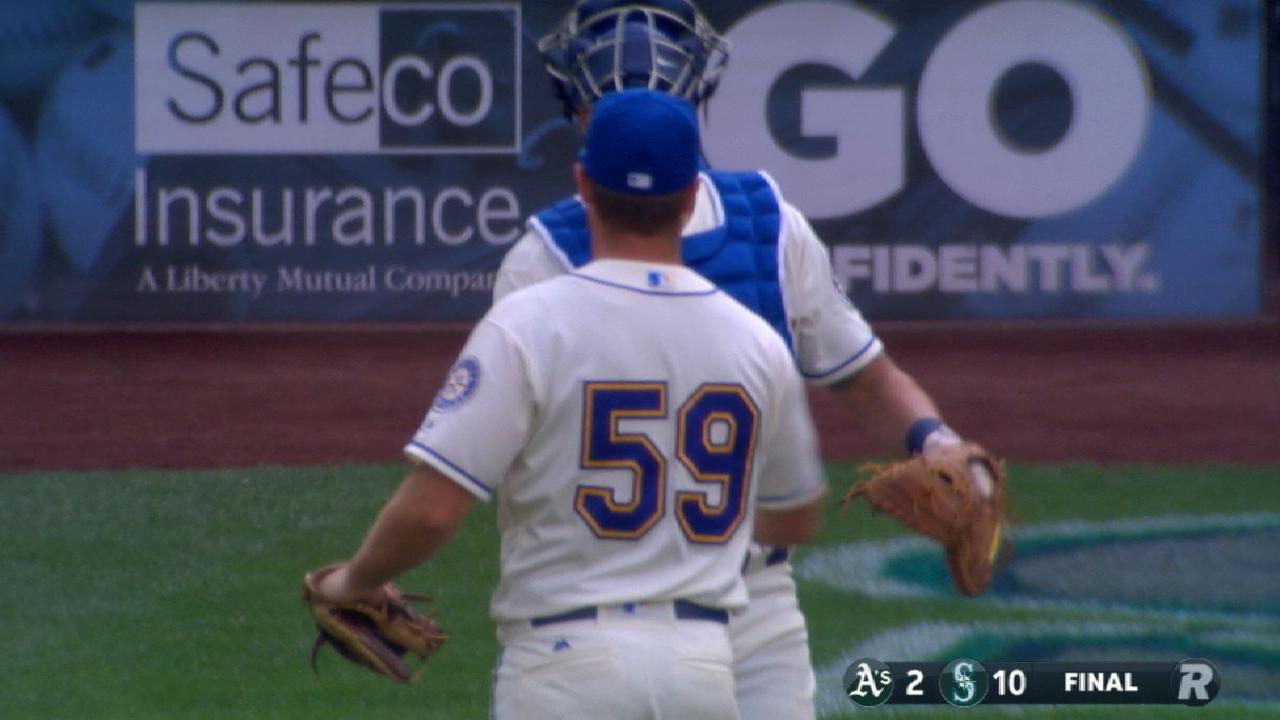 SEATTLE -- Shae Simmons' long journey finally got him back to the big leagues on Sunday, but the hard-throwing reliever doesn't consider that his final hurdle in a frustrating season.
Simmons, acquired from the Braves in January to be a major piece in the bullpen puzzle, instead found himself dealing with an elbow issue in Spring Training. Since July, he's worked his way through the rehab process with Double-A Arkansas and Triple-A Tacoma, a process delayed at one point by a shoulder flareup.
Simmons turned 27 on Sunday, which wound up being the day he finally made his Mariners debut with a scoreless ninth as he allowed one single and struck out two in a 10-2 win over the A's.
"It was nice," Simmons said. "It's been a long time, and I've been working, trying to get back to this point. But I still have a long way to go. I'm just trying to get right so I can be productive for this team."
Simmons' challenge predates his arrival with the Mariners, as he missed all of 2015 following Tommy John surgery and pitched just seven games for the Braves last year after working back from that injury. That is why there is caution in Simmons' voice as he ponders his current status.
"I feel good," he said. "I'm just trying to make sure it stays that way. it's nice to get back. Now I just have to keep it going."
Simmons was hitting 97 mph with his fastball on Sunday, so the challenge now is smoothing out the rest of his game.
"The fastball was very good," manager Scott Servais said. "He had a tough time kind of getting a feel for his secondary pitches, but that's not uncommon. Hopefully he can continue working himself into a role where he can help us a little more.
"I wanted to give him a soft landing the first time or first couple times out and see where it goes. I did like what I saw. The ball was coming out of his hand pretty good."
Worth noting
• Felix Hernandez, sidelined since July 31 with bursitis in his shoulder, threw his second bullpen session on Monday as he works toward a mid-September return. Hernandez is slated to throw a simulated game this weekend if all goes well.
"His bullpen went good today," Servais said. "I haven't seen a schedule where it goes from here, but his bullpen was much better than the last time."
• James Paxton, on the DL since Aug. 11 with a strained left pectoral, will throw his second bullpen on Tuesday and is a day behind Hernandez's rehab program.
"He has had no setbacks or issues at all," Servais said.
• The news isn't quite as good with reliever Tony Zych, who has been on the DL for two weeks with a flexor bundle strain in his right elbow. Zych still felt some soreness when he threw a bullpen on Saturday and is being held back until that clears up.
• The Mariners have tied the Major League record for most pitchers used in a season with 40 and are second for the most total players used in a season at 60. The 2014 Rangers set both marks at 40 and 64.
"I don't know how impressive it is," Servais said. "It's actually disheartening to have to go through that many to get through a season. It's something you can never plan for and something I certainly don't wish on anybody. But we've hung in there and we'll keep doing it."
Greg Johns has covered the Mariners since 1997, and for MLB.com since 2011. Follow him on Twitter @GregJohnsMLB. This story was not subject to the approval of Major League Baseball or its clubs.