Game-winning rally shows Astros' depth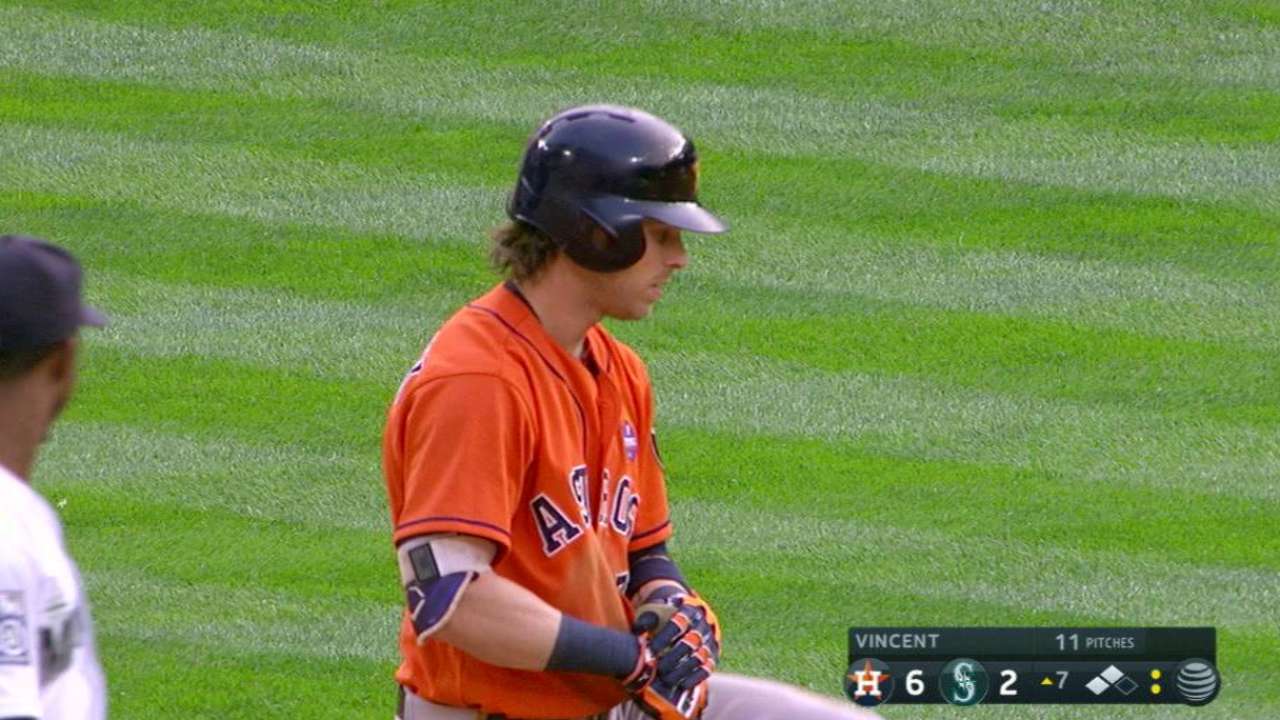 SEATTLE -- With All-Star shortstop Carlos Correa returning to the lineup on Sunday after six weeks and designated hitter Yuli Gurriel back at full strength after missing a few days with knee soreness, the Astros put on a display in the seventh Monday of how difficult it can be for opponents to get through their lineup when it's at full strength.
The Astros sent nine batters to the plate in a four-run seventh and scored four runs -- on a two-run double by Alex Bregman and two-run single by Josh Reddick, both following intentional walks -- to roll to a 6-2 victory in the series opener against the Mariners at Safeco Field.
"The guys at the bottom did a good job tonight," Astros manager A.J. Hinch said. "That's kind of been our norm, depending on who's been down there, which has been a strength of ours. You roll to the top and if you want to choose Bregman over [George] Springer -- Bregman's been pretty good with runners in scoring position, and very, very good the last couple of months. The same goes, they walk [Jose] Altuve and get to [Carlos] Correa. That won't happen a ton."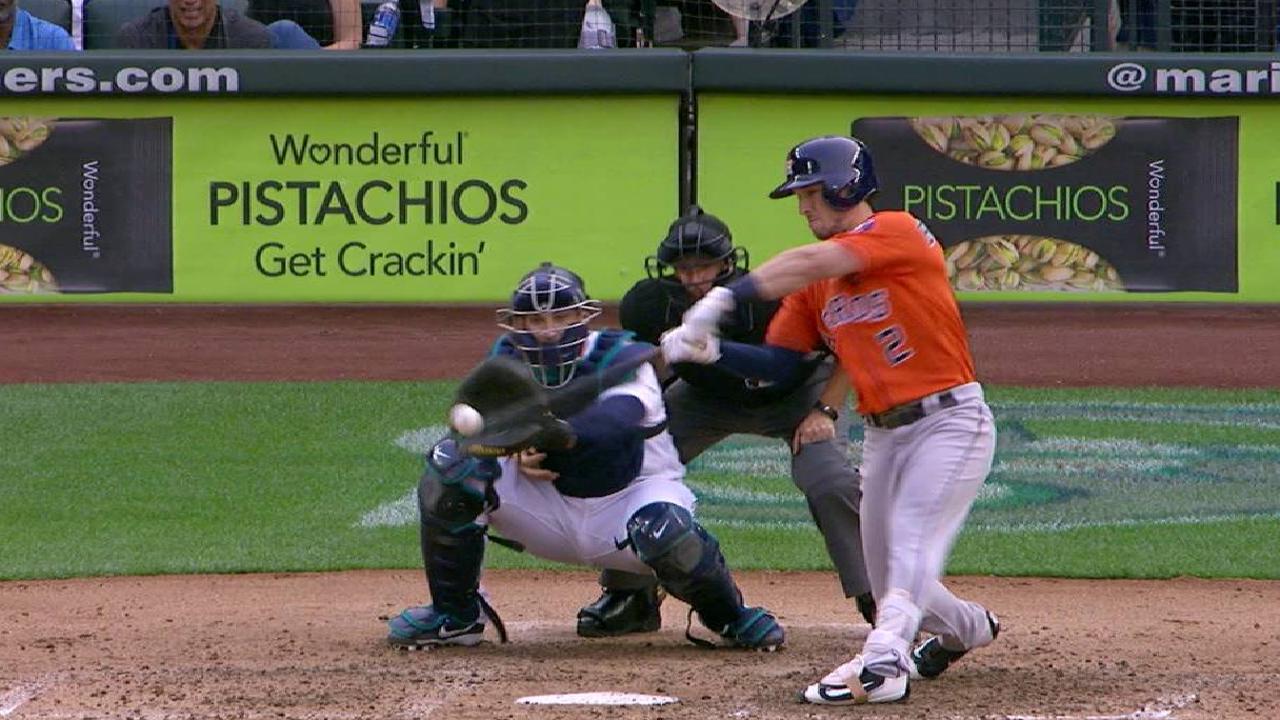 Marwin Gonzalez got the seventh going against reliever Marc Rzepczynski with a leadoff single, and Brian McCann drew a walk. After Cameron Maybin put down a sac bunt, the Mariners had pitcher Nick Vincent intentionally walk Springer to load the bases for Bregman, who shot a two-run double to right.
"That's their decision," Bregman said. "They decided to walk Springer. He's been swinging the bat well recently as well. He's been driving the ball and had a good hit on a cutter early in the game and Vincent's a cutter guy. So they wanted to walk him, and I was just fortunate enough to put a good swing on a ball and thankful to come through for my teammates."
The Mariners then walked Altuve to take their chances with Correa, who came off the disabled list Sunday after missing six weeks. He struck out, but Reddick delivered a two-run, two-out bloop single to left to make it 6-2.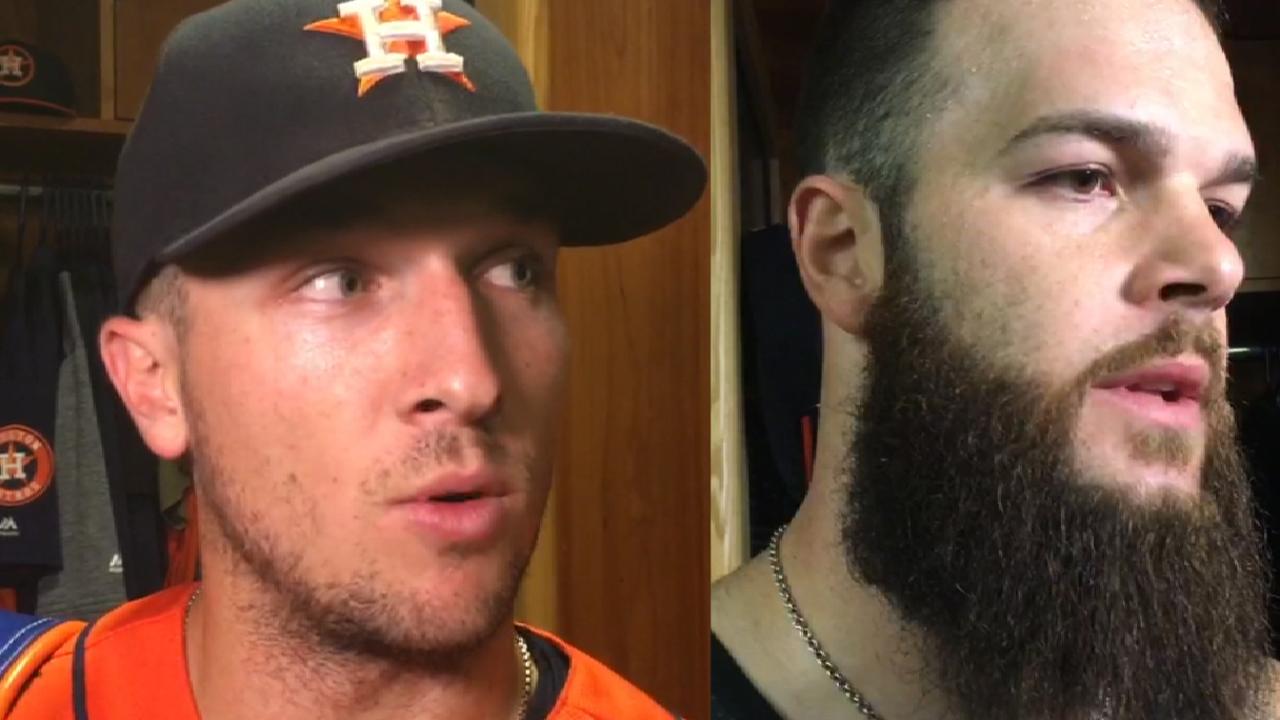 "I was really shocked when they did put Altuve on for Correa," Reddick said. "That guy's just as dangerous as the guy ahead of them. I'm ready, waiting in the shadows, so they can expect to get me as opposed to those guys. Any time they want to give me an opportunity at RBIs, I'm more than welcome."
Mariners manager Scott Servais said Seattle wanted to take a shot at Bregman instead of Springer.
"He hit a ball off the end of the bat. It happens," he said. "Then with Altuve coming up, second and third, he's leading the league in hitting so you go to the next guy. I don't have an issue with that. You're looking at situations and matchups, how are guys are throwing and how they're guys are swinging. I thought it was the right thing to go with. We made good pitches, we just didn't get good results today."
Brian McTaggart has covered the Astros since 2004, and for MLB.com since 2009. Follow @brianmctaggart on Twitter. This story was not subject to the approval of Major League Baseball or its clubs.