Bell passes Chipper for switch-hitter rook mark
Slugger sets NL record with 24th homer as part of 3-hit, 4-RBI day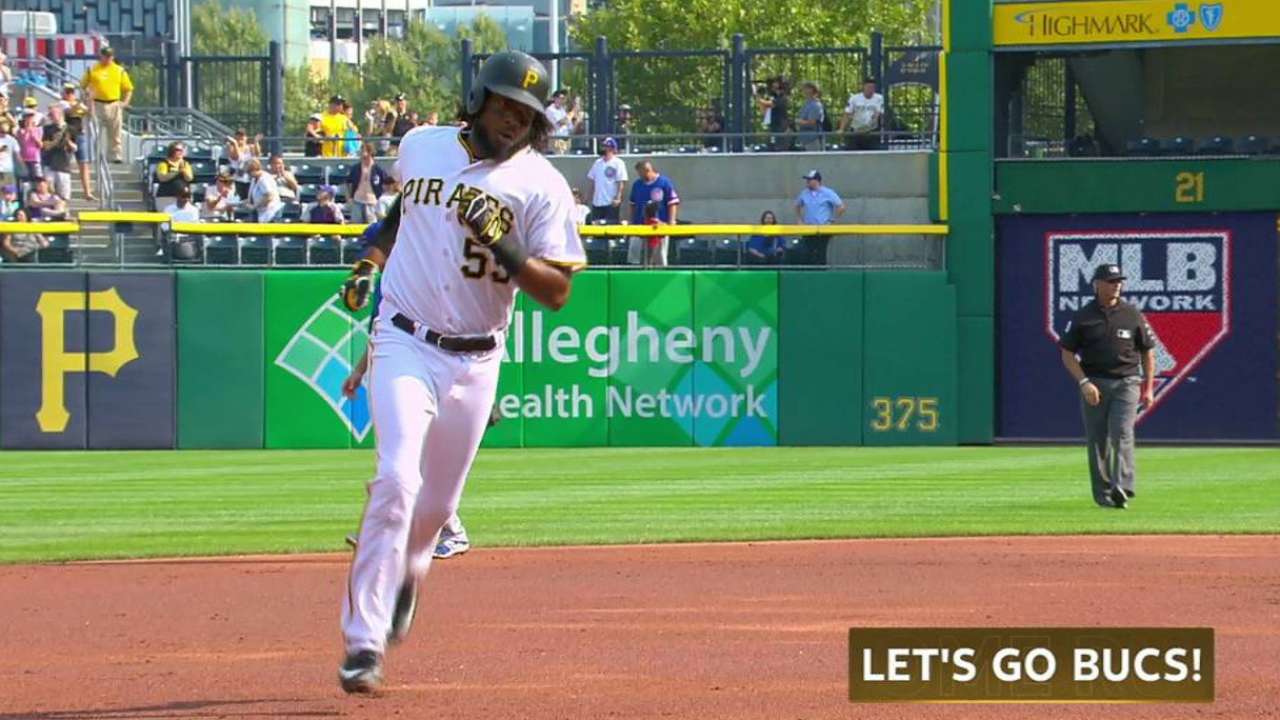 PITTSBURGH -- Josh Bell may be overshadowed in his own lineup by Andrew McCutchen, the face of the Pirates' franchise. He may be overshadowed in the National League Rookie of the Year race by Dodgers sensation Cody Bellinger. But still he has shined as one of the bright spots in a disappointing season for Pittsburgh.
Bell homered his way past a future Hall of Famer for an NL rookie record in the Bucs' 12-0 win over the Cubs on Monday afternoon at PNC Park. He clobbered a two-run shot to right field off Cubs starter Jake Arrieta in the first inning for his 24th homer. That blast set a new high mark for the most by an NL switch-hitter in his rookie season, surpassing the previous record set by the Braves' Chipper Jones in 1995.
Bell knows a thing or two about Jones. At 25 years old, he's young enough to have grown up idolizing players who came to fame in the late 1990s and early 2000s.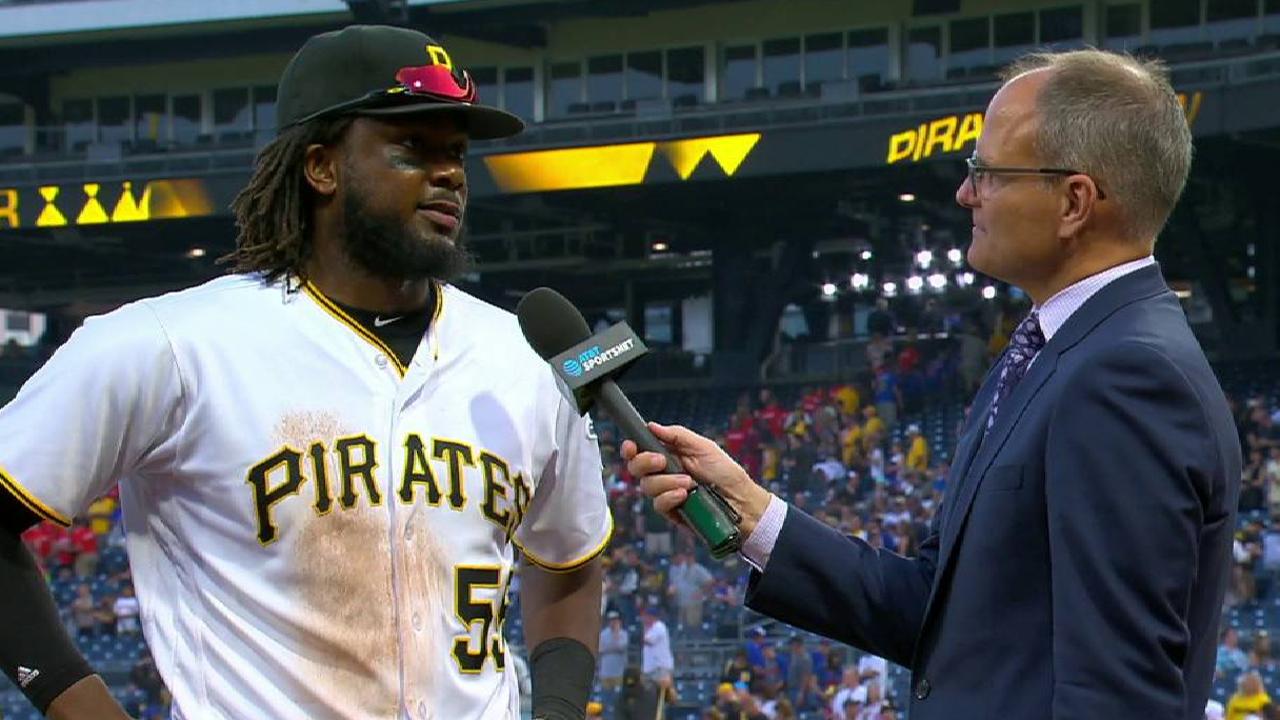 "That's definitely cool, because that's someone I watched growing up. It's a swing that I looked up on YouTube a few times to try to dissect," Bell said. "It's cool being mentioned with a guy of that caliber, a guy who played for so many years. Hopefully I can keep it up."
The Major League record for most home runs by a switch-hitting rookie is held by Eddie Murray, who hit 27 for Baltimore in 1977, and Tony Clark, who did so for Detroit in 1996. With 24 games to go, that record is within Bell's reach.
It may seem silly now, but as Bell worked his way through their system, the Pirates faced waves of questions about his homer power. He only hit double-digit homers twice in the Minors, swatting 13 in 2013 and 14 last season. Did the outfielder-turned-first baseman have enough pop to hold down a corner position in the Majors?
Suffice it to say he did. Bell leads the Pirates in home runs (24), RBIs (82), triples (six), slugging percentage (.495) and OPS (.837) after going 3-for-5 with four RBIs on Monday. His 24th homer traveled a Statcast-projected 397 feet with an exit velocity of 101.6 mph.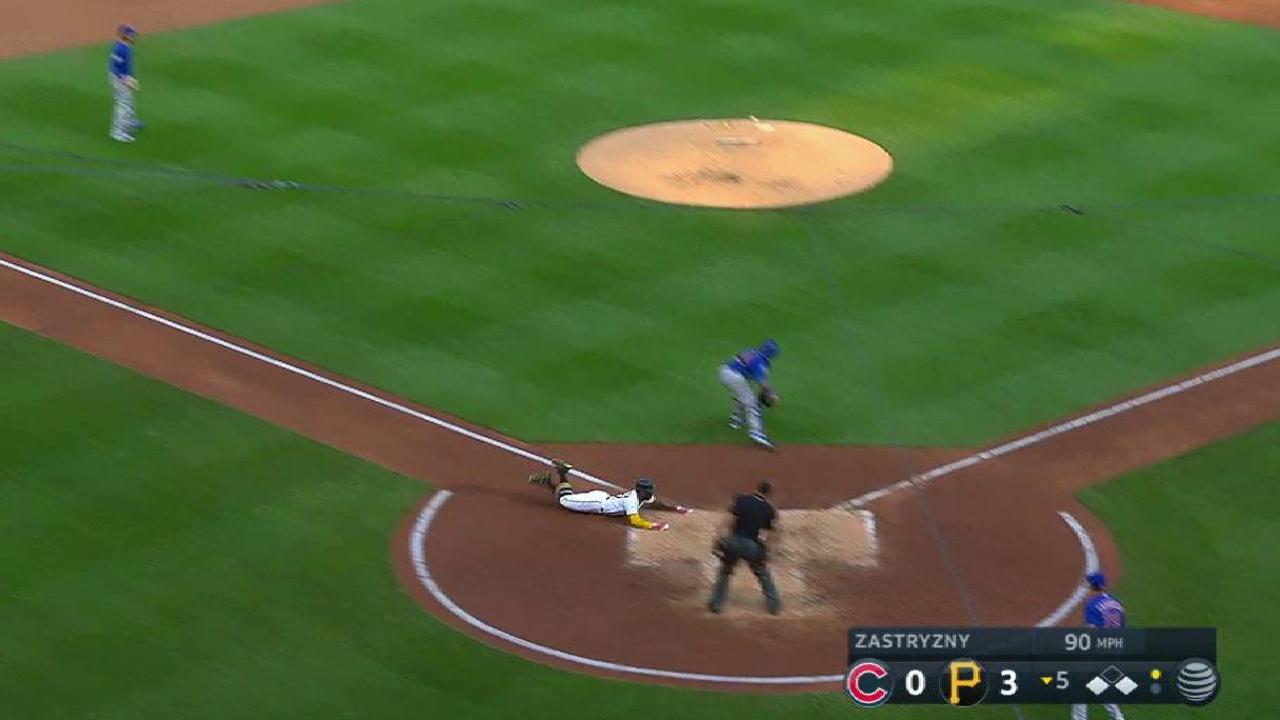 "I'm definitely excited about it," Bell said. "It's something I always wanted in the Minor Leagues but never really harnessed. Laying that foundation, hopefully I can continue to grow on it. There's some time left in the season. Hopefully I can continue to push forward."
Bell is the second switch-hitter in Pirates history to go deep at least 24 times in one season. Bobby Bonilla hit 24 homers in 1988 and '89, then homered 32 times in '90.
Bell probably won't win the NL Rookie of the Year Award, not with Bellinger approaching 40 homers for the playoff-bound Dodgers. But he has quickly emerged as the Pirates' everyday cleanup hitter and a key piece of their present and future. And no, he's not too worried whether anyone's taking notice.
"I feel like [Aaron] Judge is doing a pretty good job, too. You look across the league and you see guys like Ian Happ on their [Cubs] squad and [Hunter] Renfroe [of the Padres]," Bell said. "It's cool being mentioned with those guys, but I don't think I'm being overlooked when guys are having seasons like that."
Adam Berry has covered the Pirates for MLB.com since 2015. Follow him on Twitter and Facebook and read his blog. This story was not subject to the approval of Major League Baseball or its clubs.