Nationals place Fedde on DL, recall Cole
Washington also promotes catcher Severino from Triple-A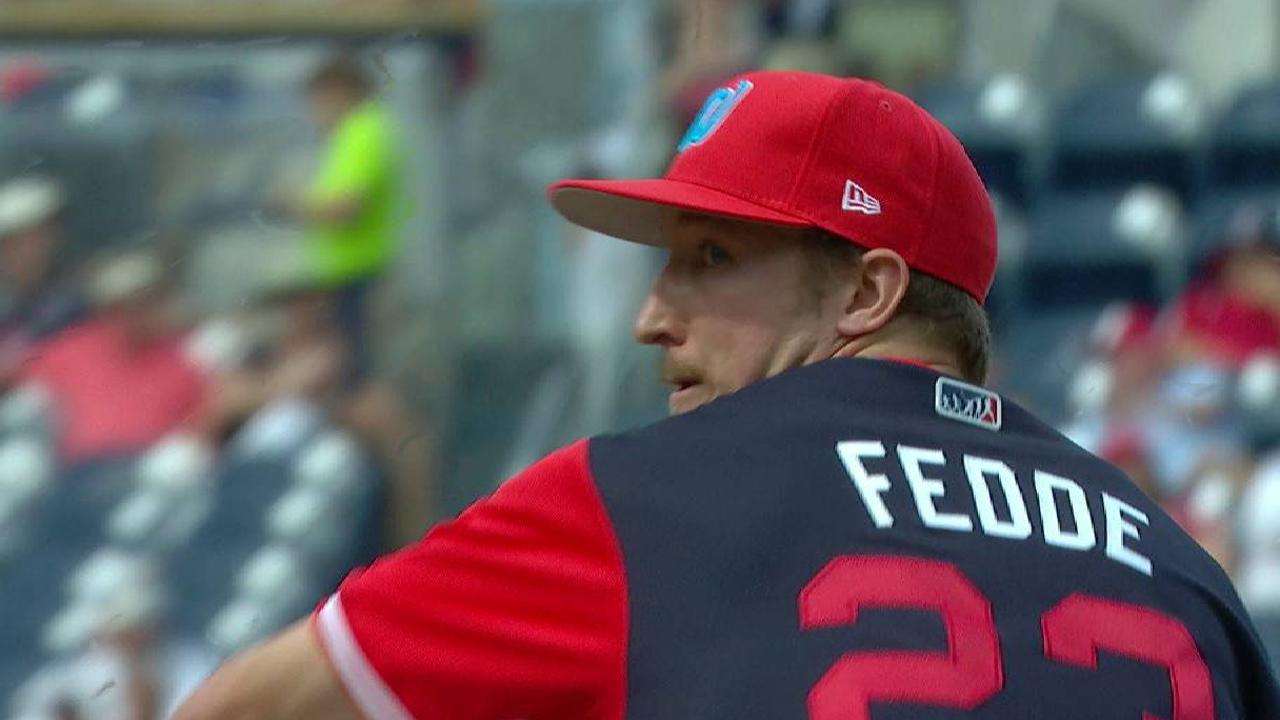 MIAMI -- The Nationals are shutting down top pitching prospect Erick Fedde for the remainder of the season, and they expect him to be ready to compete for a rotation spot in Spring Training.
Fedde, the club's No. 3 overall prospect per MLBPipeline.com, was placed on the 10-day DL on Monday with a right forearm flexor strain.
In correcsponding moves, A.J. Cole and Pedro Severino were recalled from Triple-A.
Nationals general manager Mike Rizzo didn't seem particularly concerned about the injury, despite two things: Fedde had Tommy John surgery in 2014, and Stephen Strasburg suffered the same injury in 2010 just before needing Tommy John surgery.
"He felt pretty good. He didn't feel any unusual soreness or anything like that," said Rizzo, who noted an MRI came back clean and showed no damage to his elbow. "The flexor mass strain is as far down from the elbow as possible. Those are all good things. We're really pleased with the way the MRI came out."
It was clear to the Nationals after Fedde's last start on Aug. 27 that something wasn't right.
Fedde's average fastball velocity had dropped from 94.5 and 94.2 mph on July 30 and Aug. 6, down to 92.5 mph.
His average spin rate on pitches was much lower, too: Fedde's fastballs averaged 1,793 RPM, down from a 1,920-RPM mark, and curveballs averaged 2,234 RPM on Aug. 27, significantly lower than the 2,405 RPM they averaged Aug. 6.
Nationals manager Dusty Baker said Fedde told him after the Aug. 27 start that he had trouble in his most recent Triple-A outing before he was recalled.
"I think it happened in that last inning before he got here," Baker said. "He said he felt fine, and then when the game started he said he didn't feel like himself."
Baker said he wished Fedde had spoken up sooner.
"I asked him, 'How come you didn't you say something?' and he said, 'We had a doubleheader,' and he knew we were short on pitching," Baker said. "That was a valiant team effort, but I wish he had let us know so we could try to do something different."
Rizzo said he was impressed by the 24-year-old Fedde's progress this year.
A first-rounder in 2014, Fedde went 4-5 with a 3.69 ERA and struck out 79 over 90 1/3 innings between Double-A and Triple-A.
That success didn't immediately translate to the Major Leagues in three starts during which he was 0-1 with a 9.39 ERA with the Nationals. Fedde was recalled on Friday when rosters expanded, but hadn't pitched.
Injury aside, the Nats still feel Fedde is a starting candidate in 2018.
"He's a guy we're going to be counting on in the rotation for next year and beyond," Rizzo said. "He's part of the next wave of guys."
Noteworthy
Max Scherzer still didn't look 100 percent walking around Monday, two days after he was forced from action after a comebacker hit his left calf, but it doesn't look like his next start is in jeopardy.
"He's not concerned about it. The training staff's not concerned about it. I'm not that concerned about it," Rizzo said. "But he's not going to get on the mound until he's feeling 100 percent."
Patrick Pinak is a reporter for MLB.com based in Miami who covered the Nationals on Monday. This story was not subject to the approval of Major League Baseball or its clubs.