Shields hit by liner, day to day with knee bruise
Struck by 104.5-mph comebacker, White Sox righty hopes to make next start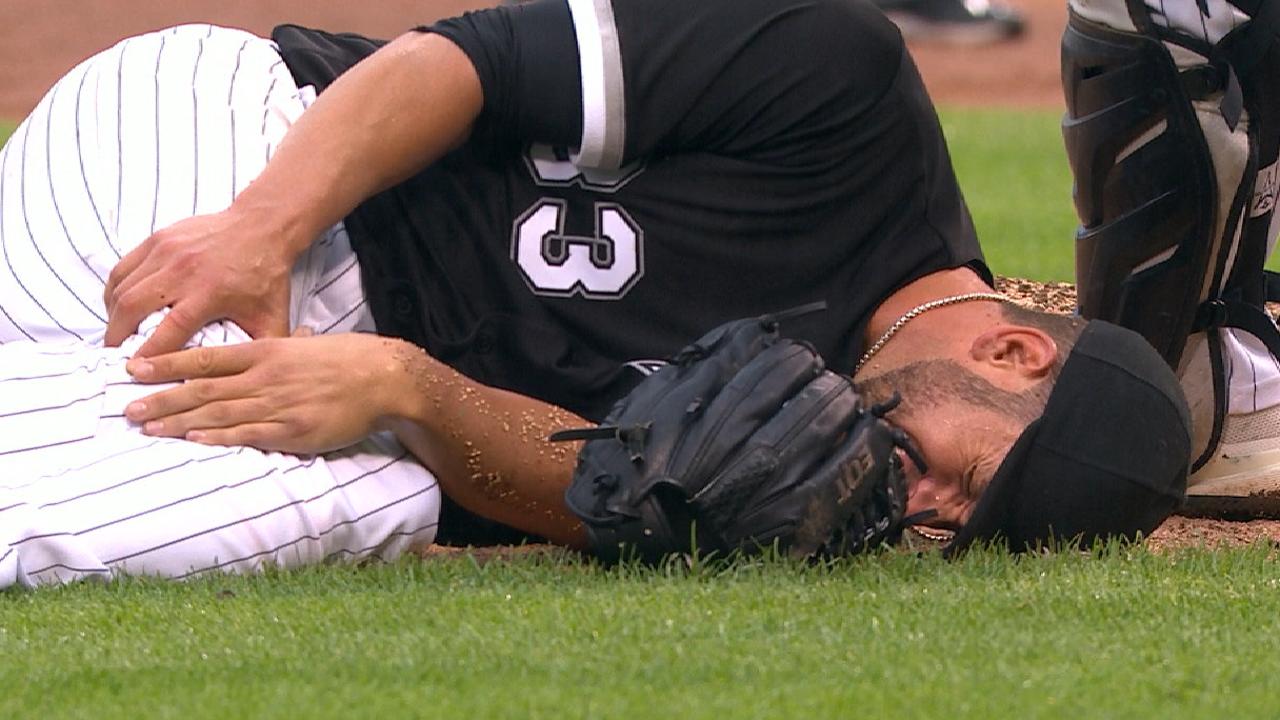 CHICAGO -- White Sox starter James Shields feared the worst when Francisco Mejia's line drive struck his right knee with one out in the seventh inning of Monday's 5-3 loss to the Indians at Guaranteed Rate Field.
There were plenty of reasons for the veteran hurler to be concerned, considering the exit velocity of Mejia's shot was 104.5 mph per Statcast™.
"Yeah, I thought it was broken," said Shields, who exited with a bruised right knee and was listed as day to day after X-rays were negative. "It hit the side of my kneecap and the initial thought was it was broken. It's going to be sore for the next couple of days I would imagine, but I'll be fine.
"Sometimes those things happen. I've gotten hit in way worse spots in my career. So, it's part of the game, part of being a pitcher. Thankfully everything came out clean."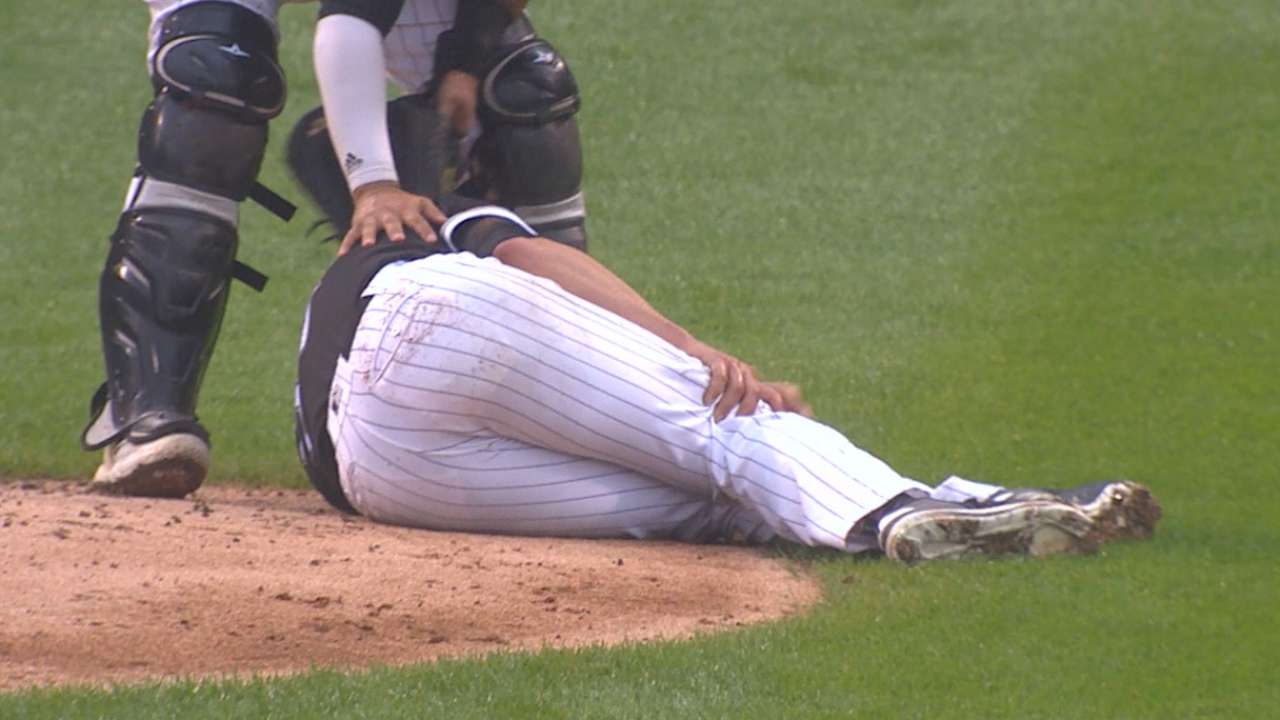 After striking Shields, Mejia's hit ricocheted to catcher Omar Narvaez, who threw out Mejia at first. Shields remained on his side near the mound, clutching his right knee, before getting up to a sitting position and then to his feet and limping off the field to a standing ovation from the crowd.
Shields high-fived Narvaez before leaving and forced a smile.
"The ball shot back at him pretty hard, but I asked [Narvaez], I said, 'Did you make the play? He's like, 'Yeah, I got him out.' I was like 'All right. Cool.' That's all that matters," Shields said. "Once I started moving my leg a little bit and figured out it wasn't as bad as I thought it was, the initial pain obviously was pretty excruciating, but you know, I mean, I guess that's all you can do is laugh it off."
"It might have looked a lot worse than it was," White Sox manager Rick Renteria said. "When a ball is coming at you at over 100 mph, there's nothing minor about it. It's a very explosive and painful blow to the body, especially where it was at. Preliminary, it's just a contusion to the side of the knee, and we'll see how he's doing [Tuesday]."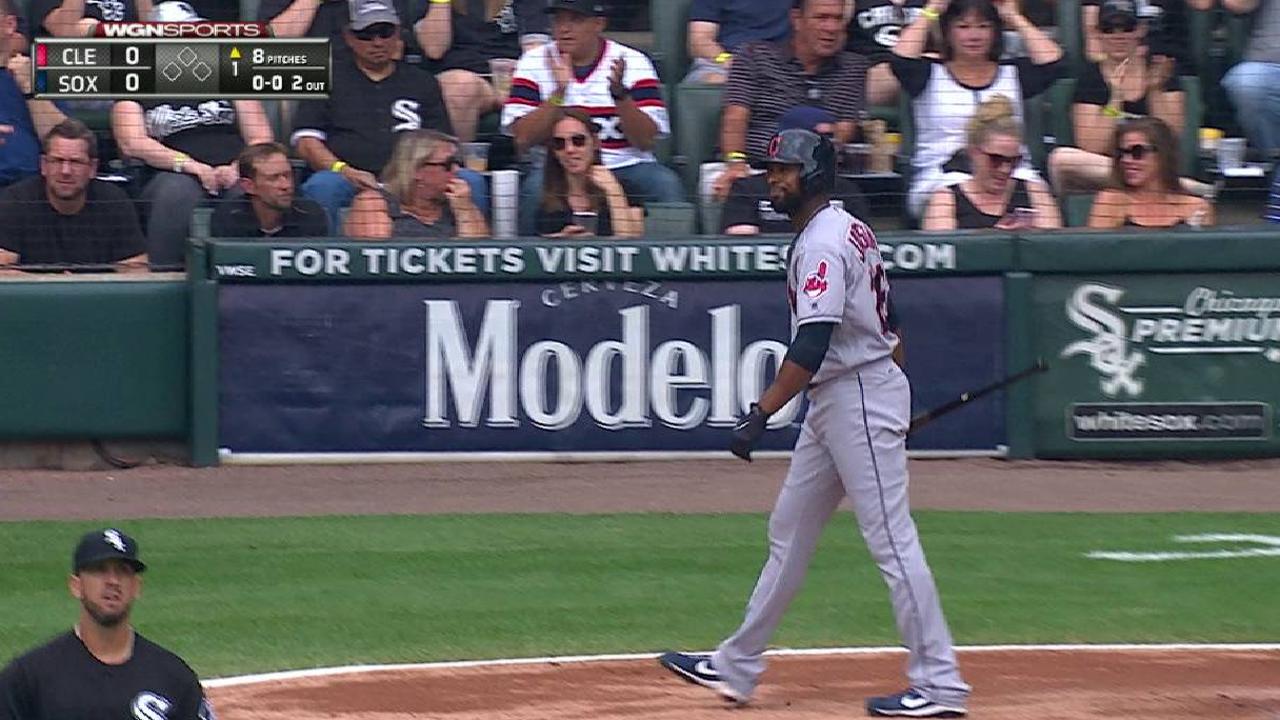 Jake Petricka replaced Shields with one out in the seventh. Shields allowed four runs on six hits over 6 1/3 innings, striking out five and walking two, and hopes to make his next start Saturday against the Giants.
"I'm sure I'll be a little sore the next couple of days. I think it shouldn't be that big of a deal," Shields said. "Everything came out all right. Maybe a few inches and I might have been in some trouble. I feel pretty good."
Scott Merkin has covered the White Sox for MLB.com since 2003. Read his blog, Merk's Works, follow him on Twitter @scottmerkin, on Facebook and listen to his podcast. This story was not subject to the approval of Major League Baseball or its clubs.