Baez sits out, but not because of blurred vision
Cubs infielder also injured thumb during collision at second base, hopes to play Tuesday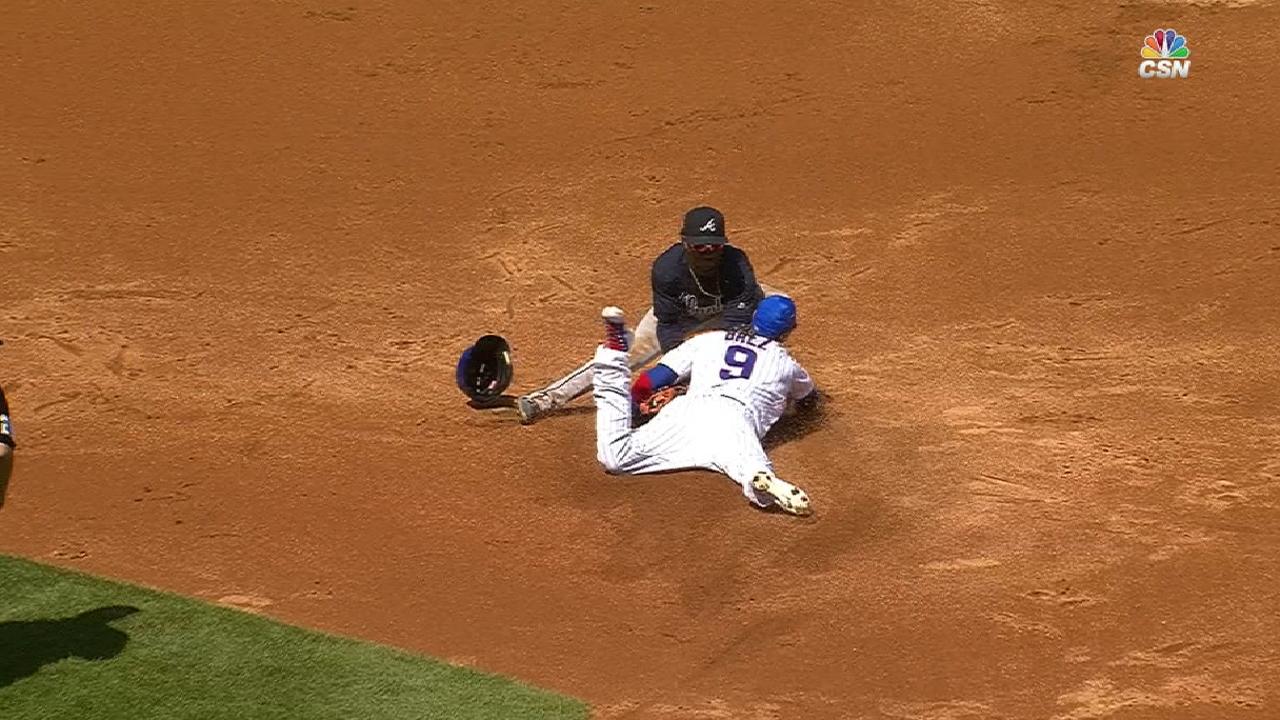 PITTSBURGH -- Cubs shortstop Javier Baez was scratched from the lineup Monday at PNC Park, but not because of problems with his vision after his face smashed into the knee of Braves second baseman Ozzie Albies on Sunday at Wrigley Field.
Baez at first experienced blurred vision, which quickly cleared. But he also injured his left thumb sliding head-first into second base.
"My thumb is kind of jammed a little bit, so I'm taking a day off and I'll be ready to go [Tuesday]," he said before the Cubs played the Pirates. I told the doctor about my thumb, but we were obviously worried more about the head, the contact. So today it's pretty swollen. I've been icing it. Hopefully I'll be ready [Tuesday]."
Baez said he wanted to play Monday, but the Cubs' medical staff ruled against it.
The play happened in the second inning when Baez was picked off first base by pitcher Max Fried. Baez broke for second and was tagged out as the right side of his face squarely met Albies' left knee.
It was a scary-looking play, and the aftermath looked pretty bad, too. Baez laid face down on the field for about 30 seconds. He got to his feet, assisted by a trainer, and stayed in the game, but came out in the top of the third, experiencing blurred vision. He was taken to Northwestern Hospital, where the evaluation was "quite positive," according to a Cubs spokesman.
Cubs manager Joe Maddon at first had Baez in Monday's lineup before being apprised of the thumb injury.
"I put him in the lineup too quickly," Maddon said. "His thumb is sore from the slide. I didn't put that all together."
Maddon added that Baez was healthy enough to be used as a defensive replacement if needed.
Getting close
Maddon said injured catcher Willson Contreras will soon play for one of the Cubs' Minor League affiliates as part of his rehab if a club is playing in the postseason.
"That would be the plan," Maddon said. "The moment that he's ready to roll, if somebody's still playing for us, to get him out there, get some at-bats, run around a little bit."
If no team is available, "We'll just have to get it done here regarding his rehab," Maddon said.
Contreras, hitting .274 with 21 home runs and 70 RBIs, was placed on the 10-day disabled list Aug. 11 with a hamstring injury. He has gradually increased his level of activity the last few weeks to where he is now running the bases.
Bob Cohn is a contributor to MLB.com based in Pittsburgh. This story was not subject to the approval of Major League Baseball or its clubs.