Murphy, Rendon push Nats past Marlins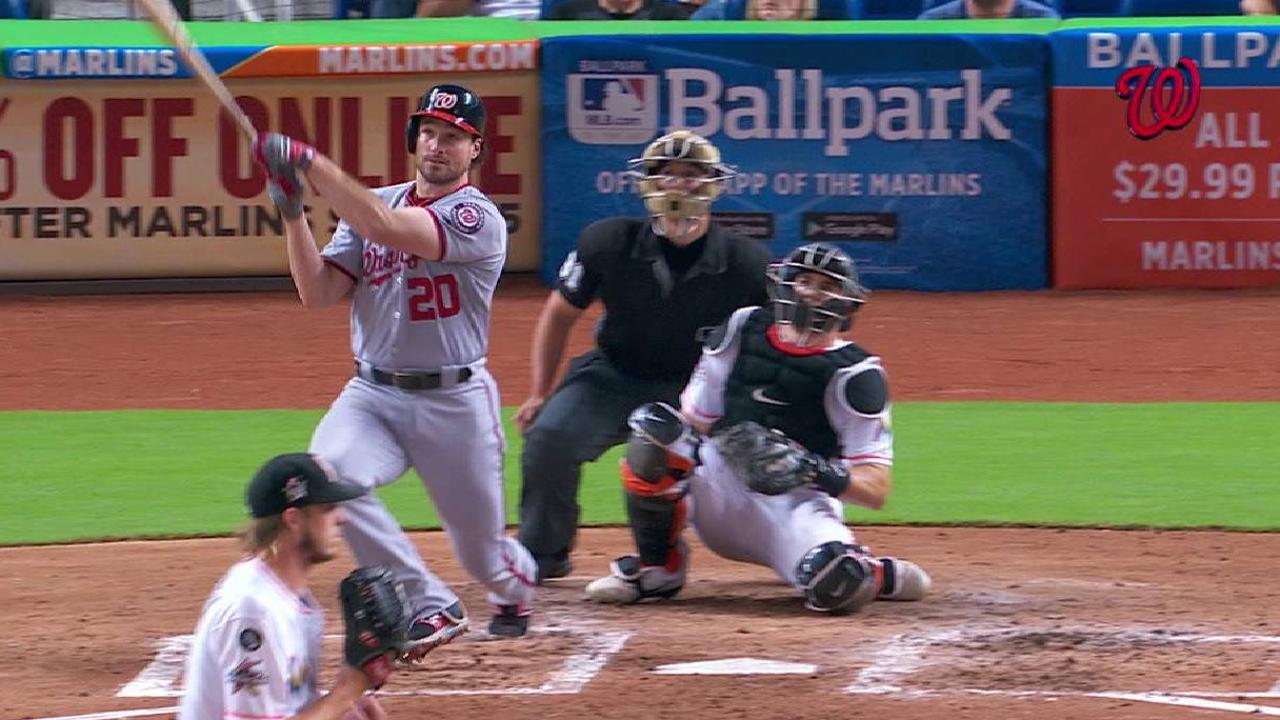 MIAMI -- Giancarlo Stanton continues to track toward the 60-home-run mark, but on Monday night, the balanced power of the Nationals was on display at Marlins Park.
Anthony Rendon had a home run and four RBIs, and Daniel Murphy chipped in with a homer and three runs batted in, and the Nationals rolled past the Marlins, 7-2, moving 16 games ahead of second-place Miami in the National League East.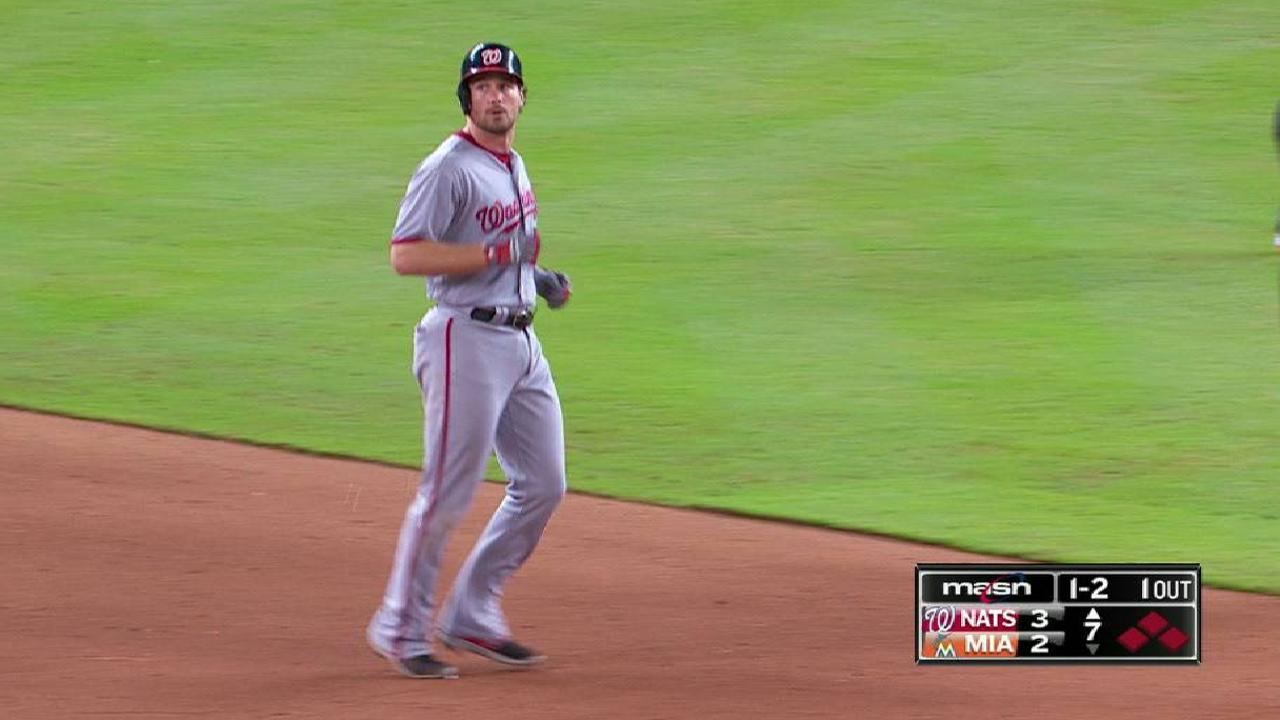 Nats manager Dusty Baker said it was nice to see his club break out of the offensive funk it went through in Milwaukee. The Nats scored just eight runs in four games against the Brewers.
"Our offense came to life tonight, especially Murph and Rendon," Baker said. "They've been there all year but they had big nights, big RBI nights, which is a big help for us."
The Marlins now have dropped seven of eight and are six games behind the Rockies for the second NL Wild Card spot.
"We seem a little tired, that's all," Stanton said. "It's a long season. No excuse for it, but that's what it seems like, if you ask me."
Stanton showed no signs of slowing down his torrid home run pace. In the fifth inning, the slugger drove A.J. Cole's elevated 96-mph fastball over the wall in right field for his 53rd of the season. It's the most in the Majors since Chris Davis of the Orioles also had 53 in 2013. Statcast™ tracked the homer at 357 feet with an exit velocity of 99 mph, along with a 34-degree launch angle.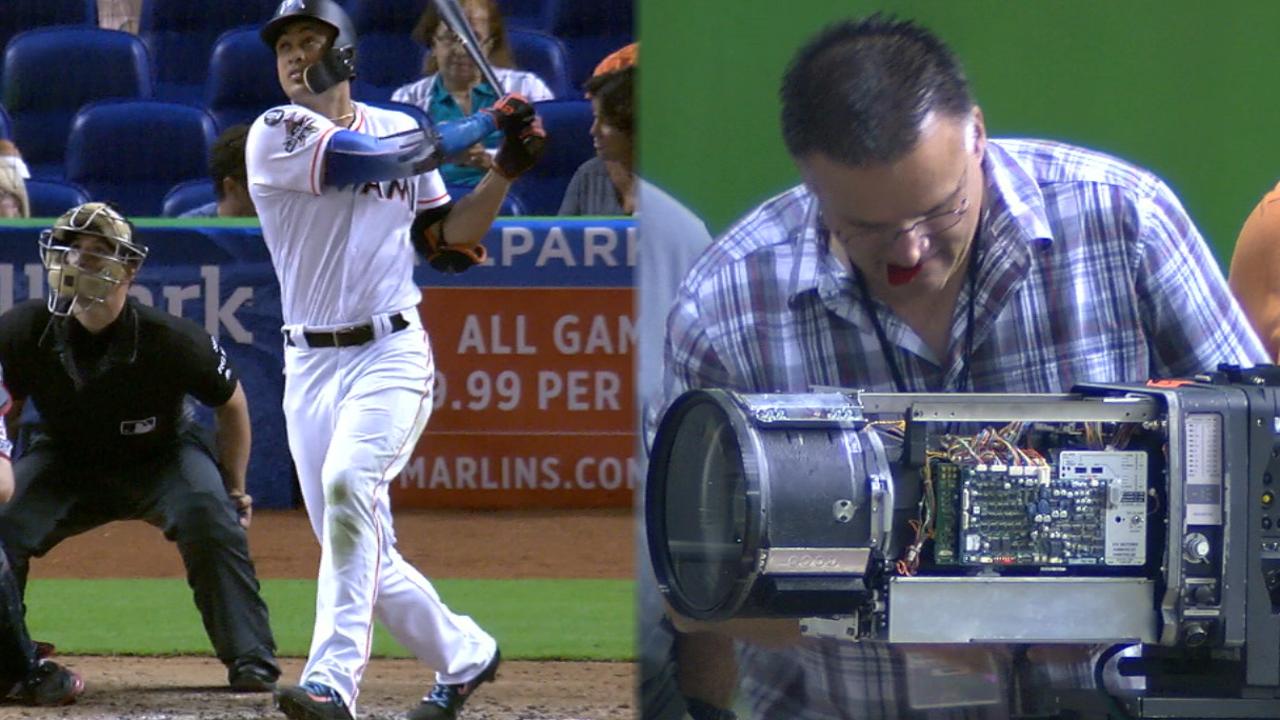 "G's obviously locked in as far as taking what they're giving," Marlins manager Don Mattingly said. "He seems really disciplined, for the most part. They're going away from him. But just the way, he's taking what they're giving."
Rendon, who had three hits and was a triple shy of the cycle, belted a two-run home run in the second inning to put the Nationals ahead, 2-1.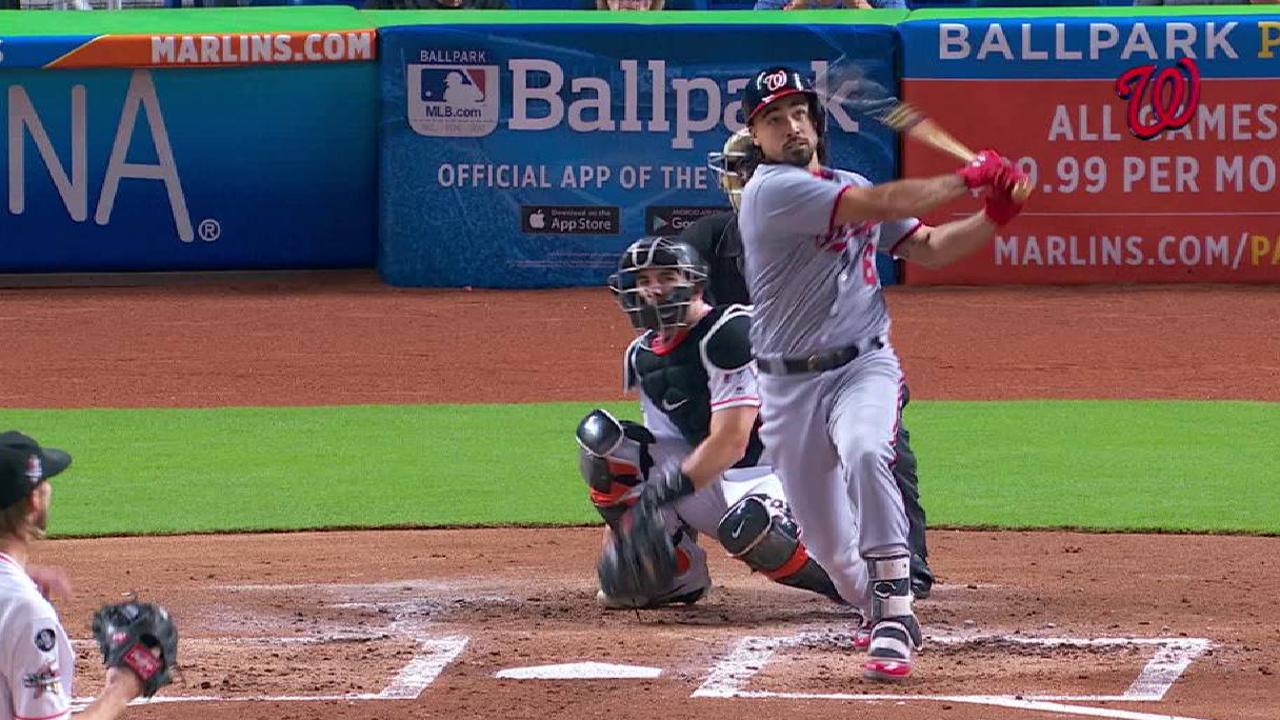 Miami got on the board in the first inning, with Dee Gordon scoring on Christian Yelich's fielder's choice RBI grounder.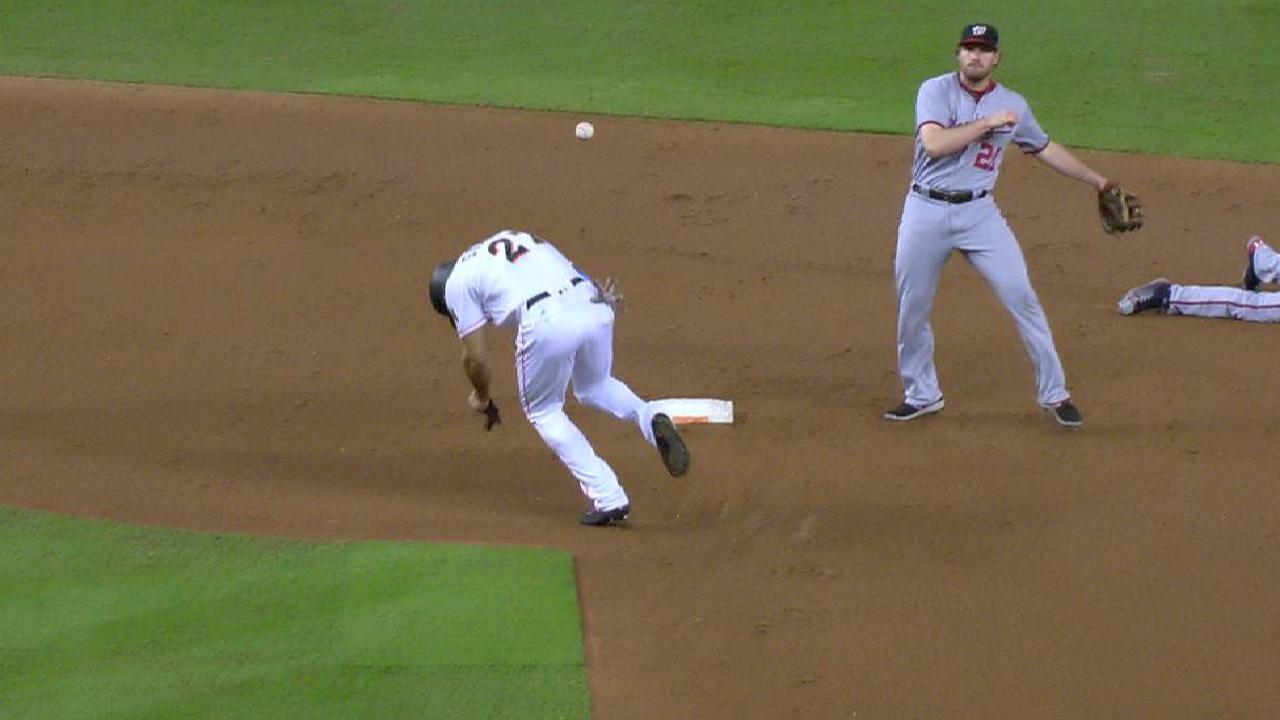 "Anthony's our clutch man," Baker said. "When the other guys leave them out there, that's when Anthony picks them up."
The Nationals made it 3-1 in the third inning on Murphy's solo home run with two outs.
Despite going 2-for-13 series with seven strikeouts against the Brewers, Murphy said he didn't feel any different at the plate.
"I try to get a good pitch to hit and put a good swing on it. That's pretty much the goal 600 times," Murphy said. "Sometimes, the other guys do a pretty good job of thwarting that effort."
MOMENTS THAT MATTERED
Double trouble in seventh: The Nationals broke the game open off reliever Jarlin Garcia with a four-run seventh inning, highlighted by a pair of two-run doubles. Raudy Read started the rally with a one-out infield single, his first big league hit. Garcia got in a jam by walking Trea Turner and Michael A. Taylor to load the bases. Murphy had a two-run, automatic double. Dustin McGowan relieved Garcia, and with two outs, Rendon lined a two-run double, breaking open a five-run lead.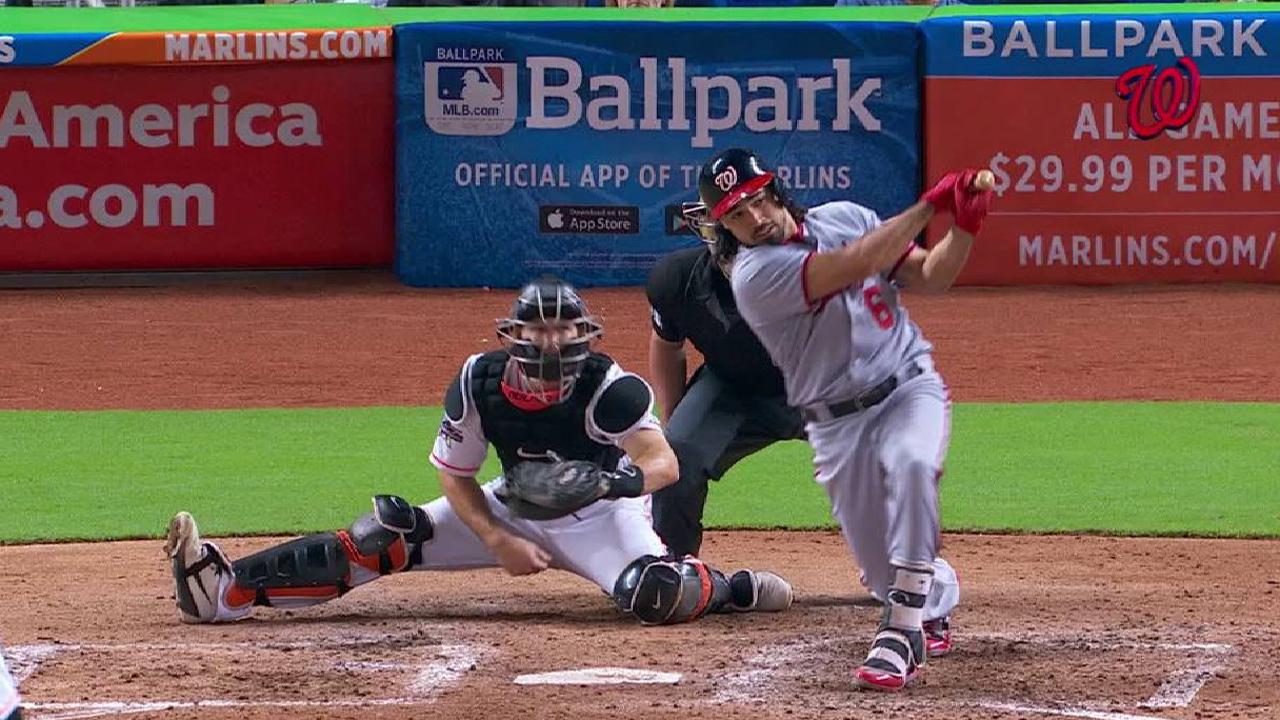 Stanton smashes TV lens: Stanton has a way of doing damage in a several different ways. The slugger's opposite-field home run in the fifth inning closed Miami's deficit to 3-2. The ball also did a number on a Fox Sports Florida TV camera. The ball shattered the lens, but few noticed because Stanton was being applauded. The Marlins weren't able to get any closer.
"I didn't see that yet," Stanton said, of cracking the lens.
QUOTABLE
"A few mistakes there. To Rendon obviously. I threw him a fastball down the middle and he got a hold of it. And Murphy there. I tried to go in with that ball and it was out over the middle. Other than that, I just thought they had great at-bats." -- Marlins lefty Adam Conley
TAYLOR-MADE 5-STAR CATCH
The defense of Taylor saved a run and prevented the chance for a big inning for Miami in the second inning. Brian Anderson and Miguel Rojas singled to open the inning, and with one out, Gordon lined to center. Taylor made a spectacular running-play and threw to second to double-up Anderson. Had the ball dropped, Anderson likely would have scored, and two runners would have been on for Stanton. According to Statcast™, the catch probability was 21 percent, making it a 5-star catch. The distance covered by Taylor was 66 feet in 3.9 seconds, and his sprint speed was 28.8 feet per second. The hit probability for Gordon was 48 percent.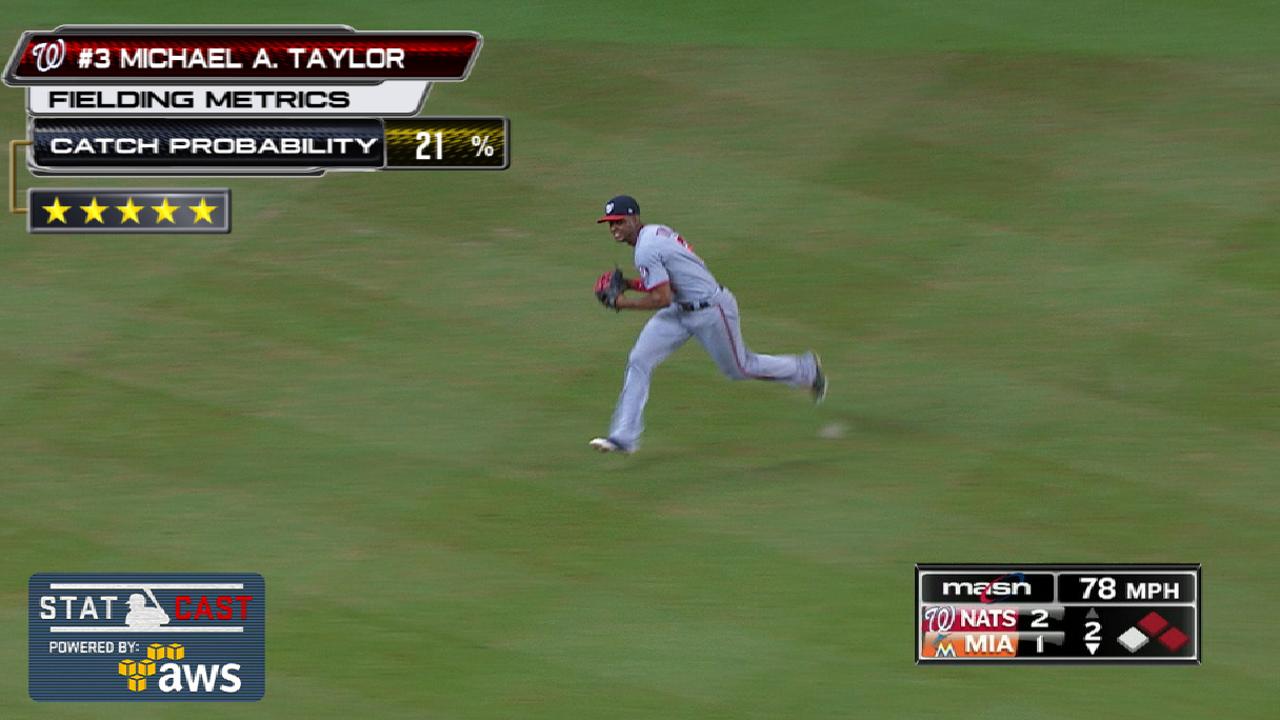 "Oh yeah, that was real important for Michael to run that down," Baker said. "A lot of times defense goes unnoticed but that was a huge play, especially at that time of the game. Those guys can get off and running. I've seen them score a bunch of runs in a hurry."
"That's one of those plays we talk about between innings," Mattingly said. "You really can't get doubled there. If the ball bounces and you get thrown out at third, we're still hitting with G right there. It's just one of those things -- he's a guy who's a young player. That's one of those where you have to play the situation and let the game tell you want to do. But the one thing you can't do is get doubled and G not hit in the inning with two guys on."
UPON FURTHER REVIEW
Not only did Rendon hurt the Marlins with his bat, the Nationals third baseman also made a standout play on Stanton in the seventh inning. Stanton grounded slowly down the third base line, and Rendon made a barehanded play and strong throw to Ryan Zimmerman. The call was safe, but Washington challenged. The call was overturned after a 58-second review.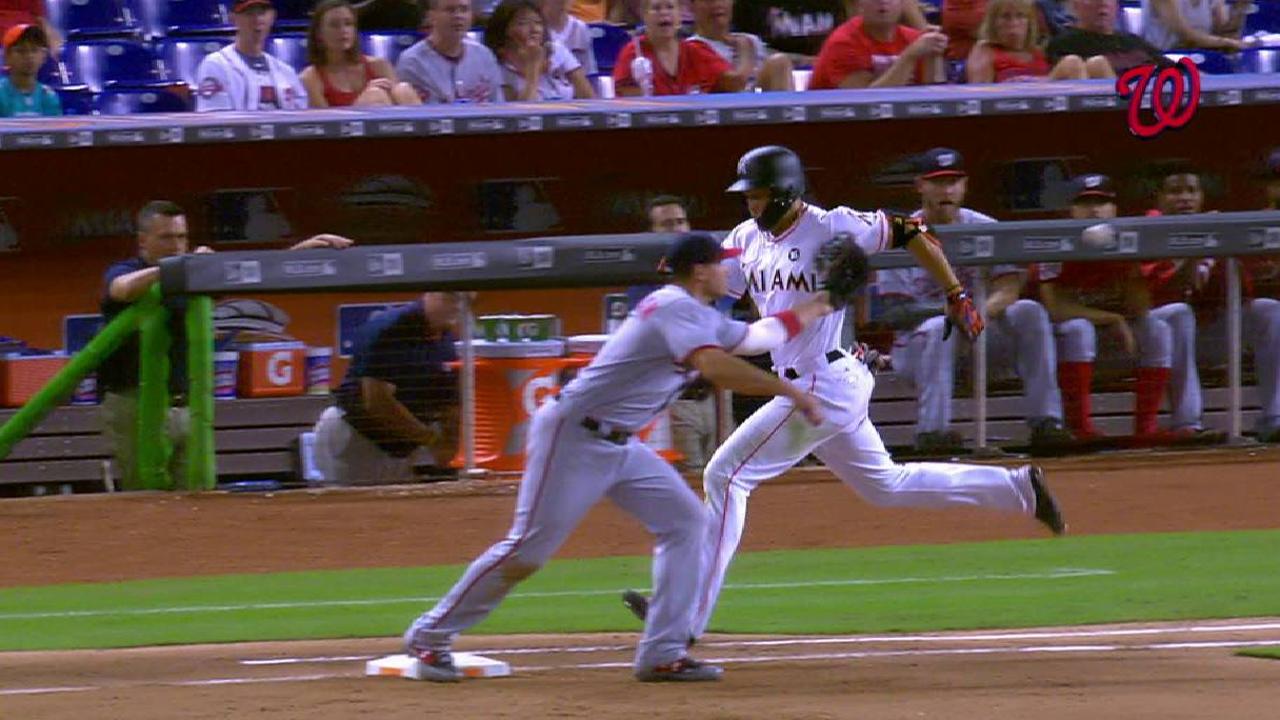 WHAT'S NEXT
Nationals: Stephen Strasburg (5-3, 3.33 ERA) takes on the Marlins again Tuesday at 7:10 p.m. ET at Marlins Park. Last week against Miami, the right-hander tossed his second career shutout and launched his third career home run.
Marlins: Odrisamer Despaigne (0-2, 4.13 ERA) gets the nod for Miami in Game 2 of the series. The right-hander has made two relief appearances against the Nationals this year, and has allowed one run in 5 2/3 innings.
Watch every out-of-market regular-season game live on MLB.TV.
Joe Frisaro has covered the Marlins for MLB.com since 2002. Follow him on Twitter @JoeFrisaro and listen to his podcast.

Pat Pinak is a reporter for MLB.com based in Miami who covered the Nationals on Monday.

This story was not subject to the approval of Major League Baseball or its clubs.