Herrera first in line of Phils reinforcements
Outfielder activated, extends hit streak to 18 games; Altherr also nearing return to action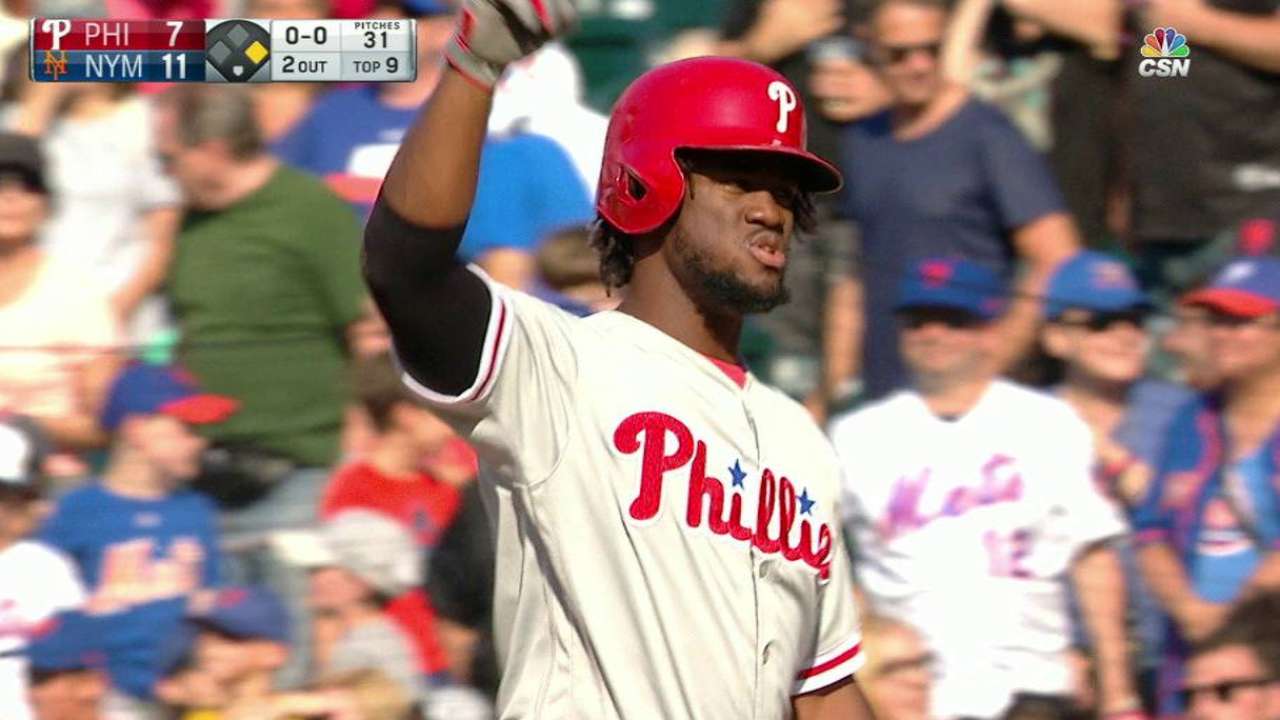 NEW YORK -- The Phillies could post their most intriguing lineup of the season before the end of the weekend.
Rhys Hoskins rejoined the lineup for Monday afternoon's 11-7 loss to the Mets at Citi Field. Odubel Herrera returned from the disabled list to hit a pinch-hit RBI single in the ninth inning, extending his hitting streak to 18 games. The Phillies afterward promoted No. 4 prospect J.P. Crawford, who will join the team Tuesday. And Aaron Altherr could play before the end of the weekend.
It means the Phillies could have Hoskins, Herrera, Altherr, Crawford and Nick Williams in the same lineup for the first time this season in the coming days.
Crawford is the No. 60 prospect in baseball. He helped Triple-A Lehigh Valley clinch a postseason berth Monday, but the Phillies' front office prefers he get a look in the big leagues rather than finish the season with the IronPigs.
Hoskins missed Sunday's game in Miami after a pitch hit his right wrist Saturday. He has hit 12 home runs in 25 games. The Phillies activated both Herrera (strained left hamstring) and Altherr (strained right hamstring) on Monday. Herrera had been one of the best players in baseball since the All-Star break (.383 average with a 1.142 OPS) before he got hurt Aug. 14. Altherr, meanwhile, had been on pace to have the Phillies' best OPS (.894) since Jayson Werth in 2010 before he went on the DL on Aug. 5.
But Phillies manager Pete Mackanin said Monday he isn't sure how often everybody will be in the lineup together, noting that Hoskins and Herrera figure to play almost every day while seeming far less certain about Altherr.
Altherr's hamstring is not ready for game action, so he has not made a rehab appearance. That means he has not faced live pitching since Aug. 4.
"I don't know if and when and how I'll use him without any rehab," Mackanin said. "Without any at-bats, we'll see."
Altherr said he must pass one final baserunning test before he is cleared. He said it should take him only a game or two to become comfortable at the plate. That seems reasonable. After all, Herrera played in only two rehab games over the weekend.
"I'll be ready for any challenge," Altherr said. "I really don't think it'll take me too long to get the timing back. Even if I have to stand in a bullpen, I can always get timing that way too. I'm not really too worried about that aspect."
Herrera did not start Monday per the request of the athletic training staff, Mackanin said. But come Tuesday, Mackanin said Herrera will be his everyday center fielder.
"That leaves the corners," Mackanin said. "And what Williams has done is outstanding. And Hoskins is going to play as much as he can. And Tommy Joseph is still leading our team in home runs and RBIs, so I don't want to just pass him by. So that's going to be the biggest issue."
Mackanin also mentioned playing time for Hyun Soo Kim and Daniel Nava, although neither are expected to return next season.
"On a daily basis, I'll have to look at it," Mackanin said. "I've been trying as hard as possible to try to get a set lineup, but it is always undermined by the fact that somebody gets hurt or goes in a slump. So you have to make adjustments."
A set lineup seems like an impossibility at this point, especially if Mackanin plans to keep Herrera and Hoskins in the lineup every day while also playing Joseph and Williams. That problem is compounded once Crawford joins the team because he figures to share some time with shortstop Freddy Galvis.
Todd Zolecki has covered the Phillies since 2003, and for MLB.com since 2009. Follow him on Twitter and Facebook and listen to his podcast. This story was not subject to the approval of Major League Baseball or its clubs.