Zimmermann to see specialist for neck issues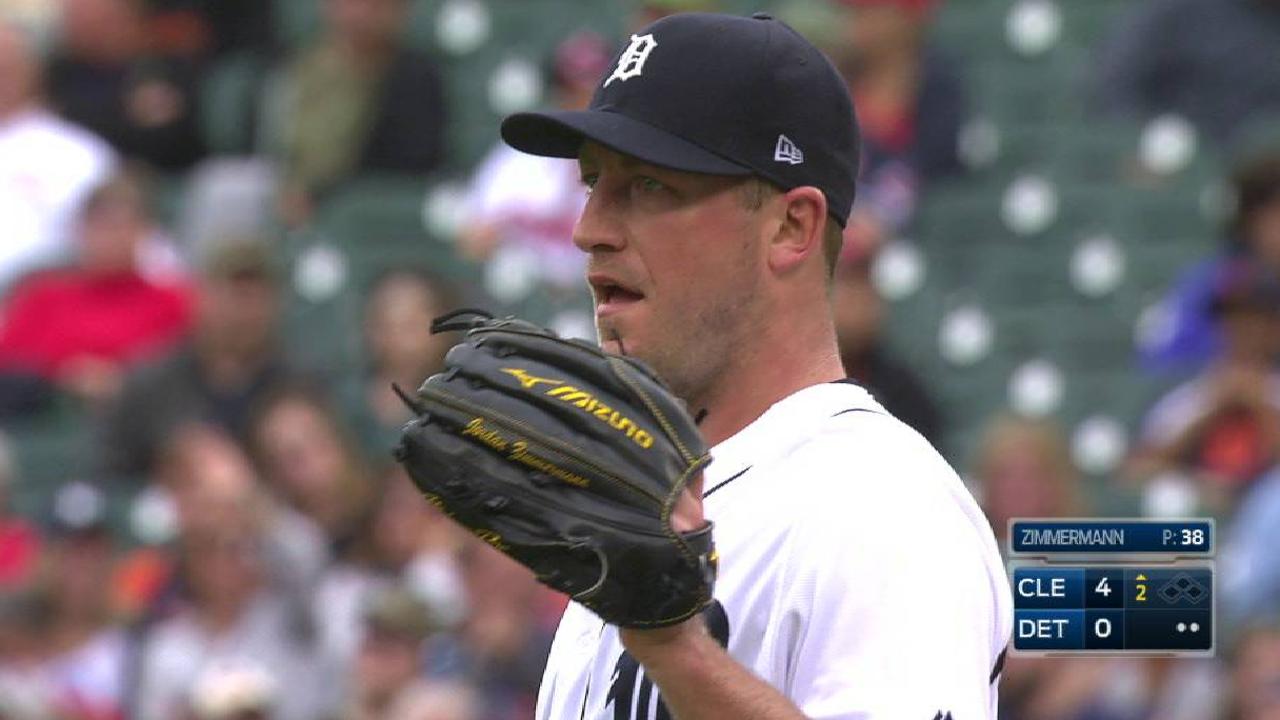 DETROIT -- Jordan Zimmermann's neck issues have returned. The Tigers' right-hander will visit a neck specialist in Dallas for an exam after neck pain flared up over the past couple of starts, manager Brad Ausmus said Monday morning.
Zimmermann will miss at least one turn through the rotation. Whether he returns or is shut down for the rest of the season depends on the diagnosis, Ausmus said.
Zimmermann will see the same specialist who prescribed a nerve block for him last fall. That alleviated the neck pain that flared up on him last year and allowed him to do an offseason workout plan to try to regain his old form.
While Zimmermann has been healthy until now, making 27 starts, he has not been effective. His 6.18 ERA is the highest of any Major League starter with a qualifying number of innings. His 103 earned runs lead all big league starters, while his 195 hits allowed rank second in the American League.
Zimmermann's struggles have worsened over his past five outings since his last quality start Aug. 7 at Pittsburgh. He has allowed 29 runs on 48 hits over 23 2/3 innings in that span, with just 11 strikeouts. He shifted to the other side of the pitching rubber in the middle of a start to see if it made a difference.
Zimmermann was expected to receive two nerve block injections last offseason, but he never received the second. He felt good enough after the first that he held off on the second, but he might take it now. If he does, he would have to wait three to five days before throwing again.
It would not necessarily rule him out from pitching again this season, according to Ausmus.
"That being said, we're not going to force it," Ausmus said.
With Zimmermann out, Chad Bell and Artie Lewicki will remain in the Tigers' rotation, joining Anibal Sanchez, Matthew Boyd and Buck Farmer. Of that group, only Boyd was in the rotation when the season began; Sanchez was the only other member of that group on Detroit's Opening Day roster.
The Tigers signed Zimmermann to a five-year, $110 million free-agent contract over Thanksgiving weekend in 2015, hoping he could help fortify their rotation for another postseason run alongside Justin Verlander. Zimmermann was a front-line starter at the outset, earning AL Pitcher of the Month honors in April 2016, but he has generally struggled since.
With Thursday's trades of Verlander and Justin Upton, Zimmermann is one of two long-term contracts left on a rebuilding Tigers team. He'll make $24 million next year, then $25 million in 2019 and '20, second-highest to Miguel Cabrera each season.
Jason Beck has covered the Tigers for MLB.com since 2002. Read Beck's Blog, follow him on Twitter @beckjason and Facebook. This story was not subject to the approval of Major League Baseball or its clubs.