Severino reaches 200 K's, embraces ace role
Yankees righty outpitches Sale, gets used to opposing other teams' star hurlers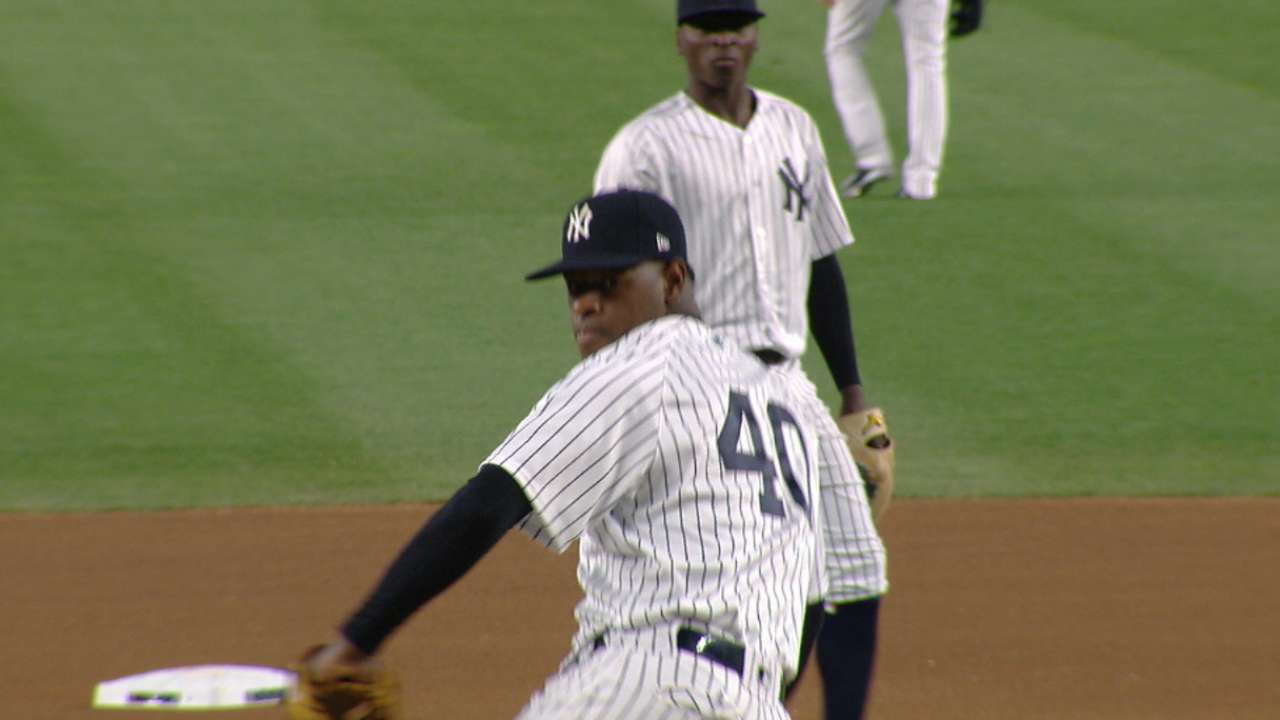 NEW YORK -- This is the Luis Severino the Yankees need for the stretch run -- and if they can lock up a playoff spot on the strength of his arm, into October: A pitcher who can go toe-to-toe with Chris Sale and win.
Severino outpitched his counterpart ace on Sunday night at Yankee Stadium, dominating the Red Sox in the Yankees' 9-2 win over their rivals in their final regular-season meeting. The 23-year-old right-hander fired six brilliant innings, allowing only two hits and one unearned run, striking out nine without walking a batter.
Behind Severino, the Yankees pulled to within 3 1/2 games of Boston in the American League East and pushed their lead over the Twins for the top AL Wild Card spot to two games.
"He's had an outstanding season, and I thought he took another big step today," manager Joe Girardi said. "You have to be able to do that. If you want to call yourself an ace, you have to be able to match up against their No. 1 guy."
Severino has held his opponent to one earned run or fewer in eight of his 10 starts since the All-Star break. He has 15 such outings this season, tied with Max Scherzer for the most of any starting pitcher in the Major Leagues. Two have come against the Red Sox with Sale on the mound; one was against the Cubs and Jon Lester; another was against Jose Quintana, a fourth against Felix Hernandez.
In the postseason, teams that are staffed with the best pitchers in the game will run out their frontline starters as often as they can. When Severino is on top of his game, he looks like he can be the Yankees' answer to those heavyweights.
"I think I'm now getting used to pitching against those guys," Severino said. "This was a big series. I went out there with my stuff, trying to get the win."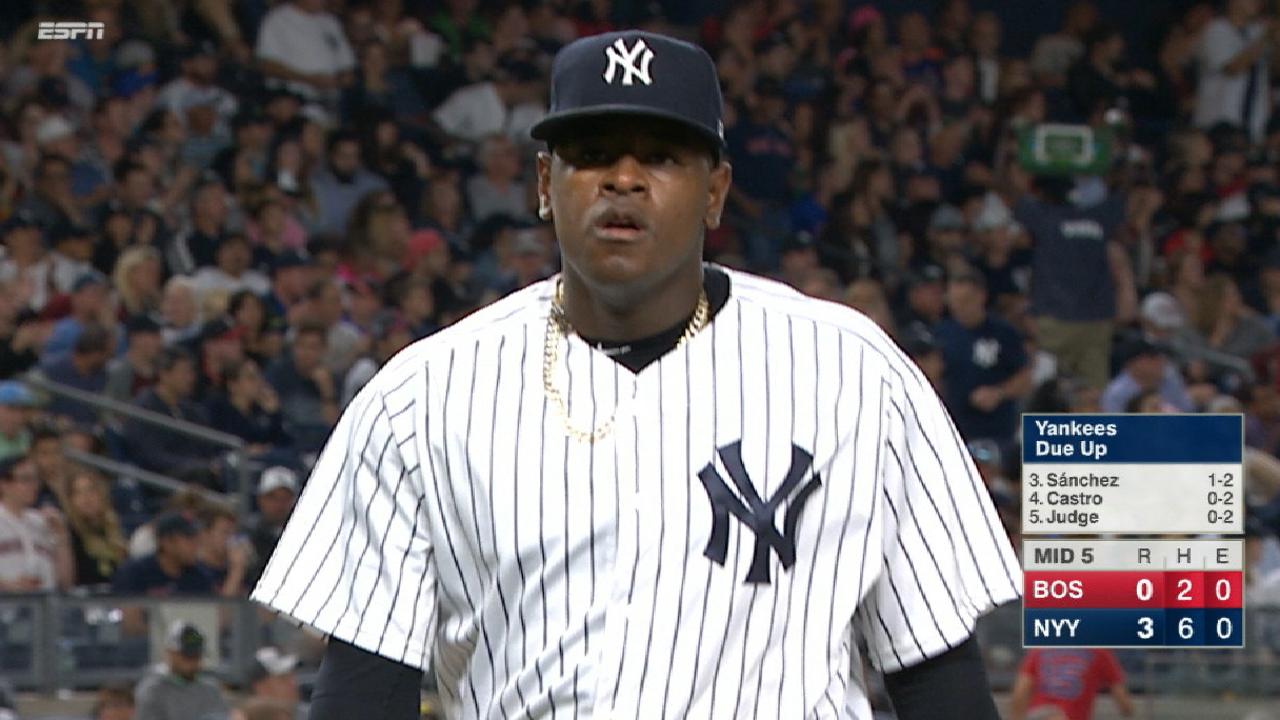 The Red Sox -- who hit Severino hard the last time he faced them on Aug. 12, lighting him up for a season-high 10 runs -- couldn't touch him Sunday night. Severino entered the game needing eight strikeouts for his first 200-strikeout season. He got there in the fifth inning, when he fanned the side. Severino struck out Rafael Devers with a fastball Statcast™ tracked at 99.4 mph, got Hanley Ramirez to wave at a slider, then blew away Sandy Leon with a 99.1-mph heater to notch No. 200.
The Red Sox only got on the scoreboard against Severino because of two Todd Frazier errors and a run-scoring Gary Sanchez passed ball in the sixth inning. The righty only came out after six, on 87 pitches, because the Yankees had blown open the game in a long bottom of the sixth.
"He was powerful," Red Sox manager John Farrell said. "He's pitched a couple good ones against us."
Two-hundred strikeouts is a milestone marker for Severino's All-Star season. He's the sixth pitcher in the Majors to reach 200 this year, after Sale, Scherzer, Chris Archer, Corey Kluber and Jacob deGrom.
What those pitchers have meant to their clubs, Severino has meant to the Yankees. He's now 12-6 with a 3.03 ERA that ranks third in the AL, behind only Kluber and Sale.
Severino is the 15th Yankees pitcher to strike out 200 batters in a season, and at age 23, the youngest to do so since Al Downing in 1964. The last AL pitcher with 200 K's in a season at age 23 or younger was Hernandez, who struck out 217 batters for the Mariners as a 23-year-old in 2009.
That he got there against Boston, especially after what the Sox did to him a few weeks earlier, meant a little more.
"Oh yeah. I wanted to go out there again. I was looking forward to facing Boston," Severino said. "That was the main thing. I gave up 10 runs. I can't allow that. I have to go out there and give them my best stuff.
David Adler is a reporter for MLB.com based in New York. Follow him on Twitter at @_dadler. This story was not subject to the approval of Major League Baseball or its clubs.