Sale on rare slump: 'Don't worry about me'
Lefty lasts just 4 1/3 innings vs. Yanks, falls to 1-3 with 6.88 ERA in last 4 starts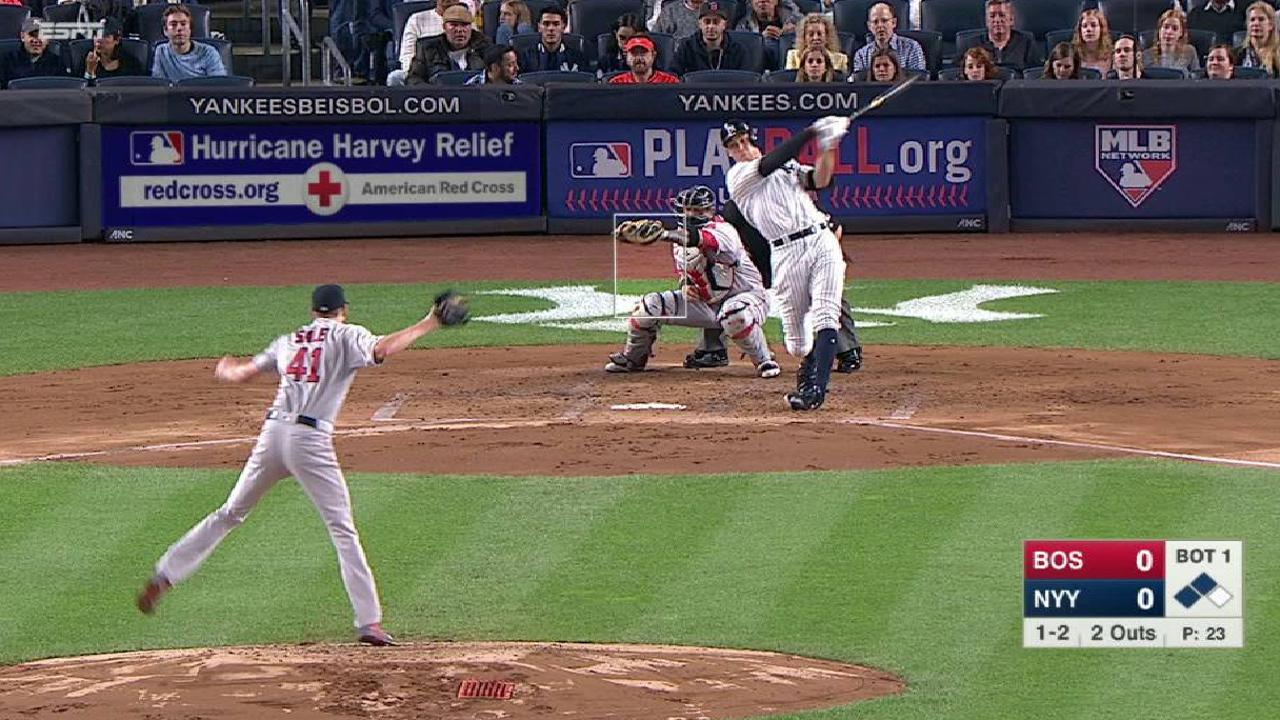 NEW YORK -- It turns out Chris Sale isn't slump-proof in what has mostly been a magnificent first season for the Red Sox.
The lefty ace had a chance to pin the Yankees in a 5 1/2-game deficit in the American League East on Sunday night, but he instead suffered his third defeat in his last four starts as Boston took a 9-2 loss in the last of 19 rivalry meetings this season.
With 25 games left, the Red Sox are up by 3 1/2 games on the Yanks. If Sale can regain his dominance, Boston is likely to win the division for the second straight season.
Even incorporating the gem he threw against the Blue Jays in his last start, Sale is 1-3 with a 6.88 ERA in his last four outings. All three losses have come against potential postseason opponents (two against Yankees, one against the Indians).
"He's set such a high bar for himself, not only this year but throughout the course of his career, and certainly this season the way he's pitched," said Red Sox manager John Farrell. "We've got a couple of off-days that we'll take advantage of to get him some extra rest, and we would with our entire rotation."
There were two things that victimized Sale on Sunday. The first was the long ball, as he surrendered solo homers to Chase Headley, Matt Holliday and Todd Frazier. The second was a rare battle with pitch efficiency. Sale was lifted after throwing 109 pitches in just 4 1/3 innings, though the only runs he gave up were on the homers.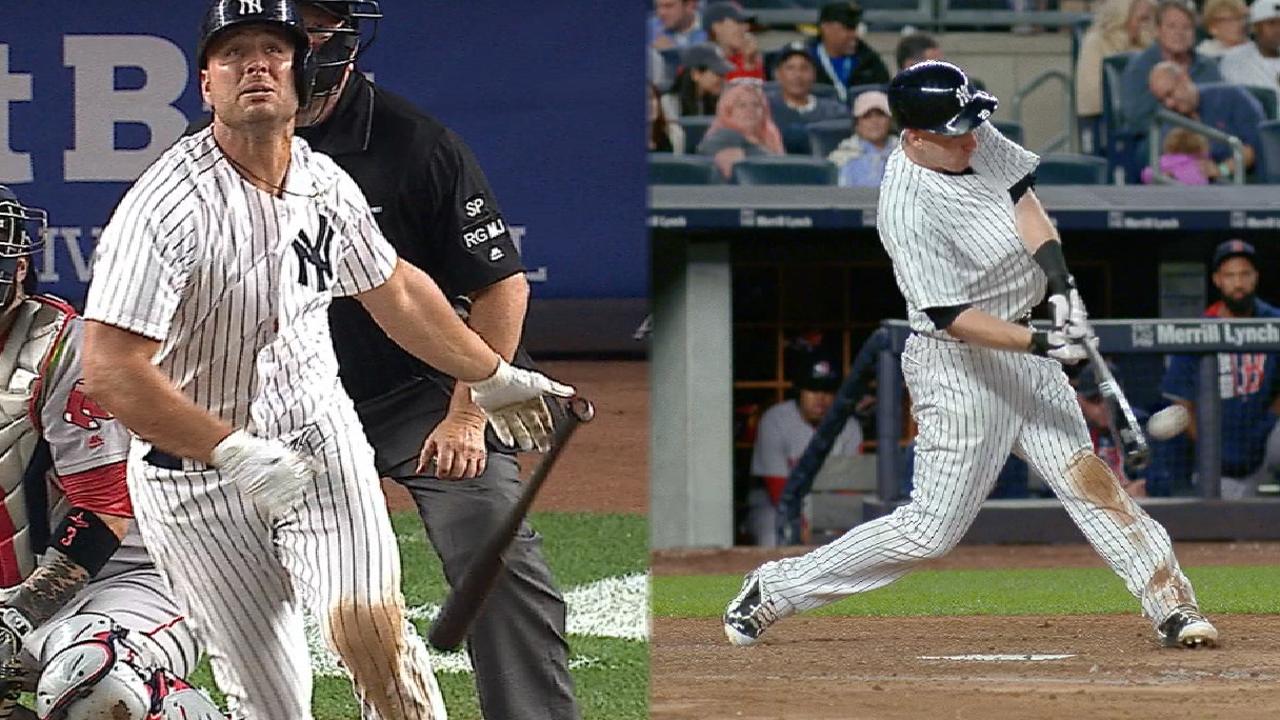 "Hung a breaking ball that Headley hit. Same thing with Frazier," said Sale. "Holliday hit a homer on a fastball. Just gotta be better than that, especially knowing the ballpark we're playing in. Just gotta be better at executing two-strike pitches than I did tonight."
In five starts against the Yankees this season, Sale went 0-3 with a 2.65 ERA.
"Our hitters had a great approach tonight," said Yankees manager Joe Girardi. "We know we're facing a really tough pitcher that's been tough on us. It's the fifth time we've seen him; we haven't scored a lot of runs. Our hitters had a great approach tonight. I think when you face Chris Sale, you can't miss pitches that are mistakes. That's the bottom line. His stuff is that good."
Once a runaway favorite to win the AL Cy Young Award, Sale (15-7, 2.85 ERA, 270 K's) is now in a heated race with Indians ace Corey Kluber (14-4, 2.56, 222 K's).
But individual awards are the least of Sale's concern. He came to Boston to win. Sale will try to do his part by finishing strong.
One eye-opening thing when looking at the lefty's career numbers is that September/October has been his toughest stretch. He is 9-15 with a 3.84 ERA in regular-season games played in those two months.
"You know, I can't speak to other Septembers, we weren't with him, but you see pitchers at this time of the year start to show a little wear and tear from the workload that they've carried the entire season, so we'll take every advantage we can with the upcoming days off," said Farrell.
The Red Sox are off on Thursday and then again four days after that, so Sale will likely make his next two starts with an extra day of rest.
Not that he's going to tell you he needs it.
"Don't worry about me. I'm doing all right," said Sale. "I had a rough one tonight. I have another one coming up in five days, and looking forward to that one."
As for the shrinking lead in the division, Sale doesn't think Red Sox Nation should worry about it.
"Yeah, but we've got plenty of time left," said Sale. "Now is definitely not the time to panic. We know where we're at. We know what we need to do. We've got a good homestand coming up. We'll put in some good work and come out of there where we need to be."
"Just get back to drawing board and get back on the horse and keep riding. That's all you can do. Can't hang our head now. Just gotta keep working, keep grinding and stay at it."
Ian Browne has covered the Red Sox for MLB.com since 2002. Follow him on Twitter @IanMBrowne and Facebook. This story was not subject to the approval of Major League Baseball or its clubs.