Sherfy gets surprise call and 1st MLB save
Not expected to get late-inning chances, rookie delivers in 3rd big league outing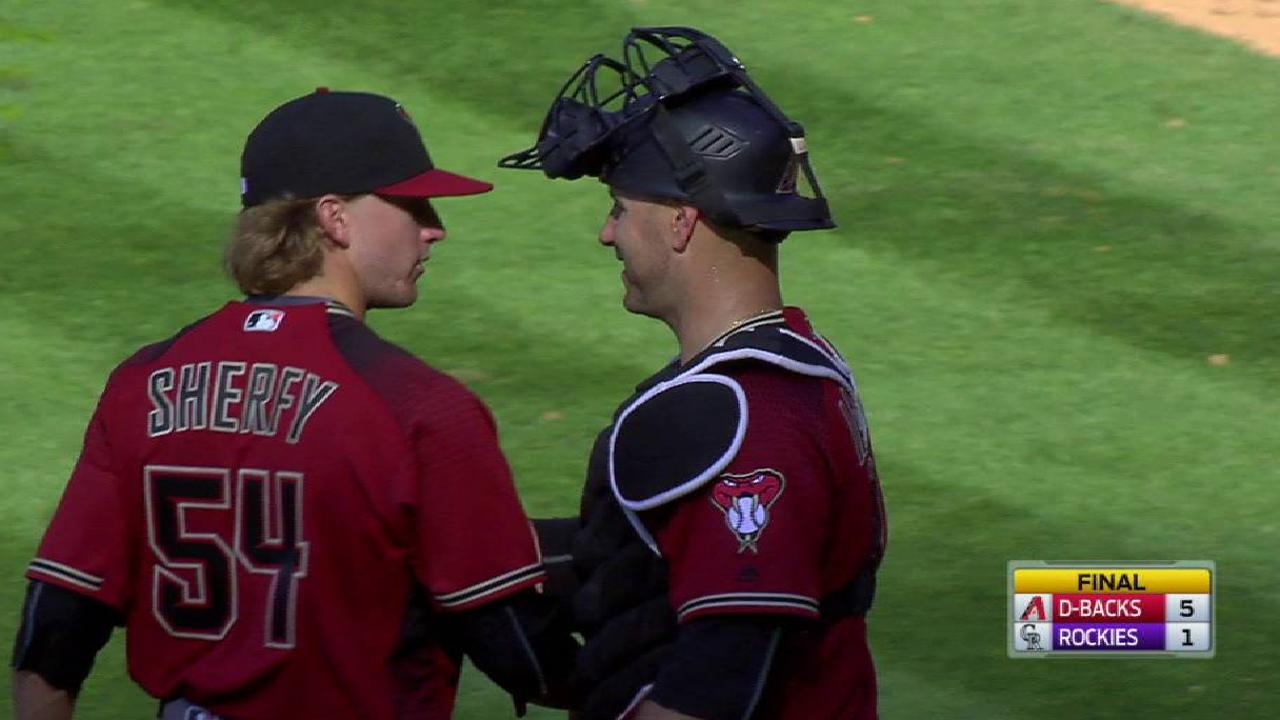 DENVER -- Jimmie Sherfy made his big league debut out of the D-backs' bullpen last month, pitching two innings over two games and notching his first win. That stint -- and his performance as the Triple-A closer for most of the season -- was enough to earn him a ticket back to the big leagues and an unexpected triumph at the back of the bullpen in Sunday's 5-1 win over the Rockies to sweep a key three-game set between National League Wild Card contenders.
Sherfy came into the eighth inning with two men on and nobody out as the Rockies looked to stage a comeback. He struck out the side, getting Trevor Story (18 homers), Nolan Arenado (30), and Pat Valaika (11) on swinging strikes.
"We were just trying to pair him up with certain parts of the lineup, and we felt like it matched up well there," D-backs manager Torey Lovullo said a day after saying Sherfy wouldn't see late-inning action during his callup. "We knew that their bench was loaded with righties, and we just felt comfortable with him executing a game plan. I can't say enough about him stepping in here. A young kid with the poise that he showed today was pretty impressive."
Sherfy, 25, came back for the ninth, getting two groundouts to second and a fly to right for six straight outs and his first big league save. He had a fearless approach to the Coors Field altitude, having pitched with Reno (4,506 feet above sea level) all season.
"I was just going in there and trying to attack the zone and trust [catcher Chris] Iannetta's plan," Sherfy said. "Just slow the game down as best as I could, focus on my breath, see the glove and attack. That was it."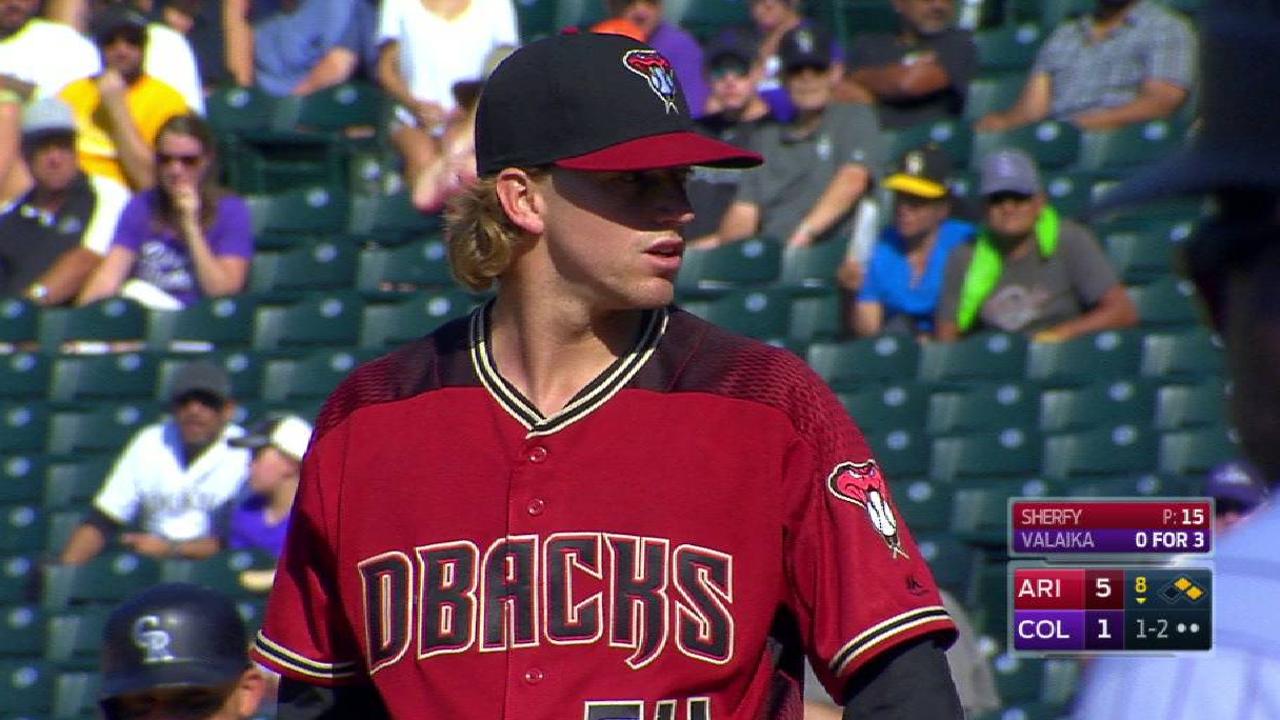 The D-backs had used seven relievers in Friday's 9-5 win, including all five relievers who pitched in Saturday's 6-2 victory, so Sherfy's number came up quicker than anyone expected.
"He was able to walk his fastball around in the zone and throw some secondary stuff that was swing-and-miss," Lovullo said. "So a credit to him for slowing it down and executing. Those are some very good hitters. We were thin in the bullpen, it's not a mystery. We had five guys down. But the guys that needed to step up did their job."
Getting NL MVP candidate Arenado on a fastball in was probably the biggest pitch of his outing.
"Iannetta called that pitch," Sherfy said of his catcher. "I didn't shake it, so I trusted it and just threw it. It felt good coming out of the hand, and when he swung and missed I felt pretty good."
His teammates didn't let his first save go by without appropriate recognition.
"That felt pretty awesome, too," Sherfy said. "I got a beer shower."
Owen Perkins is a contributor to MLB.com based in Denver. This story was not subject to the approval of Major League Baseball or its clubs.