Perez, defense deliver for crucial series win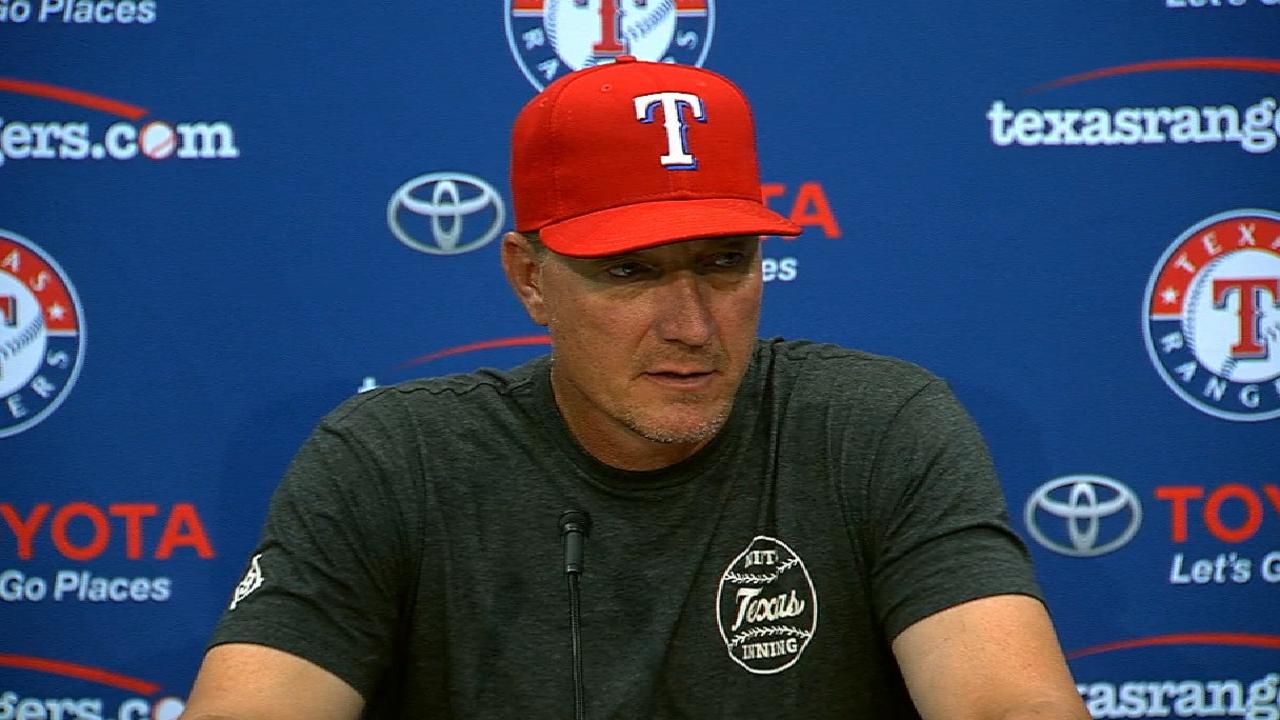 ARLINGTON -- Martin Perez didn't have his best stuff in Sunday's 7-6 win over the Angels, and he admitted that. He had to grind through some innings in the Texas heat, and the ball didn't find the strike zone as much as he'd have liked it to.
His outing reached a tipping point in the sixth inning. Perez was sitting at 114 pitches -- his season-high by a single pitch -- with the Rangers clinging to a two-run lead and a pair of Angels on base. A hit likely would've scored a run, and an extra-base hit certainly could have brought both runners home and resulted in a tie game. Manager Jeff Banister made a visit to the mound, and after a discussion, he elected to let Perez remain in the game.
"I know he was at the end pitch count-wise, however, this guy has taken the ball every time we have given it to him. He has grinded through a number of things, he has thrown the ball extremely well lately," Banister said. "[I] went out there and told him, 'This is your ballgame. This is your guy, go out and make good pitches.' At that point, I felt it was his ballgame. He needed to be the guy to have that opportunity."
Brandon Phillips rocketed a wicked liner over first base, but Will Middlebrooks leapt and snagged the screaming ball, ending the inning and preserving Perez's win.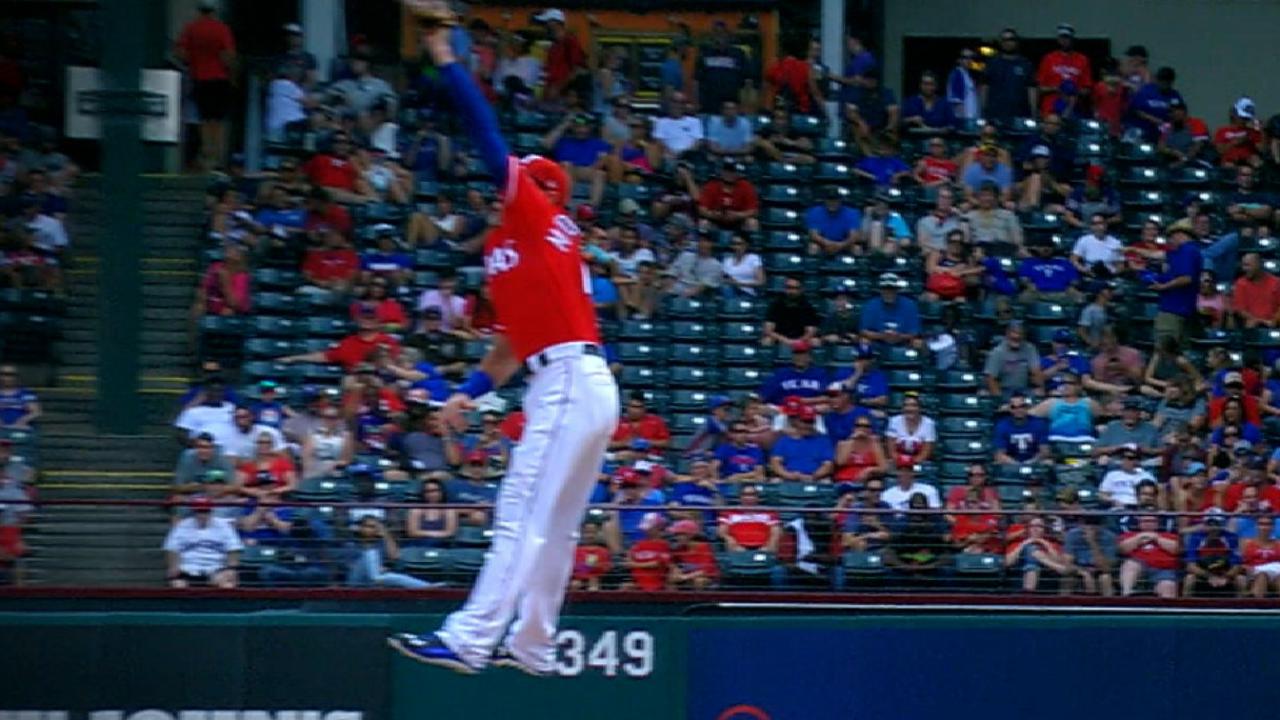 "He let me pitch 117 pitches, and I showed to myself and my teammates that I'm ready to compete and help us win," Perez said.
Middlebrooks was playing in his first game with the Rangers, his favorite team growing up as a native of Greenville, Tex. His family was in attendance on Sunday, and to make a momentum-shifting play to help his team earn a win like that meant the world to him.
"It was pretty special," he said. "Having my parents here, having my wife here, a couple of my good friends. Growing up coming to games here, always being a fan, it was pretty special. ... I didn't think I could get up for it."
Jason Grilli and Tony Barnette combined to give up three runs in the ninth inning and load the bases with two outs, bringing Luis Valbuena to the plate. He grounded out to Joey Gallo -- who had already made a spectacular diving play at third earlier in the game to rob Andrelton Simmons -- ending the game and ensuring the Rangers claimed a crucial division series in the American League Wild Card race.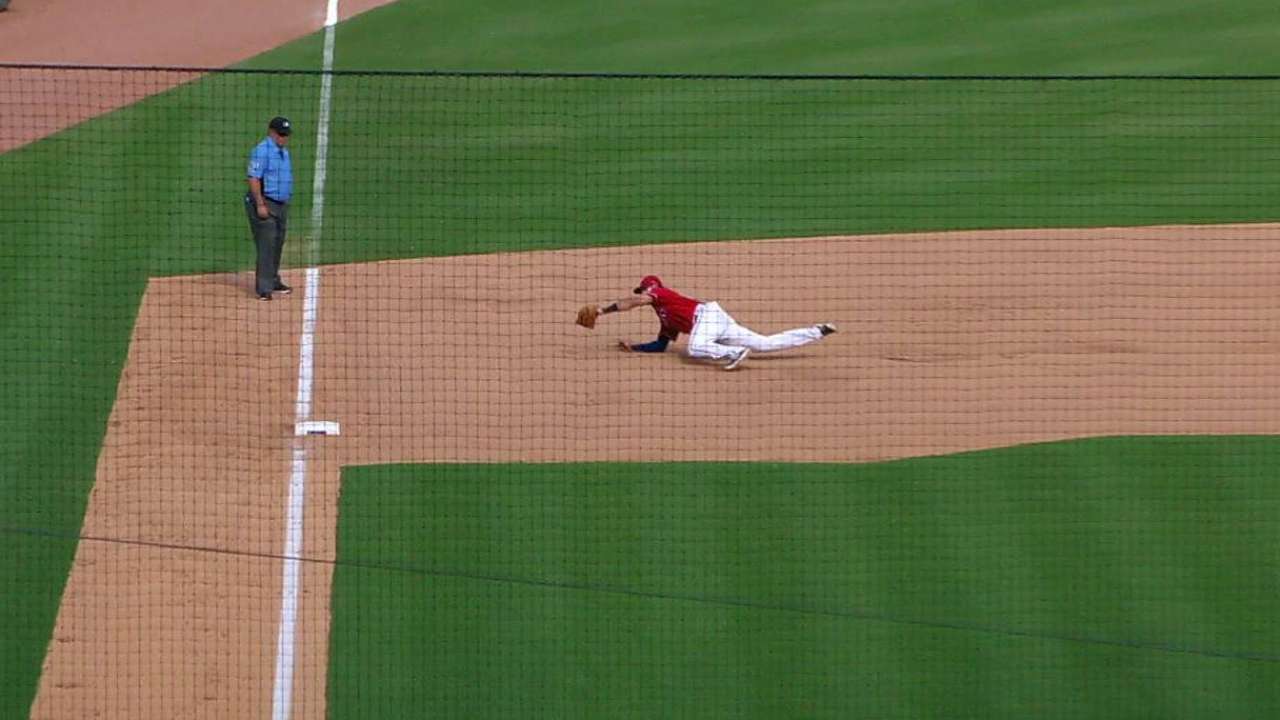 "We hit the ball hard with some guys in scoring position," Angels manager Mike Scioscia said, " ... Gallo made a diving stop on his ball. Middlebrooks jumped up and saved a run. On the offensive side, even though we didn't have a lot going early, we put ourselves in some positions, and unfortunately we didn't get some hits to fall in."
Sam Butler is a reporter for MLB.com. This story was not subject to the approval of Major League Baseball or its clubs.