Godley caps Arizona starters' epic set at Coors
D-backs' rotation first to hold Rockies to 3 or fewer hits in each game of 3-game series at home park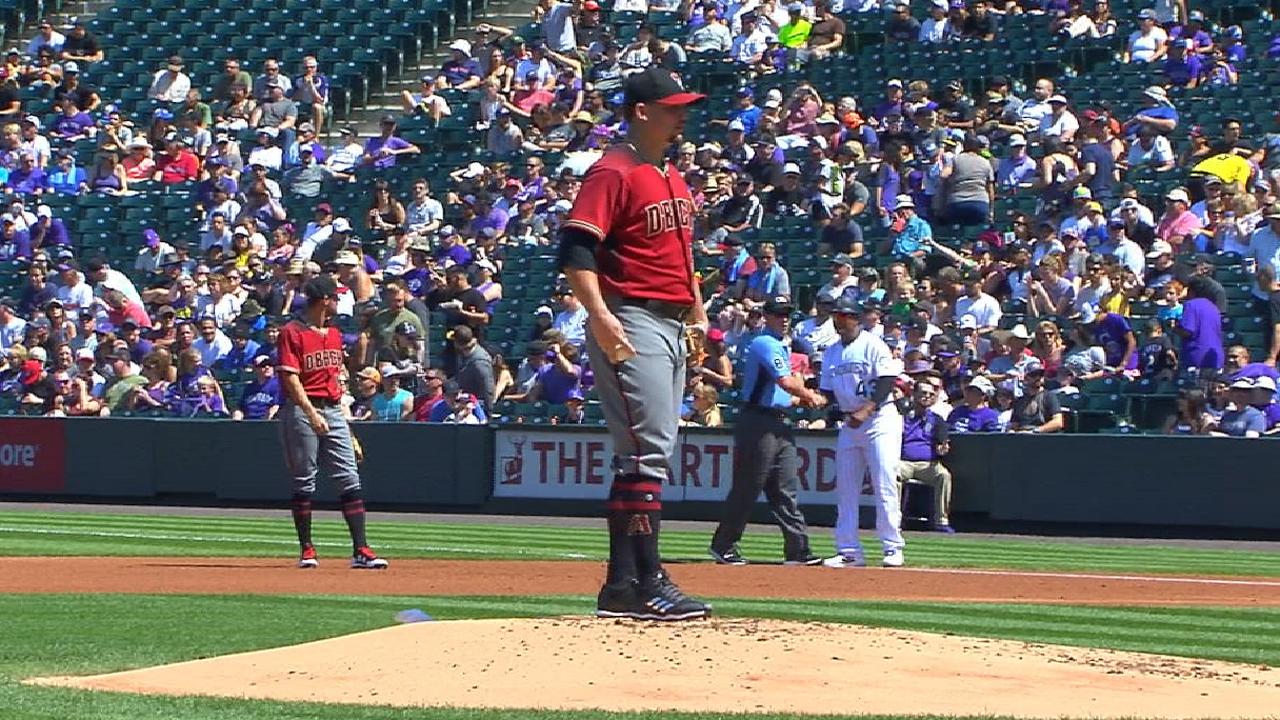 DENVER -- In the midst of their 10-game winning streak, the D-backs have excelled at passing and picking up the baton to string together moments that add up to victories. In a three-game set in Coors Field, the starting pitching was no different, turning in an historic succession of starts, capped by Zack Godley's three-hitter over six innings in Sunday's series finale, a 5-1 win securing their third consecutive series sweep.
Godley followed Patrick Corbin's one earned run on two hits in the middle game and Taijuan Walker's five scoreless, three-hit innings in the series opener Friday. It was the first time in the history of Coors Field that opposing starters have allowed three or fewer hits in a three-game series -- or for that matter, in three straight games within a single season.
"They're locked in," manager Torey Lovullo said. "They've been the mainstay and the common denominator all year long. Zack Godley gave us six innings. There were some walks, but he was limiting the damage and making pitches when he had to. Overall, the pitching we got over three days, that's why we won the series, no doubt about it."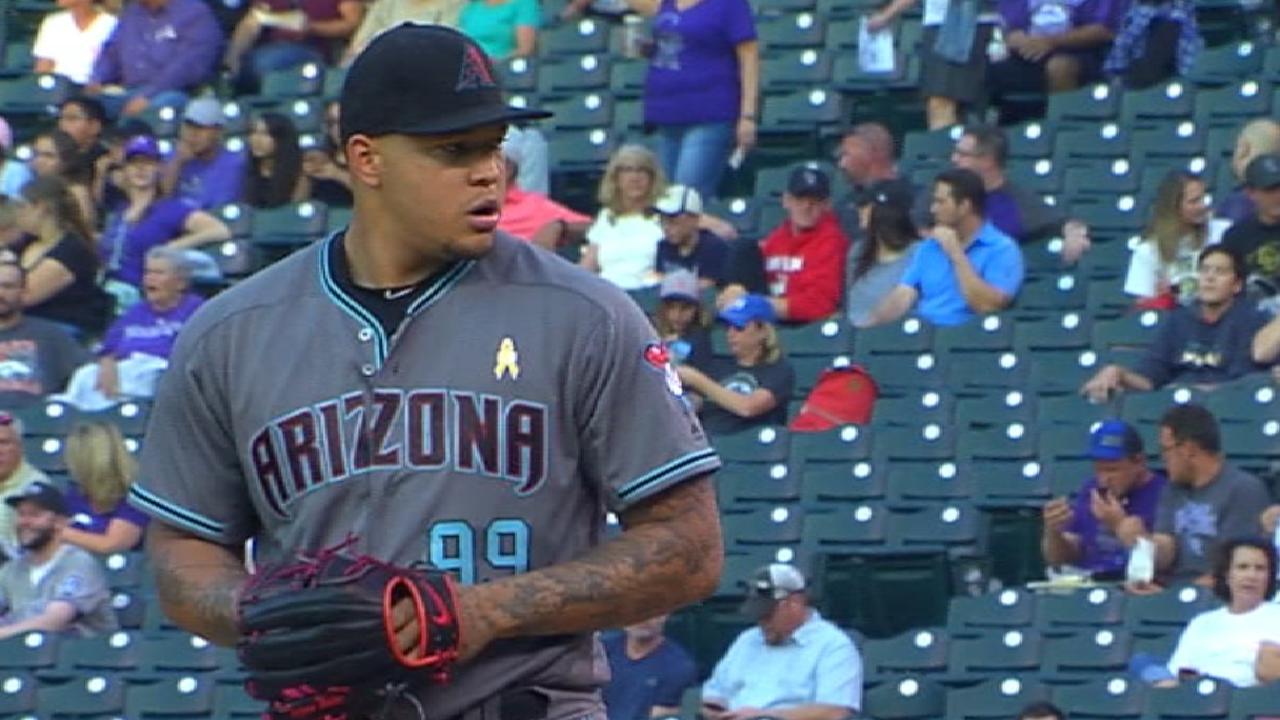 Godley's one run in six innings gave the rotation a 1.10 ERA for the three games in Colorado. The D-backs' starters ended up allowing three runs (two earned) on eight hits and 12 walks while striking out 21 in 16 1/3 innings. The staff as a whole kept the ball in the park throughout the series.
"When you come in to Coors Field and you don't give up a home run in three games, it's pretty impressive, because not only is it a hitter-friendly ball park, but it's a very offensive team," Lovullo said. "They can club the ball around with the best of them."
From Godley's perspective, the biggest accomplishment was getting the win, plain and simple. He didn't overthink his game plan or rely heavily on what he'd seen the previous two nights.
"I'm just trying to get ahead of guys and finish them late, keep trying to pound the zone and attack hitters," Godley said. "It's always great to get a 'W,' whether it's the first after losing a few or if it's the 10th in a row."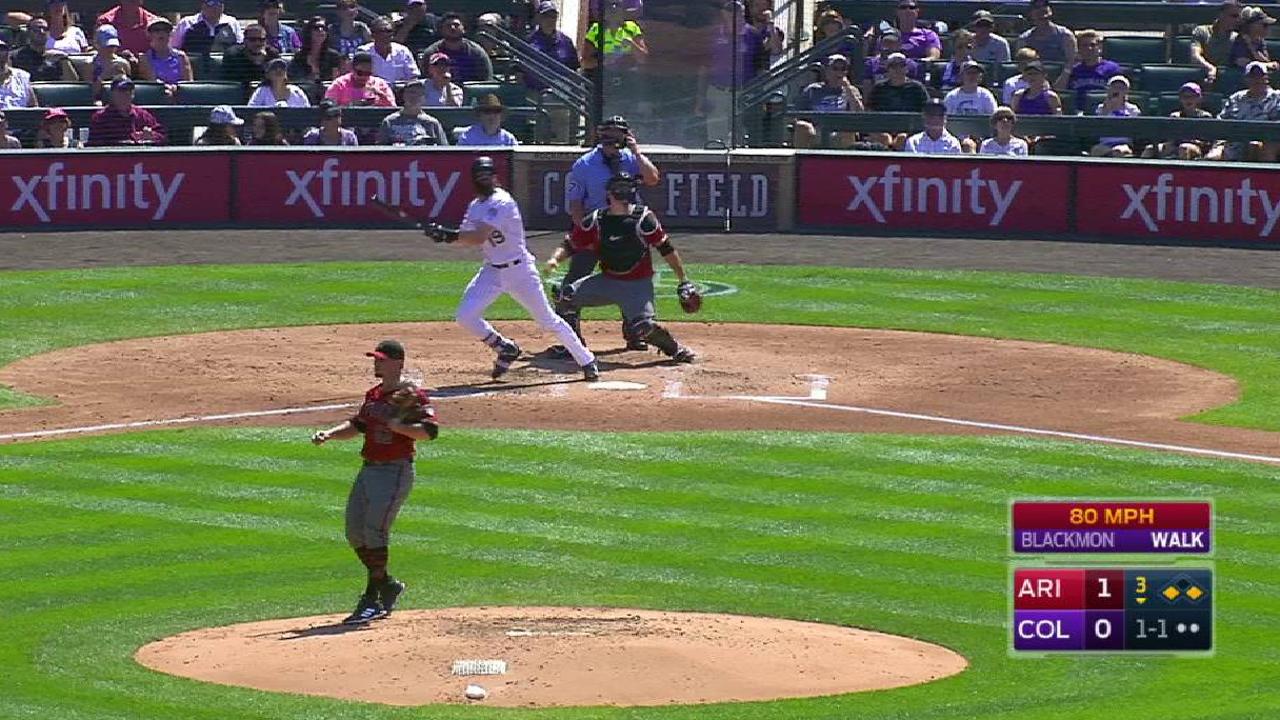 The ability to put Colorado's bats to sleep made an impression in both clubhouses. The Rockies were 2-for-30 with runners in scoring position for an .067 average, their worst average with RISP in a series of three or more games since 2010, when they were 0-for-23 over four games in St. Louis.
"They pitched," Rockies manager Bud Black said. "They really did the whole series. That was the key to this series. It's the key to this little streak they're on. They're the team that has the second-best ERA in the National League behind the Dodgers."
Not to be lost in the mix is the fact the D-backs extended their win streak with Paul Goldschmidt, A.J. Pollock and J.D. Martinez on the bench, with five relievers down, including closer Fernando Rodney, and with their fifth starter on the mound.
"I couldn't be more thrilled with what the guys gave effort-wise today," Lovullo said. "The focus, the level of execution was right where it needs to be. It just tells you where we're at right now as a team. Things are in a very good place."
Owen Perkins is a contributor to MLB.com based in Denver. This story was not subject to the approval of Major League Baseball or its clubs.