A good day to hit: Santana goes deep again
Outfielder, who homered twice against Nats, has 9 on Sunday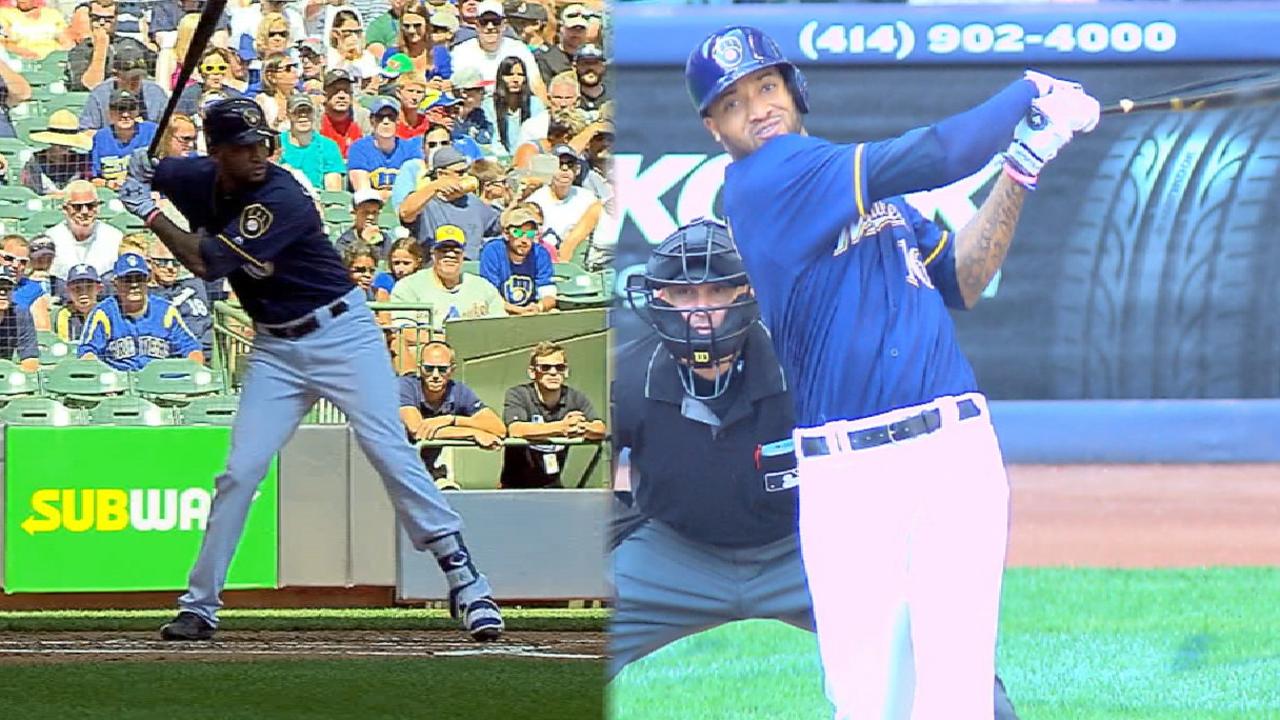 MILWAUKEE -- There's something about Domingo Santana on Sundays.
Santana is bilingual, born in the Dominican Republic and raised by a ballplayer dad by the same name in the Virgin Islands, where he learned that the English translation of his first name is Sunday. It continued to be Santana's favorite day of the week against the Nationals, as he smacked two more home runs in a 7-2 Brewers win to give him nine Sunday homers this season, one off George Springer's Major League lead.
Santana's nine Sunday shots ties him with a couple of other sluggers you may have heard of: Giancarlo Stanton and Nelson Cruz.
"Day games seem to be a nice formula for him," Brewers manager Craig Counsell said, "but no player likes to admit they like playing day games."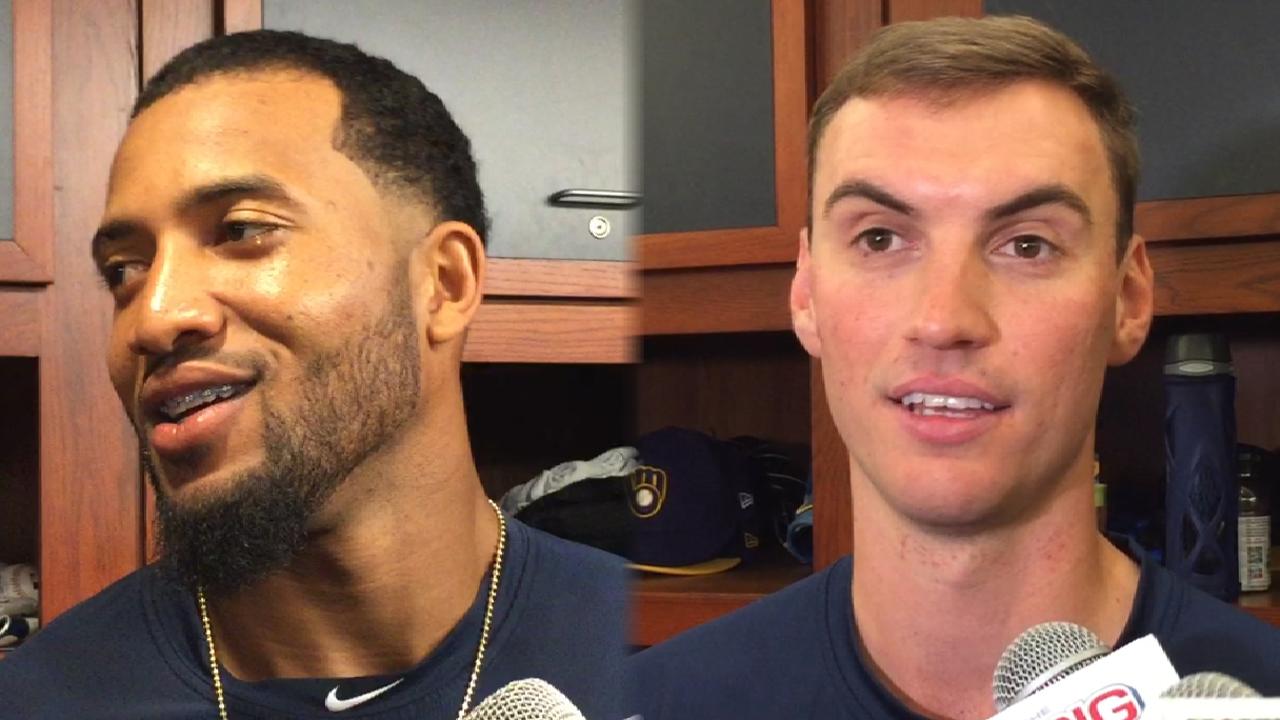 Indeed, Santana is no fan of early starts, in spite of his Sunday afternoon results. The home runs have been part of a larger breakthrough for the 25-year-old right fielder, acquired two years ago as part of the blockbuster trade that sent Carlos Gomez and Mike Fiers to the Astros.
The Brewers netted two other members of their current big league team, left-hander Josh Hader and outfielder Brett Phillips, plus Minor League pitcher Adrian Houser in the deal, but Santana is the most advanced of the bunch. He has rebounded from an injury-plagued 2016 season to hit .277/.372/.491 in 2017, with 24 homers and 69 RBIs.
Santana's 123 weighted runs created plus and .368 weighted on-base average make him the most productive of the Brewers who have been with the team all year, just ahead of RBI leader Travis Shaw.
"I'm glad it happened last year. I learned a lot from it," he said of his '16 struggles, which included elbow and shoulder injuries. "I learned I couldn't take anything for granted. I learned a lot. It makes me keep my head up when things aren't going my way."
Santana also worked a pair of walks on Sunday to finish 2-for-3 with three runs scored and three RBIs as the Brewers won for the third time in four games against the Nationals.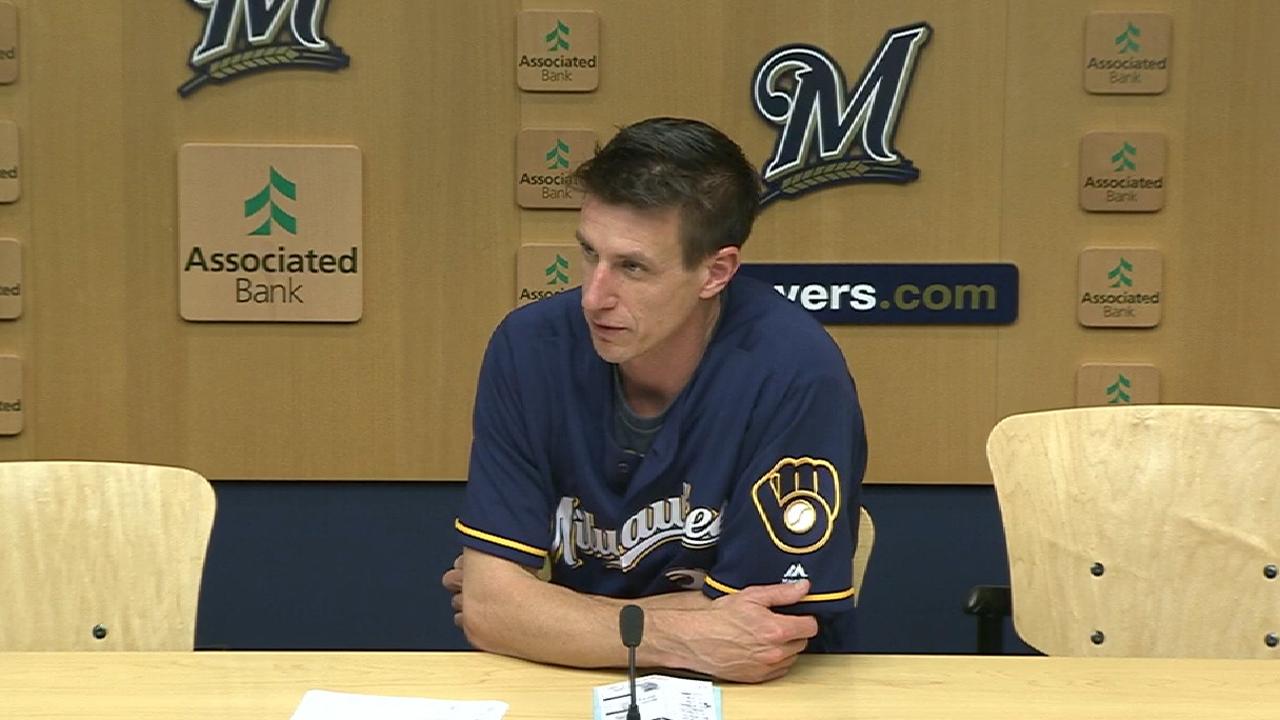 His two homers gave the Brewers 195 this season, tying and surpassing last year's total.
"He's been a real consistent player this year overall. Credit to him," Counsell said. "He's certainly taken a big step forward, and done it kind of quietly, I guess. But he's having a very nice season, and there's no question he's gotten better. He's gotten better as a hitter. He's taken a great step forward. …
"The strike zone has just gotten better for him. He has a real plan in every single at-bat. There are still strikeouts in there, but in every at-bat, he's going up there with a purpose."
Adam McCalvy has covered the Brewers for MLB.com since 2001. Follow him on Twitter @AdamMcCalvy and like him on Facebook. This story was not subject to the approval of Major League Baseball or its clubs.