Looking for jolt, Rockies shuffle batting order
Blackmon makes 3rd career start in 3-hole; LeMahieu elevated to leadoff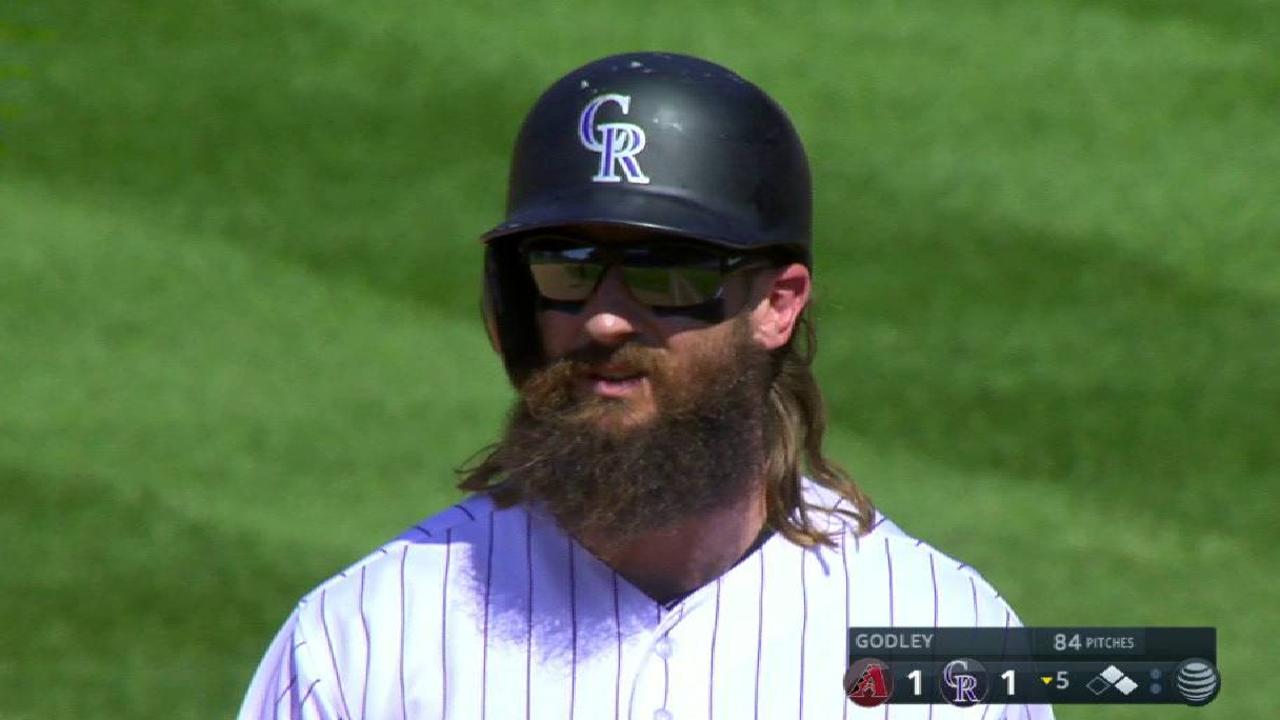 DENVER -- The Rockies, stuck in an offensive funk for nearly a month, shuffled their lineup Sunday to try to get things going.
Manager Bud Black dropped yearlong leadoff hitter Charlie Blackmon to the three-hole and moved struggling outfielder Carlos Gonzalez up to second. Second baseman DJ LeMahieu also jumped to the leadoff spot.
Regulars Nolan Arenado, Mark Reynolds and Ian Desmond rested, but Desmond and Arenado pinch-hit in the 5-1 loss to the D-backs. Desmond lined out in the seventh, while Arenado struck out in the eighth.
"A few of our guys aren't starting, but we shuffled some guys around," Black said. "Hopefully that will give us a jumpstart today. Where we put those guys today, we felt it was the best spot for all eight of them, plus [starter] German Marquez."
Blackmon has been the Rockies' most consistent hitter all season, leading the team with a .340 average and 32 home runs. Blackmon leads the Major Leagues with 120 runs scored and 186 hits. Before Sunday's start, Blackmon had just 13 at-bats hitting third. On Sunday, Blackmon went 2-for-3 with an RBI and a walk.
Gonzalez, expected to be the Rockies' cleanup hitter heading into 2017, is mired in the worst offensive season of his career. His .242 average is the lowest mark he's compiled over a full season in his 10-year career. Gonzalez walked and struck out twice Sunday.
LeMahieu, hitting leadoff for just the second time this year, was 1-for-5 with a run scored on Sunday.
Worth noting
• Black is in his first year as the Rockies' manager, but he's had Colorado in contention all season. He talked about how proud he was of the team's young pitchers -- Kyle Freeland, Marquez, Antonio Senzatela and Jeff Hoffman -- keeping the team in it all year.
"That's probably the thing that's stood out for me, is how those guys pitched," Black said. "There wasn't at any point we thought about sending those guys to the Minors based on performance. And that happens a lot in young pitchers where you see either on-field performance or maybe a mental component where you have to send a guy back."
Black added that Hoffman's demotion a few weeks ago was a mix of performance and need for rest, but Hoffman "held his own, too."
"He's pitched good baseball, too," Black said. "Those young guys -- rookies -- have really helped their own. And that's a good thing, it should be a good sign for us moving forward."
Max Gelman is a reporter for MLB.com based in Colorado. This story was not subject to the approval of Major League Baseball or its clubs.