Giants pondering shutting down Melancon
Bochy floats the possibility of forearm surgery for reliever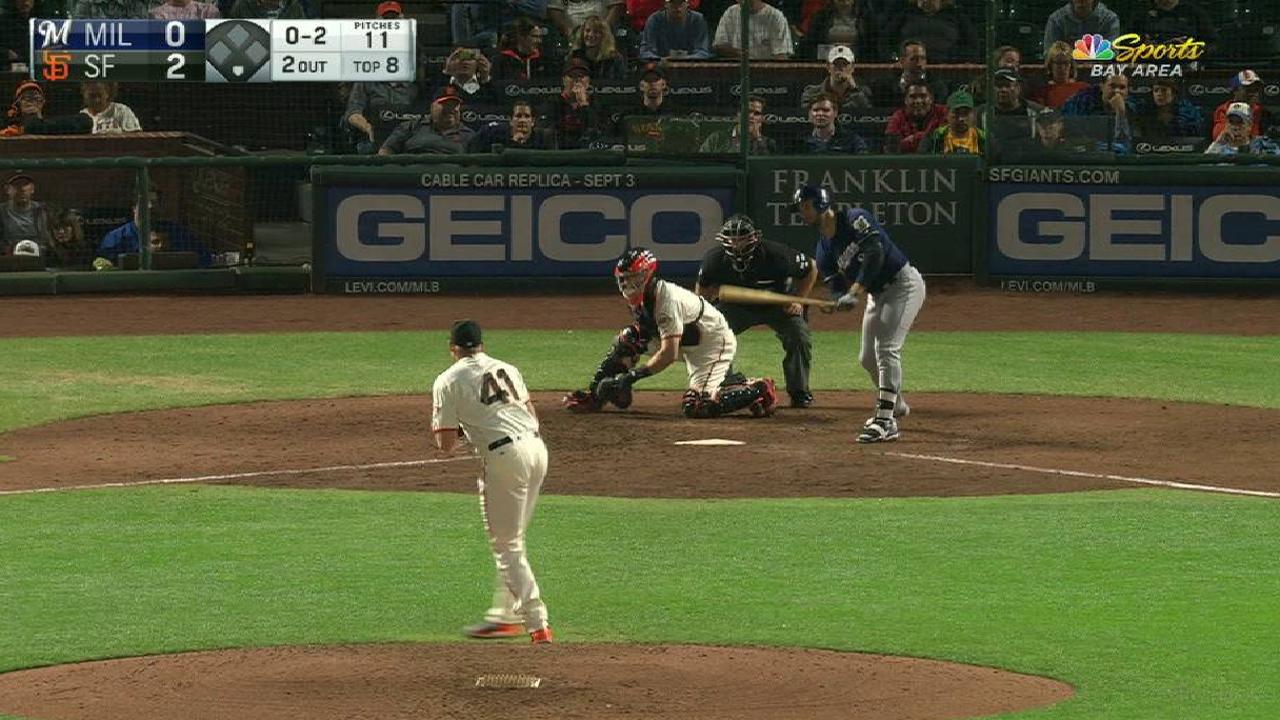 SAN FRANCISCO -- Giants manager Bruce Bochy said on Friday that reliever Mark Melancon, the team's prized offseason acquisition, could have his season cut short. The move would precede a potential surgery to alleviate the forearm discomfort which has sent him to the disabled list twice this season.
"He could be," Bochy said of a potential shut down. "We've discussed that possibility. Just go ahead and get Mark taken care of."
Bochy said that move come could sooner rather than later.
"If it goes like we think, he'll have plenty of time," Bochy said. "It's a 6 to 8 week recovery before he's throwing. We'll make sure we have plenty of time to have him ready."
Melancon, whom the Giants signed to a four-year, $62 million contract, has yet to reclaim the closer role since returning from the DL last month for a right pronator strain.
Yet, Melancon has continued to pitch. He's made eight appearances since returning from the DL, one of which was in the eighth inning Friday, when he allowed the tying run to score in a game the Giants went on to lose, 11-6.
Last month, the Giants said they were exploring the possibility of surgery.
"I've had discomfort every day of this season," Melancon said last month. "Dating back to 2012, this has been an issue at some point every year. But it's always subsided."
Roster expansion
The Giants summoned four familiar faces on Friday as rosters expanded across the Majors. They added two relievers -- lefty Steven Okert and righty Derek Law -- while also recalling catcher Tim Federowicz and utility man Orlando Calixte from Triple-A Sacramento.
The organization also outrighted infielder Jae-Gyun Hwang to make room for Federowicz on the 40-man roster.
Law said his stint in the Minors helped him differentiate between the velocity on his two off-speed pitches, the slider and curveball.
"I know leaving, Buster [Posey] kind of mentioned that to me," Law said. "He said that was something I should focus on. I took it and ran with it."
Law posted a 3-1 record and 5.40 ERA in 31 appearances for the Giants earlier this season. Okert had a 6.75 ERA in 32 games before going back to the Minors in late July.
Federowicz had a brief appearance on the 25-man roster in April when Posey landed on the concussion disabled list. The 30-year-old slashed .300/.366/.463 this season for Sacramento with nine home runs and 43 RBIs.
"There's always excitement coming from Triple-A back up here," Federowicz said. "It's a lot better lifestyle. The food's a lot better. It's definitely a lot more fun. Excited to be back."
The Giants also recalled Calixte, who was optioned to Triple-A on Aug. 24 when Joe Panik rejoined the roster. He hit .176 in 34 at-bats.
Jonathan Hawthorne is a reporter for MLB.com based in the Bay Area. This story was not subject to the approval of Major League Baseball or its clubs.