Gausman, defense key 13-inning shutout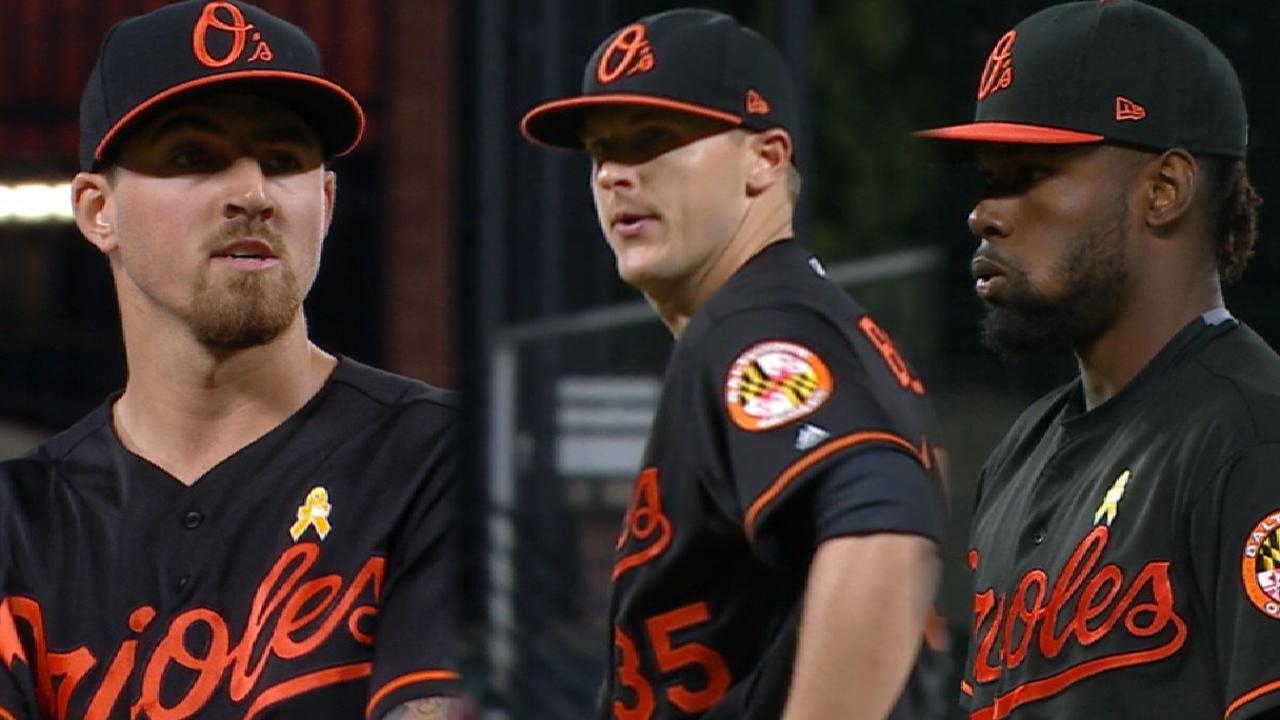 BALTIMORE -- After the Orioles' offense led the way in August with a Major League-best 57 home runs and a .304 batting average, it was Baltimore's pitching and defense that stole the show in its first game in September.
Kevin Gausman pitched six scoreless innings as he continued his second-half surge, and four relievers combined for seven more frames as the Orioles beat the Blue Jays, 1-0, in 13 innings Friday night at Camden Yards.
Backing up the pitching, second baseman Jonathan Schoop, third baseman Manny Machado and left fielder Trey Mancini all made key plays on defense to set the stage for Schoop's a walk-off double.
"It's a good game to win," said manager Buck Showalter, "but you need to do so many things for that to happen."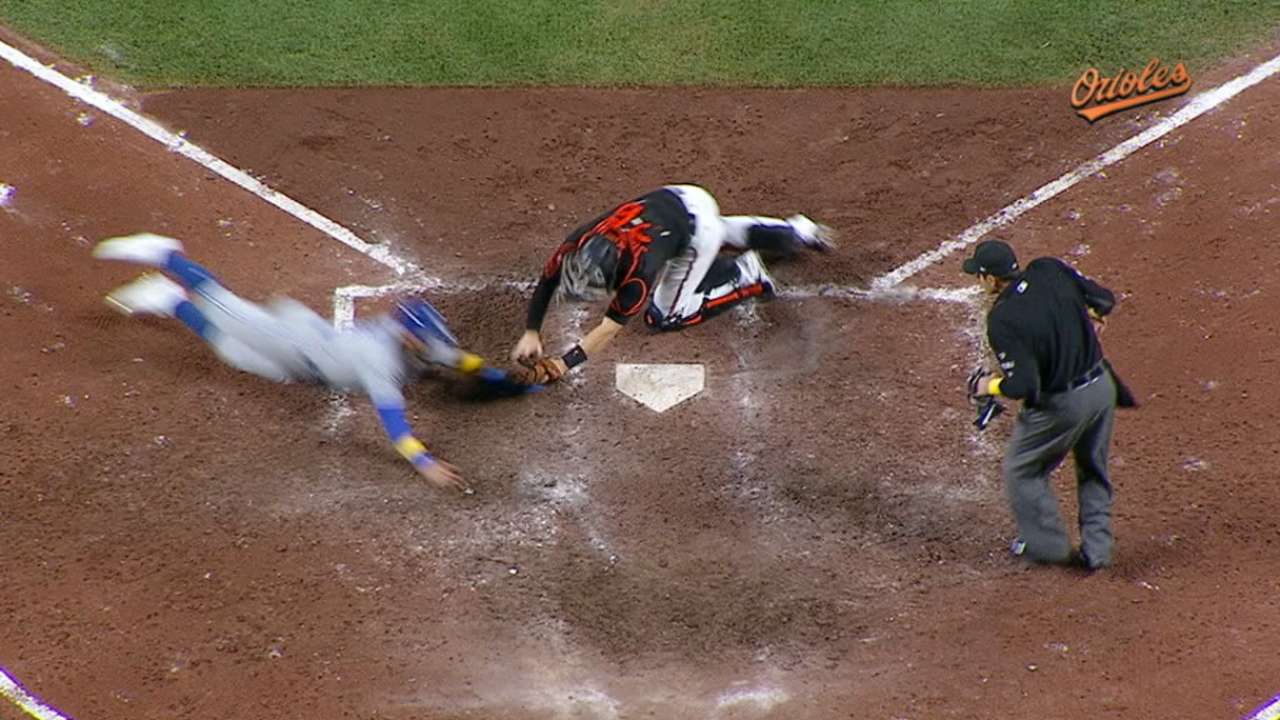 Great defense was among those ingredients, and Schoop may not have even had the chance to win the game in the 13th had he not saved it for the Orioles four innings earlier.
With one out in the top of the ninth and the go-ahead run at third base, Toronto's Darwin Barney hit a sharp grounder to Schoop, who threw a strike to catcher Caleb Joseph. Despite a good jump off third from Kevin Pillar, Schoop's throw reached Joseph in plenty of time to apply the tag for the second out of the inning. More importantly, it kept Toronto from taking the first lead of the game.
"I know that they're going to go on contact there," Schoop said. "So, I want to catch the ball first, control what I can control, make a good throw home and let Caleb do his job. It worked out really good."
Joseph was well positioned to block the plate and was able to apply the tag to Pillar's left hand as he slid headfirst.
"Jon might be the only second baseman that makes that play because of the arm strength," Showalter said. "And Caleb stuck it in there because there was a slight back door open because of the angle."
The Orioles again escaped trouble in the 12th, when Miguel Castro worked around a leadoff double, retiring the next three batters.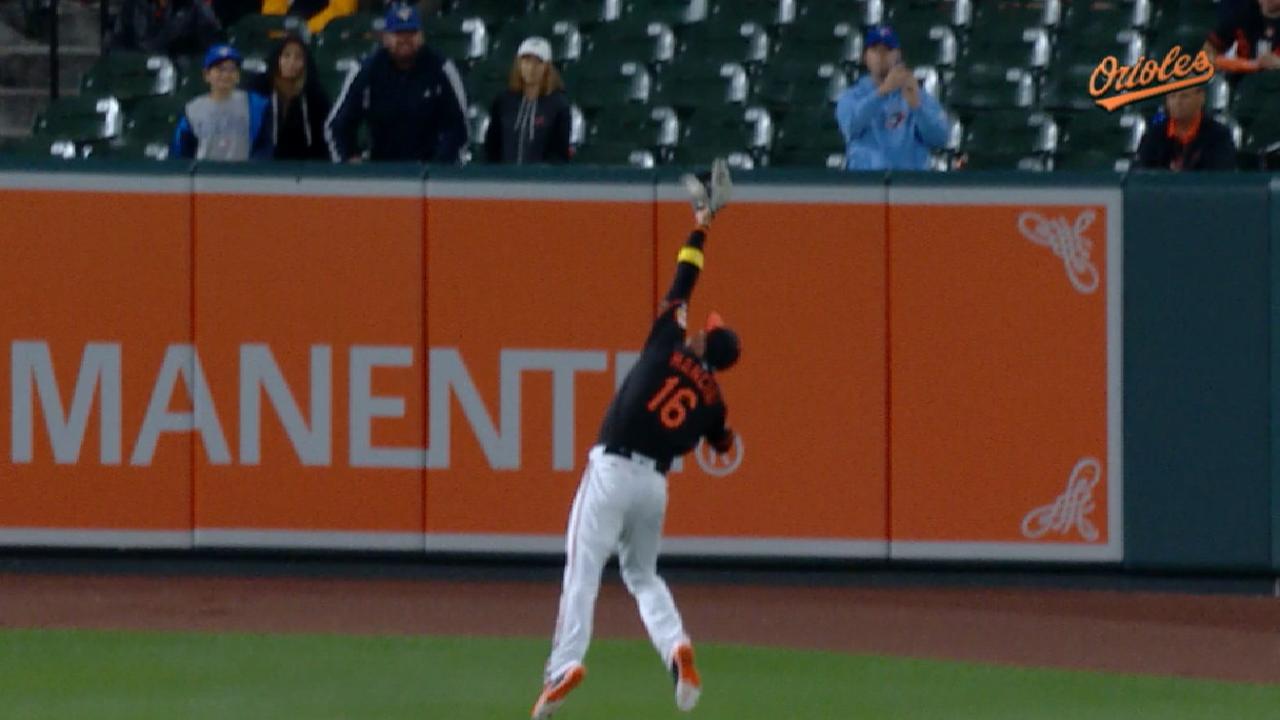 In the 13th, the Blue Jays had a runner on second base when former Oriole Steve Pearce lined a 2-0 pitch to deep left field. Mancini went back on the ball and leapt for an over-the-shoulder diving catch to end the threat.
"You have to make a quick read," Mancini said. "I took one really quick jab to my left but then I realized he top spun it a little bit, so I switched to my right and just went back and I tried to lay out and use every fiber of my body to stretch out and get it, and luckily I barely got enough glove on it. I thought there was maybe a 40- or 50-percent chance I'd get it. There was a second I thought it was over my head, and then there was a second where I thought I might have a shot. So, a lot going on in my head in two seconds there."
The catch also left reliever Jimmy Yacabonis in position for his first career Major League win after the righty threw a scoreless 13th.
"That was unreal," said Yacabonis, who was called up from Triple-A Norfolk on Friday. "I've been playing with Trey since 2013. We were drafted together. So making that catch is an unreal play, a big-time play. I think I owe him a little something after that."
Ben Raby is a contributor to MLB.com based in Baltimore. This story was not subject to the approval of Major League Baseball or its clubs.