Top prospects to watch in Minor League playoffs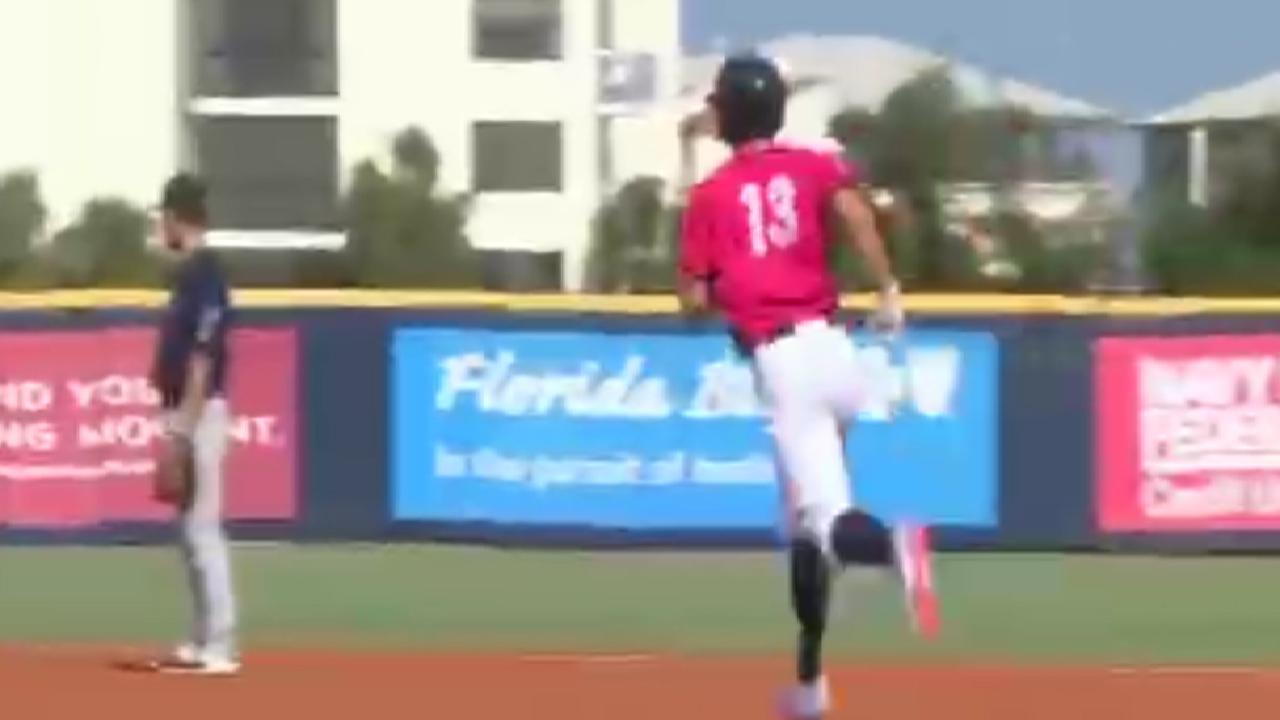 As the 2017 Minor League regular season winds down, a vast majority of prospects now face the reality that their competitive play has likely ended for the year.
Some have instructional league or perhaps the Arizona Fall League to look forward to, while others hope to have their seasons extended with a September callup to the big league club.
But for a small number of prospects, the season isn't quite over just yet.
The postseason in the Minors is set to begin this weekend across three Rookie levels, with the Appalachian League starting things off on Saturday, and the Arizona and Gulf Coast Leagues following suit the next day. The remaining leagues will get underway early next week, with Tuesday marking the beginning of postseason play for 11 leagues.
With that in mind, here are the top prospects to watch in the Minor League playoffs this month.
Vlad Guerrero Jr., 3B, Blue Jays' No. 1/No. 6 overall; Bo Bichette, SS, Blue Jays' No. 2/No. 30 overall
Dunedin Blue Jays (Class A Adv)
Arguably the best hitting prospect in the Minors at age 18, Guerrero blasted a go-ahead two-run homer in the top of ninth inning on Thursday night to propel Dunedin into the Florida State League playoffs via a Wild Card berth. The teenage phenom has amazingly surpassed expectations in his first full campaign by slashing .325/.426/.491 with 43 extra-base hits and more walks (74) than strikeouts (60) across two levels.
Bichette, meanwhile, has done nothing but hit since signing with Toronto as a second-round Draft pick in 2016. After batting .427 in his pro debut last summer, the 19-year-old shortstop opened the current season by hitting .384 over 70 games in the Midwest League to earn a promotion to Dunedin. Overall, he's slashed .366/.428/.566 with 58 extra-base hits and 22 steals.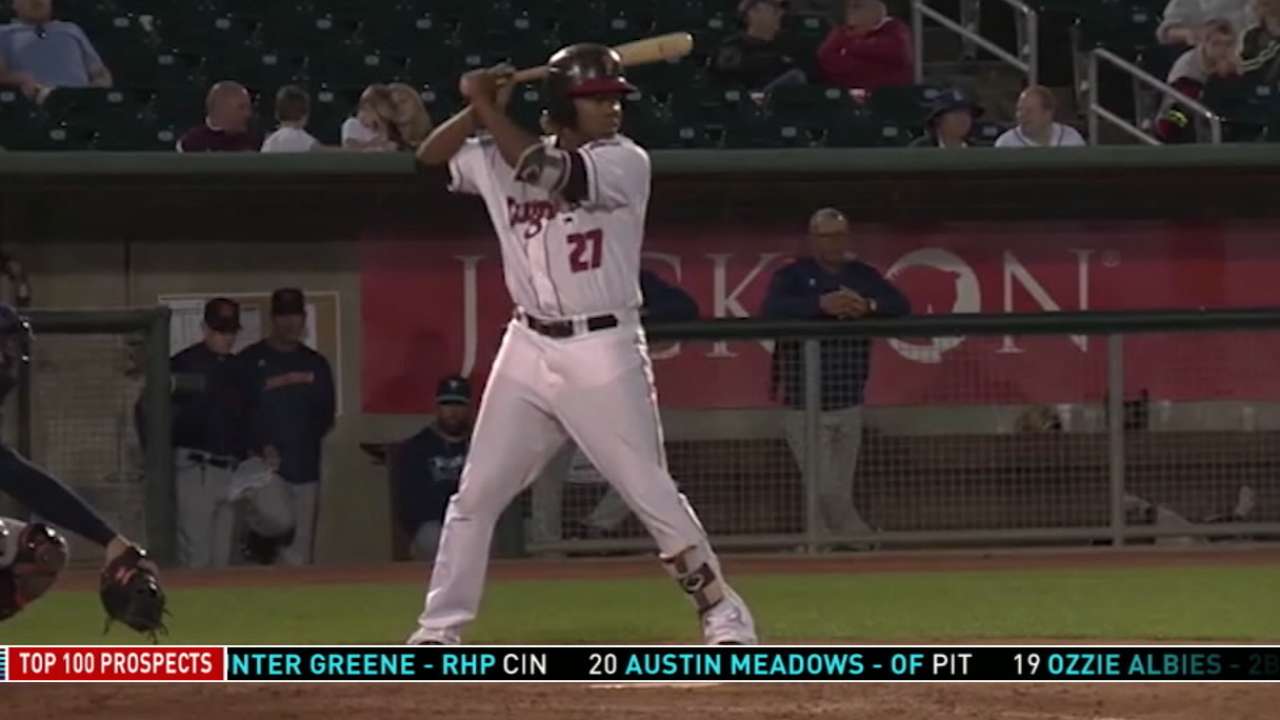 Nick Senzel, 3B, Reds' No. 1/MLB No. 11
Pensacola Blue Wahoos (Double-A)
The No. 2 overall pick in last year's Draft, Senzel's pure hitting ability has put him on the fast track to the Majors in his first full season. After a strong first half in the Florida State League followed by a trip to the SiriusXM All-Star Futures Game, the 22-year-old third baseman has erupted to hit .340/.413/.560 during the second half in Double-A. What's more, Senzel has tapped into his power in the Southern League, hitting 10 homers in 57 contests after going deep four times in 62 FSL contests.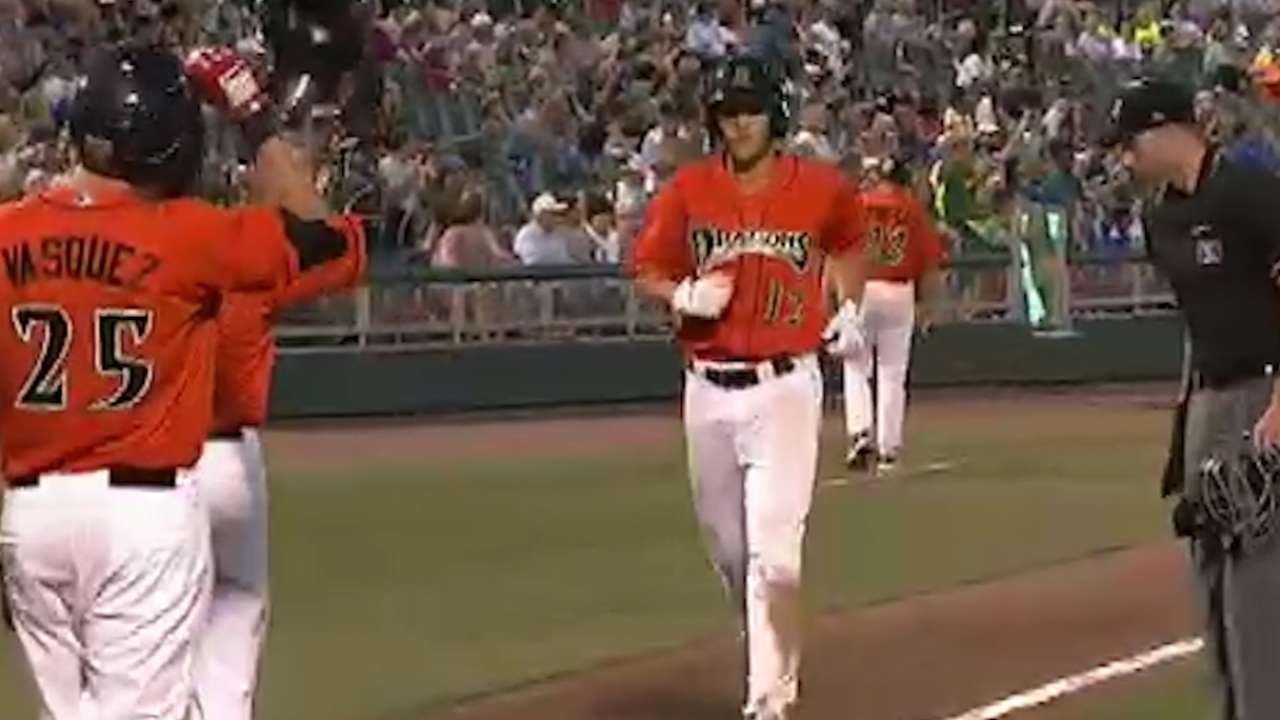 Brent Honeywell, RHP, Rays' No. 1/MLB No. 14; Willy Adames, SS, Rays' No. 2/MLB No. 18
Durham Bulls (Triple-A)
Honeywell's dominant second half in the International League has played a major part in Durham's running away with the South Division title. The SiriusXM All-Star Futures Game MVP owns a 2.31 ERA with 48 strikeouts and nine walks over his past 39 innings (eight starts), and, overall, he's pitched to a 3.80 ERA with 147 strikeouts in 118 1/3 frames (23 starts) with the Bulls. Meanwhile, the 22-year-old righty's recent suspension for disciplinary reasons suggests he could stick with Durham for their entire playoff run.
As for Adames, the 21-year-old shortstop has been a model of consistency in his first Triple-A campaign, posting nearly identical slash lines during the first (.277/.363/.431) and second halves (.278/.363/.391). He swung the bat particularly well in August, producing a .327/.387/.458 batting line over 27 games.
Austin Meadows, OF, Pirates' No. 1/MLB No. 20
Indianapolis Indians (Triple-A)
A strained right hamstring suffered in late June wiped out a chunk of Meadows' season and cost him key developmental time, but he still has a chance to finish 2017 on a high note in the International League playoffs. The 22-year-old outfielder has hit safely in four of eight games, highlighted by three multihit performances, since rejoining Indianapolis' lineup on Aug. 15.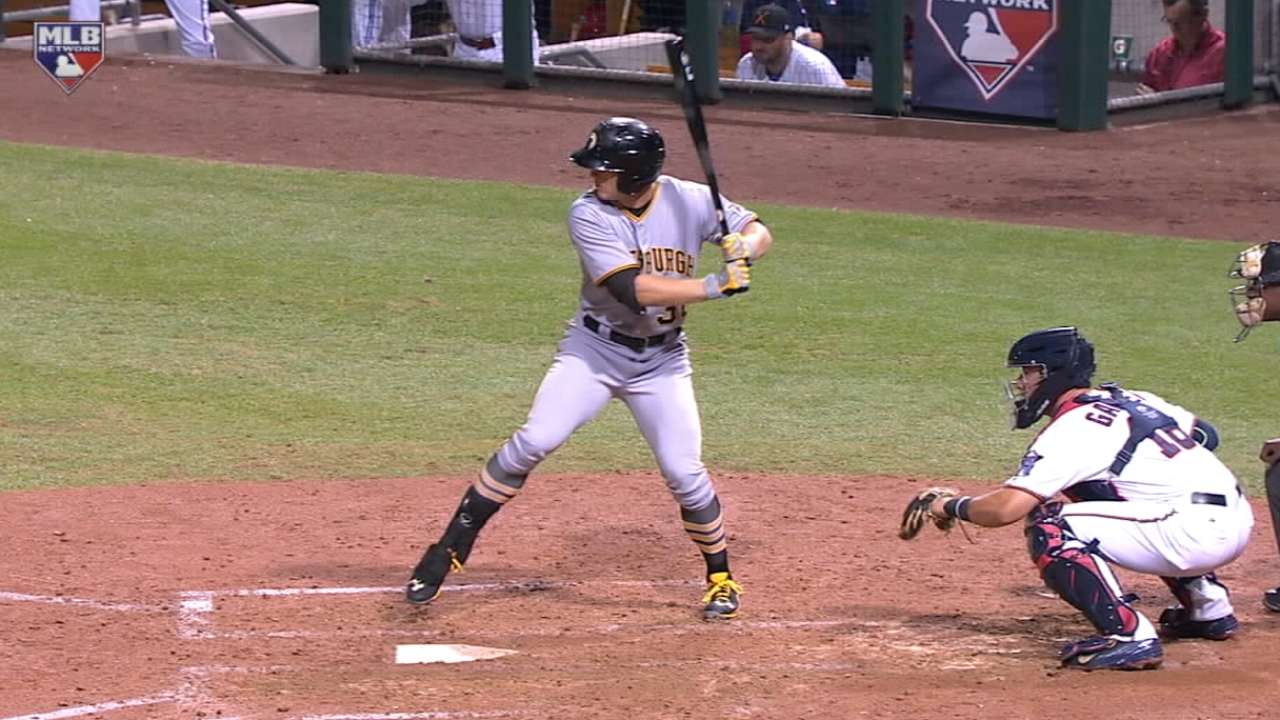 Mitch Keller, RHP, Pirates' No. 2/MLB No. 22
Altoona Curve (Double-A)
After breezing through the Florida State League, Keller, with his dynamic three-pitch mix and advanced control, has continued to impress with the move up to Double-A, registering a 3.77 ERA with 34 strikeouts in 28 2/3 innings over five starts for playoff-bound Altoona. Between the two levels, the 21-year-old righty owns a 3.19 ERA and a .205 batting average against, with 105 strikeouts in 110 innings.
Brendan McKay, 1B/LHP, Rays' No. 3/MLB No. 23
Hudson Valley Renegades (Class A Short Season)
The Rays have allowed McKay, the No. 3 overall pick in this year's Draft, to continue his career as a two-way player in the professional ranks, and contributions on both sides of the ball have Hudson Valley on the verge of clinching a Wild Card berth in the New York-Penn League. The 21-year-old has enjoyed more success on the mound so far, posting a 1.80 ERA and a 0.60 WHIP in 15 innings (five starts). At the plate, he's hit .214 with a .683 OPS, four home runs and 20 RBIs in 32 games.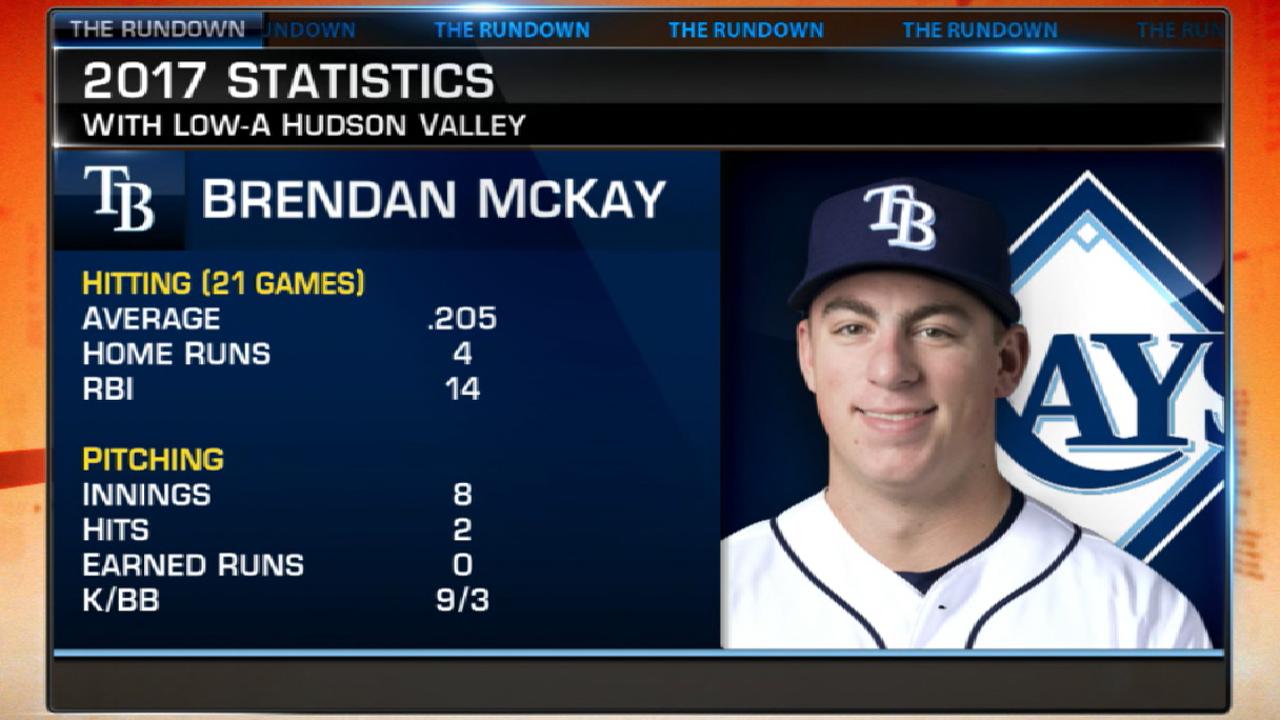 Triston McKenzie, RHP, Indians' No. 2/MLB No. 24
Lynchburg Hillcats (Class A Adv)
McKenzie recorded his sixth double-digit strikeout performance of the season on Thursday night, with the 21-year-old right-hander racking up 10 punchouts in seven innings for Lynchburg. In addition to pacing all Minor League hurlers with 186 strikeouts, McKenzie was recently named the Carolina League Pitcher of the Year after he recorded a 3.46 ERA and a 1.05 WHIP across 143 innings (25 starts), during which he limited opposing hitters to a .203 average.
Royce Lewis, SS, Twins' No. 1/MLB No. 31
Cedar Rapids Kernels (Class A)
To put it simply, Lewis, this year's No. 1 overall Draft pick, has been as advertised in his pro debut. His performance over 36 games in the Gulf Coast League convinced the Twins that he was ready for a jump straight to full-season ball, and the 18-year-old shortstop has responded to the challenge by batting .339/.391/.452 with 21 hits and 15 runs scored over his first 15 games in the Midwest League.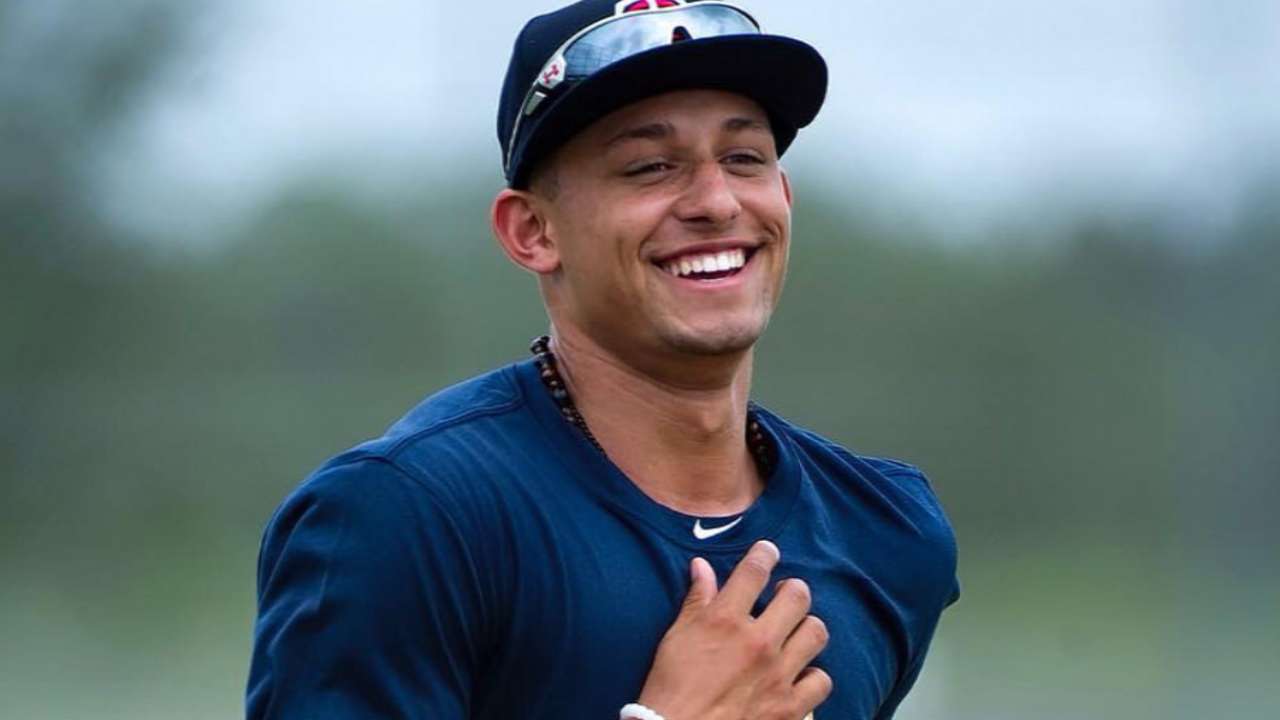 Nick Gordon, SS, Twins' No. 2/MLB No. 34
Chattanooga Lookouts (Double-A)
Known more for his pure hitting ability than power, Gordon hit all of five home runs in 293 games over his first three seasons. He's blown past his career total in 2017, however, with the 21-year-old shortstop connecting on nine home runs in 118 games while batting .271/.343/.413. His most recent home run, a three-run shot on Thursday, helped Chattanooga lock up the Southern League North Division title.
Cal Quantril, RHP, Padres' No. 2/MLB No. 43; Luis Urias, SS/2B, Padres' No. 3/MLB No. 55; Fernando Tatis Jr., SS, Padres' No. 4/MLB No. 59
San Antonio Missions (Double-A)
There's no shortage of impact talent on San Antonio's roster, which houses a trio of Top 100 prospects. Quantrill, whom San Diego selected eighth overall in 2016, has struggled a bit in the Texas League, going 1-4 with a 4.17 ERA in seven starts after an impressive showing in the California League. That being said, the 22-year-old right-hander has drawn raves throughout the season for his combination of stuff and pitchability.
Urias and Tatis give the Missions one of the Minor Leagues' better and more exciting double-play tandems. Urias, 20, has cooled off during the second half (.268/.382/.315), but he continues to show hitting ability and on-base skills that bely his age. To go along with a .296/.400/.381 batting line and 26 extra-base hits in 113 games, Urias has recorded more walks than strikeouts for the fourth time in as many years.
Tatis, meanwhile, has emerged as an elite prospect on both sides of the ball this season, so much so that the Padres promoted the 18-year-old shortstop directly to San Antonio from Class A Fort Wayne. He was an absolute offensive force in the Midwest League, slashing .281/.390/.520 with 54 extra-base hits including 21 home runs and 32 stolen bases in 117 games.
Best of the rest
45. Blake Rutherford, OF, White Sox, Kannapolis Intimidators (Class A)
47. Kyle Lewis, OF, Mariners, Modesto Nuts (Class A Adv)
51. Yadier Alvarez, RHP, Dodgers, Tulsa Drillers (Double-A)
60. Chance Adams, RHP, Yankees, Scranton/Wilkes-Barre RailRiders (Triple-A)
65. Dylan Cease, RHP, White Sox, Kannapolis Intimidators (Class A)
68. Matt Manning, RHP, Tigers, West Michigan Whitecaps (Class A)
71. Pavin Smith, 1B, D-backs, Hillsboro Hops (Class A Short Season)
72. Stephen Gonsalves, LHP, Twins, Rochester Redwings (Triple-A)
76. Taylor Trammell, OF, Reds, Dayton Dragons (Class A)
81. Jake Bauers, OF, Rays, Durham Bulls (Triple-A)
85. Yusniel Diaz, OF, Dodgers, Tulsa Drillers (Double-A)
87. Estevan Florial, OF, Yankees, Tampa Yankees (Class A Adv)
89. Justus Sheffield, LHP, Yankees, Trenton Thunder (Double-A)
96. Tyler O'Neill, OF, Cardinals, Memphis Redbirds (Triple-A)
98. Austin Hays, OF, Orioles, Bowie Baysox (Double-A)
99. Harrison Bader, OF, Cardinals, Memphis Redbirds (Triple-A)
Mike Rosenbaum is a reporter for MLB.com. Follow him on Twitter at @GoldenSombrero. This story was not subject to the approval of Major League Baseball or its clubs.