MLB.com Columnist
Jonathan Mayo
Inbox: Who is the better hitter, Senzel or Hiura?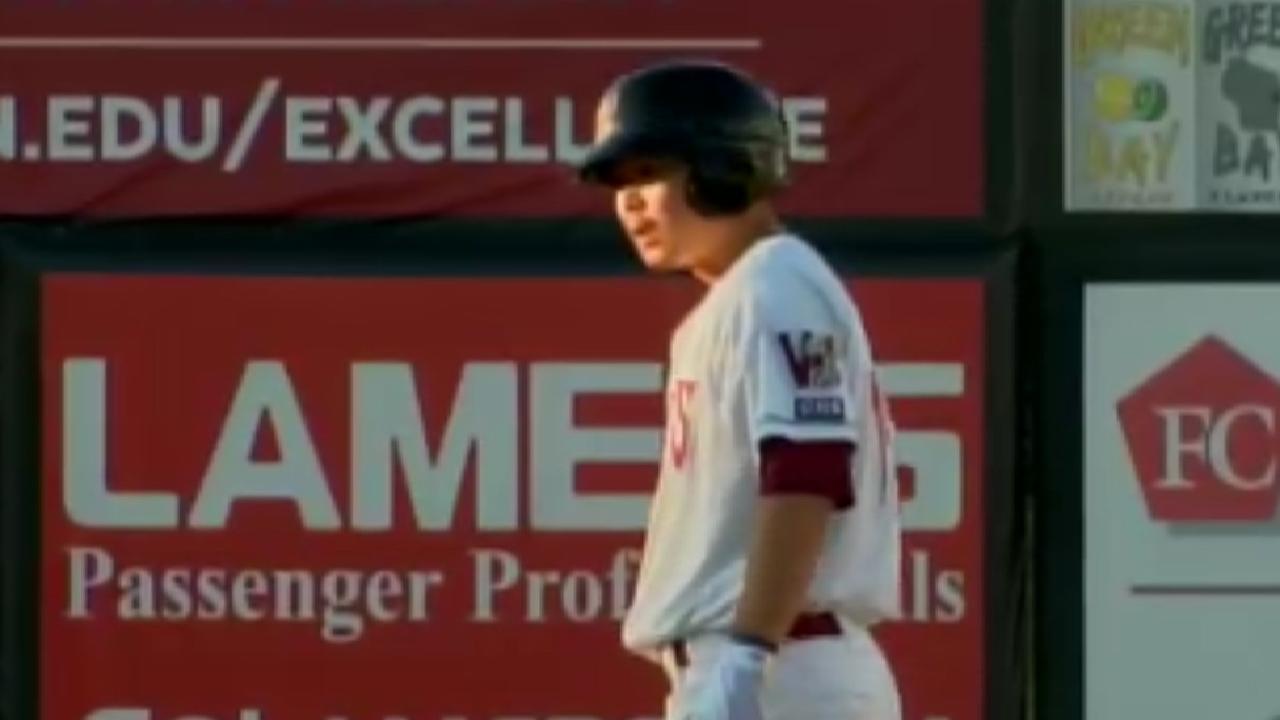 It's a fun week in the world of MLBPipeline.com. First, the rosters for the Arizona Fall League were announced. And Friday was the first day big league rosters could expand, meaning many prospects are on their way up to the big leagues as September callups.
Based on the response I got for my call for questions this week, people still want to talk all about what the future holds. And that was even before the Justin Upton and Justin Verlander trades on Thursday. Maybe we'll get to questions about those deals next week. For now, enjoy this selection.
• Submit a question to the Pipeline Inbox
Who's a better hitter, Nick Senzel or Keston Huira?

— Edouard Manet (@theEdouardManet) August 29, 2017
Wow, that's awfully hard to compare. It's kind of like asking which painting is better, "The Luncheon on the Grass" or "Water Lillies"? I'm guessing you'd pick the former, but an argument could be made for either, right?
If you're talking overall prospect, it's clear we have Senzel, the No. 2 pick in the 2016 Draft, over Hiura, who went No. 9 this past June. Senzel is a better fielder and better runner, and Hiura has elbow woes, as he's played just one game at second base as a pro (and he's on the disabled list with a hamstring injury).
But the question was solely about hitting, so let's take a look. Both were arguably the most advanced college hitters in their class, and both have lived up to that billing as professionals. Senzel has made it to Double-A in his first full season and is raking there, with a .359/.451/.641 line in August. Before Hiura hit the DL, he was showing his bat should allow him to move quickly as well. He's hit .382/.432/.624 in 157 at-bats during his summer debut.
It might be close to a wash, but after talking to a scouting director about this (phone a friend?), I'll give the slight edge to Senzel. The director felt Senzel has a slightly looser swing and uses the whole field a little bit better. But he did give Hiura a slight edge in the power department, which could even the scales a little bit more. Perhaps we'll be watching the pair vie for batting titles while battling in the National League Central in the near future.
Alec Hansen, Tristan Mckenzie, Matt Manning, Stephen Gonsalves who has the highest ceiling, floor? Who do you like best in AL central?

— Juan Rod (@ChiSoxJRod) August 29, 2017
Judging from your handle, I'm guessing you want Hansen to be the leader of one of those categories. Let's take a look.
Hansen can be fairly quickly ruled out of the highest floor group. Some of that is because of who he is: There's been too much in the way of command issues and concerns about his mechanics in his past to calling him the safest bet, even though he's been outstanding in his first full season, reaching Double-A, striking out 12 per nine (while walking a palatable 3.4 per nine). Hansen's 182 strikeouts leads the Minors and he was just recently added to the Top 100.
But highest floor usually goes to the guy with the most pitchability, so I'd have to give the nod to Gonsalves. The Twins lefty has plenty of stuff, don't get me wrong. He's not a soft-tossing finesse guy, as evidenced by his 9.7 K/9 rate this year. That's also Gonsalves' career mark, as is his .202 batting average against. He actually needed to improve his overall strike-throwing, especially working off his fastball, and he's cut his walk rate down to 2.5/9 this year. Gonsalves might not have the pure power stuff of Hansen, or the others on your list for that matter, but that feel for pitching to go along with four usuable pitches, makes him the safest bet to reach his ceiling, even if that's as a No. 3-type starter.
Now as for highest ceiling, that could be a doozy of a debate. Hansen, with his 70-grade fastball, would be in the conversation for sure. I'd say McKenzie is the perfect combination of floor and ceiling because of the Indians right-hander's combination of stuff and command, with maybe not quite enough fastball to top the list (though there could be more in the tank if he can fill out his lanky frame). For me, the choice for highest ceiling is Manning. The Tigers 2016 first-rounder may take a bit longer to get there, but he has size, swing-and-miss stuff and plus athleticism working in his favor. Of course, highest ceiling doesn't mean he's guaranteed to get there, which is why McKenzie is ranked much higher than Manning is at this point. But if it all clicks, I could see the Tigers having a future front-line starter in what looks like a very exciting future on the mound for the American League Central.
Your analysis of the top senior signees from this 2017 draft class. Any that stand out early on?

— Terry Anderson (@nater79a) August 29, 2017
Ever since the rules for the Draft changed to the bonus pool system, teams have been loading up on money-saving (more often than not) college seniors so they can afford to sign the higher-priced players taken. It usually really starts hitting in the second half of Day 2 of the Draft, in Rounds 6-10, though there's a trickle that begins before that. Teams work to find value and talent in one player with these picks.
Some have had very strong summer debuts throughout the Minor Leagues, and here is a list of some of the top performers from the senior set. Keep in mind that it's beneficial to see how these players do in full-season ball and when they start moving up the ladder. That's more of a true test and a larger sample size. There's only one senior, Keegan Thompson, who is on his organization's Top 30. The third-rounder out of Auburn is No. 21 on the Cubs' list and has a 2.81 ERA and 20 Ks in 16 innings in the Northwest League. Brent Rooker and Wil Crowe are thought of as seniors by some, but they are technically redshirt juniors and they didn't sign at a discount, though it should be noted that Rooker has been tremendous and is already in the Class A Advanced Florida State League. OK, onto this quartet of strong senior debuts, with what round they were selected in parentheses:
Wyatt Mills, RHP, Mariners (3rd): 19 1/3 IP, 1.86 ERA, 6 SV, 29 K, .119 BAA, 19 1/3 IP, reached full-season ball
Parker Dunshee, RHP, A's (7th): 35 1/3 IP, 0.00 ERA (that's right no earned runs), 42 Ks, .113 BAA in the NY-Penn League
Bret Boswell, 2B, Rockies (8th): .293/.339/.515, 11 HR, 42 RBIs in 54 games in Northwest League
Craig Dedelow, OF, White Sox (9th) .309/.341/.565, 12 HR, 50 RBIs in 56 games mostly in the Pioneer League
Jonathan Mayo is a reporter for MLBPipeline.com. Follow him on Twitter @JonathanMayo and Facebook, and listen to him on the weekly Pipeline Podcast. This story was not subject to the approval of Major League Baseball or its clubs.