LLWS rundown: Mexico, Mid-Atlantic prevail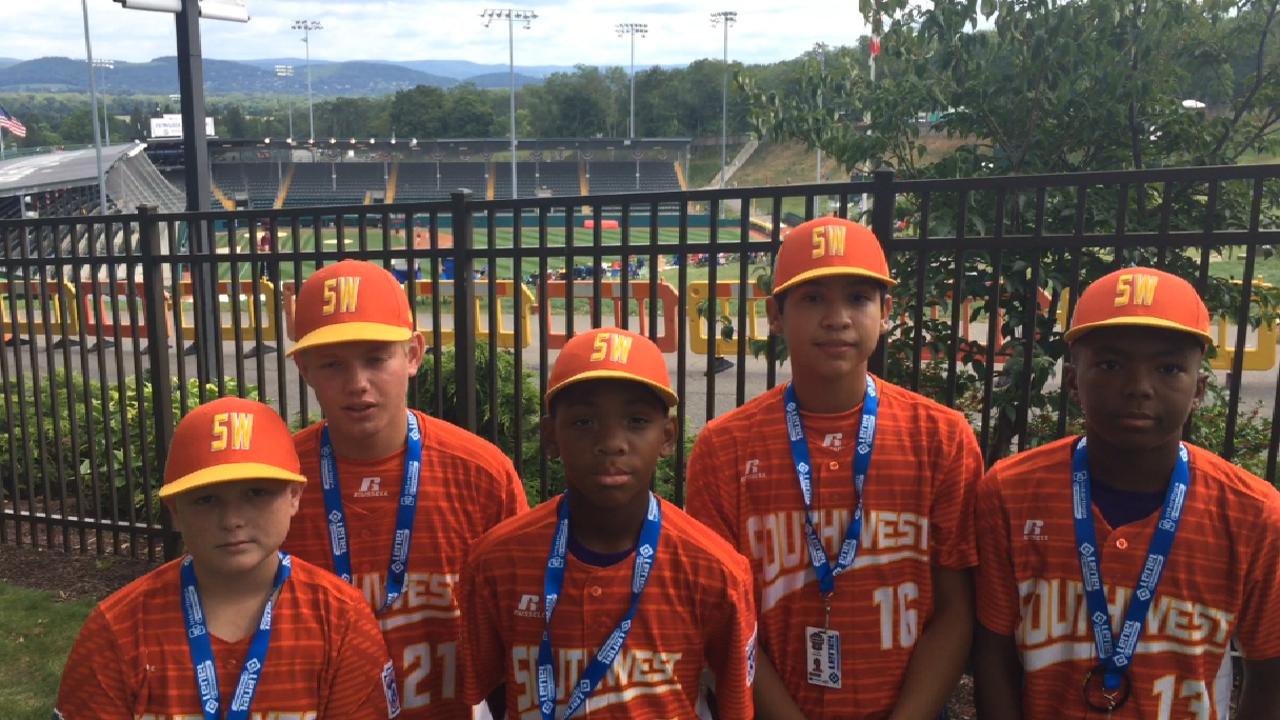 Following a thrilling opening weekend of baseball in Williamsport, Pa., the 2017 Little League World Series continued to provide plenty of intrigue on Monday.
Great Lakes defeated Europe-Africa in Consolation Game A before Mexico then eked out a tight victory over Asia-Pacific, and Mid-Atlantic defeated West in a high-scoring contest.
Check back here for recaps of every Monday game, plus what games are coming up next.
Great Lakes 11, Europe-Africa 7
The two clubs combined for 13 runs in the first inning of one of the highest-scoring games in the tournament to date. Europe-Africa struck first with six runs in the top half of the opening frame, but Great Lakes answered with seven of its own.
Outfielder Tommy Schoeck led the way for Great Lakes' offense, going 3-for-4 with a double, a homer, two RBIs and three runs scored.
Infielder Simone Loli and outfielder Nicola Spagnolo each collected two hits for Europe-Africa.
Mexico 1, Asia-Pacific 0
Mexico pitcher Jorge Garcia rebounded from a loss in his previous start vs. Latin America by twirling four shutout innings while allowing just one hit and striking out five to earn the victory.
Mexico catcher/first baseman Jorge Lambarria drove in the game's only run with an RBI single in the third inning.
Asia-Pacific hurler Kyum Ahn took the loss despite striking out four batters in 2 2/3 innings, allowing just the one run. He also picked up the only hit for his team.
Mid-Atlantic 12 vs. West 9
The Mid-Atlantic squad from Jackson, N.J., defeated West (Rancho Santa Margarita, Calif.) in a high-scoring 12-9 affair Monday evening.
New Jersey scored most of its runs in a big nine-run third inning that included a two-run homer by R.J. Vashey, who finished 3-for-4 with two runs scored and three RBIs.
California threatened in the sixth with three runs against New Jersey reliever Chris Cartnick, but ultimately it couldn't overcome the deficit and was eliminated from the tournament.
Latin America 3, Caribbean 2
Latin America (Maracaibo, Venezuela) rallied against the Caribbean (Santiago, Dominican Republic) in a 3-2 walk-off victory on Monday night. Venezuela trailed 2-1 heading into the final frame before Omar Romero knocked the game-winner on a two-run triple.
The Dominican Republic jumped out to an early 2-0 lead in the first inning, but the team managed just one hit in the game.
Dario Cardozo started for Venezuela and pitched three innings, allowing two unearned runs and striking out six batters. He didn't permit a hit but issued four free passes. Jorge Daboin finished the game with three scoreless innings of relief, giving his team a chance to mount a late rally.
New England 14, Northwest 6
The New England (Fairfield, Conn.) offense powered the team to a 14-6 win over the Northwest (Walla Walla, Wash.) on Monday night. Connecticut collected 12 hits and drew four walks in the victory.
Michael Iannazzo led the way with a 3-for-3 performance. He homered in the fifth and contributed three RBIs, two runs and one walk.
Tyler Bauer started for New England and pitched five innings, allowing all six Washington runs (five earned) and striking out seven batters.
Oliver Macklin is a reporter for MLB.com based in Washington, D.C. Follow him on Twitter at @OMacklinMLB. This story was not subject to the approval of Major League Baseball or its clubs.