Superstitions plentiful among LLWS players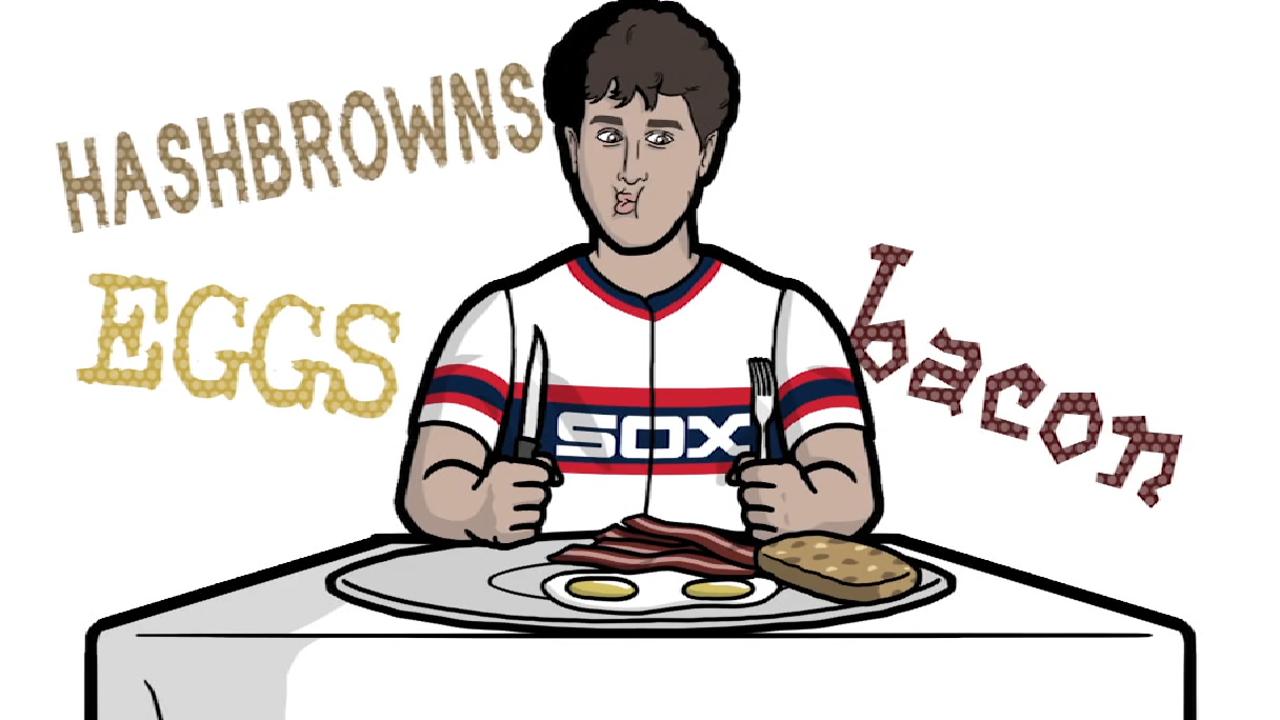 Big league ballplayers are a notoriously superstitious bunch, but if the first weekend of the 2017 Little League World Series has proven anything -- aside from the fact that these 12-year-olds can rake -- it's that they give Major Leaguers a run for their money when it comes to quirks.
The Japan team rubs teammate Ryuto Konno's shaved head for good luck. Numerous players tuck a coin into their uniform pockets. And the New England boys, according to skipper Michael Randazzo -- a former Minor Leaguer -- snack on Haribo Roulette gummy bears.
And then, of course, there are the traditional superstitions: wearing a particular item of clothing game after game, donning rally caps, eating the same meal before each contest. Provided players follow these gameday rituals to a T, success, it's implied, is destined to follow.
Check out some notorious baseball superstitions, no matter the players' age:
Good eats
Following the fashion of Dubble Bubble-chomping Aaron Judge , the West Region team from Santa Margarita (Calif.) Little League goes all in when it comes to pregame rituals revolving around food. Their manager, C.J. Ankrum, played a season in the Minor Leagues after a college career at Cal State Fullerton, and it's possible he showed them the ropes.
A.J. Gamulao scarfs down, specifically, "19 pizza rolls."
Channeling Nationals pitcher Max Scherzer, who's been known to enjoy a large roast beef sandwich before his starts, Gamulao's teammate Drew Rutter claims to devour "a whole rotisserie chicken" before games.
Opponent Ben Chowen, of the Canada Region team, must chew Mentos in the third inning.
Great Lakes player Joey Randazzo eats "eight watermelon Jolly Ranchers" before taking the field.
Wardrobe malfunctions
Cleanliness isn't next to godliness for baseball players, especially the ones who don't yet know how to do their own laundry.
Before they were eliminated, several members of the the Italian team admitted to wearing dirty duds: Matteo Giovanelli didn't wash his entire uniform, Tiburtini Federico doesn't wash his jersey after a win and Lorenzo Bacci donned the same socks after each victory.
Mid-Atlantic's John Grano wears one white sock and one black sock for each game. His teammate, Andrew Osmond, is also particular about his footwear: specifically socks that say "Santa Rocks."
Two members of team New England -- we'll give them anonymity for this one -- wear lucky red underwear.
A Northwest team member owns one of the oddest superstitions we've heard: He plays every game with the zipper of his uniform pants down.
But none of those are quite as strange as Royals backstop Salvador Perez, who's been known to put on some women's perfume in the past -- whether it's to cover up the stench of his unwashed uniform or, as he's suggested, to get on an umpire's good side.
Fair or foul
"I remember my Little League coach telling me, 'Don't step on the foul lines!'" recalled former Major Leaguer Scott Spiezio.
He's clearly not the only one. Try to think of a game when you haven't seen a player hop, skip or jump his way over the chalky white lines on his way in and out of the dugout. But at least two players at the LLWS this year bucked that trend:
"I step on the foul line during the national anthem," said James Osmond, of the Great Lakes team from Grosse Point, Mich.
"I step on the line before we start," echoed Australia's Jett Watson.
Batter's box rituals
Longtime Red Sox infielder Nomar Garciaparra had such a ritual at the plate during his career -- adjusting his batting gloves and tapping the dirt with his bat before every pitch -- that it was almost comically excruciating to watch his at-bats.
Nomar's habits may have rubbed off on Chandler Spencer of the Southwest Little League squad, who rubs his hands in dirt before every at-bat; Nicholas Haddad of the West team, who would tap his cleats with his bat before entering the batter's box; and Ryota Ono of Japan, who spins his bat before hitting.
Meme maker
Leo Randazzo's brother Mike and cousin Edwin supporting their viral family member #LLWS @ffall_news pic.twitter.com/LIHmMfQiUP

— Chris Brodeur (@ChiefBrody87) August 17, 2017
Best of all the pregame rituals and superstitions of this year's LLWS tournament, though, is that of Leo Randazzo. The son of New England manager Mike, 13-year-old Leo cites "looking at memes before games" as his good luck charm -- and in the process becoming an Internet sensation of his own.
Allison Duffy-Davis is a contributing editor for MLB.com. This story was not subject to the approval of Major League Baseball or its clubs.