René Rivera contento de integrar a los Cachorros, el equipo de su abuelo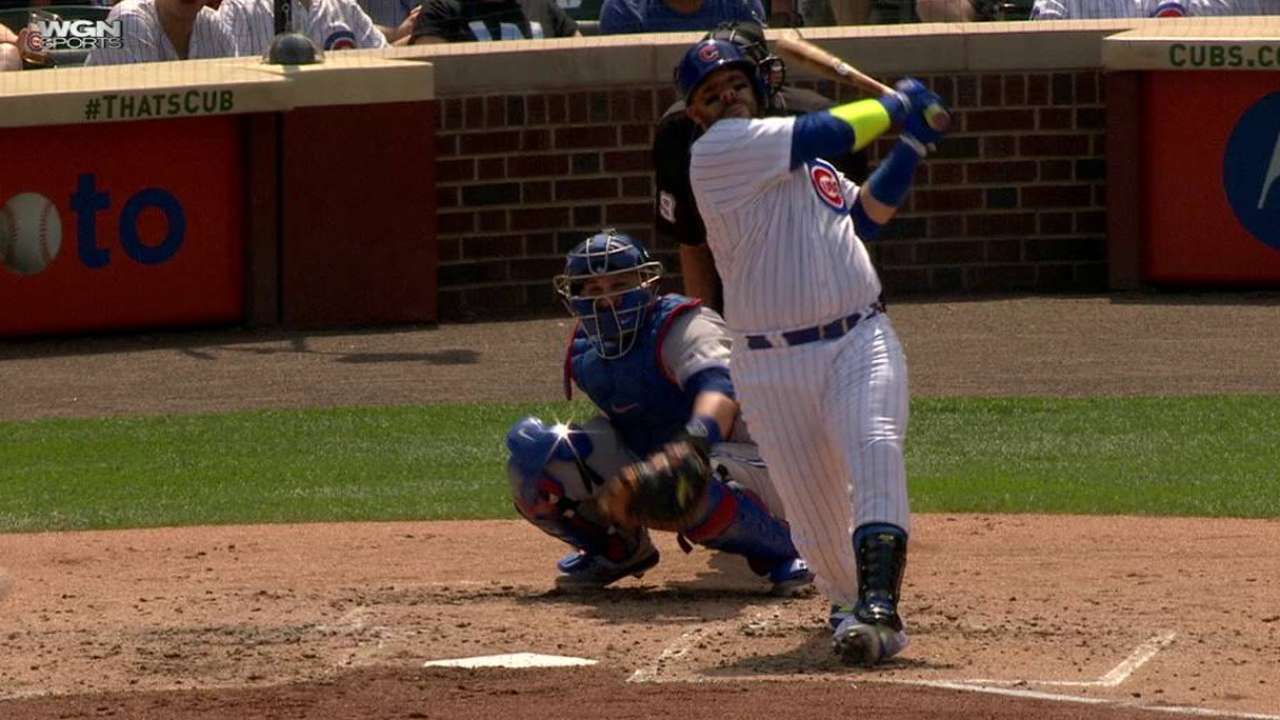 CHICAGO -- Cuando René Rivera era un jovencito en Puerto Rico, solía ver los juegos de los Cachorros por televisión junto a su abuelo. Rivera, un gran aficionado del dominicano Sammy Sosa y Ryne Sandberg de aquella época, disputó el domingo su primer juego con el equipo favorito de su abuelo.
Los Cachorros reclamaron a Rivera en waivers de los Mets el sábado. Al día siguiente, inició detrás del plato lo que terminaría siendo un triunfo por 6-5 sobre los Azulejos. Rivera conectó un hit dentro del cuadro en su primer turno y falló dos veces con elevados. Además, fue elogiado por el abridor de Chicago, Kyle Hendricks.
"Fue increíble", expresó Hendricks sobre trabajar con Rivera por primera vez. "Le dije después del juego, 'Creo que vamos a trabajar bien en el futuro'. Aprende rápido".
Rivera estaba muy emocionado por estar vistiendo el uniforme de los Cachorros.
"Yo era un niño, estaba en la secundaria, quizás antes, y mi abuelo veía los juegos de los Cachorros en Puerto Rico", dijo Rivera. "Le encantaban Harry Caray y Steve Stone (los narradores). Crecí viendo a los Cubs. Para mí es un honor estar aquí, jugando con un equipo que él quería tanto".
Now is time for this new chapter in my career with the Chicago @Cubs and I am really excited for it! #FlyTheW

- Rene Rivera (@ReneRivera13) August 19, 2017
¡Es momento de un nuevo capítulo en mi carrera con los Cachorros de Chicago y estoy muy entusiasmado! #FlyTheW
Joe Maddon conoció por primera vez a Rivera en Puerto Rico cuando viajó a la isla para ver a Javier Báez jugar pelota invernal. El manager no tuvo problemas al momento de poner a su nuevo receptor en el lineup.
"Es alguien con experiencia; éste no es su primer rodeo", dijo Maddon acerca de Rivera. "Se nota que ya está cómodo".
Rivera es el segundo receptor que los Cachorros adquieren desde finales de julio. El día de la fecha límite de cambios sin el proceso de waivers, sumaron a Alex Ávila de los Tigres. Ambos movimientos se hicieron necesarios cuando el venezolano Willson Contreras se lesionó la corva derecha el 9 de agosto, una dolencia que se espera lo deje fuera durante al menos cuatro semanas.
"No eran dos jugadores que estuviéramos buscando en un primer momento, pero no se puede pedir un mejor dúo", dijo Maddon sobre Ávila y Rivera.
Rivera recuerda cuando conoció a Maddon en Puerto Rico, porque fue poco tiempo después que lo cambiaron a los Rays.
"Me ayudó muchísimo a conocer a los lanzadores de los Rays", contó Rivera. "Tuvimos una tremenda conversación".
¿Se sorprendió Rivera cuando vio su nombre en el lineup el domingo, su primer día con el equipo?
"Yo estoy listo cuando me necesiten", dijo.