Vlad Jr., Acuna lead Prospect Team of the Week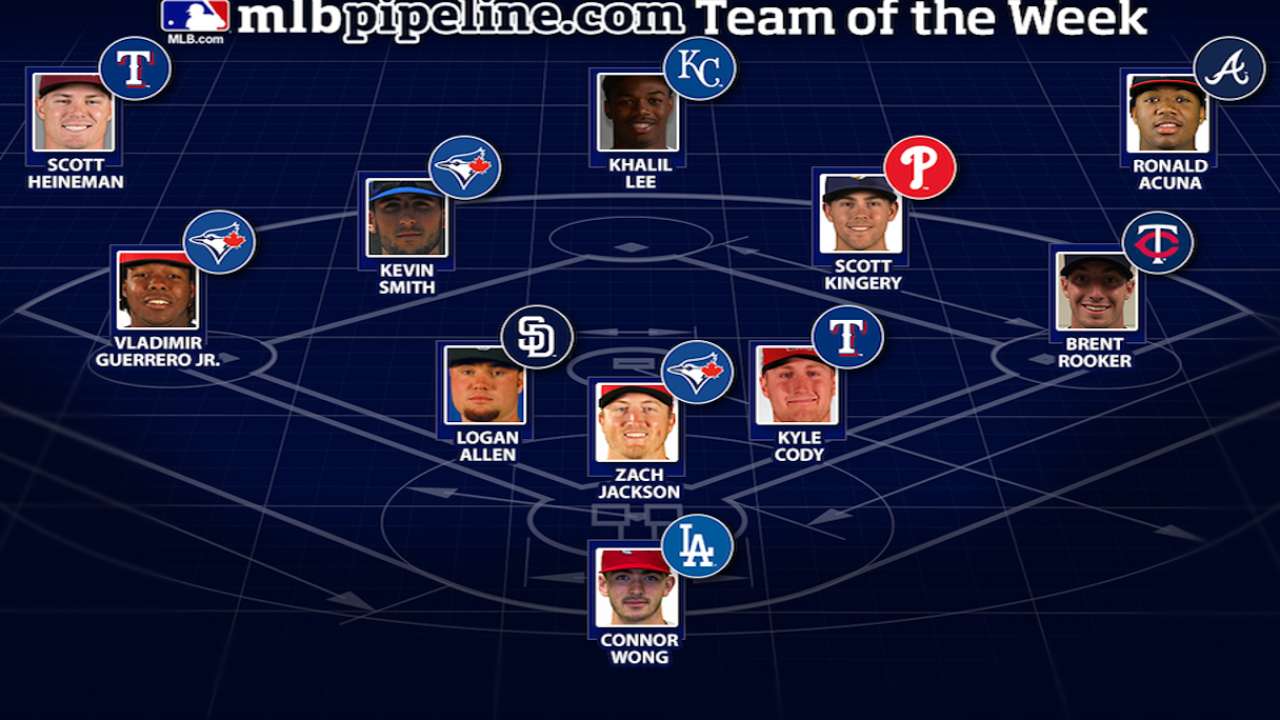 MLBPipeline.com's Prospect Team of the Week honors the best performances from the previous seven days. Any player currently on an organization Top 30 Prospects list on our Prospect Watch is eligible.
The latest edition of MLBPipeline.com's Prospect Team of the Week (Aug. 14 - 20) features a trio of Blue Jays, including 18-year-old phenom Vladimir Guerrero Jr., who, somewhat surprisingly, is earning PTOW honors for the first time this season, and the same goes for fellow Blue Jays prospects shortstop Kevin Smith and right-handed reliever Zach Jackson.
That's not to say this week's team doesn't have its share of familiar faces, especially among MLBPipeline.com's Top 100 contingent. Outfielder Ronald Acuna (No. 8 overall) is back for his second PTOW appearance this season, while second baseman Scott Kingery (No. 56) garners his third selection, the most among those at his position.
Here's our complete Prospect Team of the Week:
C: Connor Wong, Great Lakes Loons (Class A)
(Dodgers' No. 26 prospect)
4 G, .471/.471/.941, 5 R, 2 2B, 2 HR, 10 RBIs, 0 BB, 5 K
A 2017 third-rounder out of the University of Houston, Wong, 21, began his week with an 0-for-3 performance before rattling off multiple hits in three straight games for the Loons during which he tallied 10 RBIs, most among Top 30 backstops. By batting .471 last week, Wong raised his season average from .143 to .227.
1B: Brent Rooker, Fort Myers Miracle (Class A Advanced)
(Twins' No. 14 prospect)
6 G, .400/.556/.750, 5 R, 1 2B, 2 HR, 6 RBIs, 6 BB, 2 IBB, 9 K, 1 HBP
Rooker lands on his second PTOW in as many weeks, though this marks his first appearance as a first baseman. In addition to being the only hitter from the 2017 Draft to have reached the Class A Advanced level this season, the 22-year-old Rooker leads his class with 15 home runs thanks to his eight homers in 32 games since moving up to the Florida State League.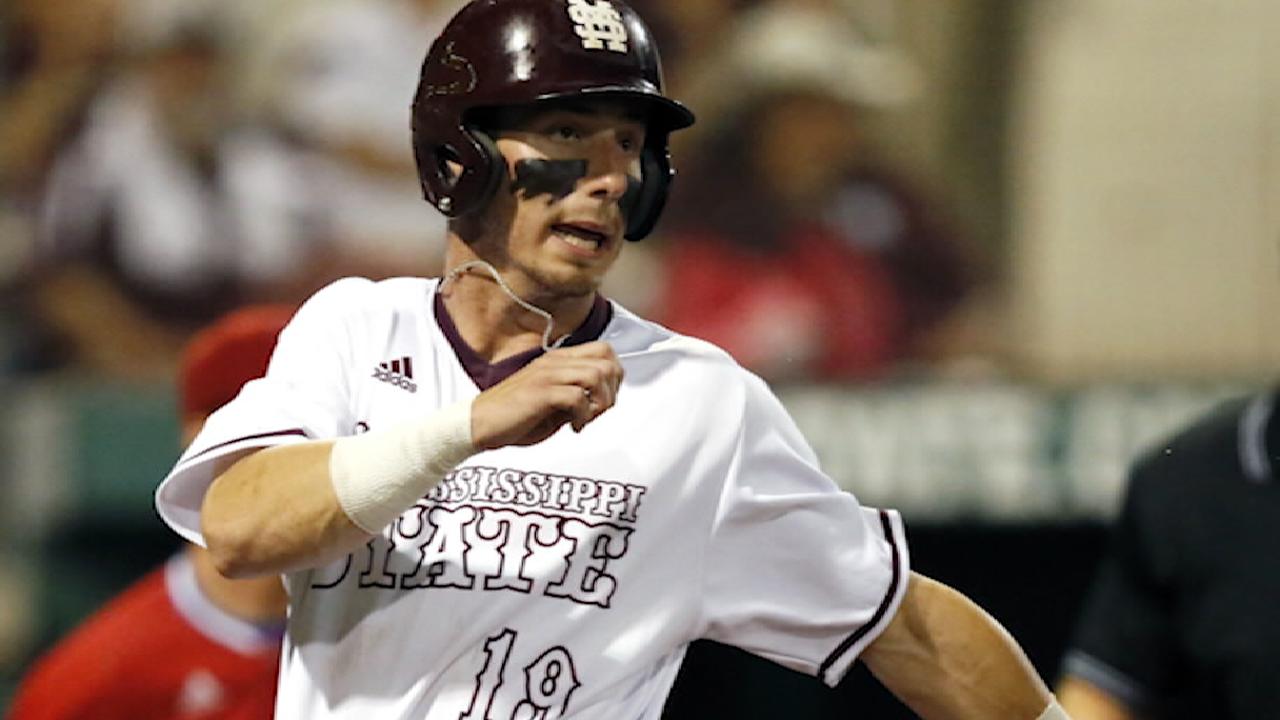 2B: Scott Kingery, Lehigh Valley IronPigs (Triple-A)
(Phillies' No. 3 prospect)/(MLB No. 56)
6 G, .423/.464/.769, 7 R, 3 2B, 2 HR, 3 RBIs, 2 BB, 5 K
Kingery, 23, continued to his torrid 2017 campaign last week by leading all Top 30 second basemen in hits (11), runs and total bases (20). He recorded multiple hits in four straight games for Lehigh Valley, and he put a bow on his week by homering in back-to-back games on Saturday and Sunday. He extended his hitting streak to 18 games in the process, and he's now hit safely in 44 of his 48 games in the International League. What's more, with his 26 home runs and 27 stolen bases, Kingery is one of just seven Minor Leaguers to total at least 20 home runs and 20 stolen bases so far this season.
3B: Vladimir Guerrero Jr., Dunedin Blue Jays (Class A Advanced)
(Blue Jays' No. 1 prospect)/(MLB No. 6)
6 G, .545/.593/1.1091, 3 R, 1 2B, 1 3B, 3 HR, 11 RBIs, 4 BB, 1 IBB, 3 K
Guerrero had five multihit games and homered in three straight contests last week, giving him four Florida State League homers in 36 games since his promotion in July. The 18-year-old third baseman also finished first among those at his position in average, RBIs and total bases (24). Overall, Guerrero has now homered 11 times this season while slashing .322/.425/.484 between Dunedin and Class A Lansing. He's also tallied 75 runs scored and 67 RBIs, with 68 walks and 57 strikeouts in 107 games.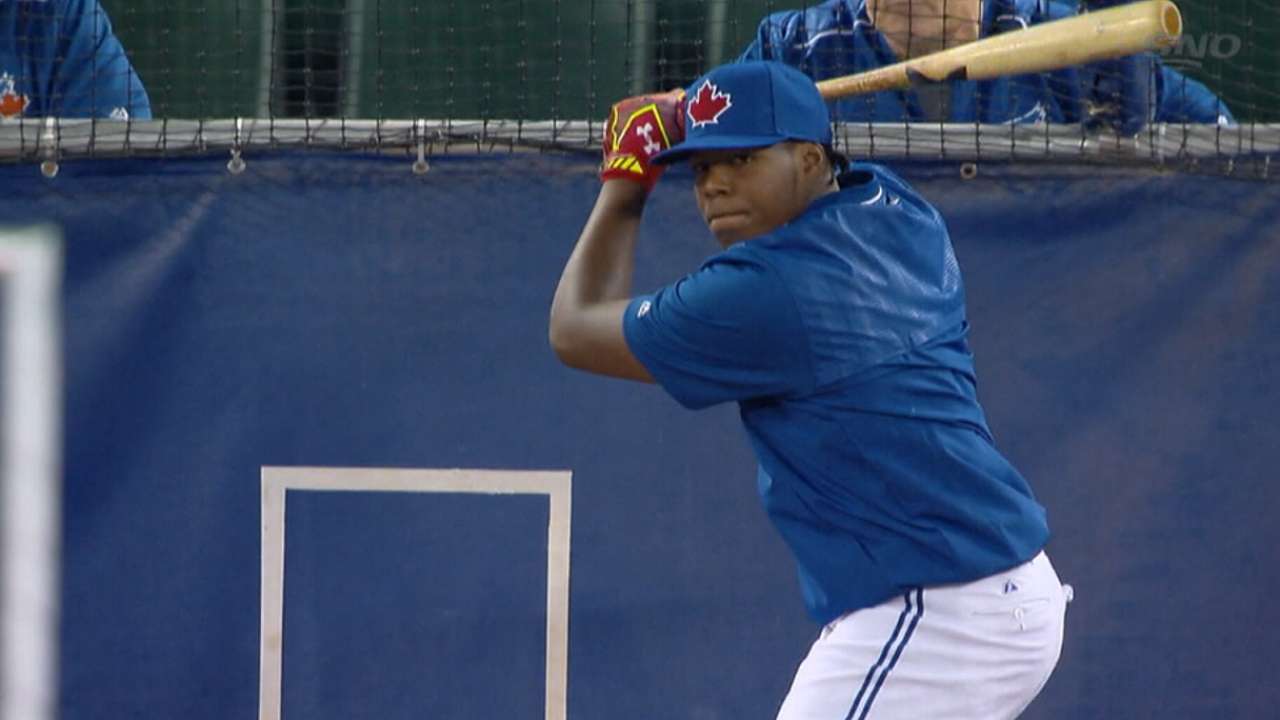 SS: Kevin Smith, Bluefield Blue Jays (Rookie)
(Blue Jays' No. 25 prospect)
6 G, .444/.464/.926, 6 R, 7 2B, 2 HR, 6 RBIs, 1 BB, 4 K, 2 SB
Smith's seven doubles paced all Top 30 shortstops, and he also hit a pair of home runs en route to 25 total bases, tops among all Top 30 prospects. The 21-year-old shortstop, a fourth-round Draft pick in June, hit at least one double in five consecutive games last week and had four multihit efforts as he improved his season average from .239 to .265.
OF: Ronald Acuna, Gwinnet Braves (Triple-A)
(Braves' No. 1 prospect)/(MLB No. 8)
6 G, .481/.500/.889, 5 R, 2 2B, 3 HR, 8 RBIs, 0 BB, 4 K, 1 HBP
Acuna began last week by homering in three straight games for Triple-A Gwinnett as he went on to finish first among all outfielders with 24 total bases. The toolsy 19-year-old outfielder ultimately batted .481, as he collected hits in each of his six contests en route to his second PTOW selection this season. He's hitting .355 in Triple-A, thanks to a .403 clip in 18 games this month, and he continues to show an elite power-speed combination, with 20 home runs and 37 stolen bases through 122 games.
OF: Scott Heineman, Frisco RoughRiders (Double-A)
(Rangers' No. 23 prospect)
6 G, .550/.654/.900, 7 R, 2 2B, 1 3B, 1 HR, 5 RBIs, 6 BB, 2 K
Heineman had several big performances last week, but none greater than the one he turned in on Wednesday, when he went 4-for-4 with a pair of doubles and three runs scored for Frisco. The 24-year-old outfielder would add two more multihit efforts to his resume before the end of the week, including a three-hit showing on Saturday that featured his ninth home run.
OF: Khalil Lee, Lexington Legends (Class A)
(Royals' No. 2 prospect)
5 G, .409/.480/.909, 5 R, 5 2B, 2 HR, 7 RBIs, 2 BB, 6 K, 1 HBP
Lee enjoyed arguably the best performance of his young career on Friday, as he recorded a career-high four hits (4-for-5) including a grand slam and two doubles to finish with five RBIs. He homered the following day, too, giving the 19-year-old outfielder 16 home runs through 108 games in his full-season debut for Lexington. Overall, he's hitting .246/.349/.450, with 45 extra-base hits and 19 stolen bases.
LHP: Logan Allen, Lake Elsinore Storm (Class A Advanced)
(Padres' No. 14 prospect)
0-0, 0.00 ERA, 1 GS, 10 IP, 7 H, 0 R, 0 ER, 3 BB, 13 K, 1.00 WHIP
Allen made two scoreless appearances for Lake Elsinore last week, a feat easier said than done in the hitter-friendly California League. The 20-year-old southpaw was particularly sharp in his second outing of the week, tossing four scoreless frames of one-hit ball with seven strikeouts on Sunday. In his first fully healthy season, Allen has pitched to a 2.45 ERA with 132 strikeouts and a .226 opponents' average in 117 1/3 innings across two levels.
RHP: Kyle Cody, Down East Wood Ducks (Class A Advanced)
(Rangers' No. 18 prospect)
1-0, 1.32 ERA, 2 GS, 13 2/3 IP, 2 H, 2 R, 2 ER, 4 BB, 19 K, 2 HBP, 0.44 WHIP
Cody missed plenty of bats last week as he finished first among Top 30 pitchers with his 19 strikeouts in 13 2/3 innings between two starts for Down East. The 23-year-old righty locked up his first PTOW selection with a dazzling performance on Sunday, when he yielded just one hit and two walks while striking out eight in seven innings in a Wood Ducks victory. In his previous outing, Cody allowed two earned runs on just one hit in 6 2/3 innings while whiffing 11 batters in his fourth double-digit strikeout performance this season.
RP: Zach Jackson, Dunedin Blue Jays (Class A Advanced)
(Blue Jays' No. 22 prospect)
0-0, 1 SV, 0.00 ERA, 3 G, 4 IP, 2 H, 0 R, 0 ER, 3 BB, 10 K, 1.25 WHIP
Jackson recorded 10 of his 12 outs last week via the strikeout, as the 22-year-old righty fanned two, five and three batters across his three relief appearances, respectively, for Dunedin. The 22-year-old righty-hander has been dominant of late, logging seven straight scoreless appearances during which he's allowed five hits (all singles) and four walks while racking up 18 strikeouts.
Mike Rosenbaum is a reporter for MLB.com. Follow him on Twitter at @GoldenSombrero. This story was not subject to the approval of Major League Baseball or its clubs.