How Manny HRs? 3, and 3rd is walk-off GS!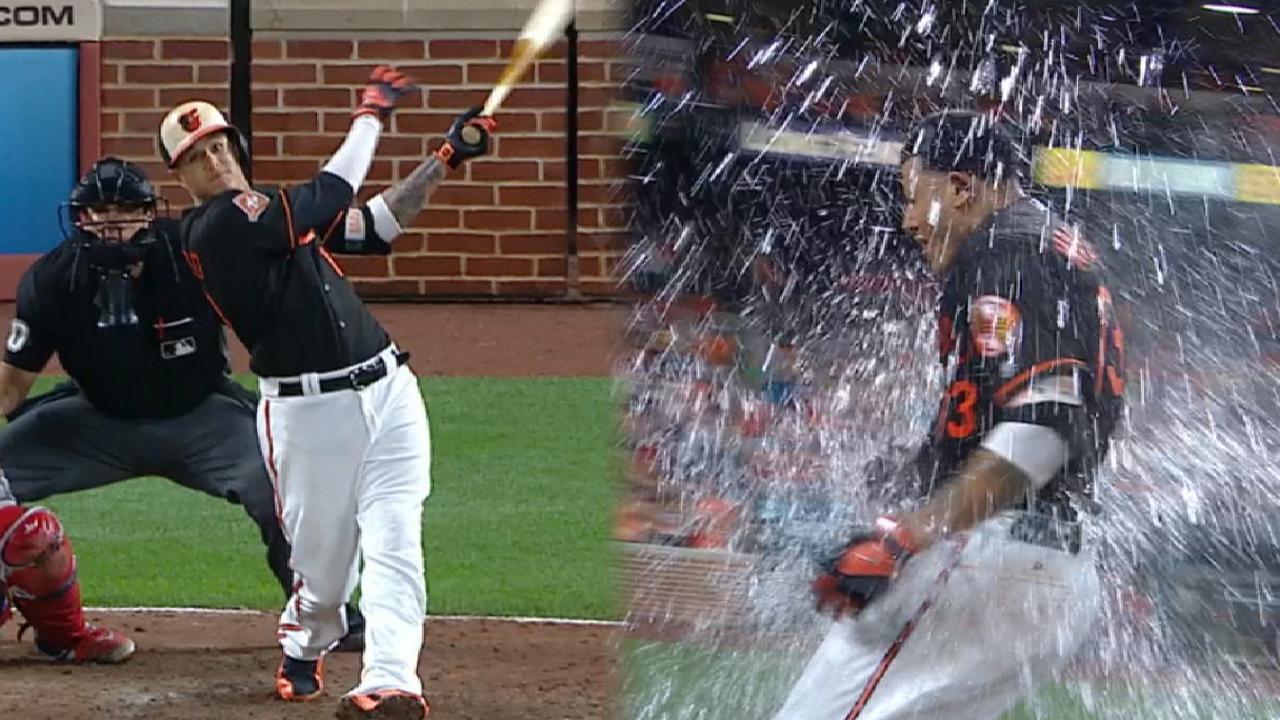 BALTIMORE -- Manny Machado is back and it's a scary thought for the rest of the league, perhaps one that could change the game in the Orioles' American League Wild Card hopes.
Friday was a perfect example. After an early five-run deficit, Machado -- who had already homered twice -- came up with the bases loaded and did the unthinkable: blasting a grand slam to catapult Baltimore to a 9-7 walkoff win over the Angels.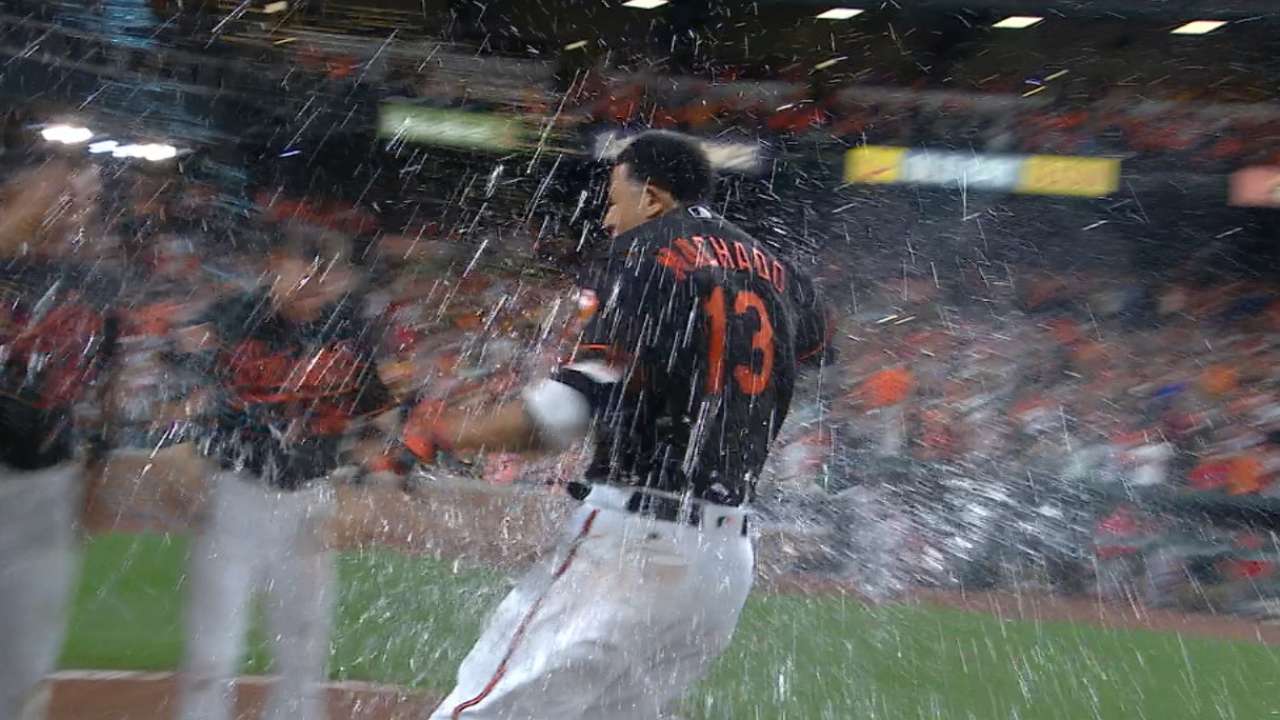 "If we want to win and take it to the next level, this is what we have to do," said Machado, who also homered in the second and fifth innings off Angels starter Andrew Heaney in his seven-RBI night.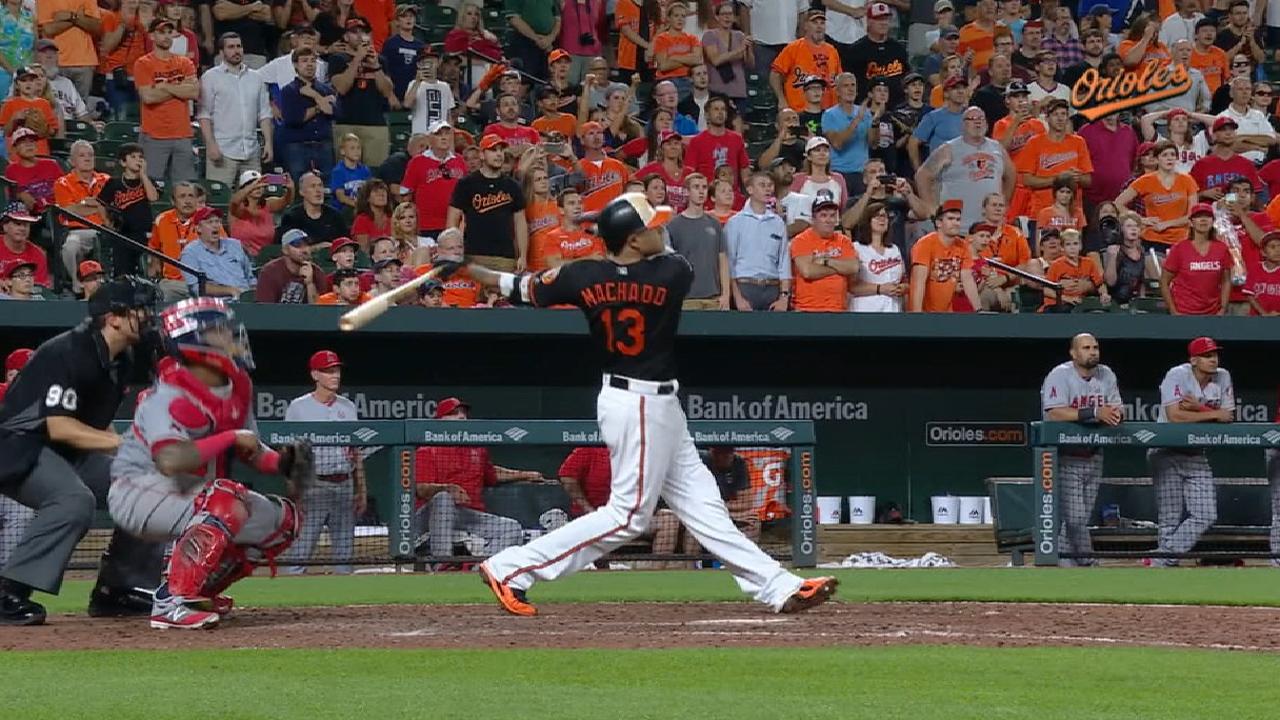 "You try to get one [run in] at least. That's my mentality going up there, which is at least, 'Get one guy in with less than two outs,' with a guy like that. Just put the ball up in the air. I've been fortunate to have a little more power and get a little stronger as the years go on and those fly balls keep going a little bit."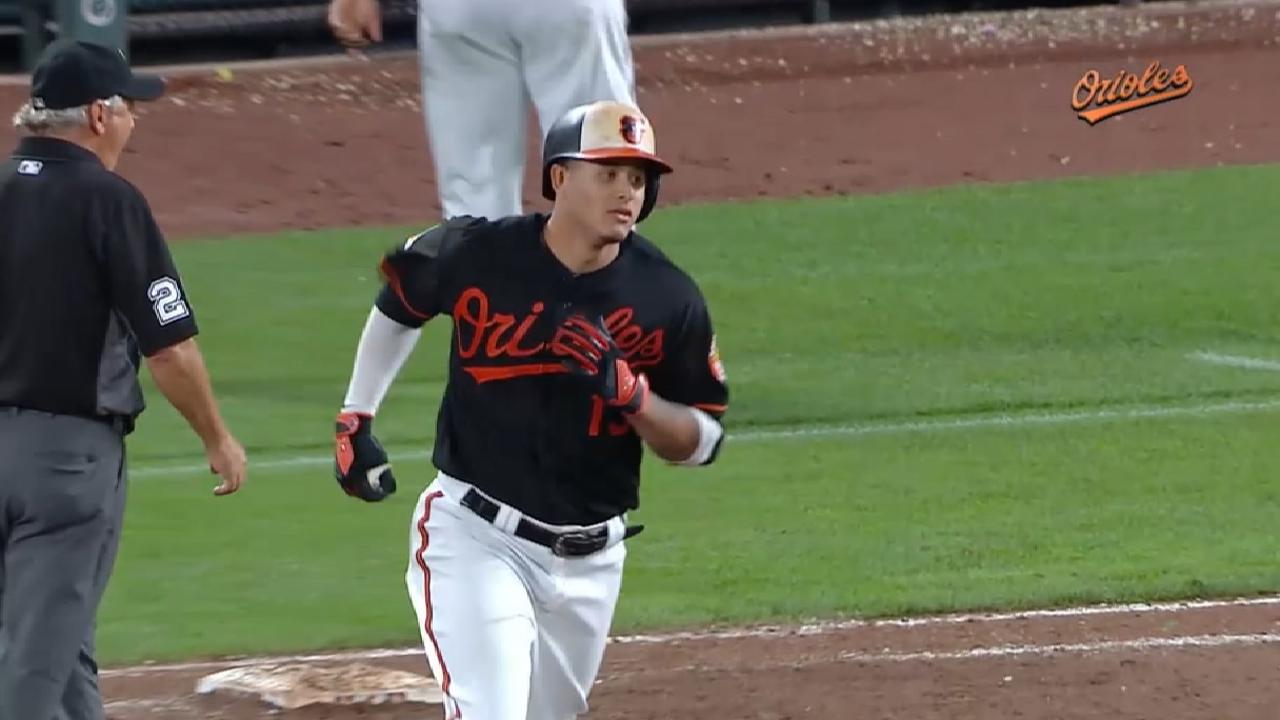 The fateful one-out, ninth-inning blast came on the second pitch Machado saw from Angels reliever Keynan Middleton, soaring over the center-field wall and into the Orioles bullpen ... into the glove of closer Zach Britton.
• Flown save: Closer runs down Manny mash
"I was warming up," Britton said. "Once Manny hit it, I knew it was gone. [Darren] O'Day would have disowned me had I not caught that ball."
This is the second year in a row Machado has had three home runs and seven RBIs in a game, with the third baseman doing so on Aug. 7, 2016. The only other player to accomplish the feat twice in O's history is Eddie Murray, who did so in 1979 and '85.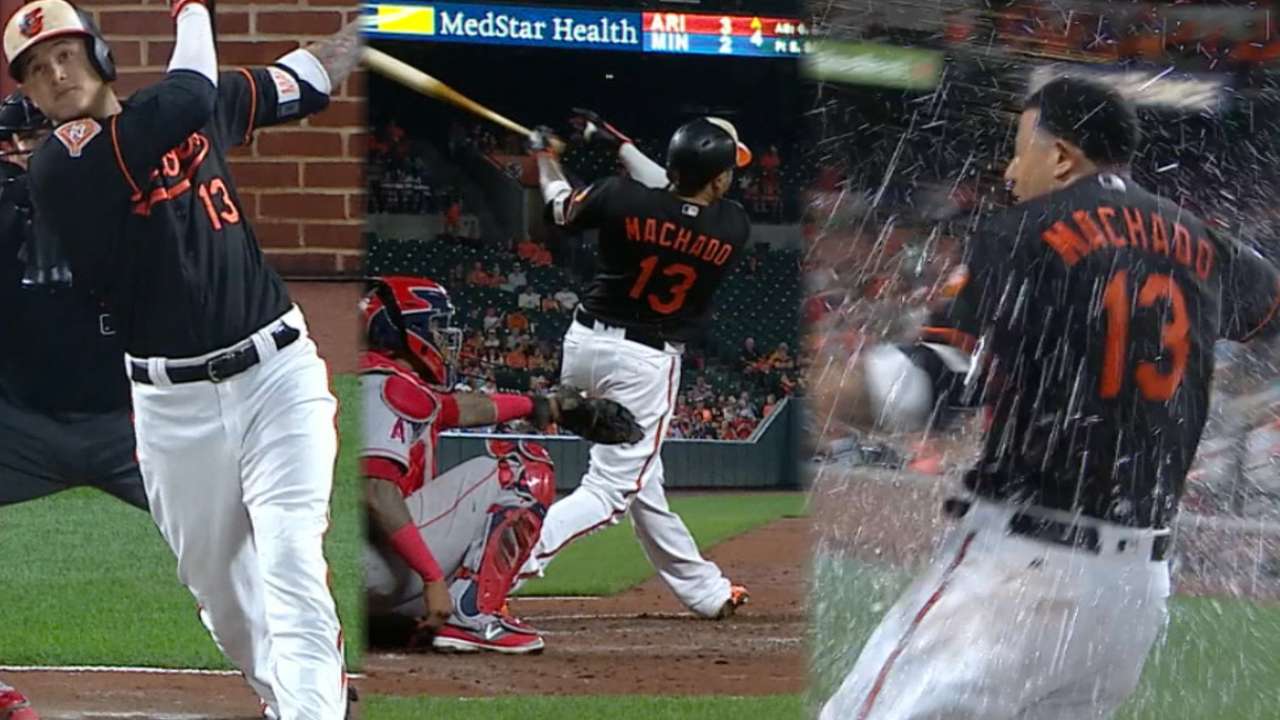 The Orioles relievers' home run competition aside, Machado's slam mattered a lot. It mattered to the All-Star third baseman, who now has 26 homers on the year after a frustratingly slow first half. It mattered to the Angels, who saw their bullpen woes continue. And perhaps it will matter to the rest of the American League Wild Card hopefuls, a group so jumbled up that there is no clear leader of the pack.
• O's celebrate 25th anniversary of Oriole Park
Machado is the special talent that could help separate the O's from the chaff.
"I cannot tell you how hard it is to do, but there's always that potential when you're dealing with guys like Manny," Orioles manager Buck Showalter said of Machado's impressive evening, which pulled Baltimore two games behind the Angels and Twins in the AL Wild Card race.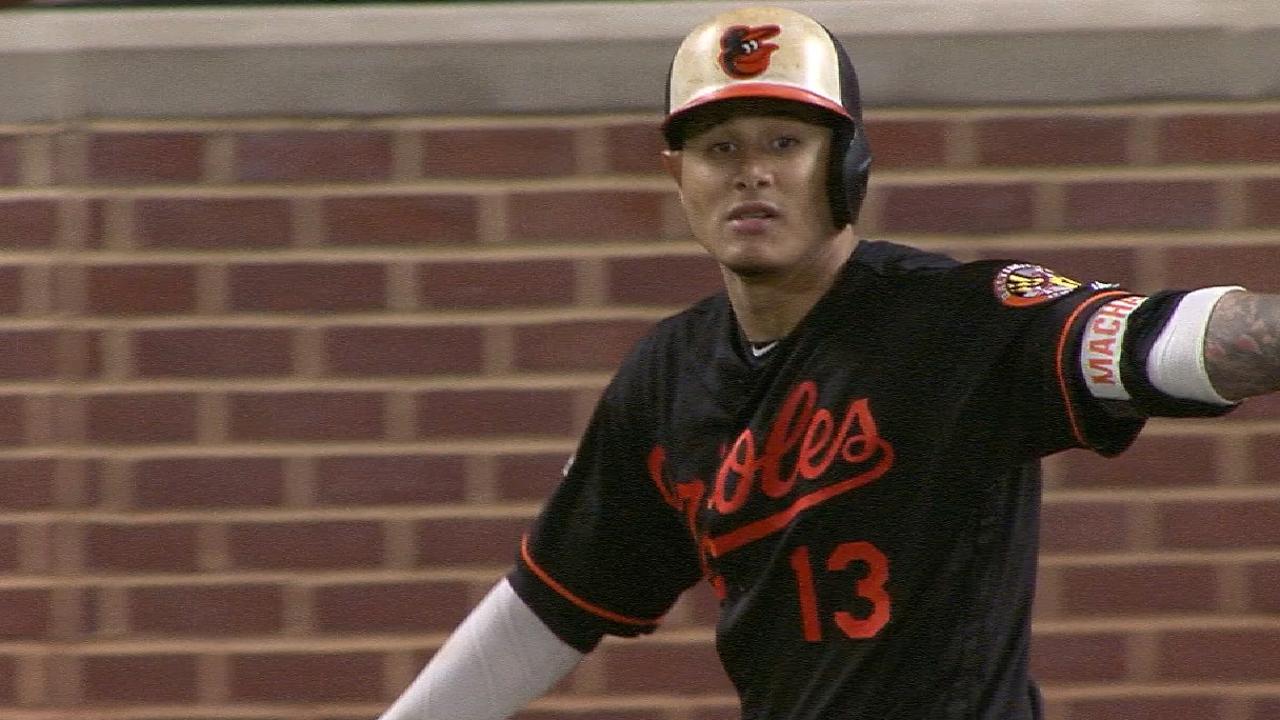 "I know sometimes because of how fluid he is, sometimes people don't know how much he cares and how hard he works. For a young player to go through the struggles he did with that kind of talent, to get back is a real testament to him and his makeup."
Machado's slam also brought back an oft-missing element of Orioles wins -- the postgame pie. Center fielder Adam Jones wasted no time making his move, nabbing Machado in the face while he was conducting an on-field interview.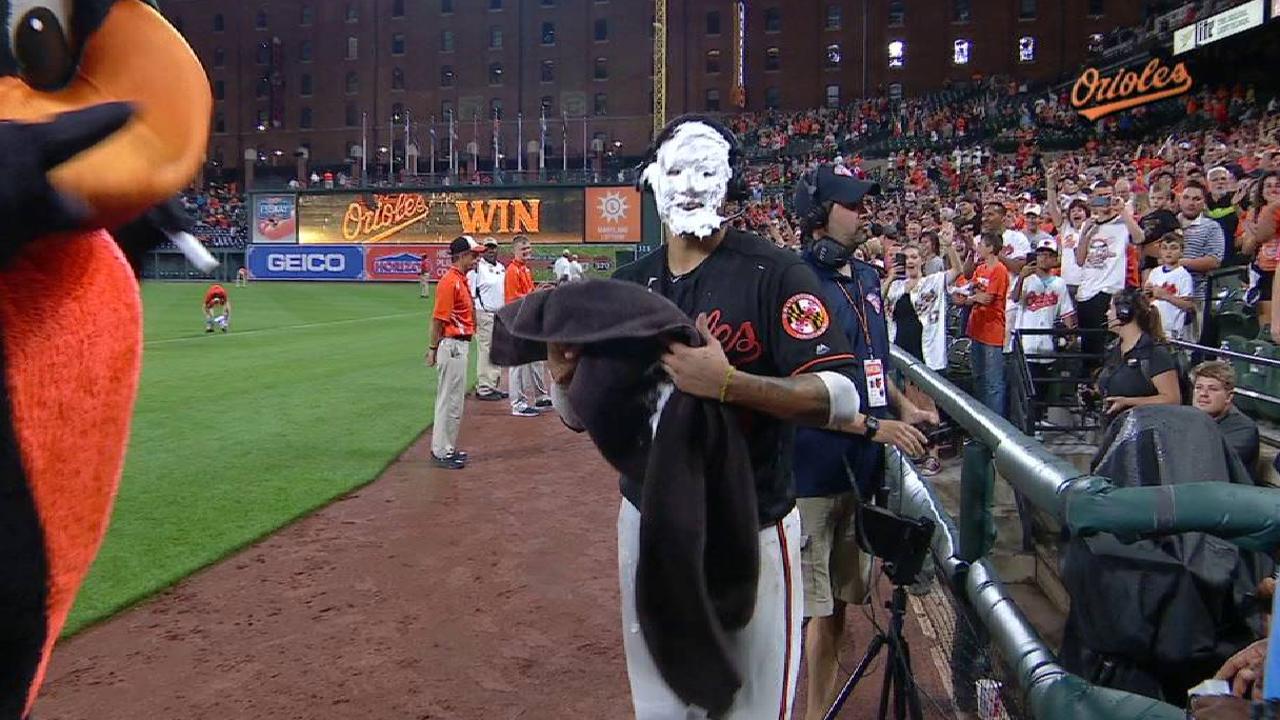 "We haven't done the pie all year. But we're glad it's back," Machado said. "The last time the pies were out there, we had some wins and we had nice win streaks and we got the team where it needed to go, which was a division championship. So let's keep doing it."
Brittany Ghiroli has covered the Orioles for MLB.com since 2010. Follow her on Facebook and Twitter @britt_ghiroli, and listen to her podcast. This story was not subject to the approval of Major League Baseball or its clubs.