Graveman delivers in first win since April
Orioles righty strikes out 8 in 7 solid innings vs. Orioles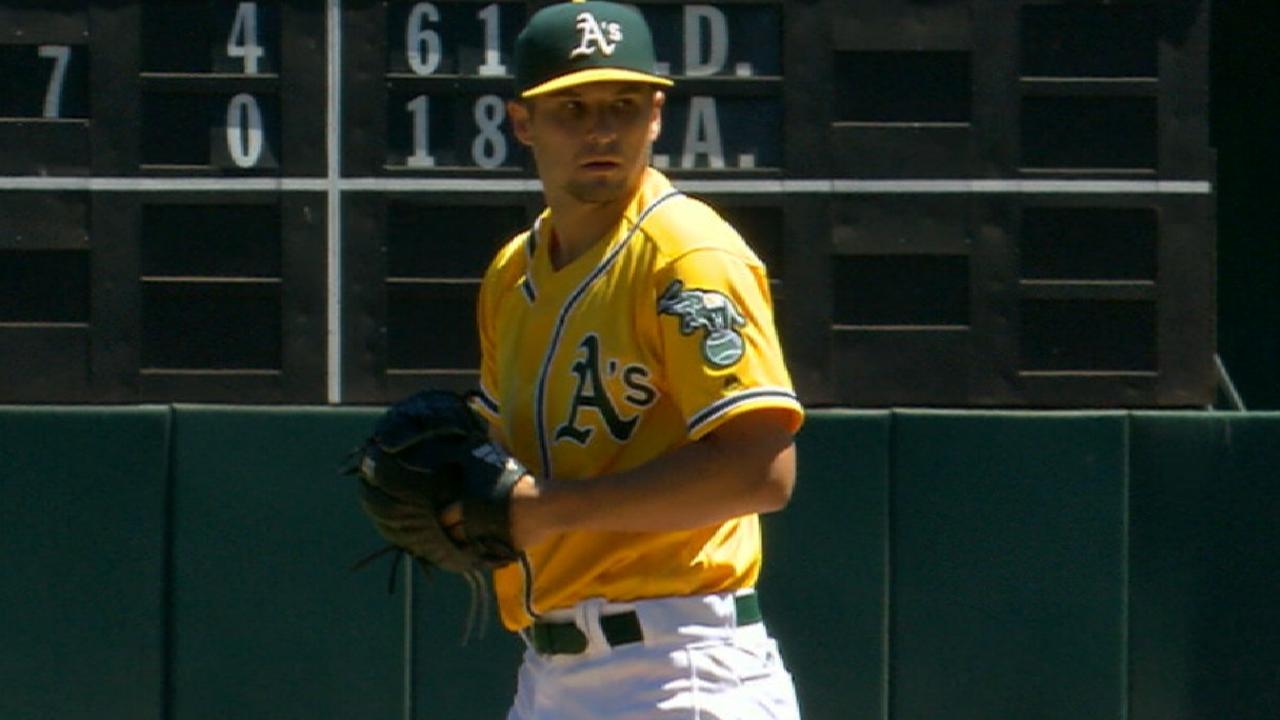 OAKLAND -- Right when the A's needed a solid outing from their starting pitcher, Kendall Graveman delivered.
Graveman, who will wear the nickname "Digger" on the back of his jersey for Players Weekend, picked up his first win since April 8 as the A's beat the Orioles, 9-3, Sunday afternoon at the Coliseum.
"I think that's the best I've actually pitched in a while," Graveman said.
Graveman missed more than two months with right shoulder inflammation and had struggled in his first two starts off the disabled list, allowing 11 runs in 7 1/3 innings. But he struck out eight while allowing two runs in seven innings, a deep outing, especially needed after the bullpen threw 8 2/3 innings Saturday.
Graveman ran into some trouble early Sunday, allowing two runs on five hits in the first two innings. The Orioles looked poised to add on when they opened the third with two more singles, but he got a groundout and two strikeouts to end the scoreless inning.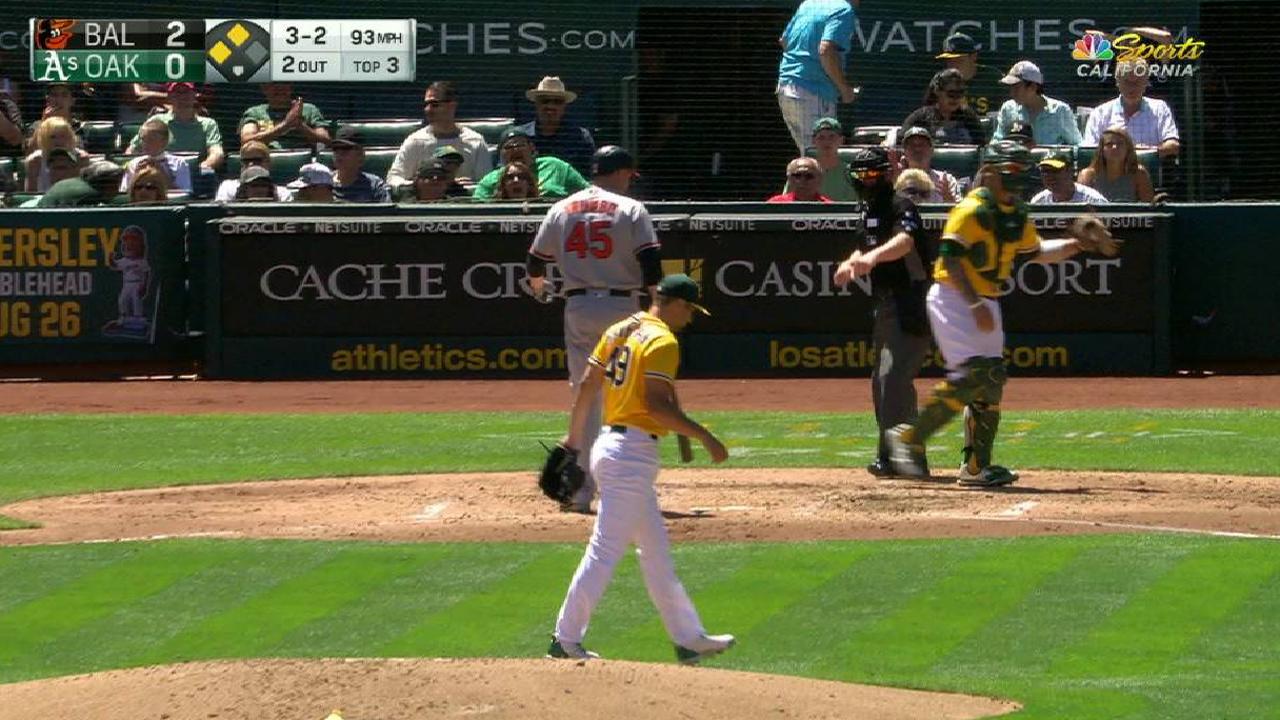 "Early on, the way things have been going, you can't help but think, 'We have to get somebody up here pretty soon,'" A's manager Bob Melvin said. "Six or seven hits really early, but got some double plays, and then after that, it was like we're used to seeing him."
Graveman added: "I think the third inning was huge. It was one of those innings where we had second and third and we were able to get out of it, and I think that was a big momentum shift."
The right-hander seemed to settle in from there, needing just eight pitches each in the fourth and fifth innings to retire the side. Sandwiched in between his quick innings was a five-run fourth from the A's offense, making his fifth a crucial shutdown inning.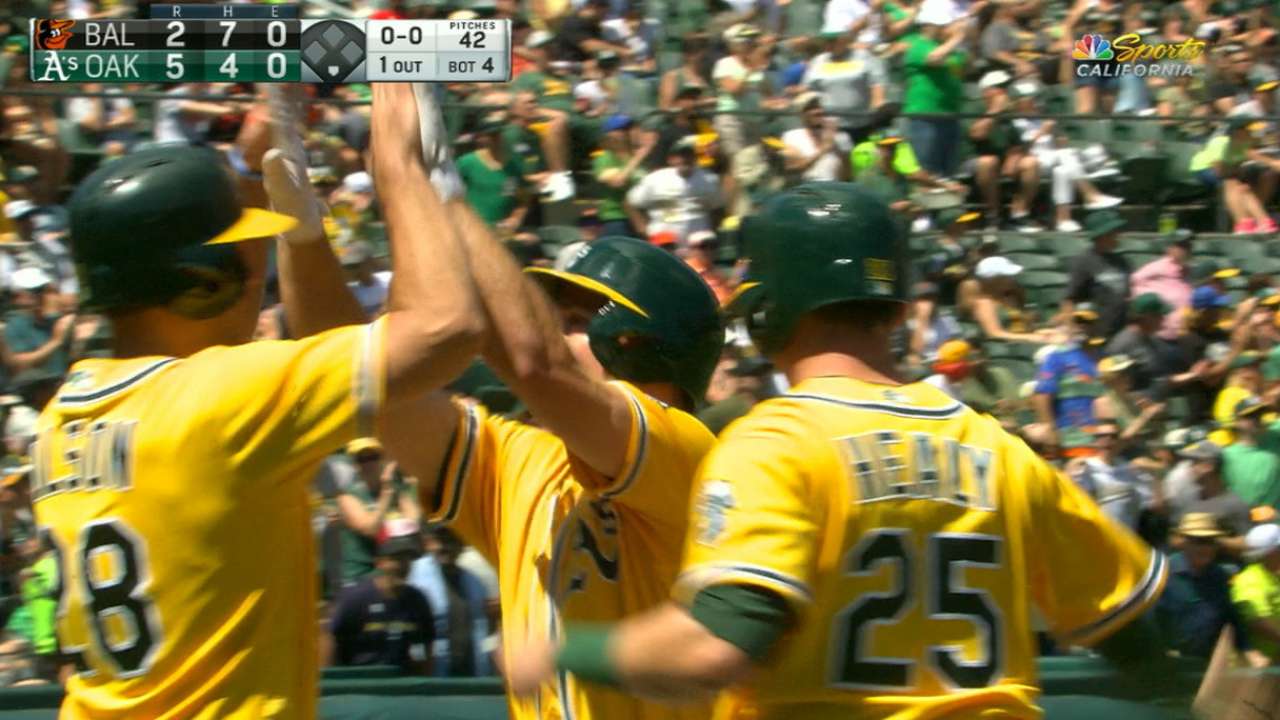 "That's what you need," Melvin said. "The way things have been going for us, we put up a five-spot and now there's some baserunners on, you feel like you lose your momentum a little bit. He had a really quick inning after that and just settled in and took that lead and momentum and pitched as well as we've seen him pitch."
Graveman allowed the first two batters in the sixth to reach, but got a double play and a strikeout to end the inning before a 1-2-3 seventh ended his day. To him, those two innings were a sign that he's getting back to the pitcher he knew.
"I thought I had my good stuff toward the sixth and seventh innings and that's good because you're coming to the meat of the lineup," Graveman said. "I think the health is huge, because in that situation, to have your best stuff when the meat of that order is coming up and you've got a three-run lead is big.
"I think I'm finally getting back on track. The foundation has always been there, but the repeatability of being able to make a pitch wasn't. Today, it kind of showed up there after the first and second inning."
Alex Simon is a reporter for MLB.com based in the Bay Area. Follow him on Twitter at @alexsimon99. This story was not subject to the approval of Major League Baseball or its clubs.