Dickey delivers an end to Braves' skid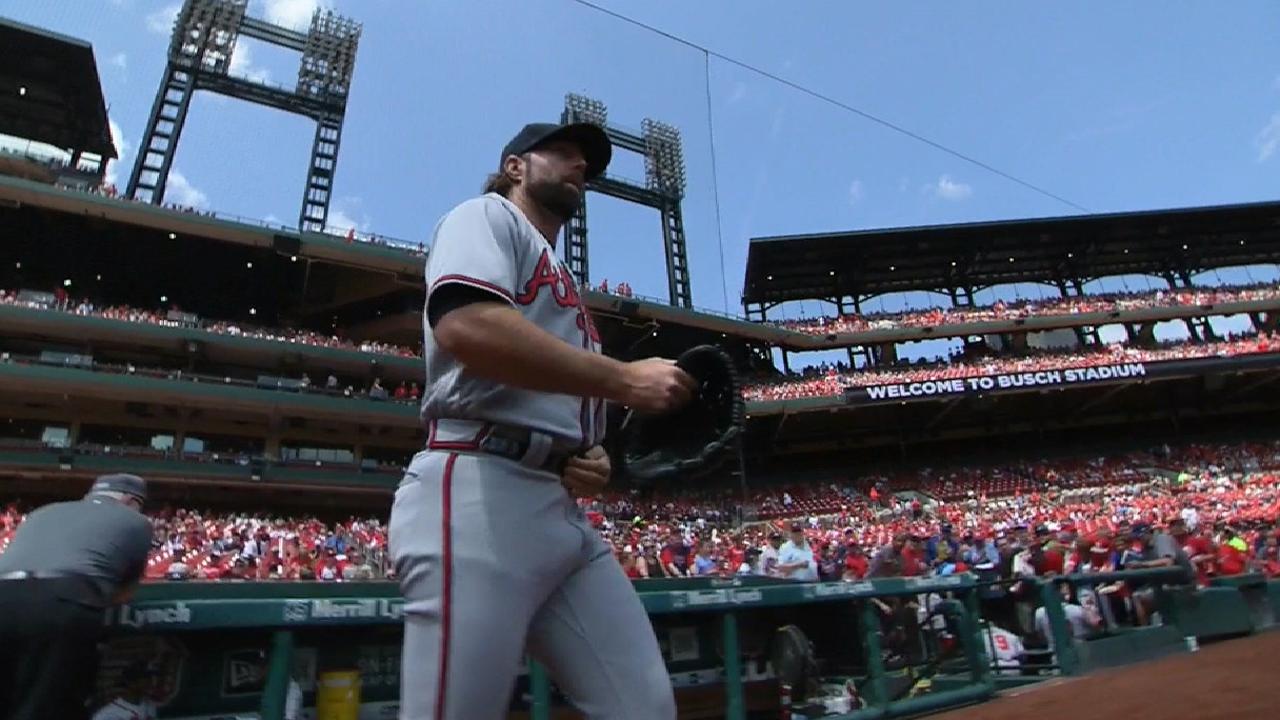 ST. LOUIS -- The Braves put an end to their five-game skid and the Cardinals' eight-game winning streak on Sunday, as R.A. Dickey silenced a St. Louis offense that had scored at least six runs in its last seven games to take a 6-3 victory at Busch Stadium. The Cardinals staged a comeback attempt in the eighth, loading the bases, but ultimately came up just short.
"They came out with a very clear approach against me today," Dickey said. "They were going to make me throw strikes. I was able to attack the strike zone early. The first two times through the lineup, they gave me strike one a lot with my fastball. ... I knew that once I got through that lineup once by stealing strikes, they were going to turn a little bit more aggressive, and they did. It was nice to have a plan and to execute it. That's when the game becomes fun."
With the win, the Braves avoided a sweep and came away with their first win over the Cardinals in the six games the two teams have played this season.
"We're looking for one however we can get it, whenever we can get it," Braves manager Brian Snitker said. "It all starts on the mound. Your starting pitcher gives you a chance to win the game and then you can get to the back end of your bullpen, and good things can happen."
With the loss, the Cards slipped a game back in the National League Central behind the Cubs, who defeated the D-backs on Sunday.
"Today it was just too little too late," said Cardinals shortstop Paul DeJong, who connected on his 18th homer. "Dickey was pretty good early in the game and [we] couldn't get anything elevated. He was getting a lot of weakly hit balls and nothing in the gap."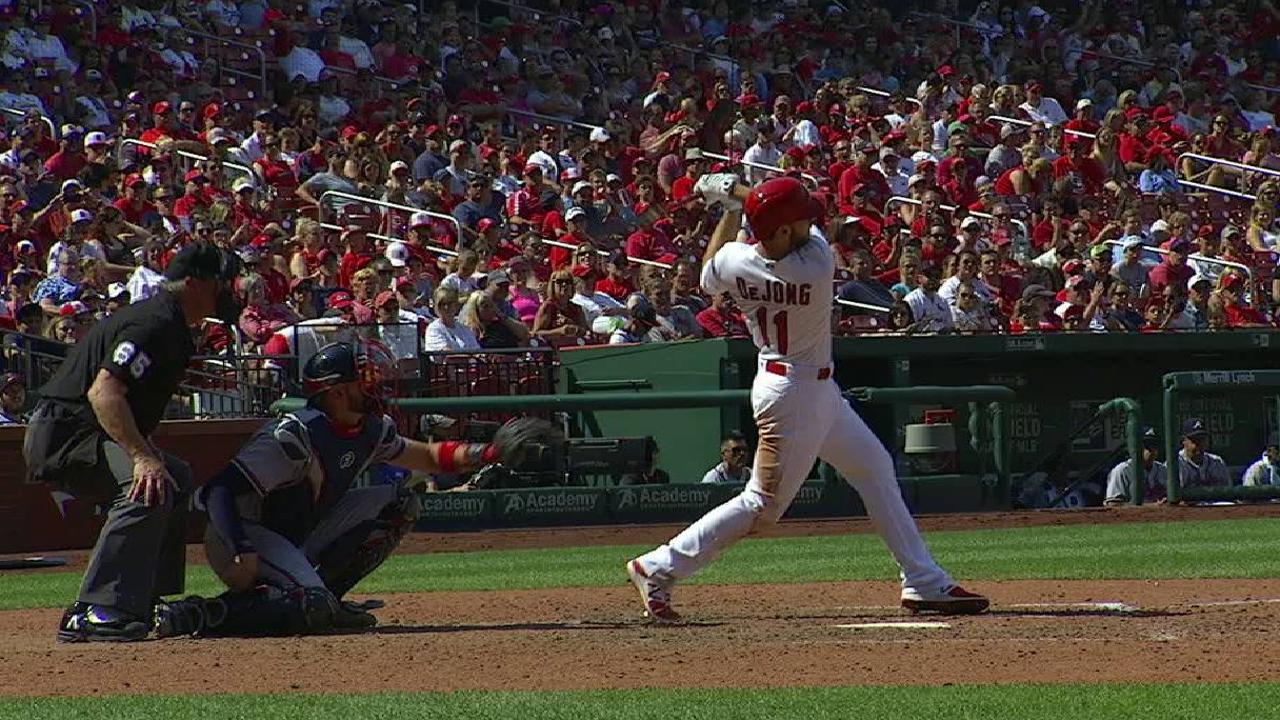 Dickey's knuckleball left the Cardinals with no answers. He gave up one run on seven hits, only one of which went for extra bases, in seven innings. It is just the fourth time since July 16 that a Braves starter has completed seven innings.
"R.A.'s been doing his job all year, and for him to pitch the way he pitched today, it was awesome to really see that," Braves third baseman Brandon Phillips said. "He kept the ball down. Facing him all these years, he looked like the old R.A. He kept the ball down and he had success today, and it was beautiful to watch."
• 'Boo' Phillips enjoyed return to St. Louis
The game's first runs scored in the fourth, when Cardinals starter Michael Wacha gave up two on four hits and a walk. The Braves built on their lead in the fifth, when Phillips blasted a 407-foot two-run homer to make it 4-0.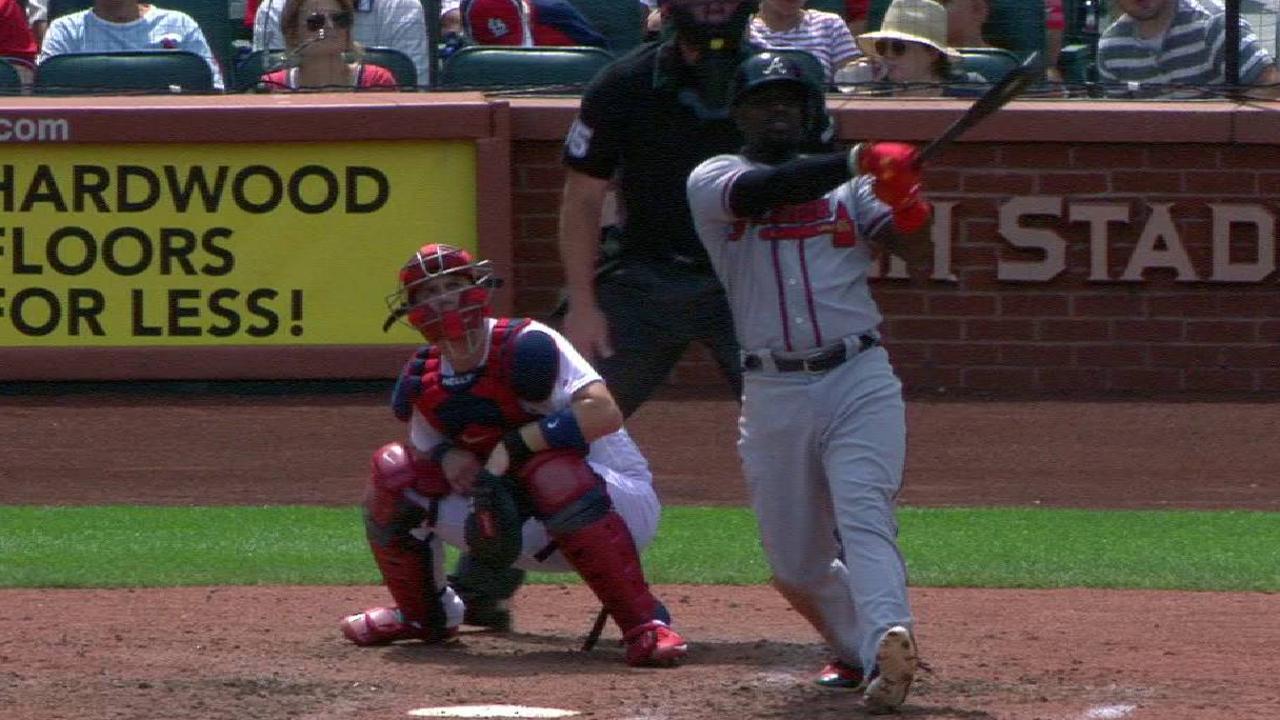 Ender Inciarte served as a spark for much of the Braves' offensive surge, finishing the day with three hits, two runs and a stolen base.
"He's our catalyst," Snitker said. "When he goes, we do. And the kid, last couple of years, has got as many hits as anybody. So when he's getting on base and getting his hits, we find ways to score runs."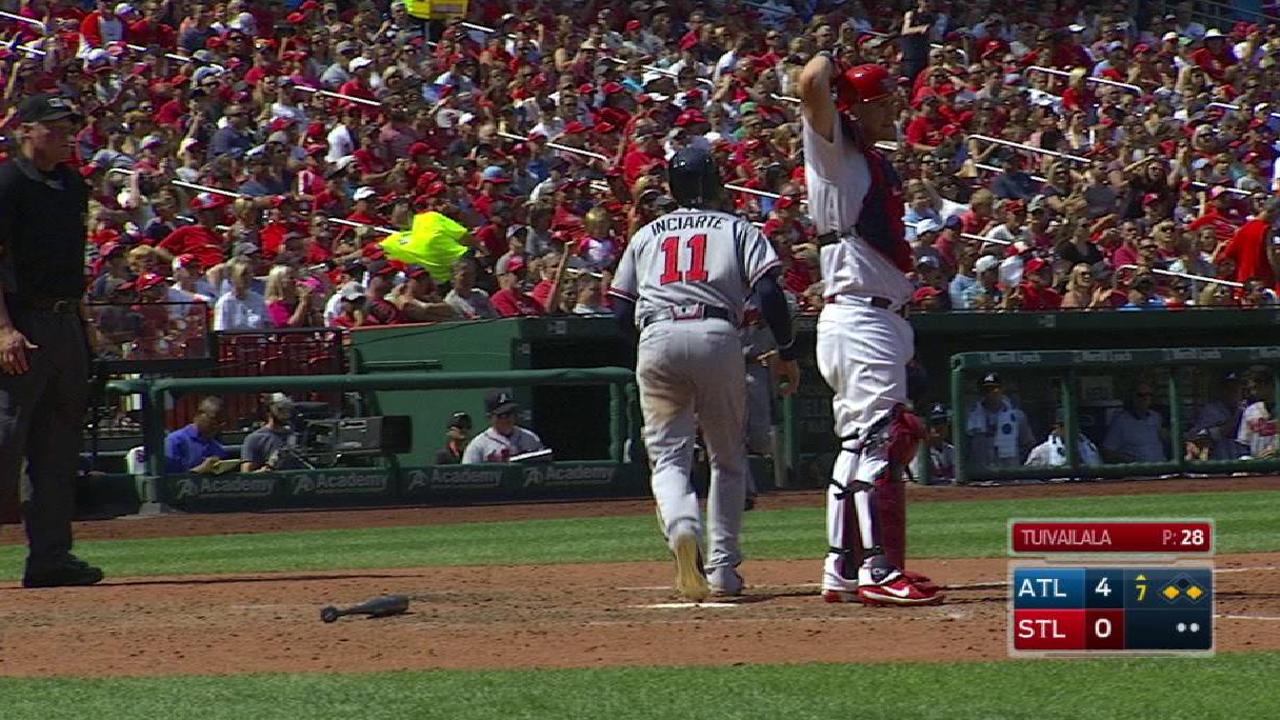 Wacha was forced out of the game after just five innings. He gave up eight hits and struck out just one in his first career August loss. The Braves remain the only NL team (besides the Cardinals) he has not earned a win against.
"I just gave up too many runs today for us," Wacha said. "Our offense showed some fight. We were right back in it, a hit away from taking the lead or tying it up."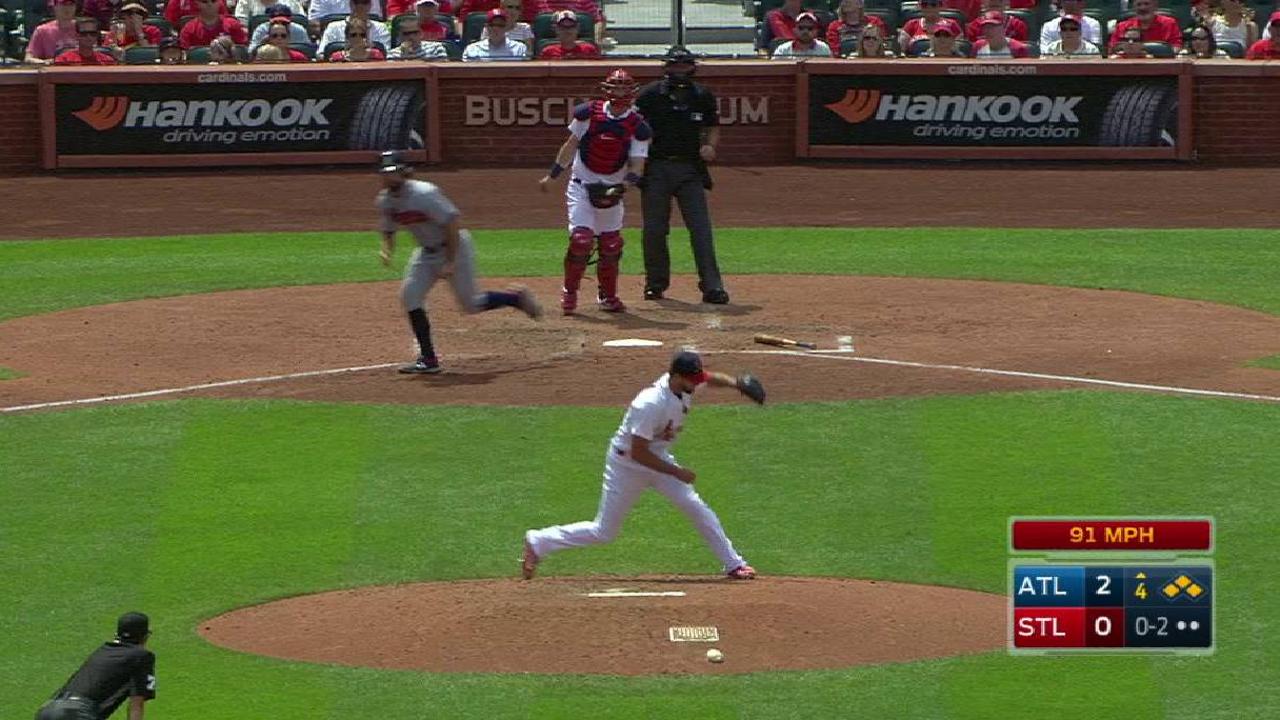 MOMENTS THAT MATTERED
Braves make Wacha pay for walk: Wacha got in a tough spot in the fourth after the Braves hit back-to-back singles to start the inning. Wacha then walked Tyler Flowers to load the bases, a walk that proved costly after the next batter, Danny Santana, hit an RBI single to plate the first run of the game. Atlanta went on to take a two-run lead in the inning.
"[Wacha] had pretty good stuff once again, just got into a couple of trouble innings there in the fourth and fifth," Cardinals manager Mike Matheny said. "[We] just didn't give him an opportunity. Didn't get an opportunity to help him out."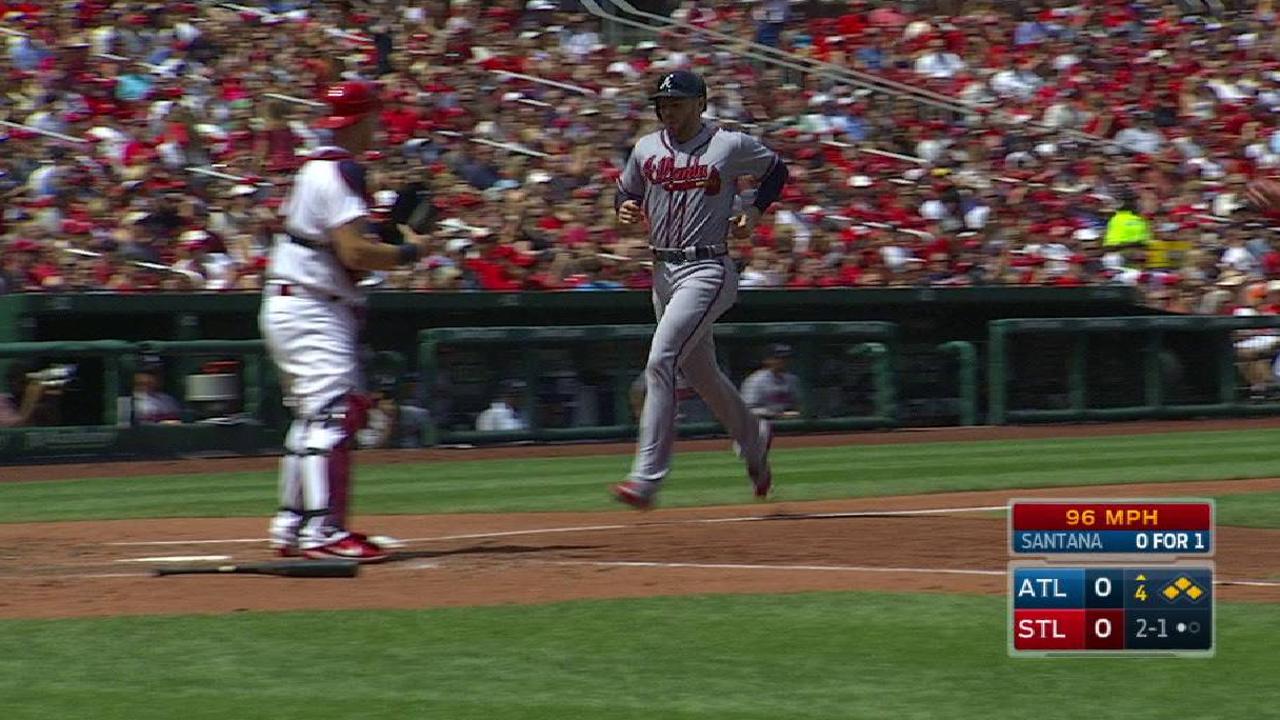 Cardinals denied: Atlanta reliever Jose Ramirez entered in the eighth with two runners on and one out and the Cardinals in the middle of a comeback attempt after scoring two runs earlier in the inning. After he loaded the bases with a hit by pitch, Ramirez shut things down, striking out Greg Garcia looking on a 98-mph fastball and getting pinch-hitter Yadier Molina to ground out.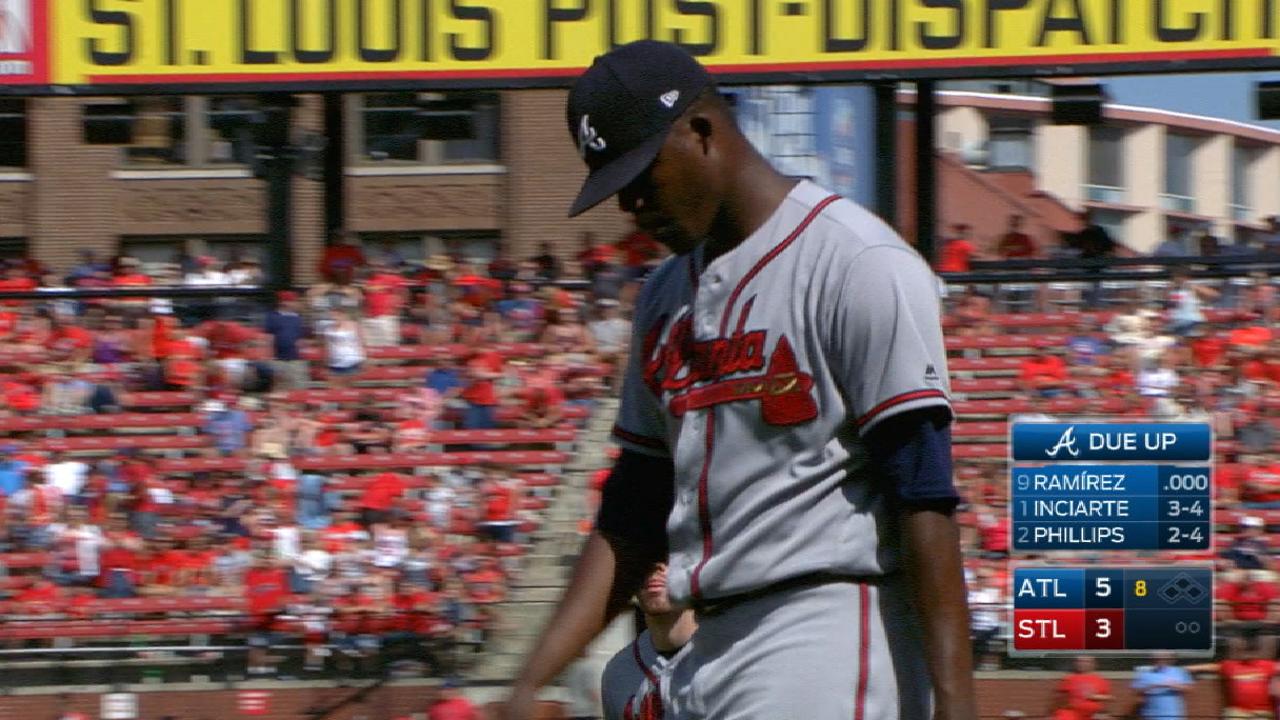 QUOTABLE
"We're a better team than when we started. I believe we're going to be better as we move along, too. [We've] just got to continue to work to figure out the holes we've got to continue to fix. I don't see this as a streak. I see this as a level of expectation of how we should play every game as we go forward, as long as they let us play." -- Matheny, on how the Cardinals have improved over the season
• Grichuk's new approach paying dividends
"I compete against myself as much as I compete against anybody else. I know what's on the line every time I take the mound. So whether it's the Phillies or the Cardinals or whoever, for me it's about, how do I compete against myself to execute my pitches consistently to get us deep into the game and throw up a quality start and give us a chance to win the game? That's every time. It doesn't matter who we're playing. That's a good club, they've been playing well. It's nice to get a win." -- Dickey, on his approach going into starts
SOUND SMART WITH YOUR FRIENDS
Dickey's .833 winning percentage vs. the Cardinals is the highest among active pitchers of those with six or more career decisions.
UPON FURTHER REVIEW
After drawing a walk in the first inning, Cardinals outfielder Tommy Pham, who has 16 steals this season, took a significant lead, and Dickey threw the ball to first baseman Freddie Freeman for the pickoff. Pham was ruled safe, but after a review of one minute and 13 seconds, the call was overturned.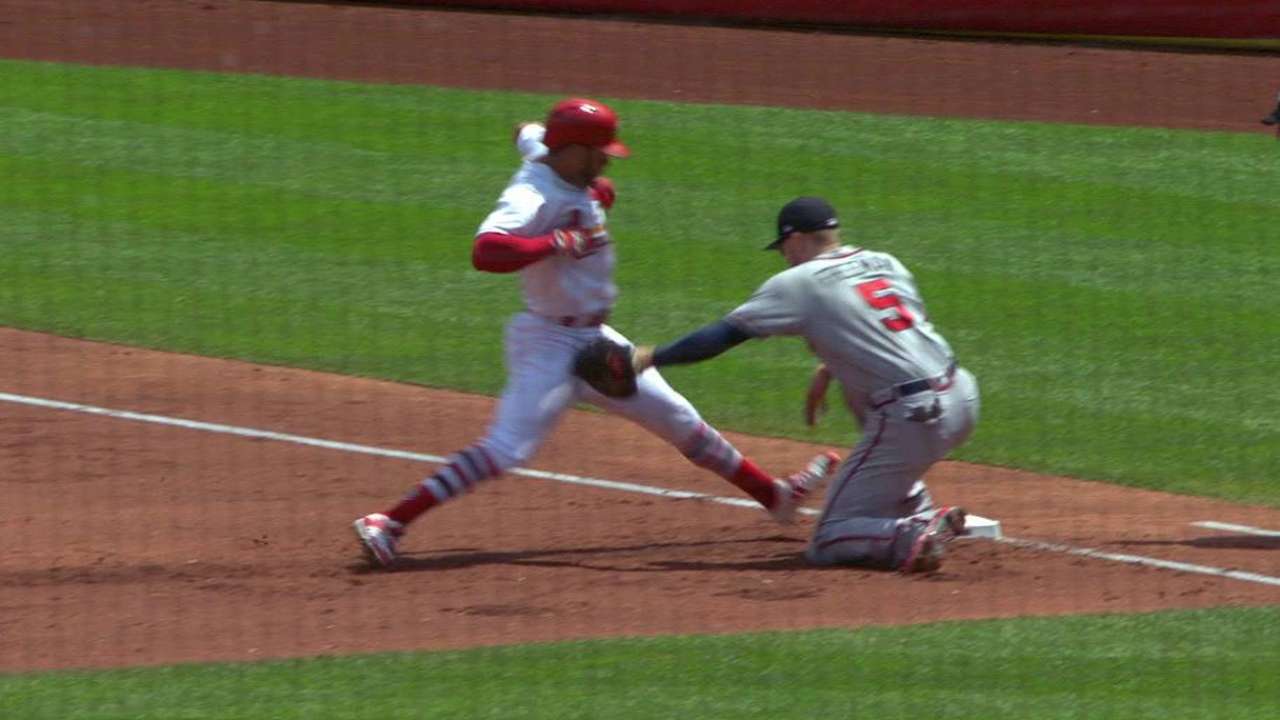 WHAT'S NEXT
Braves: Right-hander Julio Teheran (7-10, 5.25 ERA) will open a four-game series at Colorado on Monday night, with first pitch set for 8:40 ET. Teheran will be opposed by Rockies right-hander Chad Bettis, who will make his season debut after being diagnosed with testicular cancer last year.
Cardinals: After an off-day on Monday, the Cardinals will head to Boston for the first two games of a six-game road trip. Right-hander Mike Leake (7-10, 3.48 ERA) will get the first start vs. the Red Sox on Tuesday at 6:10 p.m. CT. Leake is 0-1 with a 4.26 ERA in three career starts against Boston.
Watch every out-of-market regular-season game live on MLB.TV.
Alaina Getzenberg is a reporter for MLB.com based in St. Louis.

Nate Latsch is a contributor to MLB.com based in St. Louis and covered the Braves on Sunday.

This story was not subject to the approval of Major League Baseball or its clubs.