Prep prospects set for Perfect Game All-American Classic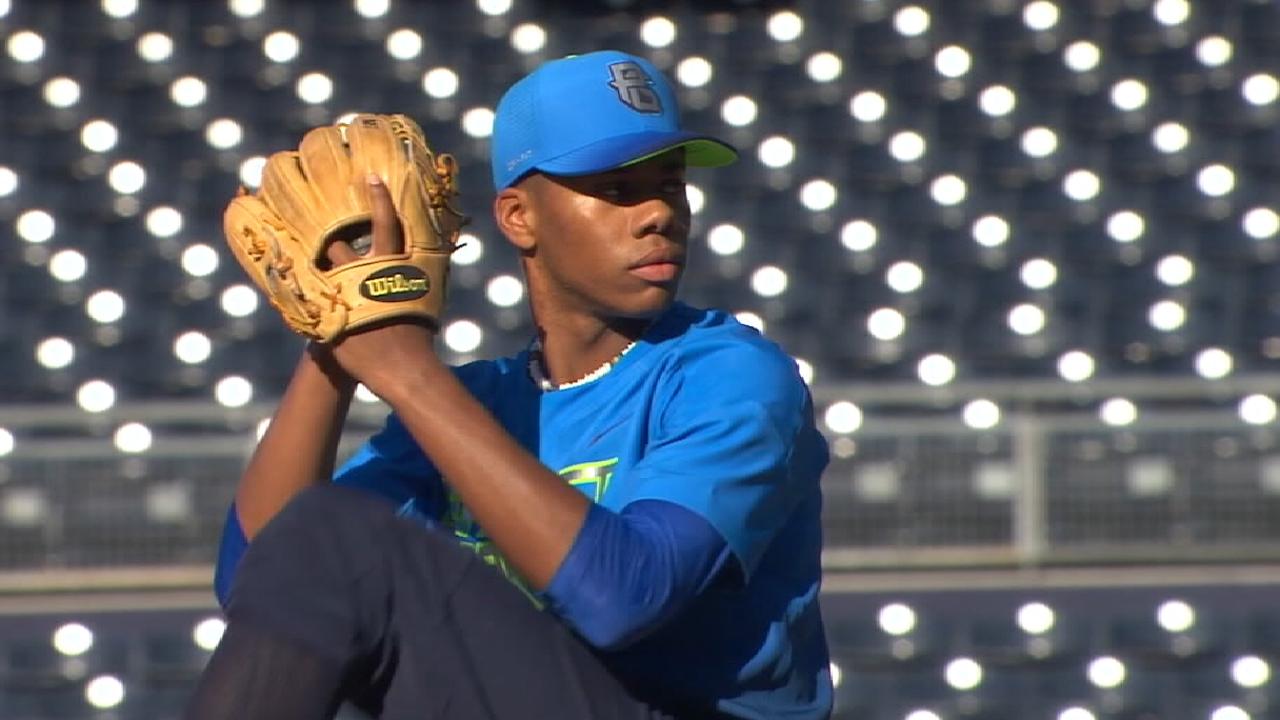 The top high school prospects in the country will be on display this Sunday, when Petco Park hosts the 15th annual Perfect Game All-American Classic. The event, which is one of the top amateur showcases, airs live at 8 p.m. ET on MLB Network and MLB.com.
Tune in to see the players who should make up the next wave of top prospects. Royce Lewis, Hunter Greene and Trevor Rogers, all of whom went in the first 13 picks in this year's Draft, were some of the stars of last year's classic.
• Watch Perfect Game All-American Classic live
The Perfect Game All-American Classic has produced 561 total draft picks and 141 future Major Leaguers. Lewis is one of nine No. 1 overall picks to play in the game; four Most Valuable Player Award winners have also participated. Distinguished alumni include Buster Posey, Kris Bryant, Bryce Harper, and more recently, Joey Gallo and Mickey Moniak, among others.
This year, 53 prospects will participate, led by a crop of hard-throwing pitchers who are considered the strength of the 2018 Draft class. Six hurlers rank among the best 12 high school prospects, led by Georgia righties Kumar Rocker and Ethan Hankins, both of whom can reach 98 mph with their fastball. All 12 of the top-rated prep prospects will play at Petco. Ten also participated in the Under Armour Game showcase last month.
The top 12:
1. Brice Turang, SS, Santiago HS (Corona, Calif.)
2. Kumar Rocker, RHP, North Oconee HS (Bogart, Ga.)
3. Ethan Hankins, RHP, Forsyth Central HS (Cumming, Ga.)
4. Jarred Kelenic, OF, Waukesha (Wis.) West HS
5. Will Banfield, C, Brookwood HS (Snellville, Ga.)
6. Luke Bartnicki, LHP, Walton HS (Marietta, Ga.)
7. Nander de Sedas, SS, Montverde (Fla.) Academy
8. Slade Cecconi, RHP, Trinity Prep HS (Winter Park, Fla.)
9. J.T. Ginn, RHP, Brandon (Miss.) HS
10. Mason Denaburg, RHP/C, Merritt Island (Fla.) HS
11. Elijah Cabell, OF, TNXL Academy (Longwood, Fla.)
12. Joe Gray Jr., OF, Hattiesburg (Miss.) HS
Talented prep hurlers LHP Matthew Liberatore (Arizona), who was named MVP of the Under Armour All-America Game, RHP Carter Stewart (Florida), RHP Austin Becker (Ohio) and RHP Cole Wilcox (Georgia) are also set to participate in the event.
The position player crop -- which includes OF Levi Usher (Iowa), OF Nick Schnell (Indiana) and OF Parker Meadows -- should have its work cut out for it.
Four of the top six overall prospects come from Georgia, which is one of 42 U.S. states that will be represented in the game. Players will also represent Canada, Puerto Rico and the Dominican Republic.
The game Sunday will culminate a Major League-type weekend for the 53 All-Americans, filled with media, workouts and charitable appearances. On Thursday, the group visited Rady Children's Hospital-San Diego, which receives proceeds from the Classic. A home run derby will precede the game Sunday, which will take place at Petco for the 11th consecutive year.
Joe Trezza is a reporter for MLB.com. This story was not subject to the approval of Major League Baseball or its clubs.