Velasquez placed on DL with right finger injury
Phillies recall utility man Kelly; Leiter an option to take over rotation spot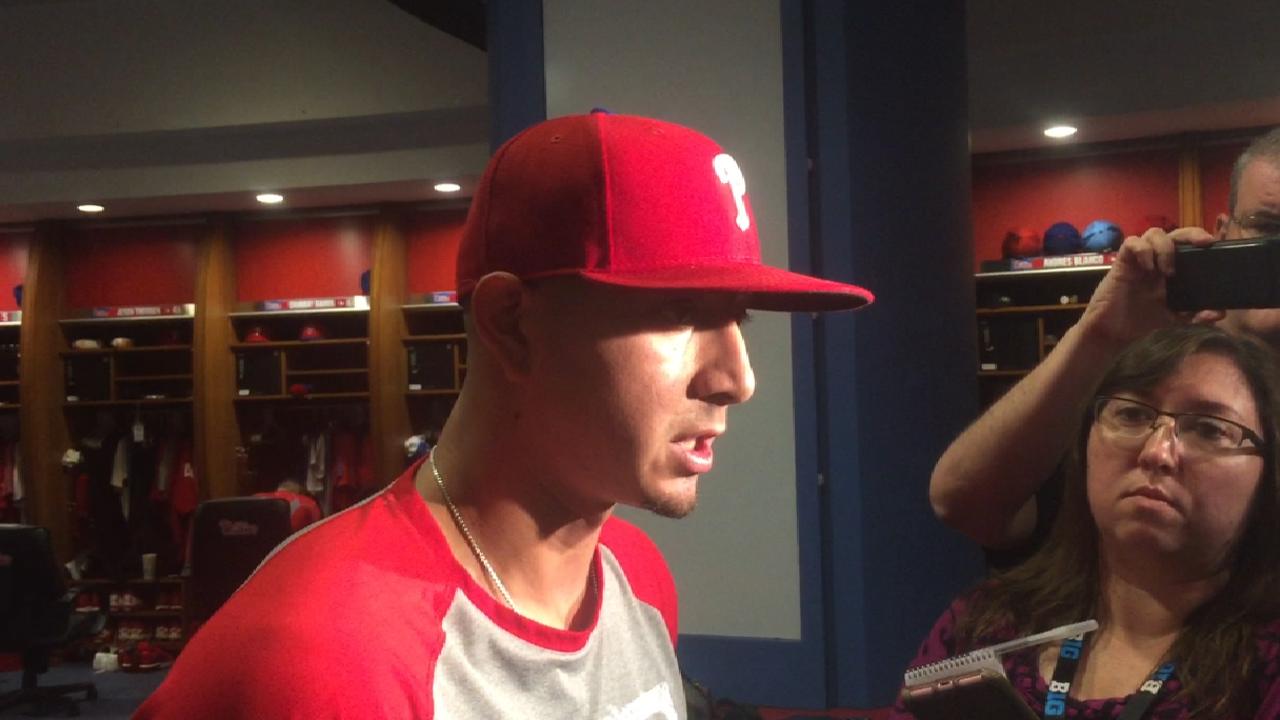 PHILADELPHIA -- Having left Thursday's game after the first inning with numbness in his right middle finger, Vince Velasquez was placed on the 10-day disabled list Friday. No further explanation was given beyond a "right middle finger injury," and his Friday morning doctor's visit hasn't yet yielded any conclusive results. The Phillies recalled utility man Ty Kelly from Triple-A Lehigh Valley.
Will the injury-prone pitcher see the mound again this season?
"It's hard to say," Phillies manager Pete Mackanin said after Friday's 7-6 loss to the Mets. "It's just tough to say. He's got a little blue mark on there. I can't answer that right now."
The swelling and pain in Velasquez's finger had subsided by the time Velasquez spoke to reporters before he was placed on the DL. The right-hander said he felt no pain, but the finger was still a bit bruised. An ultrasound was performed, and Velasquez said the doctor was "not really that worried." After refusing to show reporters the finger after his start Thursday night, he briefly took his hand out of his pocket twice while referring to the bruise.
"I'm just being optimistic, I'm going to shoot for definitely having another start or two before the end of the season," Velasquez said, also conceding that he was not surprised that the Phillies placed him on the DL.
"[The doctor] doesn't know what causes it, what the cause is or why it turned out to be just that specific finger ... and why all the other ones aren't affected," Velasquez said.
He first felt the injury during a bullpen session in Colorado last weekend, and again notified Phillies coaches before his start vs. the Mets.
"If it was an elbow or a shoulder, I probably wouldn't have sent him out," Mackanin said.
But Velasquez and the coaching staff agreed to give it a try. Returning to the dugout after the first when he allowed three two-out runs, Velasquez said he couldn't continue.
This is Velasquez's third DL trip over the past two seasons with the Phillies. Partially, he blames himself.
"I didn't really do that well of a preparation from the offseason until now," Velasquez said. "I think I could have done a better job."
The mounting injuries are taking a toll on Velasquez mentally. Mackanin knows the injuries could interfere with his electric, yet often inefficient, stuff and prevent the righty from becoming a viable long-term starter.
"It's taken a toll on me and it's tough to not play, especially having a rough year," Velasquez said. "It's just tough dealing with a big injury. The past two injuries have been affecting the whole year. It's tough, I can't catch a break but I've got to deal with it."
Current Phillies long man Mark Leiter, who threw brilliantly in relief of Velasquez on Thursday, has forced his way into the discussion as a potential replacement in the rotation. Leiter spun five strong innings while striking out seven, allowing four hits and one run on a fastball to Neil Walker that caught too much plate and ended up in the right-field stands. Leiter threw so well, in fact, that his contributions to saving the bullpen were the first words out of Mackanin's mouth as he began his postgame remarks.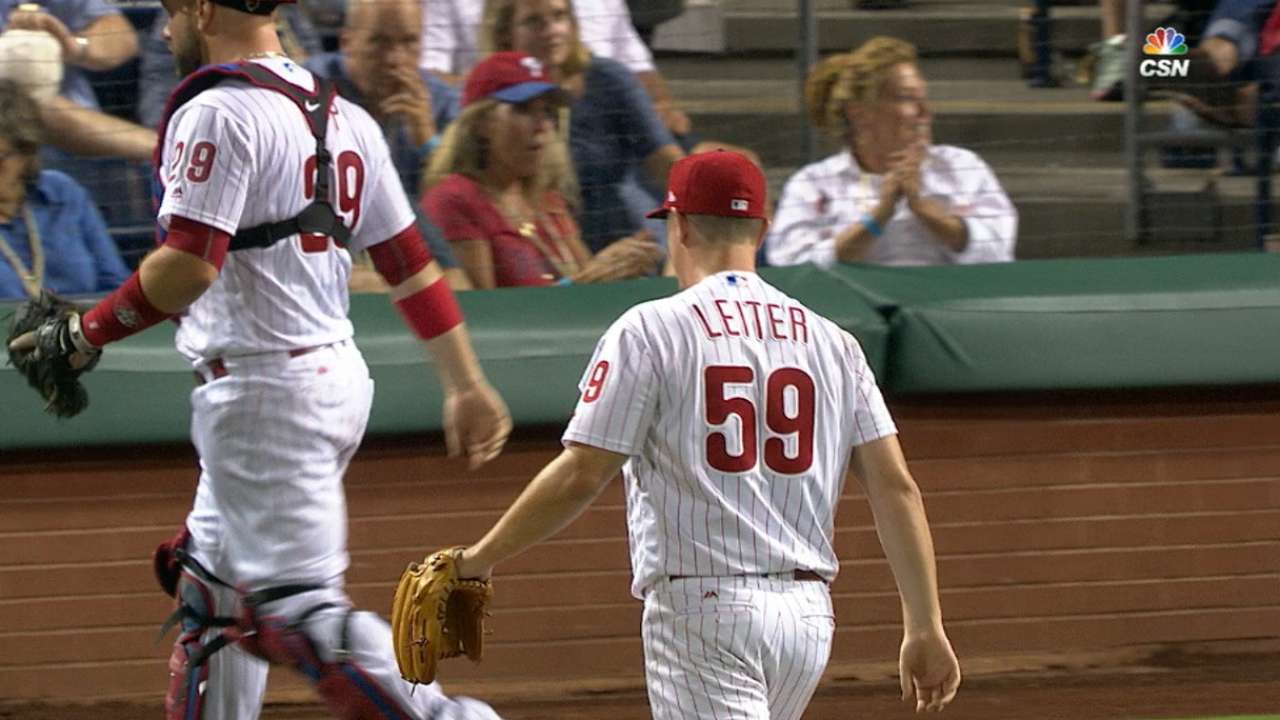 "I don't see why it wouldn't be a logical choice [to replace Velasquez]," Mackanin said Friday before the DL move was announced.
Just five days prior, Leiter dominated in a similar long-relief situation Saturday in Colorado. He threw 4 1/3 scoreless innings and struck out nine while allowing two hits and no walks. In both outings, Leiter struck out at least seven batters, something Phillies starters accomplish just 20 percent of the time.
Twelve of Leiter's 16 strikeouts in his past two outings have come on the splitter, his go-to strikeout pitch. Having thrown Saturday and five days later on Thursday, Leiter lines up perfectly to join the rotation in Velasquez's place.
Ben Harris is a reporter for MLB.com based in Philadelphia. This story was not subject to the approval of Major League Baseball or its clubs.