Kipnis out of lineup; to be re-evaluated today
Miller nears return after Friday bullpen session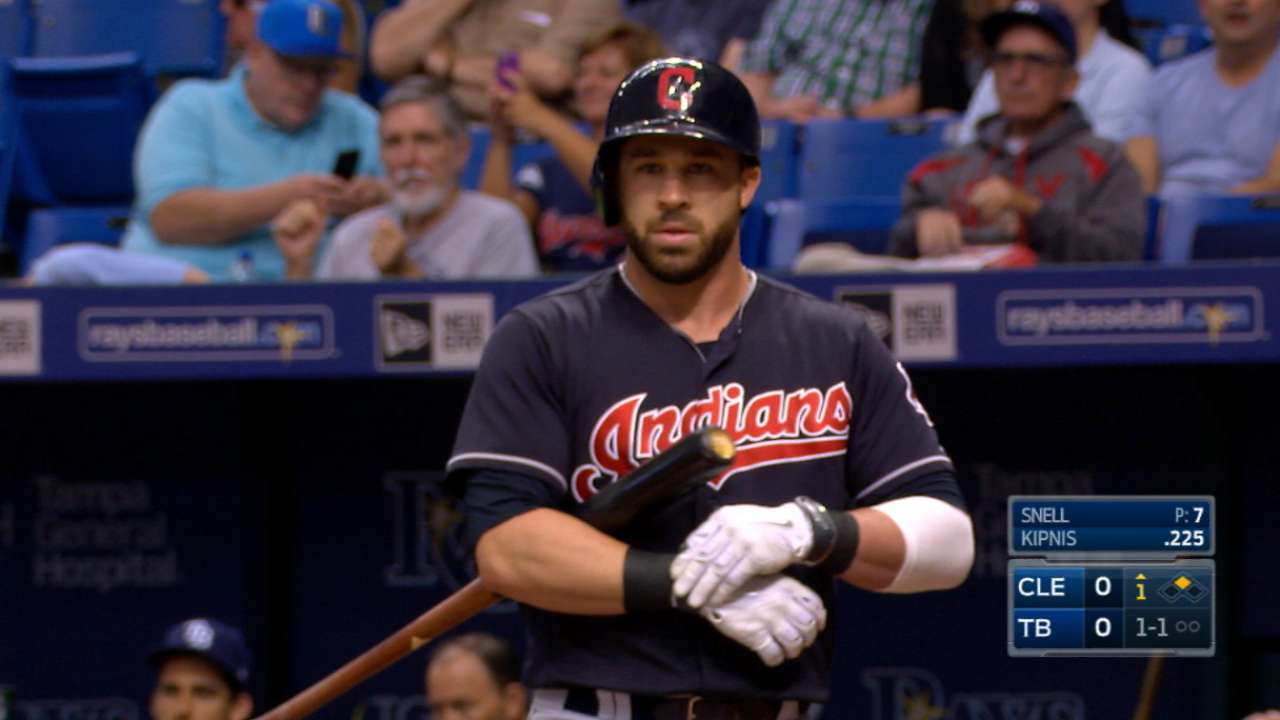 ST. PETERSBURG -- Jason Kipnis will exert himself fully in a workout Saturday, the results of which could determine if the right hamstring tightness that pulled him from Thursday's game will cause him to land back on the disabled list.
If he's able to complete that workout, "We're in good shape," manager Terry Francona said. "If not, then we're going to have to maybe think about a 10-day DL just because you can't play short for too long. But I think the trainers feel like he's doing well enough where we should at least give this a chance."
The hamstring did not worsen overnight. Kipnis took batting practice Friday, but the second baseman will not play in Friday's game as a precaution, Francona said.
"When a guy hurts his hamstring like that, the one worry is … they're going to come in tomorrow and feel really stiff," Francona said. "But he didn't show up any bit at all worse, his strength is good."
Kipnis missed 22 games with a strain in the same hamstring and was four games into his return when he left in the fourth inning of Thursday's loss. He hit a ground-rule double in the top half of that inning and moved up to third base on a fielder's choice, but did not assume his position in the field for the bottom half of the frame.
While Kipnis' return to field is in a holding pattern, reliever Andrew Miller appears to be getting closer. Miller threw a bullpen session at Tropicana Field on Friday.
"He did really well," Francona said. "He's going to do it again on Sunday. We'll put a hitter up there, he wants to have a hitter … and then we'll re-evaluate after that."
Sunday is the first day Miller is eligible to return from the 10-day disabled list for his right knee injury. The Indians will welcome back with open arms their bullpen ace, who has a 1.67 ERA and is striking out 13 batters per nine innings.
Francona said he couldn't begin to estimate how many times he's thought about Miller's absence.
"When you look up in like the sixth inning -- and we've played all these close games lately -- and he's not there … He's a big weapon for us," Francona said.
Connor Mount is a reporter for MLB.com based in St. Petersburg. This story was not subject to the approval of Major League Baseball or its clubs.