First RBI title sweet for Mathews-Dickey team
St. Louis squad defeats Atlanta for softball championship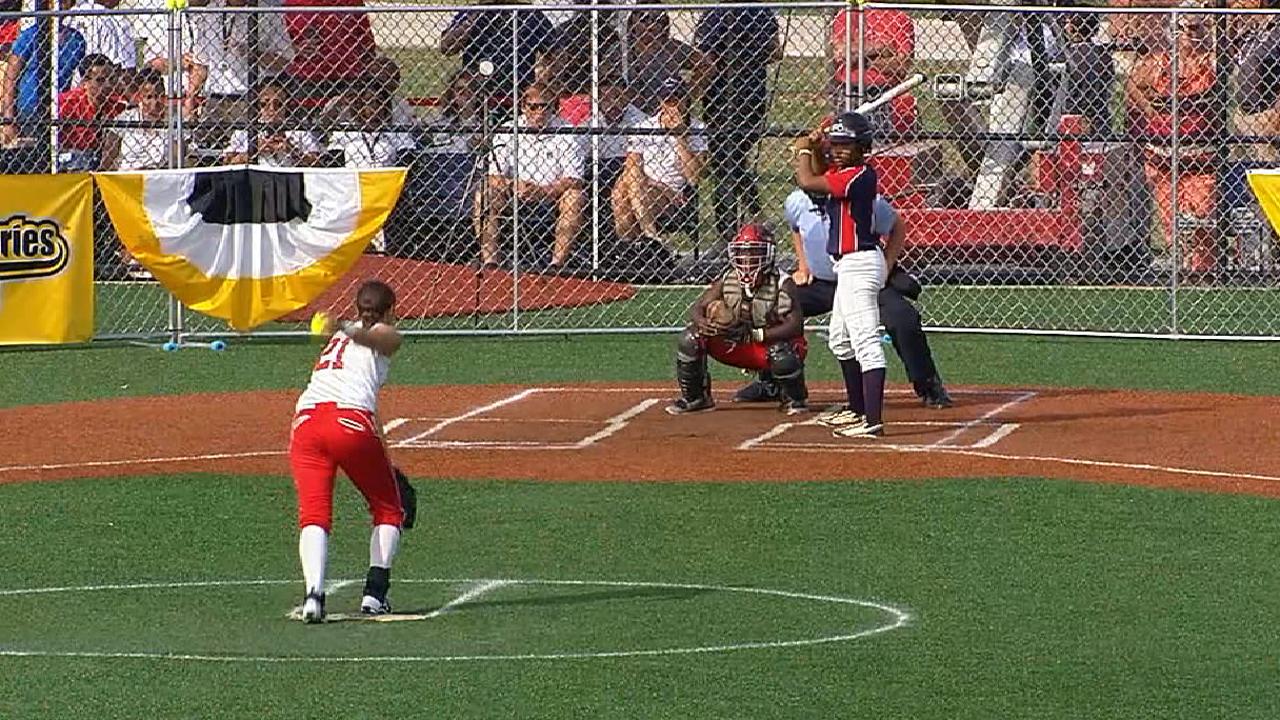 CINCINNATI -- When Chris Smith took over the Mathews-Dickey Boys & Girls RBI softball team in St. Louis, he made a vow to his girls.
"My promise to them -- even before I took over -- was, 'I guarantee you will win a game. I guarantee it,'" Smith said.
They did a little better than that. St. Louis beat eight-time champion Atlanta, 2-1, in eight innings in the finals Friday to capture its first RBI World Series title.
"I'm extremely proud," Smith said.
Smith was getting signs along the way that his team could do what it did.
"After the regionals, I said, 'You can win it all,'" he said. "You put the work in."
Meghan Schorman was named the tournament MVP. She went the distance Friday, allowing one run on six hits. She struck out 11 and walked just one. Schorman pitched 27 innings in the tournament and allowed three earned runs. She fanned 37 and walked five.
Schorman held the lead in the eighth Friday after giving up the tying run in the seventh, as Atlanta forced extra innings.
"That was fantastic," Smith said. "The first thing I told Meghan when we came in after the seventh was, '[Atlanta's] good. It's not a big deal. They scored a run. Let's keep playing. We're at the top of our lineup.'
"We tied them in pool play. We knew what they had. They knew what we had."
Atlanta coach Richard Lee was proud of his girls as well.
"They kept fighting," he said. "They didn't give up. We just couldn't get that big hit today. They played great. They gave all they had."
The game was scoreless through five. St. Louis' Rylea Smith singled with one out in the sixth. Lauren Bowman hit the next pitch to the fence in left for an RBI double.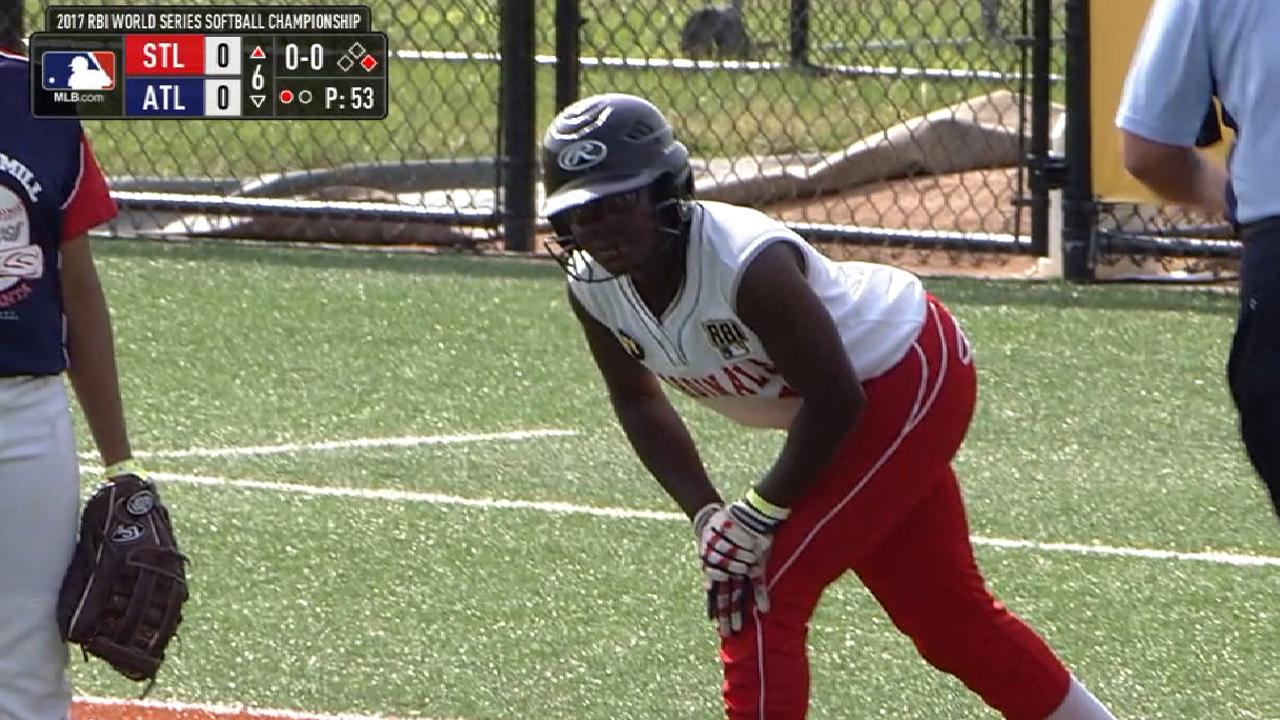 But Atlanta came right back in the seventh. Diamond Brown led off and beat out a bunt for a single. She stole second and, an out later, scored on Nala Moore's double to make it 1-1.
Schorman struck out the next two to strand Moore.
Smith led off the eighth for St. Louis with a bunt that she just beat out for a hit. An out later, she stole second. Atlanta went to third on Jade Gates' bunt to try to get Smith, but she beat the tag.
Schorman bounced back to opposing pitcher Tanisha Williams. As Williams threw to first for the out, Smith broke home. She beat the throw with a slide.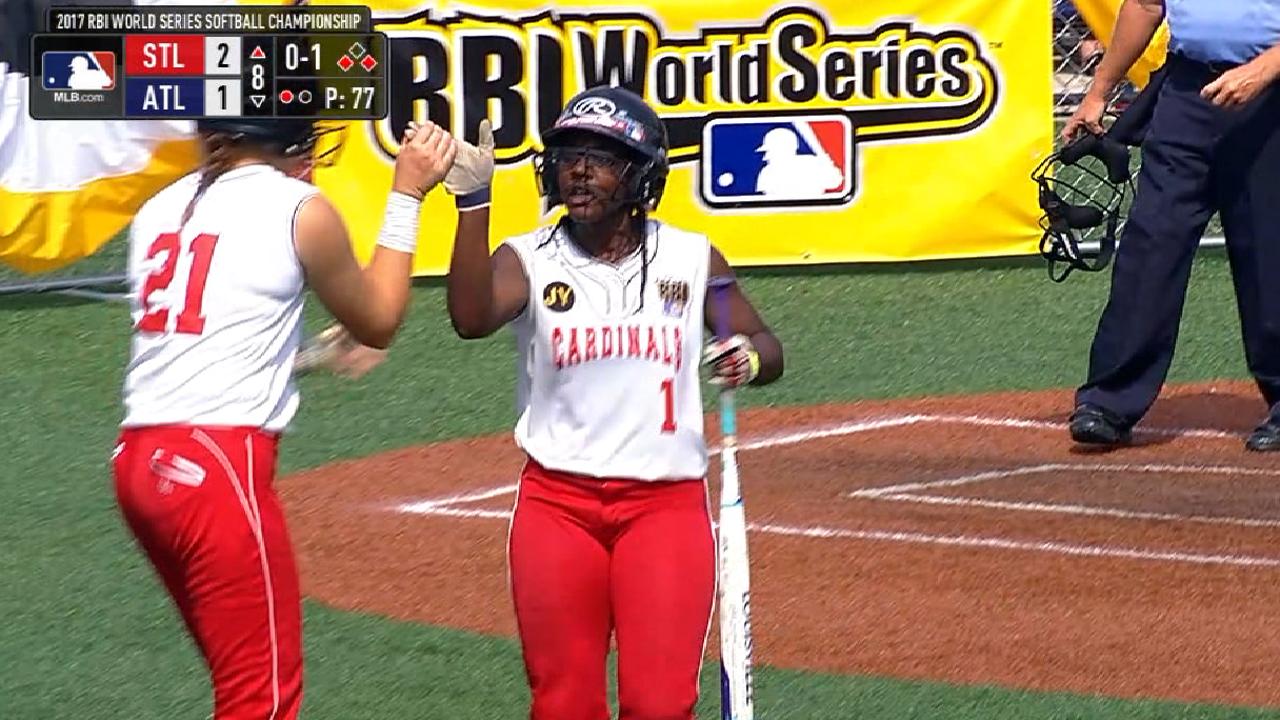 "I'm screaming at her: 'Don't go!'" Smith said. "She said, 'I can make it.' She's very heads up. I've always taught them that if they think they can make it from the start, I can't complain -- as long as there's no hesitation. She didn't hesitate."
That left it up to Schorman to hold the lead after she gave it up in the seventh.
"Even going into the seventh, I was like, 'I'm going to shut them down. I'm going to shut them down,'" Schorman said. "Then after they scored, I said, 'You're the best. This is all on you. You can do this. I'm going to make them chase. You're going to get out of this. You're going to win this.'"
The toughest out was the first one. LaTiya Lee had 13 hits and two walks in 20 plate appearances in the tourney coming into the at-bat. She was called out when the ball hit her bat after she dropped it in fair territory following a bunt.
"That was a big out," Schorman said. "She's really fast."
Schorman struck out the next two hitters to close it out.
"To come out here after never winning a game and win the championship means everything to me," Schorman said. "It's amazing."
John Fay is a contributor to MLB.com based in Cincinnati. This story was not subject to the approval of Major League Baseball or its clubs.