Breaks go against KC in Cards' 6-run 5th
St. Louis benefits from few lucky bounces, pair of HRs
KANSAS CITY -- For the second straight game, the Royals fell victim to a big inning that seemingly could have been prevented.
On Monday, a booted double-play ball aided a six-run outburst by the Cardinals in an 11-3 win. On Tuesday, a couple of strange and lucky singles, a hit batter, a couple of wild pitches and a couple of homers led to another six-run inning that led to a 10-3 Royals loss.
The Royals had just taken a 3-1 lead in the fourth on Cheslor Cuthbert's three-run double.
But Kansas City starter Jason Vargas served up a home run to Randal Grichuk in the fifth, then hit a batter, then made a perfect pitch to Tommy Pham, only to give up a cue-shot swinging bunt for a single. With one out, Vargas walked Jose Martinez.
Then Yadier Molina tapped a three-hopper down the third-base line that caromed off the base into short left field. Two runs scored, and the Cards had a 4-3 lead.
"You don't want to use it as an excuse, but perfect swinging bunt, and then perfect pitch to Molina and he rolls over and it hits the bag," Royals manager Ned Yost said. "When you're not going good, you're not getting the breaks, and we're definitely not going good."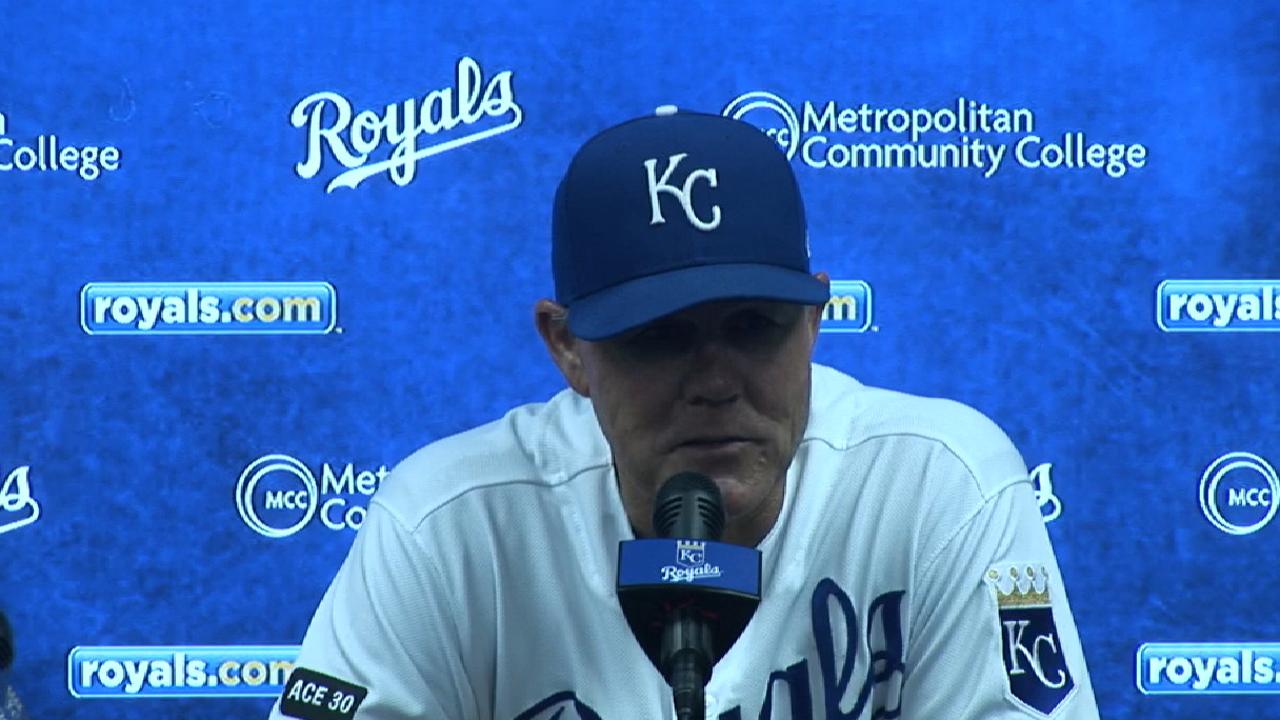 After Vargas left, Yost opted for left-hander Mike Minor to face right-handed-hitting Jedd Gyorko, who blasted a three-run homer and it was 7-3.
Yost said afterward that Peter Moylan was available.
"Peter was available," Yost said. "But I was saving Peter for the 2-3-4 hitters down the line, trying to get a little length there. I could have brought him in for one out, but I didn't mind Minor in that spot."
Vargas was disappointed, bad luck and all, that he let the Cards back in it.
"That was one I felt I let get away," Vargas said. "I feel like I let it get away from the team. Some weird things happened. But with Cheslor coming up big the inning before, I just got to put a stop to that inning regardless of what happens. Frustrating one to let get away."
The Royals only a couple of weeks ago had a nine-game winning streak. They've now lost seven of nine.
"I think that looking at the standings is not that big of a deal," Vargas said. "We had some really good momentum. We have run into some speed bumps. But the guys in here have been through way bigger lows and way bigger highs, so I don't think anyone is too concerned. We just need to get back to doing some fundamental things and get momentum back in our direction."
Jeffrey Flanagan has covered the Royals since 1991, and for MLB.com since 2015. Follow him on Twitter @FlannyMLB. This story was not subject to the approval of Major League Baseball or its clubs.