Inbox: What's the latest on A's stadium plans?
Beat reporter Jane Lee answers fans' questions
When should we expect a ballpark announcement? The A's promised an update this year, and I frankly would like something to feel excited about, as players keep getting traded away.
--Dustin C., San Jose, Calif.
I understand your frustration, and I'm sure it's shared by many fans, who have been asked to practice patience with this organization for many, many years. I do think an announcement is forthcoming, however, and I can't imagine it will be much longer. Though there's been speculation about it coming this month, I'm guessing that a more realistic timeline is September. Either way, it should be made official by season's end. Stay tuned.
I've read that the Coliseum site is running in last place for the new ballpark. Is this true? It seems like it would be the best site, as it has both great parking and a BART station, as well as the most development opportunity and views of the Oakland hills once the Coliseum is gone. What am I missing?
--Ryan V., San Antonio, Texas
I do believe this to be true, though whether it actually is I'm unsure. The Coliseum site seems logical for several reasons, among them the ones you mentioned -- as well as the fact that it undoubtedly comes with a shorter construction timeline. However, I believe the A's have always hoped to land elsewhere; they have visions of a neighborhood feel that the Coliseum just doesn't quite have.
• Submit a question to the A's Inbox
A waterfront facility at Howard Terminal next to Jack London Square would be pretty dreamy, but access issues would cause one too many headaches, leaving the site just west of Laney College, otherwise known as the Peralta site. It's within walking distance of a BART station and comes with its own set of views, notably Lake Merritt and the East Bay hills. The A's would surely have an opportunity to revitalize the area, nestling in to the heart of Oakland.
Will Matt Olson be called up, or will it be the great Boog Powell?
--@avjeetkang
Bob Melvin has already said that Olson will join the team Tuesday, while Powell will wait his turn in Triple-A. This is the biggest opportunity yet for Olson, who will finally get a chance to play his natural position on a semi-regular basis. The plan is for Olson to platoon with Ryon Healy at first base, where he's considered an excellent defender. I also suspect we'll see decent production from him at the plate, considering how much more comfortable he was starting to look up there during his last go-around with the A's.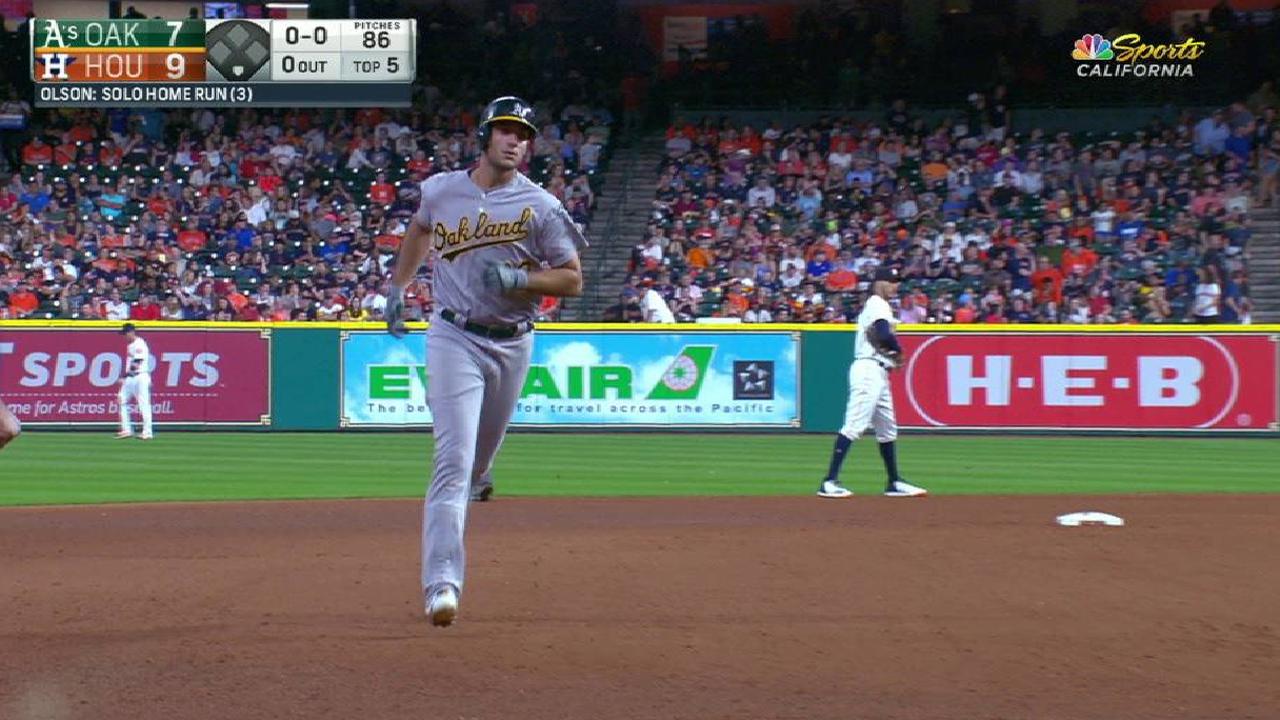 Do you have a timeline for Franklin Barreto's promotion? The infield is crowded.
--@jew_travis
I honestly don't see any scenario where Barreto is promoted while a healthy Jed Lowrie remains on the roster, which means we may not see him again until September when rosters expand. Now, a waiver trade could unfold before then, a la the Yonder Alonso deal consummated over the weekend, and both parties would benefit: Lowrie, a switch-hitting, versatile infielder, could complement a contender, and the A's could keep with the youth movement and include Barreto in the mix sooner rather than later.
Any Joey Wendle news? I really liked the way he played at the end of last year.
--@LehewRyan
Wendle is having a nice season for Nashville, but he's in the unfortunate position of being without a position, and the A's already have one super utility player in Chad Pinder, so there's really no room for another on the big league roster. Moreover, it would take several injuries on the Major League roster -- notably corner infielders Healy and Matt Chapman -- for Wendle to be summoned as a replacement, since the A's already have a middle infielder waiting in the wings, as mentioned above.
Jane Lee has covered the A's for MLB.com since 2010. This story was not subject to the approval of Major League Baseball or its clubs.