Inbox: Did Astros do enough at the Deadline?
Beat reporter Brian McTaggart answers fans' questions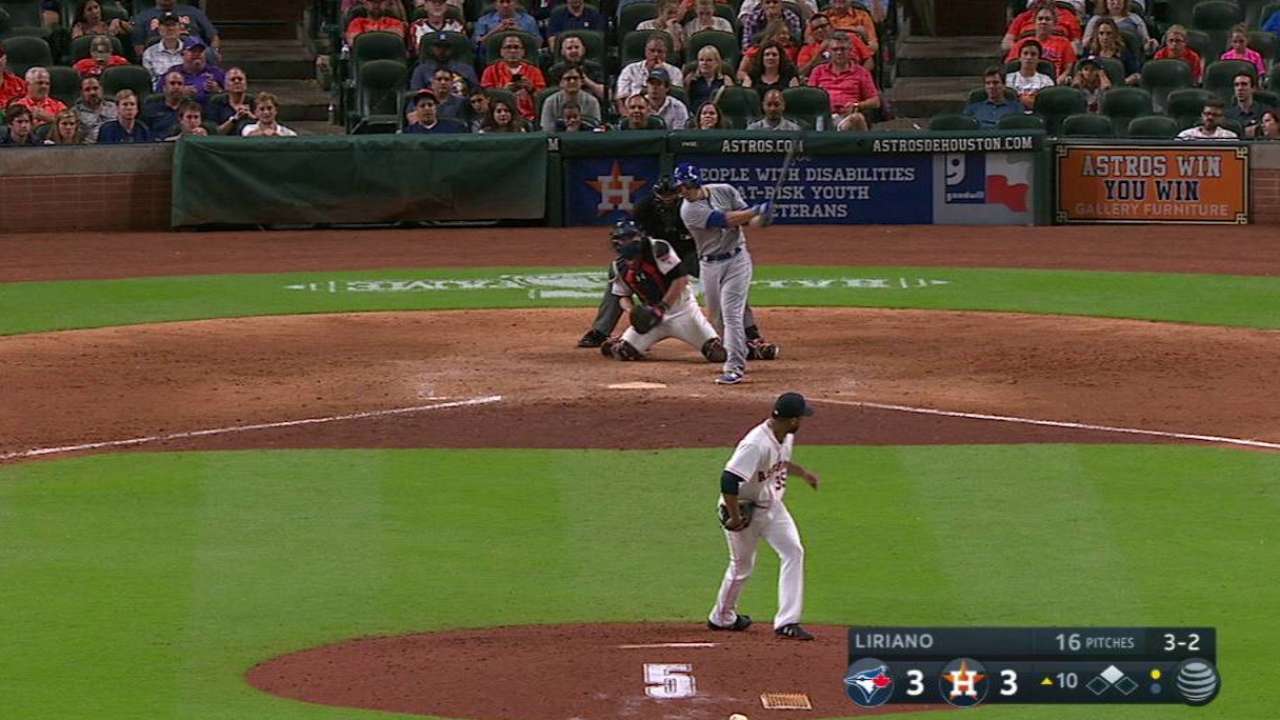 HOUSTON -- It was a busy week for the Astros, who didn't make a move at the non-waiver Trade Deadline other than acquiring veteran left-hander Francisco Liriano from the Blue Jays. Sunday's walk-off win over Toronto left them feeling good heading into an eight-game road trip, during which some of their players on the disabled list should begin to return.
So let's see what else is on the minds of Astros fans, via Twitter:
So in your opinion, do the Astros have enough as is to reach the World Series or have other teams bypassed them with mid year trades

— Robert Silvy (@SilvyRobert) August 7, 2017
The Astros certainly can reach the World Series, but health is important. They need to get Lance McCullers Jr. and Will Harris back healthy and pitching at the top of their game. I don't think there's any question Carlos Correa and George Springer will produce when they return from the DL.
• Submit a question to the Astros Inbox
Sure, the Yankees and Red Sox are improved, and the Indians are already a difficult matchup for the Astros. Those are three of the elite bullpens in the Majors, and we all know the Astros have had trouble in the 'pen for a couple of months now. Bullpens are more important than ever in a postseason series, but a healthy Astros team -- and the best lineup in the game -- will give them a shot to make a run all the way to the World Series. But they have to pitch well and get healthy.
What is the likelyhood we are able to keep Correa, Altuve, Springer, Bregman long term wise, and still keep guys like Devo and McCullers? #$

— Michael Kelly (@4MPKelly) August 7, 2017
You're not going to keep all these guys in free agency, but that's why you build a deep Minor League system. In terms of their key players, free agency will come in waves, which should help them keep the majority of the core of the club together. I would expect the Astros to try to sign players prior to their final year before free agency, because no player wants to spend their contract year in limbo.
Dallas Keuchel, Evan Gattis and Marwin Gonzalez (after 2018) are the first in line to become free agents, followed by Jose Altuve, Harris, Collin McHugh (after 2019), and Springer, Jake Marisnick and Ken Giles (after 2020). Alex Bregman and Correa still have several years of control left, so it's too early to worry about them. Keuchel and Gonzalez will have major interest in the open market, so this could be an interesting winter in terms of possible long-term contract negotiations.
Tweet from @marksewell10: Lineup question: how many times has AJ Hinch had identical lineups for consecutive games (minus starting pitcher)? Same lineup & positions?
He's used 97 different lineups in 111 games, which isn't surprising considering all the injuries and the shuffling he has to do between designated hitter, outfield and the catching spot. A quick scan of the lineups reveals he hasn't used the same lineup twice in a row. This is the most popular batting order so far (used four times): Springer, Josh Reddick, Altuve, Correa, Carlos Beltran, Brian McCann, Yuli Gurriel, Bregman and Norichika Aoki. With Aoki gone, it won't happen again.
W/Centeno having clutch hits in limited ABs, do you see him making playoff roster to give flexibility for Gattis to DH/pinch run McCann?

— Nicky Mintz (@chunky37) August 7, 2017
No, a healthy Astros team will have Gattis and McCann as the two catchers.
Also Giles' FB% decreasing every year as well since joining. Astros calling for more offspeed or just issue with fastball control?

— Randy Kuhn (@NotRandyCoon) August 7, 2017
Last year, he threw 47.8 percent sliders, and this year it's pretty even (49.6 percent sliders). Opposing hitters teed off on his fastball last year, hitting .376 as compared to .094 for the slider. It's evened out a bit this year (.254 average on fastball, .138 on slider), but his slider remains his best pitch. He's gets a much higher percentage of swings and misses on his slider.
Any more moves to shore up bullpen likely?

— Mark R. Pachankis (@riverotter1968) August 7, 2017
I do think the Astros will make another move in August to shore up the bullpen, but don't expect to get blown away. August trades are difficult to make because players have to clear waivers, and other teams claim players to block them from going to rivals. Two years ago, the Astros got lefty reliever Oliver Perez, but that didn't exactly work out too well.
Brian McTaggart has covered the Astros since 2004, and for MLB.com since 2009. Follow @brianmctaggart on Twitter.. This story was not subject to the approval of Major League Baseball or its clubs.