Inbox: Are the Rays truly contenders?
Beat reporter Bill Chastain answers questions from fans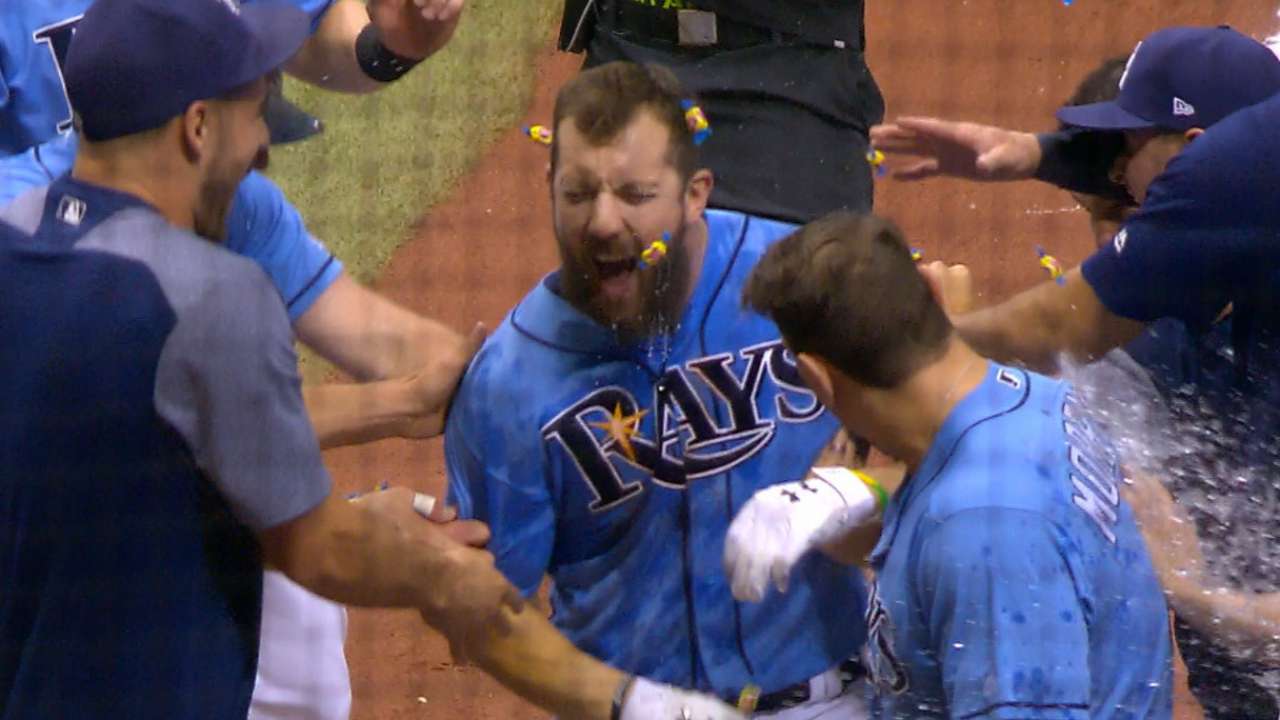 I'm frustrated by the up-and-down nature of this year's team. They seemed to have righted their ship in the Houston series only to give it back against Milwaukee. Are the Rays pretenders or contenders? If they're contenders, what will it take for them to get through the rest of the season into the postseason?
-- John T., Lakeland, Fla.
Give this year's team some credit for the way it has fought back on many occasions -- particularly with some of the injuries the club has endured. If you're a Rays fan, I would think that you have enjoyed the way this year's team has gone about its business.
• Submit a question to the Rays Inbox
I believe Tampa Bay is a contender. I'll follow Kevin Cash's lead about what needs to happen for the Rays to make a postseason run. The manager noted that his bullpen is much improved, but the starting rotation really needs to get on a roll. Chris Archer might have started that roll with his performance Sunday against the Brewers.
I know the Rays don't have the same players as last year, but the differences between this year's team and last year's don't seem so drastic. So why is this year's team getting so much better results? And I understand that they've improved the team by adding players prior to the non-waiver Trade Deadline, but they had to be in contention in order to be buyers.
-- Doug F., Bradenton, Fla.
I think the biggest change is depth. Management brought in better bench players for the possibility of having to replace injured players. Those replacement/depth players have been outstanding, like Mallex Smith and Peter Bourjos in the outfield. Or behind the plate, the Rays brought in Jesus Sucre, who is a really good defensive catcher and has hit better than expected (and he's not a bad relief pitcher either -- see the recently completed Houston series), and they also had Derek Norris, who eventually got replaced by Wilson Ramos, the big free-agent acquisition. In the infield, Tim Beckham and Daniel Robertson took over shortstop duties in Matt Duffy's absence. And yes, these guys managed to win enough for management to make some deals to improve the team at the Deadline. But those deals might not have been made had Tampa Bay's depth not served its purpose.
Of all the acquisitions the Rays have made over the past couple of months, who do you think has been the most valuable addition?
-- Ted J., Tampa, Fla.
That's an easy one. I've got to go with Adeiny Hechavarria. Have you noticed how the pitching suddenly got better once the Rays acquired a real glove man to play shortstop? Nothing makes a pitcher feel more comfortable on the mound than sure hands at shortstop, and Hechavarria not only has sure hands, he also has considerable range. I've been impressed by his play.
All Rays fans have expressed frustration about Beckham over the years. Of course, the biggest complaint -- and most constant, was the fact we could have drafted Buster Posey with the top pick of the 2008 Draft instead of Beckham. After all of those years of frustration, Beckham finally seemed to be putting things together this season, then the Rays trade him, and to a division foe for a little-known prospect. I just don't get it. What's your take on the trade?
-- Bill F., Tampa, Fla.
Bill, you are not in the minority wondering why the Rays opted to trade Beckham. Several players asked that question when they learned about the trade. I've got to believe that Tampa Bay had some issues with Beckham outside the lines. That's just a guess, though. I did notice that all the pieces fit into place after his departure. Miller will be used full-time at second with Robertson backing him up, and designated hitter can be Lucas Duda's or Logan Morrison's spot.
I nearly jumped through the TV when Beckham and Hechevarria watched a game-tying single roll between them in the first game of the Rays' recent four-game series at New York. That game should have been over and in the win column. Instead, the Yankees won that one and three out of four in that series. Adding frustration to my angst about that play was the fact the infield was shifted on the play. That can't be easy figuring out who is supposed to field a ball in a situation like that. Why don't the Rays simply quit shifting?
-- Brad D. Tampa, Fla.
That game was a tough one for any Rays fan to swallow. On the bright side, the team recovered nicely from the Yankees series when it went to Houston to play the Astros. I'm like you in that I'm not a big fan of shifting. However, Tampa Bay is committed to shifting, and the club has the numbers to back up its contention that it is better off shifting than not. Thus, I would not look for the Rays to quit shifting any time soon.
Bill Chastain has covered the Rays for MLB.com since 2005. This story was not subject to the approval of Major League Baseball or its clubs.