Taillon welcomes turnaround after 4-start battle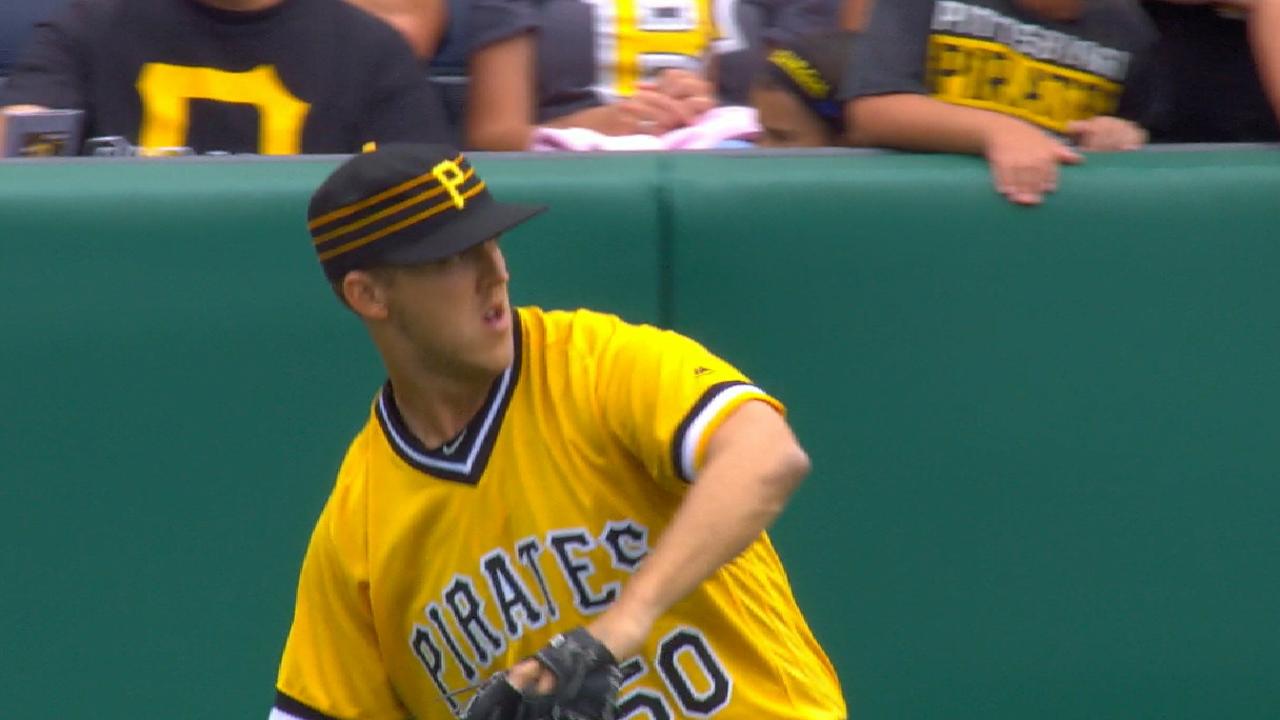 PITTSBURGH -- Jameson Taillon's first inning Sunday afternoon didn't go according to plan. Looking to put a rough four-start stretch behind him, he instead gave up two runs on a walk, two singles and a wild pitch. But his confidence did not waver.
"Naturally, it's easy to go back to that, but no one really feels sorry for you or anything," Taillon said. "Back against the wall, it was my time to fight and punch back."
Taillon bounced back in a big way, not allowing another run as he pitched into the seventh inning against the Padres. Taillon did not get the win, but Sean Rodriguez's walk-off homer delivered the Pirates a 5-4, 12-inning victory at PNC Park. He returned to form with eight strikeouts while allowing only five hits and two walks over 6 1/3 innings.
It was a welcome turnaround for Taillon, who surrendered 18 runs on 20 hits in 6 2/3 innings over his previous two starts and entered Sunday with a 12.18 ERA since the All-Star break. After his last start, Taillon called the inexplicable slump "the toughest thing I've experienced in my career."
Taillon has already overcome so much with the Pirates. He battled back from Tommy John surgery in 2014, dealt with the setback of a hernia operation in 2015 and returned to the mound in June exactly five weeks after undergoing surgery for testicular cancer. His perseverance has become a defining trait.
"I'm pretty proud of myself for going through what I did and coming back and making pitches," Taillon said. "I knew I could do it."
Taillon was not bothered by his rocky first inning, either, because it felt different than his previous outings. After his last two outings, the Pirates went over what manager Clint Hurdle called a "checklist" to evaluate Taillon. One thing they noticed, Taillon said, was that he had slowed down his mechanics.
"It's easy, once you start getting hit, to pitch away from contact or to get off the attack or be too fine or methodical," Taillon said. "I was feeling for stuff. Today I was quick, aggressive, athletic. Get the ball out and let it eat. Have fun."
Hurdle noticed a difference in the third inning. Taillon's fastball command became sharper. His two-seamer started diving toward the bottom of the zone, particularly down and away against right-handed hitters, and he was able to more effectively locate his four-seam fastball up in the zone.
Taillon's curveball was as good as it's been since before the All-Star break. He threw 39 of them, according to Statcast™, getting 11 called strikes and six swing-and-misses on the pitch.
"The sinker came back. He was able to elevate when he wanted to," Hurdle said. "It was a really good mix of two-seam, four-seam fastball and curveball, downhill angle, bottom of the zone. Really good outing for him."
The ending made it even better for Taillon. Rodriguez's last walk-off homer was one year and one day ago, Aug. 5, 2016 -- another game Taillon started and Rodriguez finished for the Pirates.
"It was a feel-good win. Sean walked it off. That's memorable," Taillon said. "For me, personally, I was pretty proud of the way I came back."
Adam Berry has covered the Pirates for MLB.com since 2015. Follow him on Twitter and Facebook and read his blog. This story was not subject to the approval of Major League Baseball or its clubs.